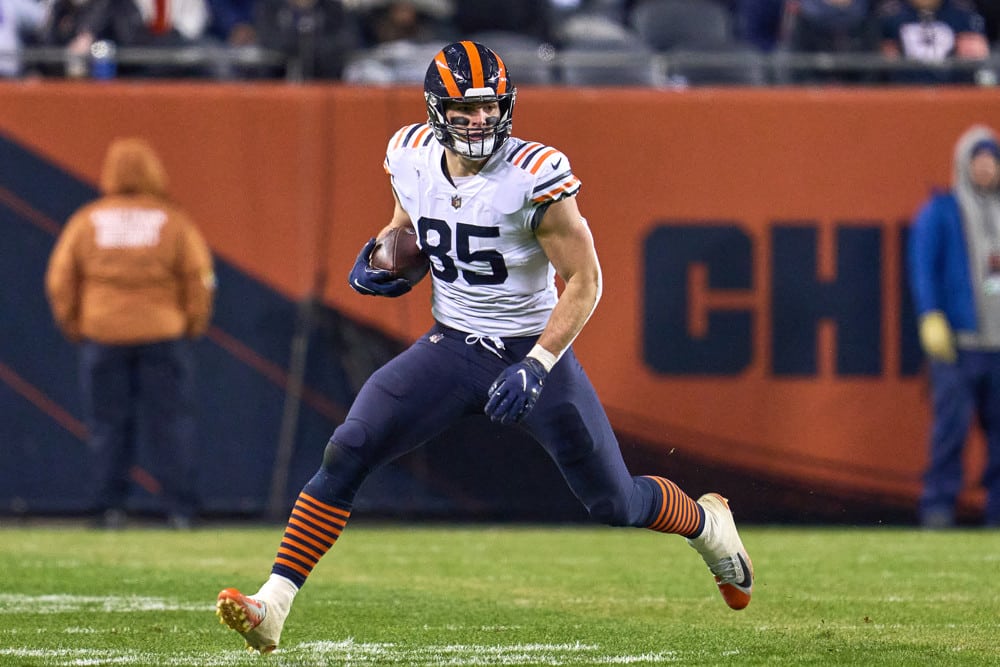 The Tight End position is so difficult for fantasy football players that some leagues are just opting to get rid of it.  Some leagues have created scoring to help boost up the position.  Critics say though that it just makes the gap between the great Tight ends and average ones even greater.  There are just so few Tight Ends that you can consistently count on in your lineups that simply streaming the position week to week is a viable strategy. The downfalls of streaming are the added stress each week and using valuable FAAB (Free Agent Acquisition Budget).  Finding Tight End breakouts in your dynasty formats is invaluable as a result,  and in this article, we intend to help you do just that.

More SGPN Fantasy Football Content
Fantasy Football: NFC Injury Report
Dynasty Football: Breakout Rookie Running Backs
2022 Fantasy Football IDP Rankings
What Separates Tight End Breakouts?
First, let's look at recent Tight End success to discuss what are some things we might look for in a break-out player.
The top 5 Tight Ends averaged at least 12 points a game, everyone else was under 10 points per game. Two players had only 7.6 and 7.8 points a game (Mike Gesicki and Noah Fant)
Yards Per Reception – Every Tight End except one averaged more than 12 yards per reception (Dalton Schultz)
Only six Tight Ends received over 100 targets and all finished top 12 in their position. The top two in targets finished first and second.
#1 and #2 in air yards were also #1 and #2 in fantasy points. The next three were also top 12 Tight Ends (George Kittle (TE4), Dallas Goedert (TE10), Dalton Schultz (TE3)).
When looking for your breakout candidates, you are looking for Tight Ends that can realistically get 100+ targets, and are capable of making big plays. Touchdowns are great too, they are just hard to predict.  The Tight Ends that made it into the top 12 without getting 100 targets had 6+ touchdowns at least.  Hunter Henry for example finished as the TE7 with only 50 receptions and 603 yards.  Henry did this on the back of 9 touchdowns while Kyle Pitts (TE9) had 68 receptions and 1,026 yards, but only had one touchdown.  Kyle Pitt's production is far more likely to repeat than Hunter Henry's because it was largely based on TD production.  Dawson Knox is very similar to Hunter Henry.  Knox finished as TE6 with only 49 receptions and 587 yards because he also had 9 touchdowns.
Now that we've identified what we're looking for, here are some Tight-End breakout candidates for 2022.
---
Cole Kmet
2021 Season: 93 Tgt| 60 Rec | 612 Yds | 0 Tds 
It is easy to see Kmet checking all the boxes we discussed. This offense will look a lot different, but let's look at what Kmet did last year.  Kmet had 93 targets, which was very close to the 100 target mark (check).  Kmet had 10.2 yards per reception (check).  This is an increase from 8.7 yards per reception in his rookie season.  If Cole Kmet can get to that 12-yard per reception mark and get over 100+ targets, he will check both of the boxes we are looking for in a top 5 Tight End up option.  Kmet is currently being drafted as the TE14 and is a massive value with tremendous upside.
Cole Kmet 2022:
– 5.4 Targets per Game
– 3.5 Receptions per Game
– 36 Yards per Game

Pat Freiermuth 2022:
– 4.9 Targets per Game
– 3.75 Receptions per Game
– 31 Yards per Game

— Jack Cavanagh ↗️ (@javanagh87) July 7, 2022
---
Albert Okwuegbunam
2021 Season: 40 Tgt| 33 Rec | 330 Yds | 2 Tds 
The Albert O hype train was picking up a lot of steam once Noah Fant was traded, but has since cooled down quite a bit. Okwuegbunam is coming in as the TE13 in current ADP.  Albert O was at 10 yards per reception last year, but he only received 40 targets coming off an ACL injury, and being behind Noah Fant on the depth chart.  He also ran a 4.59 40 at the NFL combine and stands at 6'5", and 248 pounds. This makes him 20 pounds heavier than Courtland Sutton while also being faster.  This is a very athletic player that has shown flashes both in college as well as in the NFL.  Now that Noah Fant is out of town and Russell Wilson is the new Quarterback, there is a lot of reason to be optimistic about Albert Okewugbunam.
Albert Okwuegbunam szn continues this fall. He ranks well in my top-50 fantasy tight ends for 2022.🚀🚀🚀 https://t.co/9DeXoQYQy5 pic.twitter.com/oHx1mnUnZ0

— Nathan Jahnke (@PFF_NateJahnke) July 10, 2022
---
David Njoku
2021 Season: 53 Tgt| 36 Rec | 475 Yds | 4 Tds 
David Njoku had 13.2 yards per reception last year. That was 4th highest among the top 30 Tight Ends.  Njoku did this with Baker Mayfield and only 53 targets.  A lot has changed in the Cleveland offense between the ones at Quarterback as well as at receiver.  With Odell Beckham Jr. and Jarvis Landry out of town, Njoku could find himself as one of the top targets for the Browns. His new contract suggests the Browns have big plans for him, and his ADP is currently TE17.  You get to take a shot on a guy with huge upside with very little risk.  With Jacoby Brissett, this will be a slower-paced, less exciting offense.  There is still a world where Njoku gets a lot of targets as Brissett has targeted Tight Ends and Running Backs quite often in his career too.  If Deshaun Watson gets a short suspension though, this would mean big things for Njoku and the rest of the Cleveland Brown pass catchers.
---
Evan Engram
2021 Season: 73 Tgt| 46 Rec | 408 Yds | 3 Tds 
Evan Engram had his break-out his rookie season, so this may be more of a rebound. But, Engram is definitely someone that I am warming up to and I think you should take a second look at in 2022.  The Jaguars spent a ton of money this off-season to try to build around their franchise Quarterback.  Evan Engram was one of their first big signings and they gave him a rather large contract.  Trevor Lawrence's situation has immensely improved with the firing of Urban Meyer and the addition of Doug Pederson too.  We all know Doug Pederson has had great success with Tight Ends, and with his time spent in the NFC East, he is very familiar with Evan Engram.  Oh, and Engram is currently being drafted as the TE22! This is basically free and he's possibly going undrafted in your leagues.
---
Irv Smith Jr.
2020 Season: 43 Tgt| 30 Rec | 365 Yds | 5 Tds 
I know, I know, everyone got burned last year and maybe the year before by Smith. But, hear me out.  Everything you liked about Irv Smith Jr. last year is still the same. Additionally, the offense has a new, young, and innovative play-caller coming from the Shanahan/McVay coaching tree.  Adam Thielen is on the way out as well, and we are still trying to figure out if we can trust K.J. Osborn.  We have seen these types of offenses feature Tight Ends such as Jordan Reed and George Kittle.  Irv Smith has a strong athletic profile that allows him to get downfield quickly, and we already talked about the importance of yards per route and air yards.  He could easily be the 2nd or 3rd option on this team in targets.
---
Kyle Pitts
2021 Season: 110 Tgt| 68 Rec | 1026 Yds | 1 Td
I know this one is obvious, but Pitts finished as the TE9 last year. His yards per route run, his air yards, and his production in year 1 just scream break out.  Pitts has the athletic profile and the talent to finish as the overall Tight End 1.  I just can't leave Pitts out as he could go easily from TE9 to TE1 this year, and he is still just 21 years old!
Kyle Pitts should be in the same conversations as Ja'Marr Chase and Justin Jefferson

He was DOMINANT in his rookie year

— Luke Sawhook 🪚🪝 (@lukesawhook) July 10, 2022
Honorable mention – Gerald Everett, gets paired up with Justin Herbert in that Chargers offense