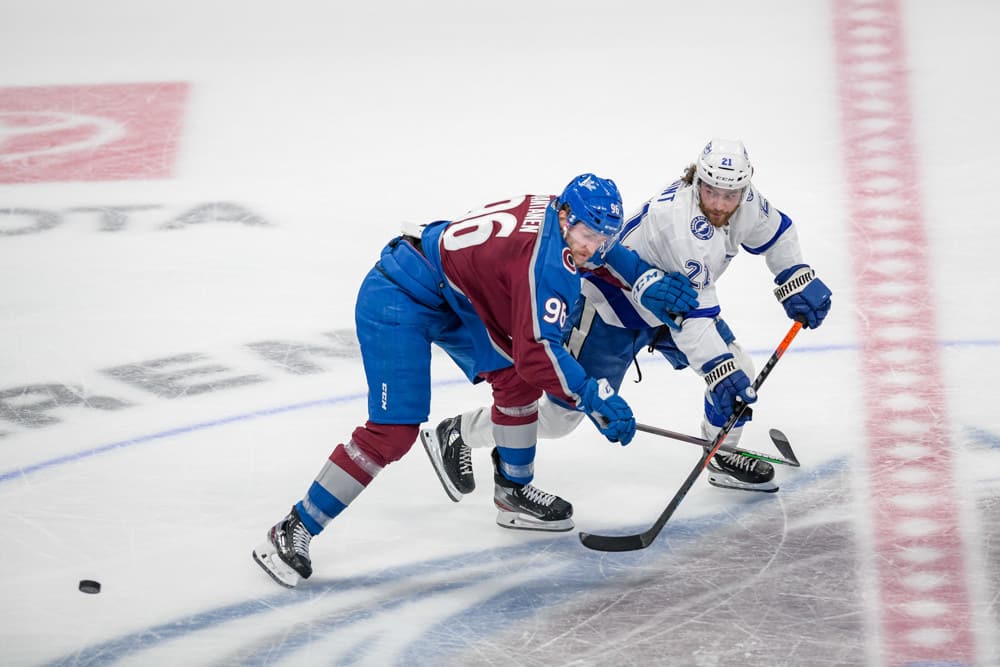 The Stanley Cup Final shifts to Tampa Bay tonight as the Lightning look to rebound from a 2-0 series deficit. The Avalanche won Games 1 and 2 in Colorado, and the two games couldn't have been more different.
Game 1 was a back-and-forth affair with Colorado controlling most of the play. However, the Bolts scored two goals in 48 seconds to tie the game and eventually send it to overtime. The Avalanche prevailed 4-3 in Game 1 before an absolutely dominating performance in Game 2 of the Stanley Cup Final.
The 7-0 win has many already crowning Colorado champions. But if there's one team that can bounce back from a deficit like this, it's the defending two-time Stanley Cup champion Tampa Bay Lightning. Let's get right into our picks, player props, and DFS targets for Stanley Cup Final Game 3!
EXCLUSIVE SGPN NHL PLAYOFFS CONTENT
Colorado Avalanche Path to the Stanley Cup Final & Conn Smythe Trophy Picks
Tampa Bay Lightning Path to the Stanley Cup Final & Conn Smythe Trophy Picks
Stanley Cup Final Predictions: Avalanche vs. Lightning Schedule, Odds, Picks, & Best Bets
Stanley Cup Final Game 3: Avalanche vs. Lightning Picks & Player Props
Stanley Cup Final Game 3: Avalanche vs. Lightning Odds & Picks
Moneyline: Avalanche -110 | Lightning -110
Spread: Avalanche +1 (-175) | Lightning -1 (+145)
Total: Over 6 (+100) | Under 6 (-120)
I'm counting on the Lightning to bounce back in what is a must-win Game 3 for them. Despite being dominated in Game 2, the Bolts showed last round that they can come back from a 2-0 series deficit. Jon Cooper should get his squad regrouped and ready to defend home ice on Monday night.
My best bet would be the Lighting -1 (+145). There is some value there and if the Lightning win it could very well be by multiple goals. The Under 6 also looks like a good play considering the goalie matchup and Tampa Bay's desire to slow down the game at home.
Game 3: Avalanche vs. Lightning Player Props
Valeri Nichushkin over 2.5 shots on goal (-165) / to score (+235)
As mentioned above, Nichushkin has 11 shots through two games in this series. He had a whopping 11 shot attempts in Game 1 and all five of his attempts in Game 2 were on the net. Nichushkin has 3+ SOG in 11 of 16 playoff games thus far.
An object in motion tends to stay in motion. Nichushkin has five goals in his last four games, including those three in the Stanley Cup Final of course. If you want some plus odds, throw a sprinkle on Nichushkin to score at a pretty nice price of +235.
Nathan MacKinnon to score (+168)
MacKinnon has yet to find the back of the net in the Stanley Cup Final. That has to change at some point; why not tonight? He has goals in eight of 16 playoff games, including three of seven on the road. Dating back to the regular season, he's scored in 33 of 81 games (fair price around +145) and 14 of his last 28 games overall (fair price of +100). Take the value here and hope MacK can finally light the lamp on the big stage.
Ondrej Palat to score (+245)
Palat is the under-the-radar Lightning forward that many fans forget about. He's scored in nine of 19 playoff games, including in six of the last nine. Palat scored in four games last series and lit the lamp in Game 1. This is a fantastic price at +245.
Mikko Rantanen over 1. 5 points (+210)
I'll get into this more below in the DFS section, but Rantanen has been an animal in the playoffs. He has at least two points in seven of 16 playoff games, including both Stanley Cup Final games thus far –– and four of his last six overall.

Game 3: Avalanche vs. Lightning DFS Targets
Mikko Rantanen (COL – W) – $9.2k ($13.8 CPT)
Rantanen has quietly been a huge contributor for the Avalanche in the playoffs and the Stanley Cup Final has been no different. He has 22 points in 16 games, including five (all assists) in the Cup Final. In fact, he has 11 points (4 G, 7 A) during his six-game point streak and has at least a point in 11 of his last 12 games.
That's resulted in double-digit fantasy points in six straight games, and eight of 10, including 22.5 FPTS in Game 2. May I also suggest a Conn Smythe bet on Rantanen at +750?
Valeri Nichushkin (COL – W) – $7.2k ($10.8k CPT)
Nichushkin has been all over the ice for the Avalanche in the Stanley Cup Final. He had two points in both games thus far, including a two-goal performance in Game 2. Not only that, but Nichushkin hit the bonus for five shots on goal in each game as well. The Avalanche winger had 25.5 FPTS in Game 1 and 27.5 FPTS in Game 2. He should have another big game tonight.
Ondrej Palat (TBL – W) – $7k ($10.5k CPT)
Palat has been the one Lightning player to actually do something in the Stanley Cup Final. Like the rest of the Lightning, he was minimized in Game 2, but he scored a goal on three shots in Game 1. Palat has had double-digit FPTS in five of his last six games, seven of his last nine, and eight of his last 11. Playing on a line with Nikita Kucherov will do that if you can get in the right position.
Darren Helm (COL – C) – $3.6k ($5.4 CPT)
You're going to need a cheap player if you want to fit in a few of the big guns in the Stanley Cup Final. Helm gives you that flexibility. The depth center scored in Game 2 and had four shots on goal in Game 1. He doesn't have a very high ceiling, topping out at 11.5 last game, but he should give you a handful of points with shots and blocks; and there's always the chance that he'll score again.
---
---
RELATED CONTENT