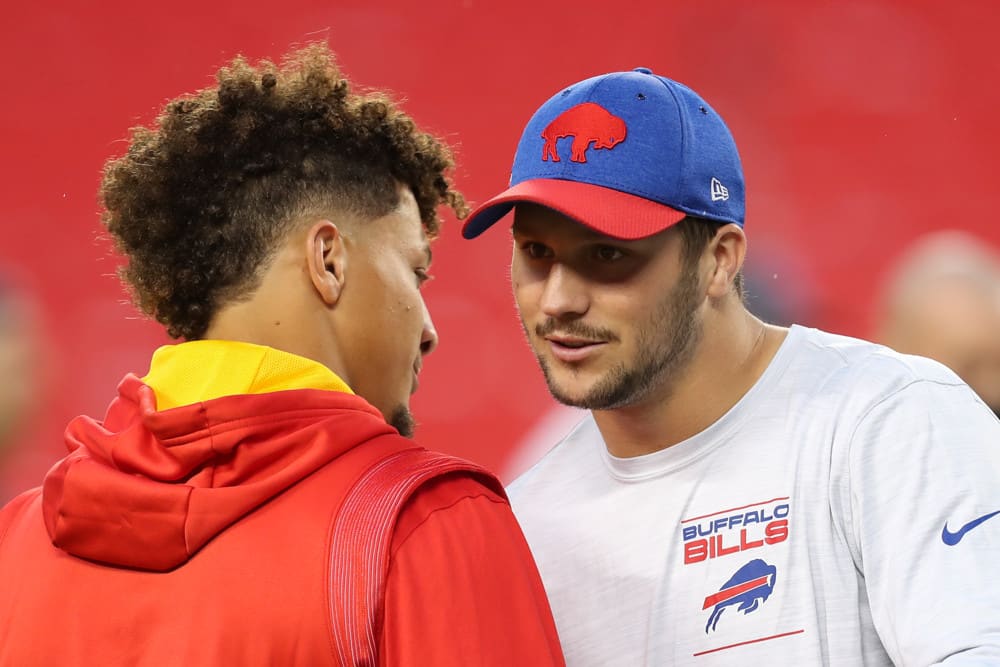 It's time for another made-for-television golf event! This time, only NFL players will be featured in the festivities. Aaron Rodgers teams up with Tom Brady to take on Josh Allen and Patrick Mahomes in Capital One's The Match at the Wynn Golf Club in Las Vegas, NV. Here's a a quick preview of The Match and our pick to win the event.
The Match Picks – Format
The format of The Match is a modified alternate shot. Everyone will tee off on each hole played. Each pair will pick the best tee-shot. After that, the rest of the hole will be completed with alternate shot.
For example, suppose Tom Brady hits a wicked duck hook 75 yards left. Aaron Rodgers steps up and pipes one 275 yards down the middle. After picking Rodgers' tee-shot to use, Brady will hit the approach shot into the green.
The match will only be 12 holes long. Whichever team picks up the most won holes will win The Match. If someone closes out the match before the 12th hole, there likely will be challenges for charities to fill in the time.
The Match Picks – Competitors
We all know the on-the-field accomplishments and skills of these players. But what about on the golf course? Here's a quick summary of how these guys play on the golf course.
Aaron Rodgers : USGA Handicap – 4.6
Aaron Rodgers lists his home course in the GHIN as Green Bay Country Club. While his handicap is the best of the foursome, he hasn't recorded a handicapped round since last June. He also only has four official rounds in his GHIN in 2021. Those four rounds were also higher than his listed handicap. In 2021, he shot 87 (12 differential), 80 (6.2 differential), and a pair of 83's (7.4 differential). As such, take his handicap with a grain of salt.
If there is any advantage Rodgers has, it's his experience in a competitive golf tournament. Rodgers is a frequent participant in the American Century Championship in Reno, NV. His results aren't anything spectacular, but he didn't embarrass himself either. Over the last four years, Rodgers' highest finish is 16th and hasn't had less than 34 stableford points in any of those events.
While I don't think his handicap is actually 4.6, he's clearly the most talented and seasoned golfer in this competition.
Patrick Mahomes: USGA Handicap – 7.7
Mahomes lists his home course in the GHIN as Mission Hills Country Club in Kansas City, KS (which is currently embroiled in a nasty lawsuit by two of its members over the pickleball courts!). Like Rodgers, Mahomes doesn't have very many recent rounds logged in the GHIN. The last round in it is from July 2020. That day, he shot 83 with a differential of 6.1.
Patrick Mahomes also has participated in the American Century Championship. However, his results aren't nearly as good. In 2020, Mahomes only netted 4 stableford points to finish T38. While he scored more points in 2021, his 15 points were only good enough for a T50 finish.
Single digit handicappers are volatile. Sometimes they'll play sub-5. Other days they might card a round closer to a 20 differential. It's a little concerning that Mahomes struggled to translate his (alleged) single digit handicap into success at the American Century Championship. That's something to watch this week.
Tom Brady: USGA Handicap – 8.1
This will be the third "Match" that Brady has participated in. He's had his highs and lows in this event. From splitting his pants, to sailing tee shots 80 yards offline, to holing out from the fairway for eagle, Brady definitely has brought some exciting and laughable moments to The Match.
As far as his golf game go, it's highly questionable. For the first time in almost two years, Brady posted a round in the GHIN at his home course of Seminole Golf Club in Jupiter, FL. In February, Brady shot a 90 for a 14.4 differential, well above his 8.1 index. And given we have a lot of swings on camera capturing his golf game, his index is probably closer to that figure instead of his stated 8.1.
Josh Allen: USGA Handicap – N/A
While there is a Joshua Allen listed in the GHIN that plays in the state of New York, I'm fairly confident the Buffalo Bills quarterback doesn't play out of Warsaw TG GC. Allen doesn't have a USGA index, which is a massive red flag. And though he claimed he was about a 9.0 handicap for the American Century Championship, his lone appearance there in 2019 showed otherwise. Allen was one of the worst golfers in the event. He netted -19 stableford points, which is putrid. He finished 63rd in the event, barely beating out the likes of Sean Payton, Jay Bilas and Celebrity Chef Bobby Flay.
It's probably safe to assume that because Allen doesn't maintain an official handicap, he's more of a recreational golfer than a serious one. And heading in, he's probably the worst of everyone.
The Match Picks – The Golf Course
A golf course has existed on the grounds of The Match, but it wasn't in its current form. The golf course was formerly known as the Desert Inn Golf Course, across the street from the Desert Inn Casino. From 1953-1966, it hosted the Tournament of Champions on the PGA Tour. It would later serve as a rotational course for the Shriners Children's Hospital Open from 1983-2000.
The Desert Inn shuttered in 2000, and Wynn Properties built an extravagant hotel and casino in its place. The resort then brought in Tom Fazio to design a brand new 18 hole track in its place. In 2005, the Wynn Golf Club opened for guests of the resort:
Before Tom Fazio dug his claws into the property, it was a completely flat piece of property. But Fazio is known to spare no expense to create his vision. And oftentimes, his visions create golf courses that look absolutely nothing like the surrounding landscape. He'll move significant amounts of earth to create unnatural topography, elevation changes, creeks, and lakes.
And like Shadow Creek (another Wynn Properties owned golf course created by Fazio in Las Vegas), Wynn Golf Club creates the illusion of a lush, vibrant golf course in the middle of a barren desert. Fazio planted 8,000 trees to line each fairway. Manmade creeks and lakes were created to bring water into play on 12 holes. And a giant waterfall provides the backdrop to the Par 3 18th. The goal was to completely obscure the desert landscape to the player and make the environment feel like they're playing in an oasis. Mission accomplished.
As you gaze at the majestic waterfall that rushes behind the 18th green, you can dream of bragging to your blackjack table mates that for $550 you played a Tom Fazio Golf Course in Las Vegas, NV.
The Match Picks – Official Prediction
Those who read my previews knows I like to dive into things like relative skill set charts, course history, and approach shot proximity data to try and find every possible edge to handicapping a golf tournament and the field.
This week? Fuck all that. I'm going with my gut pick for The Match.
On WynnBet, they have Rodgers and Brady as a heavy favorite. They're currently -200 over Allen and Mahomes. That is looney tunes. Are the team of Rodgers and Brady, on paper, the better twosome? Sure. But they're fucking amateurs. And all anyone has to go on is a couple of made-for-television matches, some stableford scoring results and absolutely credible, authentic, no-way-this-is-completely-full-of-shit handicaps on the GHIN.
Here's the bottom line. These are four amateur golfers who have extremely volatile results. The books truly have no idea how these guys will play. You and I have no idea what game they'll bring to the first tee. Hell, none of these guys probably know either if they'll put on a ball-striking fiesta or fight a wicked push slice every hole. So why the hell would anyone lay -200 on a pair of amateur golfers who might not be nearly as good as what their handicaps say they are.
Plus, maybe the shortened format of 12 holes helps the underdogs. Over the course of 18 holes, it's easier for a more talented duo to put away an inferior opponent. But in a format that's 33% shorter than a full round, there's more opportunity for an upset. Maybe Mahomes and Allen get off to a hot start and drain a bunch of putts. Maybe Brady absolutely doesn't have it and puts Rodgers in bad spots off the green. Or vice versa. There's less time for Rodgers and Brady to overcome a slow start, and less time for Mahomes and Allen to crash back to earth should they got off to a hot one.
I don't care if Rodgers and Brady wind up winning. Picking them is a negative EV move. There is no way in hell I'll ever pay significant juice on the favorite in a match between four golfers with mid to high single digit handicaps. And you shouldn't either.
The Pick: Allen & Mahomes +165
Related Content