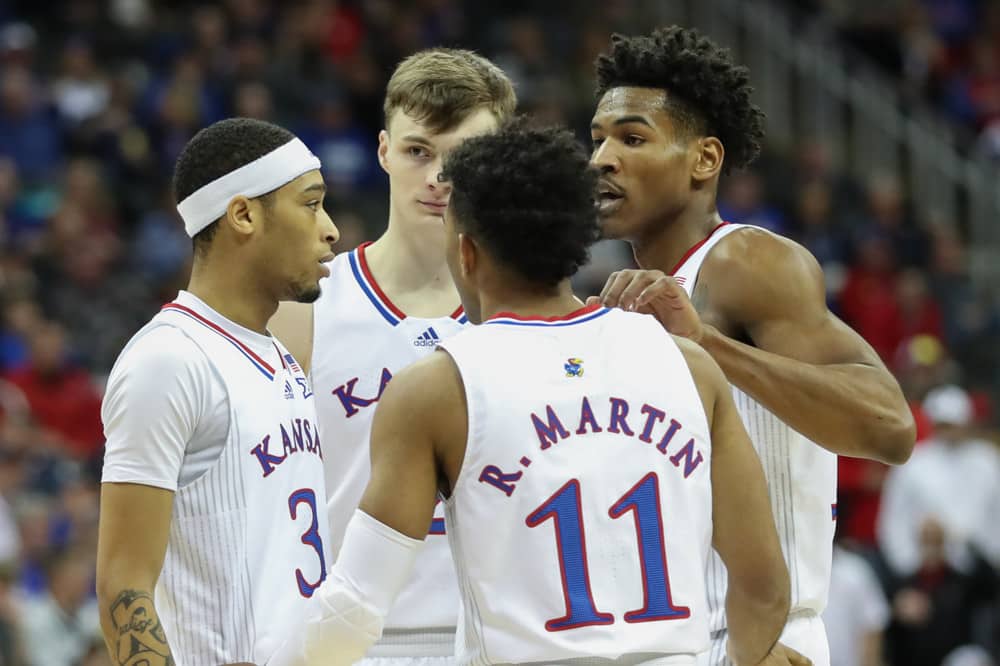 We've made it. March Madness is winding down and we have the four teams left standing in New Orleans for the 2022 NCAA Tournament Final Four. For how crazy of a tournament it was, it's all blue bloods in the Big Easy. Sure, North Carolina was an 8-seed but nobody is mistaking them for Cinderella. Duke and Villanova are 2-seeds who are accustomed to deep tournament runs and Kansas is the sole 1-seed still dancing.
While we may lack the underdogs, it should be an excellent two games on Saturday. In this column, we'll break down the early game: Villanova vs. Kansas.
North Carolina vs. Duke Preview: Picks, Predictions, & Best Bets
NCAA Tournament Final Four Preview: Picks, Predictions, & Best Bets for Villanova vs. Kansas
Time: 6:09ET
TV: TBS
Spread: Kansas -4.5
Total: 133
Villanova's Road to the Final Four:
Before we get too far into this preview, we must mention the heart-breaking injury to Justin Moore in the closing minutes of the Houston game. Moore was second on the team in points and assists and third in rebounds. He was a major piece of the Wildcat squad and will be sorely missed, especially for a team that wasn't deep to begin with.
With that said, Villanova just took down Houston by limiting the Cougars to just 1-20 from three. Houston couldn't hit the broad side of a barn but give a lot of credit to Villanova's excellent defense. That strong D was also on display vs Michigan in the Sweet 16 where the Wolverines could only muster 55 points. In fact, Villanova's opponents in this tournament only average 55 points per game. They also won the Big East tournament in similar fashion. In total, that's nine straight W's for Nova.
Kansas's Road to the Final Four:
The Jayhawks took care of Texas Southern in the first round with ease. Since then, the road has been a bit more challenging. In the six halves of basketball vs Creighton, Providence, and Miami, Kansas hasn't overly impressed in 5 of them. It took a while to shake a Creighton team that was down two starters. They beat Providence in a 66-61 slugfest and found themselves down 6 to Miami at intermission.
At that point, the light went on. Kansas clamped down on defense and ran the Hurricanes out of the building, outscoring them 47 to 15 in the second half. That's the kind of basketball we expected from the team that also won the Big 12 tournament. The Jayhawks are a complete and well-rounded team looking to build off of that excellent second half. Like Villanova, they are also winners of nine straight.
NCAA Tournament Final Four: Keys to the Game
The Injury:
Villanova wasn't the deepest team in the country and that was with Jordan Longino and Justin Moore. Longino was a reserve that played less than ten minutes a game so overcoming his recent injury was doable. We can't say the same about losing Justin Moore. Over the last three games, Nova has basically gone six deep with Chris Arcidiacono and Bryan Antoine playing very sparingly. That basically means they'll only have five players who regularly see court time for this game vs Kansas.
There was one other game this season that Justin Moore missed and Nova fans might find it comforting that they beat Uconn by 11 that night. Arcidiacono played 26 minutes and scored nine points but was also responsible for four turnovers. He'll most likely play similar minutes in this game and how the junior guard performs will be a critical factor.
The Experience:
We know Villanova has experience. Collin Gillespie, Jermaine Samuels, Caleb Daniels and Brandon Slater are all seniors with a ton of experience to draw upon. However, Kansas is an old team as well. Of their top seven players, only two are underclassmen. Their team leader, Ochai Agbaji, and backcourt mate, Remy Martin, are both seniors looking two play at least two more basketball games in their collegiate careers. The Wildcats have enjoyed the edge in experience throughout this tournament but against the Jayhawks its minimized.
Villanova Small Ball vs. Kansas' Size:
Not only is Villanova not a very deep team but they aren't a very tall team either. Eric Dixon is the only player on the roster over 6-7. There are some benefits to playing small ball and their heavy guard lineup is the main reason why Nova is excellent at not turning the ball over (29th in the country), at 3pt shooting (61st), and at hitting free throws (1st in the nation). This isn't the 80's, you can win at the highest of levels playing small ball.
However, Kansas just got done wiping the floor with Miami, another perimeter-oriented team that plays four out. The Jayhawks will throw Jalen Wilson, David McCormack, and Mitch Lightfoot, who are all 6-8 or taller, at opponents. Additionally, the size of Christian Braun (6-6) and Agbaji (6-5) will match up well with Jermaine Samuels and Caleb Daniels.
Coaching:
Bill Self has won a national championship and a boatload of Big 12 titles. I don't mean to throw shade at the Jayhawk skipper but Jay Wright might be on another level. After all, he's won two of the last five national championships. The fact that he has six days to prepare for life without Justin Moore, instead of a quick turnaround, is huge. However, obviously, the second-half adjustments that Self made vs Miami worked pretty well. Either way, the coaching advantage has to favor Villanova.
NCAA Tournament Final Four Predictions:
Don't think Villanova will roll over just because they are a couple guys down. After a sub-standard performance against Houston, look out for Collin Gillespie to have a big day. He'll keep his squad in the game and Nova may even have a lead at halftime. However, the size, depth, and athleticism of Kansas will eventually get the better of the Wildcats. Kansas pulls away in the second half and covers by a few points. I like the Under as well as I expect Villanova to bleed the clock and try to shorten the game.
NCAA Tournament Final Four Pick: Kansas -4.5, Over 151
---