Fantasy Basketball Market Watch 3/4/2022
We're approaching the weekend of Week 19 in fantasy basketball. For some of us, it's the final weeks of the regular season, and for others, it's the start of the playoffs. Since the trade deadline and all-star game, there have been many shifts in the NBA. So let's catch up with some key market trends that could help us shed some dead weight or pick up a little extra value down the stretch. Every little bit matters no matter what position you're in; unless it's last, that's never fun. This article will review current player stocks and trends, some whose value is Rising and others Falling.
Devonte' Graham has found himself in the backseat of the Pelicans lineup. Graham was playing well for a strong stretch for New Orleans, as he averages 25.65 fantasy points per game this season. However, since the arrival of CJ McCollum, that production has taken a hefty blow. He's averaging 17.46 fantasy points per game across the last month.
The apparent dip in production should not go unnoticed on your fantasy roster. Graham is a considerable drop candidate at this time. Outside of deep leagues and dynasty formats, a reserve point guard that provides this level of production is typically available on waivers.
Graham is averaging 12.5 points, 2.5 rebounds, and 4.3 assists per game this year. But across his last 12 games, he's down to 7.3 points, 2.3 rebounds, and 3.8 assists. Across that same stretch of games, he would score in the double digits just four times. Additionally, he's failed to secure at least five-plus assists in six straight games. Graham is available in 41% of Yahoo leagues, and I think we all need to do our part to drive that number up. I would look for better options to see you through the end of this season and into the fantasy playoffs.

Lonnie Walker, Devin Vassell, and Doug McDermott have all benefited from the departure of Derrick White. While Vassell may be the biggest benefactor, Walker is still the more available option in fantasy basketball. Walker's ownership sits at 25% to Vassell's 56%.
Walker has recently turned up his scoring volume, as he's averaging 20.3 points per game since February 12th. That's nine points higher than his season-long average. In addition, his season-long fantasy points per game are up seven points across the past two weeks. He averages 21.32 fantasy points per game on the year but is clipping 28.85 across the past 14 days.
Walker should be on your shortlist if you're looking for a player you can rely on for scoring with just 19 games remaining for the Spurs. The Spurs aren't playing for anything, as they sit at 23-41 in 13th place in the Western Conference. They're not making the playoffs let alone a Play-In game. We could see rest opportunities for Dejounte Murray or other starters to push Walker's value further. He's someone I could easily swap for a lowly Devonte' Graham or another player hitting a late-year downswing.
LONNIE WALKER IV ????

(via @BallySportsSA)pic.twitter.com/EnyVRBkcNM

— Dime (@DimeUPROXX) February 26, 2022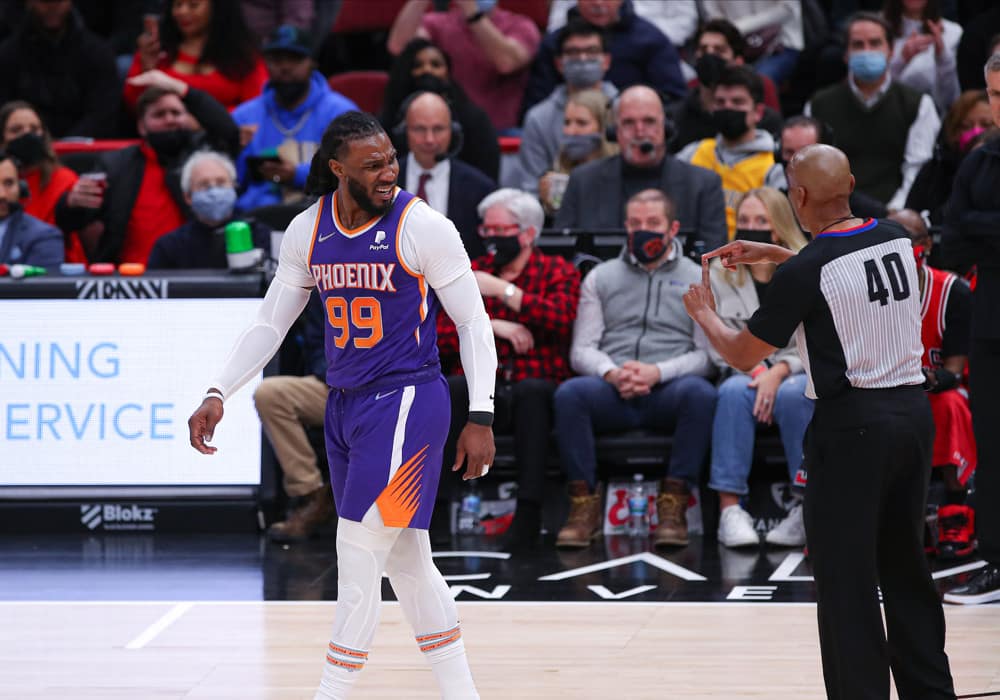 Jae Crowder has undoubtedly answered the call since Chris Paul went down with an injury post-all-star break. He's doing a little bit of everything for the Suns, who are just 2-2 since returning from ASG Weekend. But, while the team may be struggling, Crowder is pulling his weight. He's averaging 15 points, 4.5 rebounds, 3.5 assists, and 3.0 steals per game with Paul out of the lineup.
To make matters worse, the Suns have also lost Devin Booker for the next 4-5 days, as he's entered COVID-19 Protocols. Booker's absence will unfold another significant layer of production across the remaining starters. I see Crowder as a massive benefactor in the short term and surely through the remainder of our fantasy basketball season with Chris Paul only likely to return for the NBA playoffs.
Crowder is averaging 24.01 fantasy points per game this season. During this hot stretch, he's hitting 37.85 fantasy points per game. His ownership rate has been climbing across the past few days, up to 44%. He's a must-add if still available. If not, you can always cash in on him in DFS and Player Props; you don't want to miss out on this value!
JAE CROWDER FOR 3
(Via @NBA) #NBASundays

— NIKE IMAX (@NikeImax) February 28, 2022
Boucher has hit a bit of a production skid recently. His numbers are becoming inconsistent, making him a far less reliable option in our fantasy basketball lineups. Boucher has only hit over 20 fantasy points in a game twice since February 12th. He had a solid stretch to start February, but the Raptors are deep, so if he's not clicking on all cylinders, someone else will.
Boucher will have an opportunity to turn things around with a recent injury to OG Anunoby, who could be sidelined for up to two more weeks with a finger injury. Boucher's ownership rate sits at 65%, so his owners have to believe he's about to turn the corner. I'm not buying that narrative, though! The Raptors have many ways to fill OG's absence. Gary Trent, Scottie Barnes, and Precious Achiuwa are better options to replace that production.
Boucher will still come off the bench with OG missing time. He may see more time, but he just hasn't been efficient or confident on the floor. He's not a player I want to risk my season on at this juncture of the year. If we were at game 32, I'd be more interested in holding, but I say it's time to let him fly and find better value via waivers.

When Devonte' Graham met his relegation to the bench, the Pelicans shifted McCollum, Brandon Ingram, and Herbert Jones down the lineup to make way for Jaxson Hayes to start at power forward. It's been a profitable upswing for the young forward! He's up to 29.15 fantasy points per game in the past two weeks; that's ten points higher than his season-long average.
Hayes has fit nicely in the starting lineup. He's allowed Ingram to move to the shooting guard position and play alongside CJ McCollum. The Pelicans stuff the paint with Jonas Valanciunas, Hayes, and Jones to grab rebounds and easy buckets while the key shooters swing around the perimeter. The new setup has created a nice flow of ball movement and offensive efficiency. The team has climbed the standings considerably since the lineup changes; they're now in Play-In territory and could make the playoffs.
The improvements and team success should give you the confidence to try and grab Hayes; he's available in 63% of fantasy basketball leagues, so it's likely, you can still get some of his action.
What's more fun than watching an exuberant Jaxson Hayes turning and running to get back on defense before Jonas Valanciunas scores the easy bucket over and over this morning? pic.twitter.com/M5XbwQGZIo

— Oleh Kosel ???????? (@OlehKosel) March 3, 2022
Related Content