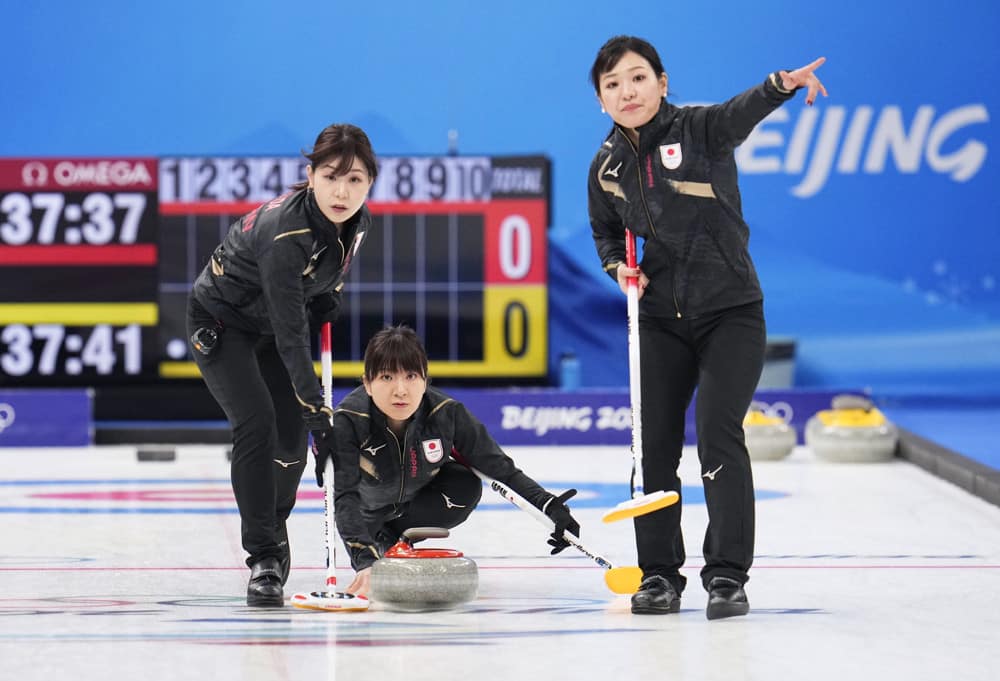 We thought the Women's Olympic Curling Tournament would be a wild ride and it was. Six teams finished within one game of each other in the standings. And the final two teams in the medal round had to be decided by the best Draw Shot Challenge score. Will that unpredictability continue in the medal round?
MORE OLYMPIC CURLING PREVIEWS AN OLYMPIC COVERAGE
2022 Men's Olympic Curling Preview, Odds, and Betting Picks
2022 Mixed Doubles Olympic Curling Preview and Betting Picks
The Curling Gambling Podcast with Gold Medalist Joe Polo
[Note: Team rosters are as of Jan. 30, 2022, and are subject to change based on results of COVID-19 testing when the athletes arrive in Beijing.]

2022 Women's Olympic Curling Medal Round Preview, Odds, & Betting Picks
When: Friday, February 18th, 7:05 am. EST
How to Watch:
#1 Switzerland (8-1) vs. #4 Japan (5-4)
Switzerland Storylines: The Swiss are playing like the two-time defending world champions that they are. They come into the medal round off a win over their opponent, Japan, in the final draw of the round robin. The question for the Swiss is the status of their skip, Silvana Tirinzoni. She needed a medical timeout during their penultimate game against Korea and came out of the game after six ends in the final draw against Japan. The only other concern for Switzerland is their fourth stone thrower, Alina Patz, has not been as deadly accurate on draws as we are used to from her. Switzerland is patient and tough to score on. They haven't put up a lot of big ends but are good at getting hammer in the even ends and closing teams out.
Japan Storylines: Would you believe that despite having only a 5-4 record that it was Japan at the top of the team shooting percentage rankings? And that Fujisawa Satsuki was the top shooing skip? They were also the best team at converting with hammer during the round robin. The problem? They were just as susceptible to giving up big ends and were the second-worst team in the tournament at defending without hammer. Their games have been high-scoring and only two have gone the distance. We might know early if Japan will play for gold on bronze in this game.

#2 Sweden (7-2) vs. #3 Great Britain (5-4)
Sweden Storylines: One of Sweden's two round robin losses came against Great Britain in their second game of the tournament. A big score of four for Team GB turned the game early and Sweden was unable to get back in it. They come in on a five-game winning streak and have looked like the defending gold medalists while doing so. Skip Anna Hasselborg has been magnificent during that stretch and the scary thing about this team is they went 7-2 and we still really haven't seen the best that third Sara McManus has to offer. She's been steady in this tournament, but she was magnificent in the medal round four years ago in PyeongChang on the way to winning gold.
Great Britain Storylines: Team GB has been up and down all tournament and has alternated wins and losses with the exception of a 2-game winning streak in the middle of the round robin. Team GB skip Eve Muirhead has a three-game winning streak going against Hasselborg, all in 10-end games. In addition to the round robin win, they beat Sweden twice at this year's European championship. The all-time series between the two skips is 19-19 according to CurlingZone. This might be the game of the tournament. I expect it to be low-scoring with both teams patiently waiting for their opening, similar to the men's semifinal we saw between Sweden and Canada.
2022 Women's Olympic Curling Medal Round: Bottom Line
The best bet is still Switzerland for gold, partly because they've been the best team all tournament and partly because they're the team I most expect to be in the gold medal game. Sweden-GB really is a toss-up, regardless of the records. If you want value, look on the odds on Japan to win any medal. The loser of that Sweden-GB game might be emotionally spent.
---
Related Content