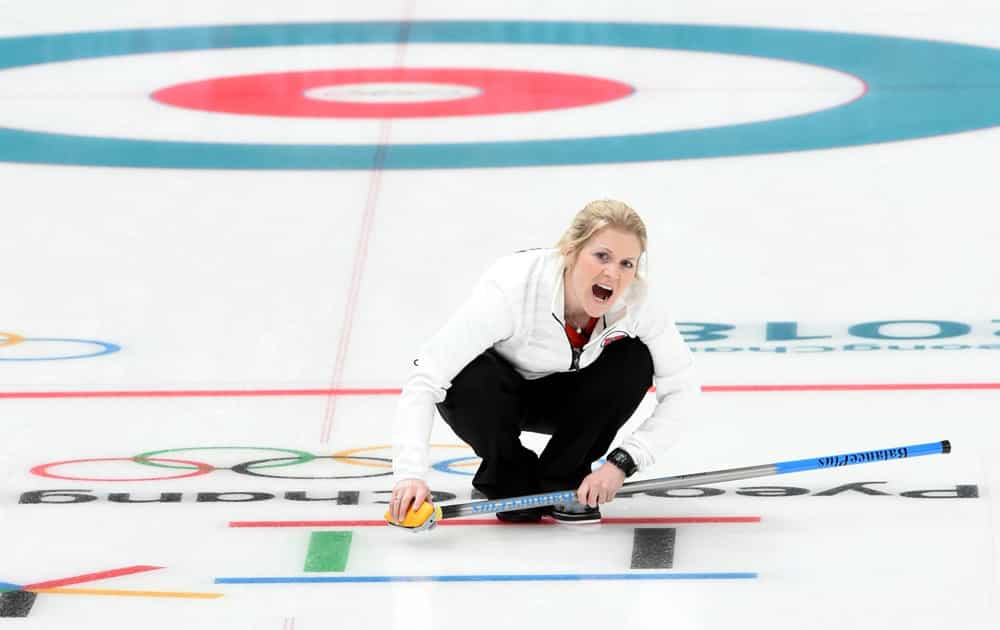 Olympic curling gets underway even before the Opening Ceremony. Mixed doubles kicks off the curling program on February 2 and runs through February 8. We are kind of at a crossroads with mixed doubles curling. Some of the teams in the 2022 Olympic field are dedicated (almost) solely to the discipline. Others are the result of their federation putting together two elite shooters from four-person teams. One of the things I'm most interested in is which ethos wins out. The Olympic Mixed Doubles slate will be fantastic and our betting preview will help you win big.
MORE OLYMPIC CURLING PREVIEWS AN OLYMPIC COVERAGE
Men's Olympic Curling Preview, Odds, and Betting Picks
Women's Olympic Curling Preview, Odds, and Betting Picks
The Curling Gambling Podcast with Gold Medalist Joe Polo
[Note: Team rosters are as of Jan. 26, 2022, and are subject to change based on results of COVID-19 testing when the athletes arrive in Beijing.]

2022 Mixed Doubles Olympic Curling Preview and Betting Picks
Australia – Tahli Gill and Dean Hewitt (+1597)
Who they are: Australia makes its Olympic curling debut thanks to the mixed doubles tandem of Tahli Gill and Dean Hewitt. Gill and Hewitt made their first appearance at the World Championships in 2019, where they made a surprise 4th-place run. They built upon that performance by training and playing in Canada and even added 2018 Olympic mixed doubles gold medallist John Morris to their coaching staff. Now they'll get the chance to face their coach in the 2022 Olympic tournament.
How did they get here: Gill/Hewitt went unbeaten at the Olympic Qualification Event in December in the Netherlands to snag one of the final two spots in the mixed doubles Olympic curling field. They came from behind to beat Korea in one of two qualification finals, 6-5.
Outlook: Darkhorse. If they can recapture some of the magic of their 2019 Worlds run, then anything is possible. Look for them to out-perform expectations, but fall short of the playoffs.
Canada – Rachel Homan and John Morris (+303)
Who they are: Homan and Morris are two of the most decorated curlers in Canadian history and both have prior Olympic experience. In the four-person game, Homan and Morris have combined for six Canadian championships. In addition, Morris has two Olympic gold medals, including the 2018 mixed doubles gold, which he won with Kaitlyn Lawes.
How did they get here: Canada's representatives at the 2021 World Mixed Doubles Curling Championship finished fourth to secure the country's spot in the field. After the Canadian Mixed Doubles Olympic Trials were canceled due to the COVID-19 pandemic, Homan and Morris were selected by Curling Canada to wear the maple leaf in Beijing.
Outlook: Contender is an understatement. They'll be among the favorites, if not the favorite, for gold. Mixed doubles is a shooter's game and these are two of the best in the world. While they have not had the opportunity to play much as a pair this season, they did win the lone mixed doubles tournament they entered this year back in October. They're definitely not a value bet because odds will be very short on them to win.
China – Fan Suyuan and Ling Zhi (+2828)
Who they are: Fan last represented China in mixed doubles as a 15-year-old at the 2017 Audi Winter Games in New Zealand. She and her mixed doubles partner at the time, Fan Jiawin, had a pair of second-place finishes on tour during the 2019-20 season. Ling represented China at the 2021 world championship with Yang Ying, where they went 4-5.
How did they get here: As host, China was guaranteed a spot in the mixed doubles field. This team was selected as the representative by the Chinese curling federation just prior to the games.
Outlook: Darkhorse. China went 4-4 at the 2018 Olympics and has not finished higher than 9th at worlds since 2017.
Czech Republic – Zuzana Paulová and Tomáš Paul (+2828)
Who they are: This husband and wife team made history by becoming the first Czech team to ever qualify for the Olympics in any curling discipline. They have 3 top-five finishes at world championships, including a bronze medal in 2013.
How did they get here: They earned the final direct-entry Olympic berth at the 2021 worlds by beating the United States in a one-game playoff.
Outlook: Darkhorse. They're one of the most experienced mixed doubles partnerships on tour and are always a playoff threat at worlds. However, they sometimes struggle to generate big ends with hammer against the better teams in the field.

Great Britain – Jennifer Dodds and Bruce Mouat (+198)
Who they are: Dodds and Mouat are the defending world champions in mixed doubles and are both very successful with their four-person teams as well. Mouat has a legit claim to being the best stone-thrower on the planet at the moment. He has won or placed second in every major event he's competed in over the last 12 months. Last-rock thrower Dodds showed lots of poise in leading the partnership to last year's world championship.
How did they get here: They won gold at the 2021 world championship representing Scotland to qualify Team GB for the Olympics.
Outlook: Contender. They'll probably be the favorites along with Canada, Norway, and Switzerland. Mixed doubles curling
Italy – Stefania Constantini and Amos Mosaner (+3383)
Who they are: Constantini is the skip of the Italian women's team and Mosaner is the third on the Italian men's team.
How did they get here: Constantini finished fifth at the 2021 worlds to qualify for the Olympics.
Outlook: Darkhorse. At the 2021 Worlds, they lost to the three elite teams they played but won all of the "coin flip" games they needed to in order to qualify.
Norway – Kristin Skaslien and Magnus Nedregotten (+552)
Who they are: They're one of the most successful mixed doubles teams in the history of the discipline. They were awarded a bronze medal at the 2018 Olympics after the Russian team was disqualified due to a failed drug test. They also have 5 top-five finishes at worlds, including a silver medal in 2021.
How they got here: They finished second at the 2021 world championship, losing a back-and-forth gold medal game against Scotland.
Outlook: Contender. Depending on how short the odds are for Canada and Great Britain, the Norwegian pair might give you the best opportunity for a nice payout if they come through with gold.
Sweden – Almida de Val and Oskar Eriksson (+472)
Who they are: While not as highly ranked as some of the teams in this field, they did win bronze at last year's world championship. Eriksson plays third on the Swedish men's team and throws one of the fastest stones on tour. De Val competes on the women's tour on the Wrana rink. Both were at the top of the shooting percentages at the 2021 world championship.
How they got here: de Val and Eriksson were unbeaten at the 2021 worlds until they lost in the semifinals to Skaslien & Nedregotten. They then beat Canada for bronze.
Outlook: Contender. Like Norway, this might be a good futures bet depending on how short the odds are for Canada and Great Britain. Interestingly, in their most recent tournament in December they went unbeaten again until they lost to Skaslien & Nedregotten in the final. The top betting favorites are likely to be standing at the end of the mixed doubles Olympic Curling event.
Switzerland – Jenny Perret and Martin Rios (+547)
Who they are: The 2018 Olympic silver medallists are back and looking to add to their collection. They have won two World Mixed Doubles Championships (2012 and 2017) and play one of the heavier mixed doubles schedules of the teams in this event.
How they got here: Went 5-4 at the 2021 world championship and qualified for the Olympics thanks to having the head-to-head tiebreaker over the United States. They then lost in the playoffs to Canada.
Outlook: Contender for playoffs, but a darkhorse for gold. I'll hedge my bets here. They are the gold standard of mixed doubles specialists, but their results on tour and at worlds haven't matched up compared to what they were going into the last Olympics.
United States: Vicky Persigner and Chris Plys (+1597)
Who they are: Persinger plays second for Team Cory Christensen and Plys plays third for Team John Shuster, which will represent the US in the men's event.
How they got here: Won the US Olympic Trials by going 6-3 in round-robin play and eventually beating Jamie Sinclair and Rich Ruohenen in the final. Qualified the US for Beijing by going unbeaten at the Olympic Qualification Event.
Outlook: Darkhorse. The US only has one World Championship finish above eighth in its last four tries (Christensen and Shuster won bronze in 2019). Persinger and Plys also haven't been able to face a lot of elite competition lately because of the pandemic. They are definitely the best the US has to offer, having won the 2021 US Championship, Olympic trials, and Olympic qualifier. Curling is a game with some upsets and the Americans could pull a long-shot betting win in the mixed doubles contest.
Related Content