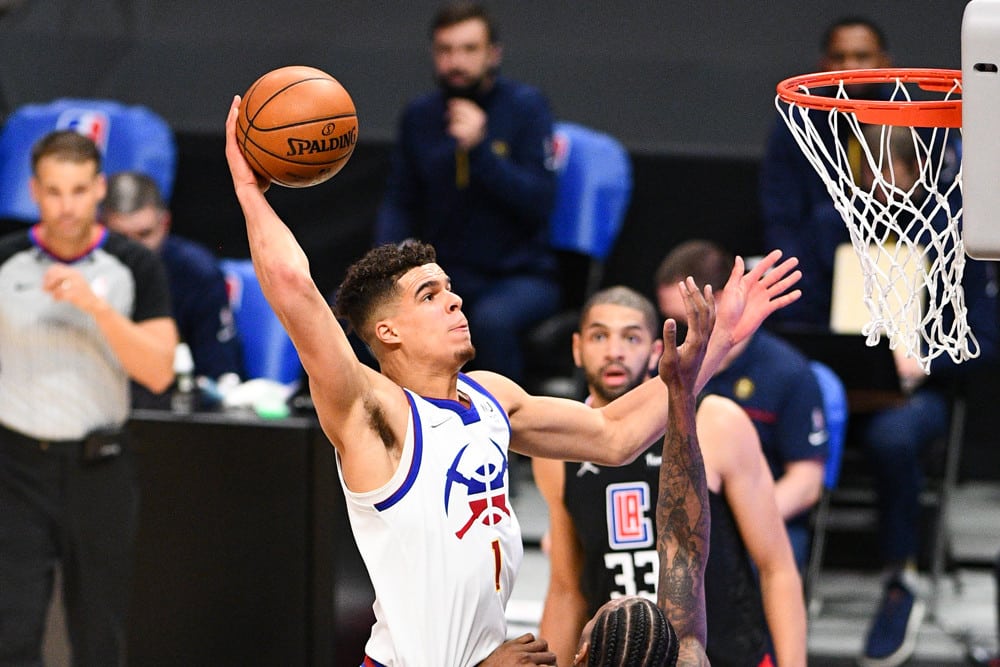 Fantasy Basketball: Dynasty Buy Low Targets
There's no guarantee that every fantasy season will be successful; someone has to fill out the league's bottom half. I'm fortunate that I'm not playing from the bottom this year, but I feel for my fantasy basketball brethren; we're all in this together! This article will review buy low options in Dynasty Fantasy Basketball. You should strongly consider switching to dynasty formats if you already haven't; it'll offer you the ability to stay engaged in the game during the years you lose half your team to injuries and have to play from the bottom. Most of the players listed will not win you a championship this season; instead, they'll give your team more leverage for the following seasons to come.

Lonzo Ball played the best basketball of his career before going down with an injury this season. He's currently dealing with a small meniscus tear in his left knee, but it's believed that he'll be able to return to the Bulls by the NBA playoffs. It would appear his fantasy 2022 campaign is over, which makes him a great player to target in dynasty basketball. There could be a team that's willing to dump him for an aging player who can help them win a fantasy basketball league or make a late playoff push.
Lonzo has improved his three-point shooting and has become more consistent at the free-throw line across his past two seasons. Ball increased his three-point shooting from 37% to 42% this season and has hit over 75% at the free throw line. During Ball's first three seasons, he would fail to shoot over 60% from the line. He can do it all and is a legit all-around stat collector. He can score, distribute, play defense, and rebound from the point guard position. He's still under 25, and I suspect the next five years will be his best five years in the league.
I like moving a guy like Kyle Lowry and your choice of a draft pick for Ball. Lowry is much older but is producing for the Heat and is playing a healthy amount of minutes. Lowry has missed some games recently, but they've been for personal reasons and not injuries; that would be a perfect win now vs. rebuild trade.
Get well soon @ZO2_ pic.twitter.com/eQ0FVb8ekL

— ???? (30-17) (@TheLonzoEra) January 20, 2022
Jalen Green is a young player with raw talent that should be on top of your fantasy basketball dynasty wishlist. Jalen is a shooter who can create off the dribble, drive the lane, and catch and release with ease. He dropped 30 points in just his third NBA game as a 19-year-old rookie! This year has still been an up-and-down rookie season. He's averaging 14.2 points, 3.2 rebounds, and 2.2 assists, but he's only shooting 37% from the floor.
While Green has shown he's a bit rough around the edges, he has the scoring touch and awareness you're looking for in a young sharpshooter. Unfortunately, he's also not a player who will win you a fantasy championship this season. Top of the standings level rosters may not appreciate him bleeding out a field goal category or just not hitting his marks in point-based leagues. Jalen averages 23.84 fantasy points per game on the season; however, in the past 14 days, he's averaging 16.28. This decline in production could be the ticket to get him on your rebuilding roster.
A player like Will Barton would be a good candidate for both sides in a move for Jalen Green. Barton is playing very well for the Denver Nuggets this year, as he averages 31.28 fantasy points per game on the season. Barton can help a team win a fantasy championship this year. However, his production will take significant blows with Michael Porter Jr. and Jamal Murray set for returns next season. Trade out the old in Barton for the youth and raw talent of Jalen Green. You may need to sprinkle on a draft pick, but I don't think it should be that high; you know your league better than me, try not to overpay.
High flying Jalen Green! ????

RT to vote for @JalenGreen! #NBAAllStar pic.twitter.com/g5thjlHiFj

— Houston Rockets (@HoustonRockets) January 6, 2022
SF/PF – Michael Porter Jr.
Porter Jr. won't be helping anyone win anything in fantasy basketball this season. I've had him secured in an INJ slot for several months hoping there would be some outside chance he would make a return. Porter Jr. has a ton of potential going forward in the years to come; he just needs to stay healthy. Porter has produced whenever he's been healthy and on the floor. He's another young stat collector who can play from the two guard to the power forward positions. He offers line-up versatility, consistent scoring, defense, three-point efficiency, rebounding, and distribution skills.
While Porter's upside is through the roof when available, it begs the question, should you make a move for a player who has an injury history. Porter has yet to finish a season with more than 61 games played. None of his injuries has hindered his level of play, he's filled the box score every time he's come back, and I suspect Porter will do precisely that once he's returned with 100% health. I don't expect the Nuggets will have him back this year; if it is, it will be for a run in the playoffs and nowhere near our fantasy seasons. Porter is still 23 years old, and I believe he'll break the "Always Hurt" narrative in the years to come.
Porter will have a higher cost than most in dynasty formats, even with his injury history. I like moving an older player like Bojan Bogdanovic plus a draft pick, most likely going to be on the higher side, probably a second-round pick. Bojan is playing a ton of minutes but won't hold much value in the coming years. If he's not enough for another owner, I would still do a two-for-one deal and try to pop in another veteran alongside Bogdanovic. Two veterans and a top pick should be enough, but it could also be too much; feel out a Porter owner and see what you can make happen!
Michael Porter Jr. getting shots up pregame. He's ramped up his workout from even a couple games ago. pic.twitter.com/hjJxEfMLkz

— Harrison Wind (@HarrisonWind) January 20, 2022

Vanderbilt is another up-and-coming raw talent in the NBA. He came into the league in 2018 as a 19-year-old rookie. While it has taken time for him to get on his feet and play meaningful minutes, he's made vast improvements in his game since last year, and now is the time to pounce on him in a dynasty trade! Vanderbilt runs the floor and attacks the basket with athleticism, speed, and creativity. At 6'9″, he's often outsized at his position, but he's very creative at getting different looks and using his 7'1″ wingspan to his advantage.
Vanderbilt is averaging 27.19 fantasy points per game this season. This production is leaps and bounds ahead of his 19.36 from last year. I see him continuing to improve and building up his game. He shoots a high percentage, but he still needs to clean up his jump shot, as many of his baskets come from driving the lane, dunks, and put-backs. He averages 7.0 points, 9.2 rebounds, and 1.5 assists per game. I'd be remiss if I didn't mention his defense as well; he's averaging 1.6 steals and 0.7 blocks per game. I see him potentially developing into the next Pascal Siakam, very similar players regarding their wingspan and height; Vanderbilt just needs to make that leap offensively.
I want to move a player like Kelly Olynyk for Vanderbilt. Olynyk just returned from injury for the Pistons, and he's shown he has plenty of value to offer a team seeking a fantasy playoff birth or making a championship run. He's getting a healthy amount of minutes but isn't going to be a guy to rely on for many more years in the league. Olynyk may have sexier stat lines for now, but I assure you the investment in Vanderbilt will be well worth it. Olynyk and a draft pick wouldn't hurt my feelings, but I think you might be able to get a deal done without dealing any future draft capital.
Jarred Vanderbilt across 61 seconds last night: assists 3 consecutive baskets, helps force 2 turnovers, preserves 1 possession.

Powered a 7-2 run to complete a comeback win. He's the man. pic.twitter.com/PL7oEfTVxo

— Jackson Frank (@jackfrank_jjf) January 27, 2022
Carter Jr. is another player that is coming into their own this season. He's hitting career highs in points, rebounds, assists, and two-point FG%. It's been an excellent season for the young center, but I think we're just getting warmed up. Carter looks more confident everywhere on the floor; he's playing better defense down low, he's hitting more outside shots, and he's finishing at the basket.
Wendell Carter Jr. does have the upside to help a team win in fantasy basketball this season. He ranks #65 in total point production this season. His production totals did take a dip recently as Carter Jr. had an injury scare that would take him out of seven games this month. However, he's returned and looked good since doing so. Since returning, he's averaging 16.3 points and 7.0 rebounds in his last three games. His cost may be a little higher as he has upside all around for this year and the future years to come.
I think his cost will need to include a high draft pick; it will be tough to pull him away from a successful team that's winning in your league. Otherwise, we're looking at a similar cost to Michael Porter Jr., where we need to unload a couple of veterans. I would try adding a younger player you're lower on, maybe Mitchell Robinson plus one veteran, let's say, Mason Plumlee. I think two players of their calibers are worth making a big move for Carter Jr. If that price is too costly for your squad, I would try to lean on a good draft pick in exchange.
TOUCHDOWN

Jalen Suggs ↗️ Wendell Carter Jr. pic.twitter.com/GGoTBCvb8U

— RK (@beyondtheRK) January 22, 2022
Related Content