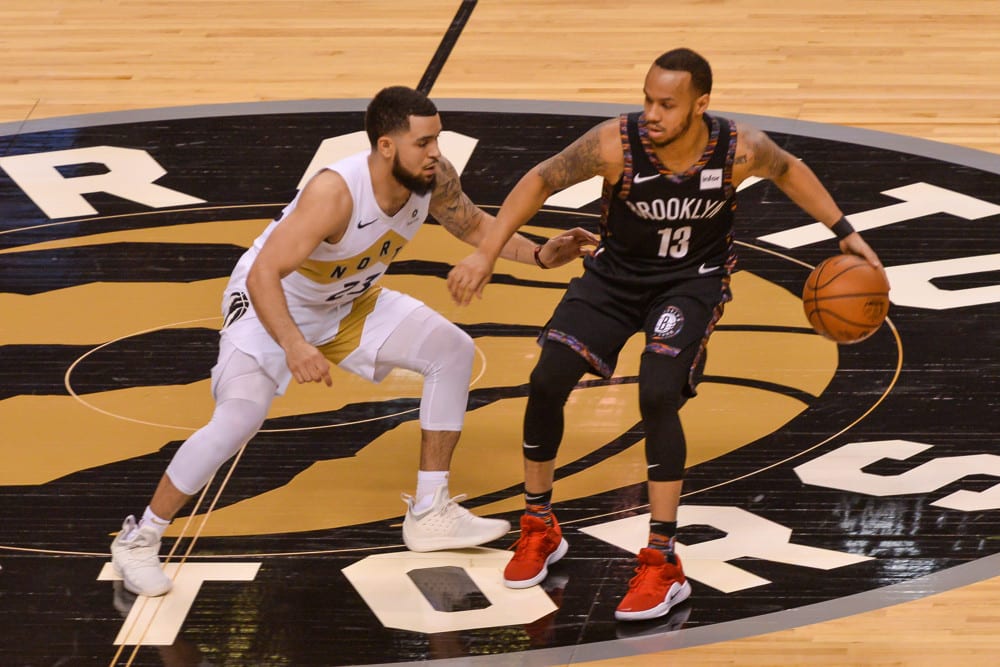 We're coming down the final stretch of the Fantasy Basketball Season. Most leagues have roughly six to seven regular-season matchups remaining. Depending on your league, you may also be approaching a trade deadline. Now is the time to be asking yourself, is my team a championship roster? Whether you're at the top of your league or chasing a playoff spot, you may need an upgrade to give you that extra bit of production. Here are some high-value Buy options based on NBA Advanced Stats analysis. 

Player Efficiency Rating – PER
"A measure of per-minute production standardized such that the league average is 15."
Harrell has had a solid season this year! He's been filling in a lot of minutes while the Wizards have been missing Thomas Bryant and Rui Hachimura this season. Those two players returned from injuries this week, and while I was convinced Harrell would be a sell candidate based on their comebacks, the numbers say different. 
Harrell averages 14.5 points, 7.3 rebounds, and 2.2 assists per game on the season. These surface-level numbers are solid, but his advanced stats are elite! As you see above, he ranks #9 in the NBA with a Player Efficiency Rating of 25.1. This feat highlights that Harrell has taken advantage of his minutes, as PER grades per-minute production, and is pace adjusted. Meaning you can compare players more effectively when there's a disparity in minutes played.
Harrell averages 25.2 minutes per game this season, and PER isn't the only NBA advanced stat where he's earned high marks. He also ranks #5 in True Shooting %, #12 in Box Plus/Minus, and #26 in Total Rebound %. He's very buyable and won't cost you a ton given the return of Bryant and Hachimura; there will be plenty of owners willing to sell him. Make an Offer!
Offer: J. Poeltl, E. Bledsoe, M. Conley, B. Portis, & K. Oubre Jr. 
Montrezl Harrell with a poster dunk all over Robin Lopez

This time Kentavious Caldwell-Pope passed it to him

Thomas Bryant and GWiz are most pleased pic.twitter.com/JuqbQ8OmO4

— Hoop District (@Hoop_District) January 13, 2022
True Shooting Percentage – TS%
"A measure of shooting efficiency that takes into account 2-point field goals, 3-pt field goals, and free throws.
Rudy Gobert (.726)
Jarrett Allen (.718)
Daniel Gafford (.714)

Montrezl Harrell (.689)

JaVale McGee (.671)
Deandre Ayton (.650)
Domantas Sabonis (.649)
Eric Gordon (.638)
Max Strus (.637)
John Collins (.636)
Gordon has been on a roll this season! His shooting has been excellent, as he's averaging 14.8 points per game while shooting 50% from the floor. In addition, Gordon's hitting 73% from the free throw line, 54% from two-point shot attempts, and 45% from beyond the arc. Unfortunately, he doesn't rake in many other stats; his assist average is 3.4 per game, and his rebounds are 1.7. However, that doesn't mean he can't be your NBA Advanced Stats Hero.
He's a great Buy candidate if you're hurting for Total Points, 3PT%, 3PT Made, or just overall FG%. That covers a lot of ground in category leagues and could be the extra push you need to move the needle in your favor to win an additional matchup or two down the stretch of the season. It's not ideal that Gordon plays for the Houston Rockets, I'm never against owning players on bad teams, but it limits his upside as the team's offense can fall apart any night.
However, I believe that Gordon draws a ton of interest from other teams in the league, and I expect to see him traded at the deadline, if not sooner. So make an offer for him before his stock rises, whether it's Lakers Yellow or Celtics Green; owners will get caught looking at the "Pin Stripes" and hold him if a move upgrades his perceived value. 
Offer: E. Fournier, H. Jones, T. Mann, M. Morris, & R. O'Neale
8-8.

6-6 from 3️⃣.

Eric Gordon is going off ???? pic.twitter.com/xX6DbAGpOU

— Houston Rockets (@HoustonRockets) January 13, 2022
Total Rebound Percentage – TRB%
"An estimate of the percentage of available rebounds a player grabbed while they were on the floor."
Vanderbilt is an up-and-coming forward in the NBA. He's been in the league since 2018 and hadn't done much as far as production before this season. Last year he finished with 5.4 points and 5.8 rebounds per game. He started 30 games last season for the Timberwolves, but he only needs one more start this season to match that total. He's playing 25.5 minutes per game, which is another career-high; head coach Chris Finch has given him a great opportunity, and he's taken advantage of it. 
Vanderbilt won't cost you much in a trade deal. While he doesn't score many points, he's always good for a couple of steals and a block per game. I believe that his scoring will continue to rise; Vanderbilt is a strong forward that can run the floor. He's constantly attacking the basket for easy buckets, rebounds, and putbacks.
He actually scored a career-high 21 points just two games ago. You want to invest in any of these top rebounding players; I've said it for years; owning one or two of these guys is the best way to corner big men stats. I have never seen a team win a championship in fantasy basketball fading rebounds, or big men in general. Vanderbilt would be an intricate piece to earn you more wins. 
Offer: D. Finney-Smith, J. Poole, C. Duarte, M. Bamba, & I. Zubac
Jarred Vanderbilt slip + finish, assisted by D'Angelo Russell pic.twitter.com/ULNWg9psG8

— Timberwolves Clips (@WolvesClips) January 12, 2022
Assist Percentage – AST%
"An estimate of the percentage of teammate field goals a player assisted while on the floor."
Garland is another player who's had a nice increase in production through the start of this season. He's averaging 19.1 points per game, a two-point increase from his career-high finish of 17.4 last season. He's increased his assist totals as well; he averages 7.6 assists per game this season, which is a 1.5 increase from last year. Garland is bound to rake in even more assists now that the Cavaliers have lost Ricky Rubio to a season-ending injury. While you don't see Rubio on the list above, he ranks #13 in Assist % even after the going down weeks ago. 
The Cavaliers did make a trade for Rajon Rondo, and I expect he'll get his fair share of minutes; however, I don't suspect he'll provide production consistent with what Rubio brought to the lineup. Nevertheless, Garland should be a massive target for you in fantasy. He's been having a great year, and more opportunities are coming. His total usage will go up, and he'll continue to distribute and score even more. His cost may be higher than some of the previous players listed, but he'll be worth it; he's league-winning material!
Offer: K. Kuzma, J. Giddey, D. Bane, B. Hield, & D. Green
Darius Garland dished out a career-high 15 assists on his way to his first career triple-double!

⚔ 11 PTS | 10 REB | 15 AST pic.twitter.com/9VSKxQsa7V

— NBA (@NBA) January 13, 2022

Box Plus/Minus – BPM
"A 
basketball box score-based metric
 that estimates a basketball player's contribution to the team when that player is on the court."
I always like it when the NBA adopts hockey stats; I'm still waiting for the secondary assists! Box Plus/Minus is pretty simple. If you're on the floor, and your team is scored on, your count goes down by the points scored against. When you're on the floor and your team scores, your rating goes up by the points scored. In this category, we're staring down Fred VanVleet. He's had a fantastic previous 30 days in fantasy basketball and has accumulated top 10 production across that period. 
VanVleet is a hot commodity, and of the players on this list, he will cost the most. The Raptors are playing excellent basketball right now after a dismal start to the season. The team is getting healthy, and the starters are clicking on all cylinders. Pascal Siakam is another top 10 player across the past 30 days, so hopefully, that opens up some opportunities for VanVleet buyers. Fred's averaging 22.0 points, 4.9 rebounds, and 6.6 assists per game.
His plus/minus rating highlights the control and stability he provides when on the court, a true floor general that can do it all. He consistently makes important stops and causes turnovers on defense while keeping an excellent scoring pace. There's no game where VanVleet will hurt your lineup, let alone his teams; when he's on the floor, the team scores five more points than it gives up. Try and reel him in before he gains even more ground than he has across the past month. 
Offer: G. Hayward, B. Ingram, W. Carter Jr., Lo. Ball, A. Edwards
Fred VanVleet is as tough as they come on both ends of the court! #NBACourtOptix powered by Microsoft Azure reveals how FVV's effort on the defensive end has him atop the NBA in forcing turnovers over the past three seasons.

Tune-in to PHX-TOR at 7:30pm/et on NBA League Pass. pic.twitter.com/eijDfLLf7E

— NBA (@NBA) January 11, 2022
Related Content