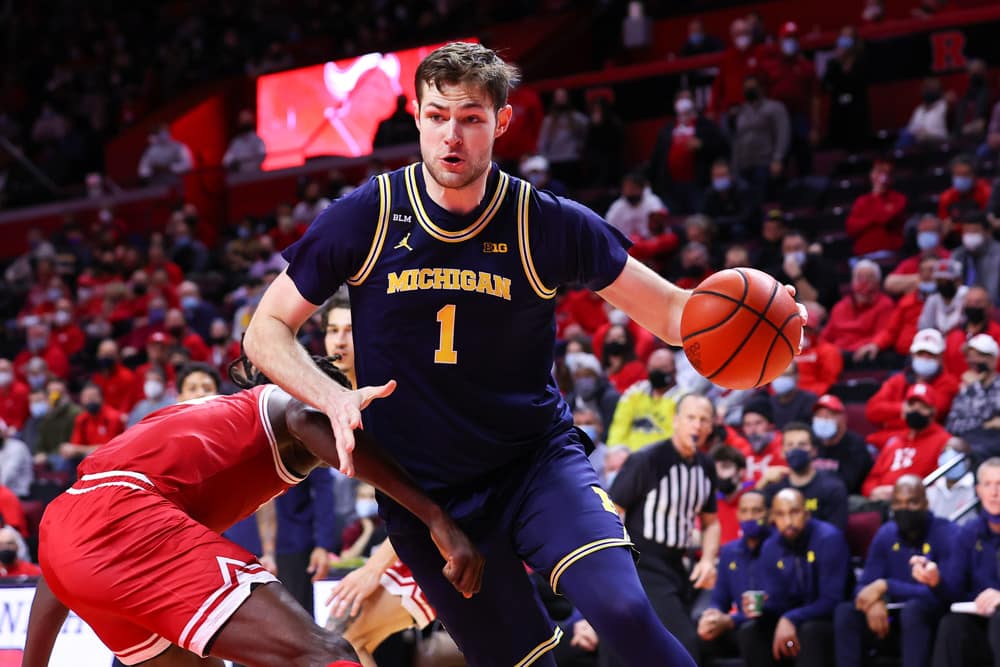 Happy Friday, College Basketball fans! January 14th is a great low-key slate for college basketball to get you geared up for the NFL's Super Wildcard Weekend. Two Big Ten matchups and four of the Atlantic 10's best teams headline the day of CBB. Let's get into the College Basketball (CBB) Picks and Best Bets for tonight!
I'm going to highlight the game of the day, the best matchup between two players on the court, and give you my three best bets. I'll then run through every Friday game from a betting perspective. All of the spreads used in this article can be found using WynnBET.
CBB Picks: Game of the Day
VCU 10-4 (10-4 ATS) at St. Bonaventure 9-3 (3-9 ATS)
At 7:30 on ESPN2 Virginia Commonwealth visits the Reilly Center to play Saint Bonaventure. Colby Dant ranked this duel #14 in his Top 20 College Basketball Games Remaining in January and rightfully so because this could be the best game the Atlantic 10 presents all year.
Head coach Mark Schmidt entered the 2021-22 college basketball season with the best preseason-rated Bonnies team of his career. But they're coming off a three-week COVID pause and an unimpressive overtime victory against (5-8) La Salle.
VCU on the other hand is rolling on a seven-game win streak going 6-1 ATS in that span heading into Friday night's game. Mike Rhoades' Rams have talent oozing through the starting five into their bench, but their head honcho has to be Adrian "Ace" Baldwin who averages 11 PPG with 5 assists per game. After missing the beginning of the season with an injury Baldwin and his game-winner against Dayton is a huge reason why they haven't lost a game yet with him playing.
WHAT A FINISH FOR @VCU_Hoops 😱 pic.twitter.com/0wBa8EcKlE

— CBS Sports Network (@CBSSportsNet) January 6, 2022
Head-To-Head Matchup of the Day: Hunter Dickinson vs. Kofi Cockburn
Unfortunately, we have to stamp a HUGE "IF" on this Fox Sports 1 matchup at 9:00 P.M. EST because Michigan is dealing with major COVID issues on their end. The Wolverines have canceled their last two games against Michigan State, and Purdue due to them not having seven healthy scholarship players available. We currently do not know who will be available against Illinois on Friday night. Juwan Howard stated in a press conference on Thursday that at this moment the Wolverines only have seven scholarship players and one coach available for Friday's contest.
Anyway, if Hunter Dickinson (60% FG, 16.1 PPG, 8.8 REB) plays, he and his Wolverines will come crawling into Champaign, Illinois owning a 1-2 record in the Big Ten. Their only win is coming from a blowout against the doormat that is the Nebraska Cornhuskers. The Virginian stands 7-foot-1 and has been slimming down into an "NBA body" which currently has him weighing in at about 260 pounds.
He will take on the 7-foot, 285-pound Junior, Kofi Cockburn from Kingston, Jamaica. Cockburn has been a monster since his suspension to start the year as he is averaging 22 points, 12.5 rebounds, and shooting 60% from the field. Get your popcorn ready.
"GET YOUR POPCORN READY"

Lane Kiffin mic drop

— PFF Draft (@PFF_College) October 2, 2021

CBB Picks: Best Bets for Friday, January 14th
Monmouth (10-3 SU, 12-1 ATS) at Saint Peter's (3-6 SU, 4-5 ATS)
Time: 7:00 p.m.
TV: ESPN+
Line: Monmouth -4
Check out Nick Dant's Top 10 College Basketball Teams ATS because you will see that head coach King Rice's Monmouth Hawks have the best record ATS in the country at 12-1. In this tilt both teams are coming off three-week COVID pauses so when I was looking for my angle, I immediately looked at the defenses.
In these games where your offense will probably not be a well-oiled machine, you need to have a good defense to carry you through the 40 minutes. Monmouth has the 73rd ranked defensive efficiency according to KenPom and St. Peter's has the 91st, so there's a slight advantage on the Hawks side.
ATS and defensive efficiency aren't enough to rationalize a bet, so I researched deeper.
The Peacocks shoot 45% from the field as a team putting them in 319th out of 358 in the country. The Hawks on the other hand are just above average when it comes to shooting the rock, popping a 50%, ranking them 147th.
Now I see a clear advantage when it comes to who may be able to perform best coming off a long break. Monmouth has three players (G George Papas, G Shavar Reynolds, and C Walker Miller) who average more than 15 points per game and shoot above 85% from the free-throw line. The Peacocks are also a team that is very prone to getting into foul trouble. That is just not a recipe for success against this efficient Hawk trifecta.
Best Bet: Monmouth -4
---
Akron 9-4 (7-4 ATS) at Kent State 7-8 (4-9 ATS)
Time: 8:00 p.m.
TV: CBSSN
Line: Kent State -1.5
Kent State owns what may be two of the worst losses on any CBB resume this season. They have lost to Central Michigan and Northern Illinois outright, AT HOME, in two of the last five games they have played.
The Golden Flashes get a chance to right their wrongs against one of the MAC's best, Akron. The Zips have a clear advantage beyond the arc as they fire 3balls frequently. Akron hits an average of 34% of them going up against a defense that doesn't prevent the 3point attempt well.
Kent State also considers the three-pointer to be their bread butter as 41% of their shot attempts come from beyond the arc but the Golden Flashes only hit at a 27% clip, good for 347th in the country. Akron will Zip them up from 3 and look for 6'8, Sophomore stretch forward, Ali Ali (14 PPG) to lead the Zips to a victory. Sprinkle the money line here.
Best Bet: Akron +1.5
---
St. Bonaventure 9-3 (3-9 ATS) vs. VCU 10-4 (10-4 ATS)
Time: 7:00 p.m.
TV: ESPN2
Line: St. Bonaventure -2.5
Total: 
I told you that I would be coming back to this 7:30 game on ESPN2. I sense that VCU will be a very public side in this matchup. So I will gladly lay the (-2) with the Bonnies.
I'm relying on the block party that is Osun Osunniyi to make his presence known in this game. The Rams are a team that likes to go into the paint to get their points and I have trouble not seeing Osunniyi who averages three blocks a game (13th in the country) shine tonight. The 6'10 senior out of New Jersey also shoots 61% from the field and averages 10 points and 7 boards per game.
As mentioned above VCU is known for its great depth, but on the flip side, there's the Bonnies. St. Bonaventure came into the year with what some said was a Top 10 starting five in the country. In their last game against La Salle, every guy in their starting five played at least 43 minutes of the 45-minute overtime ballgame. Knowing the Rams like to play in the paint I researched to see if Bonaventure gets into foul trouble. That does not seem to be the case.
Public dogs have fleas, and I'm willing to put my money on a team that I expect to show up big for one of the biggest games on their conference schedule.
Best Bet: St. Bonaventure -2.5
---
CBB Picks: Betting Preview for Friday, January 14th
 Buffalo (7-7 ATS) at Ball State (6-9 ATS)
Time: 6:00 p.m.
TV: CBSSN
Line: Buffalo -6.5 
Ball State is 5-1 at home and they host the Buffalo Bulls. Both teams succeed at shooting beyond the perimeter, but Buffalo also excels at defending it where the Cardinals do not. Some Bulls players' who often shoot the long ball have awful form but trust me the shots somehow find the nylon as they hit at 36.5%, good for 46th in the country. I'm betting Buffalo -6.5.
Nebraska (8-9 ATS) at Purdue (7-8 ATS)
Time: 6:30 p.m.
TV: FS1
Line: Purdue -20
I love these 6:30 Big Ten games. Purdue right now doesn't know if they want to be a world power or just a Sweet 16 team. The Boilermakers have the ability to put a 20-point beatdown on teams whenever they want (North Carolina, Butler, Florida State, etc.). But they also can play down to their competition's level sometimes like in the Rutgers and Penn State games.
In saying that about Purdue, Nebraska has the same capability to play well or lay a stink bomb. Knowing this I'm going to go with the Boilermakers in Mackey Arena. I'm picking Purdue -20 but I do not recommend you bet it.
Manhattan (5-4-1 ATS) at Iona (10-5 ATS)
Time: 7:00 p.m.
TV: ESPNU
Line: Iona -15
Rick Pitino and his Iona Gaels host the Jaspers of Manhattan in a MAAC showdown. Iona is a great team that is attempting to build an at-large bid into the NCAA Tournament and they can't afford to lose these types of games.
The Jaspers own an 8-3 record and I think 15 points is a bit too much. I'll have money on Manhattan +15 here.
Siena (5-6 ATS) at Marist (9-5 ATS)
Time: 7:00 p.m.
TV: ESPN+
Line: Marist -5.5
Total: 
I'm betting the Siena Saints +5.5. I'm expecting 6'4 junior SG Colby Rogers (13.5 PPG, 44 3P%) and Co. to see some success from 3-point range.
Quinnipiac (5-7 ATS) at Rider (3-9 ATS)
Time: 7:00 p.m.
TV: ESPN+
Line: Rider -1
Total: 
G/F sharpshooter Matt Balanc (15.5 PPG, 45% 3P%) and the Quinnipiac Bobcats love to chuck up their threes. They also have balance with forceful center Kevin Marfo (9 PPG, 10 REB) down low. I will have some cash on Quinnipiac +1.
Michigan (5-8 ATS) at Illinois (8-7 ATS)
Time: 9:00 p.m.
TV: FS1
Line: Illinois -9
Bracketologists like ESPN's Joe Lunardi have Michigan on the outside looking in on March Madness. You would think the Wolverines need this win badly, but I speak as a Michigan fan when I say this, I won't bet it.
Quite honestly, I don't think this number has a limit to lay on with Illinois. I don't even think Juwan Howard knows what five guys he and the Wolverines will put on the court. Illinois fans and players have been eager to put a shellacking on Michigan in the State Farm Center. Last year Michigan couldn't play a conference game against them due to COVID. This instance gave Michigan the outright 2020-21 Big Ten regular-season title.
I don't bet against the Wolverines, but I expect Brad Underwood and the Illini to show no mercy for Michigan. Apparently, the Wolverines will be wearing all-black uniforms tonight too. If Michigan isn't ready, they could be wearing black to their own funeral. As a result, the Illinois -9 is the only bet here.
Tomorrow Night: Dark Mode Activated 🕶 pic.twitter.com/C3JkDRtfnY

— Michigan Men's Basketball (@umichbball) January 13, 2022
Davidson (10-3 ATS) at Richmond (7-9 ATS)
Time: 9:00 p.m.
TV: ESPNU
Line: Richmond -1
Total: 
The 13-2 Davidson Wildcats coached by veteran Bob McKillop can also be found in Dant's Top 10 ATS article, but I'm going to go the other way here.
Richmond has a very veteran squad that I expect will defend their den (or web, since they're the Spiders). Both teams like to shoot the 3ball but struggle to defend it. So, if you're one who likes to bet overs this is a game for you. I will be wagering on the team with slightly more scoring balance, Richmond -1.
Fresno State (10-4 ATS) at UNLV (5-9 ATS)
Time: 11:00 p.m.
TV: FS1
Line: UNLV -1
Fox Sports 1 will have a standalone game with the Bulldogs and Runnin' Rebels battling in Las Vegas. I have been on the wrong side of the Rebs a few times this year. I like UNLV's roster, but they don't perform up to expectations all time. UNLV is coming off a massive 29-point win against New Mexico (that I was on the right side of).
Tonight, I think the Rebels will be outmatched by a better team on the other side of the scorer's table. I will pick Fresno State +1, but I don't recommend you bet it.
Good luck tonight, and let it ride!
---
Related Content