Week 7 was a tough one huh? Guess it's going to be hard to hitch our wagon to the Chiefs this season. It's wild to see icicles above multiple guys on Kansas City. I was totally prepared for them to be a team that didn't provide us week-winning upside (since that's really me expectation with every team every week), but I sure did not think Mahomes and Hill would be the anchors that sunk our lineups. It's a real shame too because a lot of the other pieces in The Flowchart hit, but we weren't able to get rewarded due to the dead stacks at the front. I've included some charts looking at the comprehensive season-long results of The Flowchart at the end of the article this week.
EXCLUSIVE SGPN FANTASY CONTENT
SGPN Fantasy Football Rankings
Week 8 presents us with a bigger slate than we have seen the last few weeks. There are only two teams on bye (Las Vegas and Baltimore), so we've got a player pool from 24 different teams. Here are some quick thoughts about the macro trends that are popping out this week. Running Back is very strong this week, especially in the $6000 to $7000 range. I think it's perfectly viable to play 3 RBs in your cash games. Darrell Henderson explicably went down $100 in price after he was already mispriced last week so he will be the most popular player this week. Wide Receiver is pretty strong as well at multiple different price points. Cooper Kupp, AJ Brown, Calvin Ridley, and DJ Moore are topping the projections, and of course Mike Evans and Chris Godwin will be good plays given the absence of Antonio Brown. Not a ton of salary relief options at WR this week. Tight End is a mess. Throw some darts. Since there's not a lot of cheap WRs, I think it makes sense to pay down at TE. It looks like your high salary options will most likely come at the WR spot in cash. Let's dive in the Week 8 Flowchart!
Team Stack
The Bills are going to be very popular this week. Josh Allen projects as the highest rated quarterback of the weekend, on Stefon Diggs will likely be the most rostered receiver on Buffalo. There is an outside chance that this game gets forgotten about a little bit as we continue later in the weekend. We see this happen sometimes when everyone moves away from the "obvious chalk" and by the time kick-off happens it's not chalk anymore. I want Cole Beasley in every lineup that has Josh Allen this week. At a sub-$5000 price tag there are a lot of different metrics popping of the page when I look at Beasley. Emmanuel Sanders looks fine as well, and I will probably mix him in a few lineups, but he didn't make the cut for The Flowchart.
Instead of going the normal route with Sanders, I chose to load up Zack Moss with Allen and Beasley on one path this week. This helps us save some salary and fit in some more stud plays with Allen lineups which won't be very common, and I really liked Moss's potential this week. He projects very well at $5200, and I don't mind pairing RBs with QBs when the implied team total is over 30 points. Now listen closely here Bills, just don't only score 3 points this week like the Chiefs did in Week 7, okay?
Bring It Back Stack
There will of course be plenty of discussion this week about whether you need a bring-back with the Bills this week. See my thoughts on this subject in the Week 6 Flowchart. Yes we will be bringing it back with the Dolphins. It does get a bit tricky with the Miami players now that Devante Parker is going to be healthy. Jaylen Waddle has slowly seen his price increasing, but with Parker back he doesn't look like a very appetizing play this week. I have been talking about how Mike Gesicki is basically a wide receiver this season in my weekly Workload Report articles, and whenever possible I want to make sure that we can correlate the Tight End position. Gesicki does a great job at checking all the boxes I like from Tight Ends: Not popular, Increase Correlation, Plays like a WR.
Myles Gaskin is a really interesting play to me this week. We've seen his ceiling upside against this very same Bills team, and now we get a game where Malcolm Brown won't see any snaps. I love the receiving ability of Gaskin on this Dolphins offense that has been more willing to pass as of late.
Low Rostered Leverage
You may be asking yourself, why does AJ Brown show up in this column, when you talked about him as chalk in the intro to the article? With Julio Jones on the shelf this week, Brown will be very popular as the Titans offense continues to click on all cylinders. However the reason he is leverage this week is because I don't expect there to be a lot of lineups that include Josh Allen and a high-priced receiver who isn't Stefon Diggs. If I have time to create enough lineups tomorrow morning, I might rifle through a couple of different high-priced WRs here, just to make some really different lineups. If including Brown, then Michael Pittman is a nice secondary correlation spot. He is right in the sweet spot mid-price range this week so he will be popular as well, but remember we started these lineups with Allen + Moss + Beasley, so we have room to eat some chalk here.
Michael Carter, sign me up! Mike "Dumpoff King" White is going to be behind center in Week 8 and our guy Carter has potential to catch 10 passes against the Bengals. Those may go for 20 yards are so, but at $4900 and in PPR scoring we really just care about the catches. The other Tight End options in The Flowchart this week are really incredible leverage plays. Both Tyler Higbee and Rob Gronkowski have multiple TD upside, and will get overshadowed by the studs on their teams when it comes to popularity. I honestly went back and forth on these guys most of the week, and decided to just make an adjustment to fit them both in The Flowchart. Nico Collins is a pure game script play at close to min. salary. If the Texans need to pass to keep up with the Rams, Collins could fall into a touchdown.
Play the Studs
The pricing algorithm is officially broken on DraftKings and it makes Darrell Henderson a smash play this week. He was under-priced last week, but then he had a rough showing so DK kept him at $6500 this week. People may feel burned by Hendo this week, which could temper his roster utilization and he could come in at 25% when he should be closer to 50%. He definitely ain't bad chalk! Tee Higgins and Calvin Ridley are bets on talent + past targets. Neither of them has been incredibly efficient, but I want to keep taking stabs at them and hope they pay off in a blow up performance soon here. I don't love Eli Mitchell as a cash option because he is a bit limited from a pass-catching standpoint, but he is a really good GPP play this week. He is getting all of the work in a Kyle Shanahan offense, and we have to take swings when that happens.
Good luck this week! Let's but that Week 7 slumper behind us.
Year to Date Results
Just to give a quick refresher on these charts. These compare all of the players from The Flowchart this season (red), with the rest of the players that were most popular by the field (blue). You can see that we are doing really well at the Running Back position, as the number of RBs who have scored more than 25 DKPts and reached more the 3X DK Value far outpace the rest of the field. Of course, the focus is to make the red bars on the left side of the chart a little bit smaller, but that's sometimes how the GPP player pool works.
Wide Receiver has been a successful spot as well. We have done a pretty good job dodging the landmines of players who score less than 10 points relative to how the field has done. I also like that we are outpacing the field when it comes to 2.5X and 3X value plays. I want to see some more 25 DKPt+ plays pop since that gives us access to the slate breaking lineups.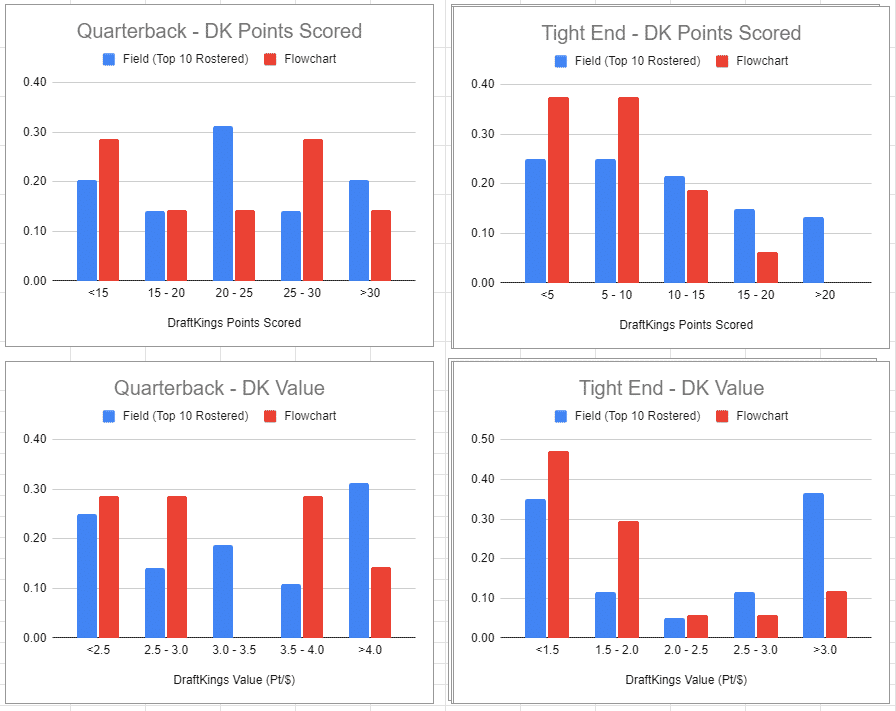 Here's where it starts to get tough. Quarterback has been a sad one for us. Of course, it's important to remember that I only include 1 QB each week, and I am comparing to 10 others from the field, but still, we need to do better. When we can plug a QB that scores 30+ DKPts into every lineup of The Flowchart, people are going to do really well. On the flip side, there's Week 7. Ouch. Tight End is not usually a position that I focus on heavily, however, we have yet to find one that broke the 20 point barrier. You will notice that I spent a bit more salary at TE this week, so I am trying to make changes based on the results we are seeing from The Flowchart and the field.

RELATED CONTENT
Week 8 Fantasy Football Injury Report