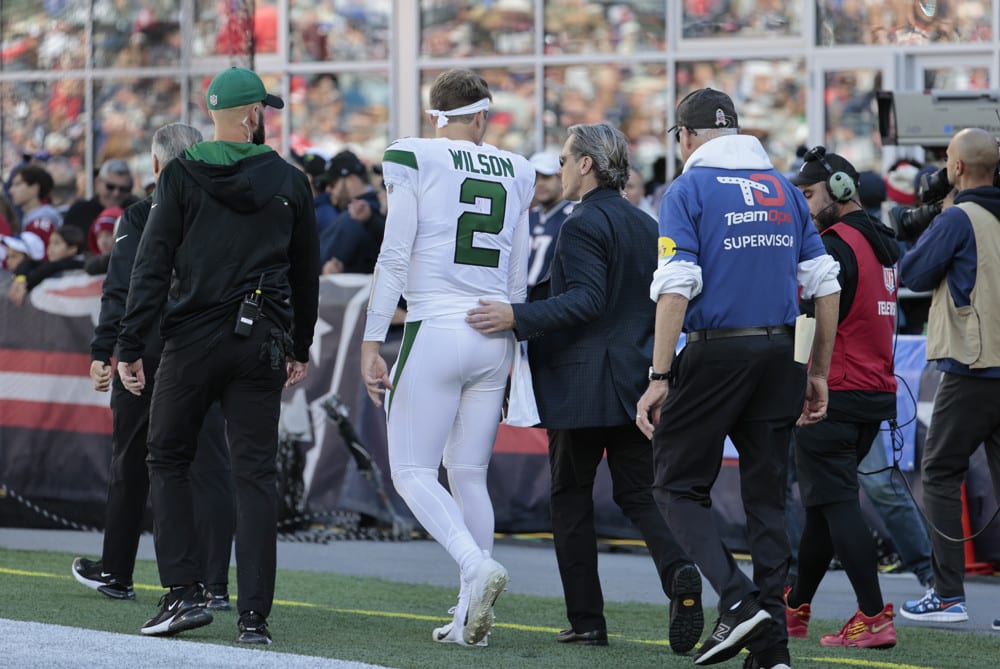 NFL Week 7 provided an absurdly difficult week in fantasy, where streaming "fliers" and risky players filled lineups. Thankfully, Week 8 is much more kind to use. With only two teams on bye, Baltimore and Las Vegas, and a light week on injuries as well. As always, I am here to break down player injuries, advise you on what to do, and provide waiver wire targets for replacement. Welcome to the Week 8 fantasy football injury report.
EXCLUSIVE SGPN FANTASY CONTENT
SGPN Fantasy Football Rankings

Week 8 Fantasy Football Injury Report
Week 8 Late Inactives:
Dak Prescott (QB) Dallas Cowboys
Taysom Hill (QB) New Orleans Saints
Antonio Brown (WR) Tampa Bay Buccaneers
Curtis Samuel (WR) Washington Football Team
Dyami Brown (WR) Washington Football Team
Week 8 1PM Inactives:
Dawson Knox (TE) Buffalo Bills
Terrace Marshall Jr. (WR) Carolina Panthers
Chris Evans (RB) Cincinnati Bengals
Donovan Peoples-Jones (WR) Cleveland Browns
Jamaal Williams (RB) Detroit Lions
DeSean Jackson (WR) Los Angeles Rams
Zach Wilson (QB) New York Jets
Tevin Coleman (RB) New York Jets
Corey Davis (WR) New York Jets
Miles Sanders (RB) Philadelphia Eagles
Eric Ebron (TE) Pittsburgh Steelers
Julio Jones (WR) Tennessee Titans
Calvin Ridley (WR) Atlanta Falcons
10/31 Update
Dak Prescott (QB) Dallas Cowboys
Calf Strain, Initial Injury: 10/17/21
The Cowboy's last play of Week 6 ended with a game winning touchdown pass, but it was not all good news. Dallas' QB Dak Prescott injured his calf on this last throw and was originally very confident he would be fine to return in Week 8 after the bye week. However, he has been diagnosed with a calf strain and this seems to be the case as it often is. Prescott had limited practices throughout the week and was questionable coming in to the Sunday night game. After pre-game warmups, Dak has officially been ruled out for tonight.
A calf strain refers to damage to the musculature of a player's lower leg. These injuries can be aggravating as they are easily reinjured and the second injury is typically more severe. The average recovery timeline is 2-3 weeks for a mild grade 1 strain. It sounds like Dak was close to playing tonight but must not have felt 100%. This is a smart move by the Cowboys as they are airing on the side of caution and not risking this becoming a season lingering injury.
Prescott is officially inactive tonight. He should return next week if no setbacks. – OUT
10/29/21 Update
Austin Ekler (RB) Los Angeles Chargers
Hip Injury, Initial Injury: 10/27/21
The stud fantasy football RB appeared on the injury report for the Chargers unexpectedly on Thursday. Ekler has now been held out of practice both Thursday and Friday with what's being called a hip injury. Head coach Brandon Staley did provide some optimism regarding the RB's status for Sunday, much to the relief of fantasy managers. He states that Ekler came up with some hip soreness after a hard Wednesday practice and was held out of practice as a precaution. Additionally, he said the RB has been feeling better the past couple days and is hopeful he will play this week.
Ekler is dealing with hip soreness and listed as questionable but expected to play. – START/MONITOR
10/27/21 Update
Fractured Ribs, Initial Injury: 9/26/21
Bucs stud TE Rob Gronkowski's season has unfortunately cooled off after a hot start. The veteran TE briefly exited the game in Week 3 to get X-rays done on his ribs after a hard hit. Initially, X-rays came back as negative and he was able to return to the game and record a catch. The fact that Gronk was able to come back to the game and his status has been up in the air these past weeks seems crazy now. Details have come out that the Bucs tight end is currently dealing with multiple rib fractures and a punctured lung. This is an extremely painful injury. I am surprised he was not put on the IR, as he missed four games before returning to practice.
Gronk finally made his return to practice after being misdiagnosed with "bruised ribs" in Week 3. Head coach Bruce Arians expressed he was hopeful for Gronk's return this Sunday. This is possible but his practice status needs to be monitored. Taking hits to his ribs area is going to be very painful still.
Gronk is practicing and has a chance to play in Week 8 – MONITOR
Shoulder Injury, Initial Injury: 9/19/21 Re-injured: 10/17/21
Cleveland QB Baker Mayfield is another player who could be on the injury report for much more than just Week 8. After throwing an interception earlier in the year, Mayfield injured his non-throwing shoulder trying to make a tackle. He was diagnosed with a partial labral tear in his shoulder and made the decision to continue to play through the injury. Last week, Baker was taken down to the ground hard on this same shoulder and further injured his shoulder. He reportedly dislocated his shoulder for a second time which would lead to more labral damage.
The labrum on your shoulder acts to provide stability to your shoulder and keep it in place. The shoulder is already a very mobile joint that is the most likely to dislocate on your body. Without this added protection from your labrum, this is going to increase the likelihood of further shoulder dislocations. This is a very painful injury that is going to make the Cleveland QB think twice about taking any hits. Despite Baker's best efforts, team doctors did not clear him and he was out last Thursday night. Props to Baker for the warrior mentality, but this would negatively affect his play. Baker is going to need offseason surgery to fully repair his shoulder but the expectation is he will continue to play this season.
Baker returned to practice today in a limited fashion but reportedly looked fairly comfortable during the open period of practice. I would expect Baker to be in line to start this week barring any setbacks.
Baker further injured his shoulder in Week 6  but should play this week. Expect less mobility from the QB from here on out. – MONITOR/START
COVID-19/Reserve List
Let's start with a heartbreaker for the Week 8 injury report. Star WR Davante Adams tested positive for COVID-19 today as the Packers are dealing with a minor outbreak. The Packers and fantasy managers will almost certainly be without their best player this week.
Adams tested positive for COVID-19 and is very likely out this Thursday night. – SIT
COVID-19/Reserve List
Lazard joins his fellow Packers WR on the injury report for Week 8. Green Bay picked the worst week to deal with an outbreak as they will be shorthanded for their game on Thursday night. The Packers WR is a COVID-19 close contact, and because he is unvaccinated he is out for at least 5 days. Look for pass catchers Robert Tonyan (TE) and Randall Cobb (WR) to see a production boost this week.
Lazard is out this Thursday as a COVID close contact. – SIT
Ankle Injury, Initial Injury: 10/24/21
Last week provided a very tough break for the second-year Eagles RB. After seeing a big drop in his usage this year, he was finally seeing some carries against Las Vegas, just to end up on the Week 8 injury report. The good news is that Sanders appeared to suffer a low ankle sprain compared to the dreaded high ankle sprain. A low ankle sprain, AKA as an inversion sprain, refers to damage to the lateral ligaments of the ankle. This injury is caused by the foot and ankle rolling inward, and this is the typical ankle sprain we think of.
Sanders is currently considered week to week and will likely miss his Week 8 match-up this week. This injury is very similar to the Saquon Barkley case where he will likely miss somewhere between two and four weeks. This is positive news considering high ankle sprain recovery timelines are closer to six weeks. A low ankle sprain limits a player's balance and cutting ability due to a lack of ankle stability and swelling. Eagles rookie RB Kenneth Gainwell will likely see a major boost in volume while Sanders misses time.
Sanders will likely miss at least one week dealing with this ankle sprain. – SIT/MONITOR
Josh Jacobs (RB) Las Vegas Raiders
Chest Injury, Initial Injury: 10/24/21
The Raiders RB picked a good time to join the Week 8 injury report. With Las Vegas having a bye week, it looks like this should provide Jacobs with enough time to recover from his injury. There have not been specifics released about the injury but it is being called a chest injury. Also, it is being reported that he appeared to have avoided a serious injury. Not knowing the exact nature of the injury, this is an injury fantasy managers should monitor closely next week.
Jacobs suffered a minor chest injury and has time to rest with a Week 8 bye. – MONITOR
Jonnu Smith (TE) New England Patriots
Shoulder Injury, Initial Injury: 10/24/21
The Patriots have been receiving production from both of their free agent TE additions. However, one of those pass-catchers, TE Jonnu Smith, went down with a shoulder injury last week. The injury is likely to be an AC sprain, which refers to a shoulder separation of varying severities. This injury occurs when a play falls or lands with their hand outstretched, causing the arm bone to jam into their shoulder.
An AC sprain can be a painful injury that causes a restriction in a player's catch radius. It will cause pain and difficulty when a player tries to reach across their body for a reception. If this is a minor injury, Smith would likely be able to play next week with a steroid injection to relieve pain and swelling. Smith's practice status will need to be monitored closely this week. Fellow TE Hunter Henry would likely benefit if Smith misses time.
Smith is believed to have suffered an AC sprain and his practice status should be monitored. – MONITOR
Dyami Brown (WR) Washington Football Team
Knee Injury, Initial Injury: 10/24/21
Washington WR Dyami Brown finds himself on the Week 8 injury report, three weeks after being inactive for a knee injury. It has not been disclosed if this is the same type of knee injury or even the same leg. Brown will have an MRI shortly to determine the severity of this injury, but the initial belief is that he avoided a major knee injury. It will need to be confirmed with MRI but the expectation of no structural knee damage is a great sign for Brown. With the rookie WR already missing a game due to a knee injury, I would expect Washington to be cautious with him. He may be in danger of missing this week's game but hopefully, this is not a long-term injury.
Brown suffered what is believed to be a minor knee injury but is doubtful to play in Week 8. – SIT/MONITOR
Knee Injury- PCL, Initial Injury: 10/24/21
It's hard to imagine but the New York Jets' dismal season was very close to getting much worse last week. Luckily, they received some good news by ways of the Week 8 injury report. Their new franchise QB Zach Wilson suffered what looked like a gruesome and potentially career-altering in Week 7. The rookie QB went down in serious pain after being hit in the back of his knee by a Patriots LB.
Thankfully for Wilson and the Jets, an MRI on his knee confirmed that he will not miss the rest of the season. Wilson was diagnosed with a PCL strain and is expected to miss about two to four weeks. A PCL strain refers to damage to one of the four major ligaments that is responsible for the stability of your knee. Depending on the severity, this injury can take anywhere from two to six weeks to fully heal. Moving forward, Wilson's practice status and if he is put on the IR will tell us more on a clearer timeline for his return to the field. The good news is Wilson did not completely tear his PCL and end his season.
Wilson sprained his PCL and will miss multiple weeks but this should not end his rookie season. – SIT/IR
Quad Injury, Initial Injury: 10/24/21
With the difficult fantasy options last week, hopefully, no one was forced to start this next RB on the Week 8 injury report. Dolphins RB Malcolm Brown suffered a leg injury during the first five snaps of his last week's game. Brown was unable to return to the game and is now headed to the IR. He strained his quadriceps, the muscle on the front of your upper leg, which is responsible for helping players to decelerate to make cuts and run routes. The strain must be fairly significant to land him on the IR, and it is difficult to tell when exactly he will be able to return. This can easily become an injury that derails the rest of his season. Miami RB Myles Gaskin is the leader of the backfield, with Salvon Ahmed now securing RB2 duties going forward.
Brown was placed on the IR with a quad strain and will miss at least three weeks. This is an injury that can have him out for most of the year. – SIT/IR
Hamstring Strain, Initial Injury: 9/19/21
Poor ATS legend Tyrod Taylor. His up and down career suffers another setback as he injured his hamstring during a TD run against the Browns in Week 2. The injury is being reported as significant after testing, leading to an extensive injury timeline. Taylor is looking at about a four to six-week recovery period with moderate damage to his hamstring. Hamstring injuries are troublesome as they also tend to linger and reinjure easily. This limits Tyrod's ability to make plays with his legs and throw the ball efficiently due to reduced lower body power. With Tyrod out multiple weeks, it will be the rookie Davis Mills' turn to be the starting QB for the mighty Houston Texans.
In an update to Tyrod's status for this Week 8 injury report, he is reportedly returning to practice this week. In addition, head coach David Culley said that when healthy, Taylor is the starting QB for the Texans. This will be a critical week for the Houston QB as hamstring injuries come with a high reinjury risk. The first two weeks of returning to play are the most likely for these reinjuries to occur.
Tyrod Taylor will return to practice this week after his IR stint. – MONITOR
Calf Strain, Initial Injury: 10/17/21
The Cleveland Browns are slowly regressing towards the lack of success in their recent history. Injuries are certainly not helping them this year. Kareem Hunt was RB1 last week, with fellow RB Nick Chubb out with a calf injury. After a fairly productive day, Hunt went down in the 4th quarter and eventually had to be carted off into the locker room. Reports are that he suffered a calf strain and the injury is "significant".
A calf strain refers to damage to the muscle in the back of your lower leg. With the injury being described as severe, this comes with about a four to six-week recovery timeline. Hunt will likely be put on the IR to focus on his recovery. Calf strains come with a high reinjury risk and are not an injury that should be played through or rushed back. These injuries limit a player's lower body power and Hunt would not be able to be his usual explosive self until fully healed. Cleveland RB Nick Chubb has officially been ruled out for Thursday's game as well, so the Browns have limited unproven RB options this week.
Hunt will miss multiple weeks with a calf strain. – SIT/IR
Foot Injury, Initial Injury: 10/17/21
Colts WR Paris Campbell is one of the sadder stories on this Week 8 injury report. After catching a 51-yard touchdown pass in last week's game, he had to be helped off the field. Campbell suffered what is being called a "significant foot injury" that is possibly season-ending. The exact nature of the injury has not been disclosed yet but the fear is a Lisfranc injury. A Lisfranc injury refers to damage to the bones or ligaments in a player's midfoot. These injuries have very long recovery timelines and surgery is required if they are unstable. This is the same injury that ended rookie RB Travis Etienne's season before it started. You can wait until the official announcement but Campbell should at the very least be put on IR if not dropped. Colts WRs Michael Pittman and T.Y. Hilton will see a boost in targets with Campbell's absence.
Campbell suffered a major foot injury and is looking at a multi-month absence. – IR/DROP
Antonio Gibson (RB) Washington Football Team
Shin Splints, Initial Injury: 9/30/21, Re-injured: 10/17/21
Expect to see Washington RB Antonio Gibson on much more than just this Week 8 injury report. The young RB looked to be shaping into a workhouse for this Washington team, and this may be the reason for his injury. Gibson is currently dealing with shin splints, AKA tibial stress syndrome. This injury occurs due to the leg being overworked or an increase in workload. Additionally, this is not an injury that will just go away. Prolonged rest and reducing the amount of stress put on the leg is what an optimal recovery looks like.
This is virtually impossible throughout an NFL season. Shin splints only really have the potential to get worse as opposed to better if Gibson keeps getting a heavy workload. For this reason, I would encourage Gibson fantasy managers to look into trading him before it really starts to cut down his production. At the very least, fellow RB JD McKissic should be a must-add as he will benefit from Gibson's reduced workload. I would expect the shin splints to cut down on Gibson's production throughout the season and become increasingly painful to play through.
Gibson is dealing with shin splints which are only going to worsen throughout the year. – TRADE/HANDCUFF
Finger Surgery, Initial Injury: 10/7/21
For the first time in his 10 year career, Russell Wilson will not be starting an NFL regular-season game. That really is an incredible feat for a guy who means so much to his football team. The Los Angeles Rams ruined this streak after Wilson injured his middle finger on a Rams player's helmet. The injury was on his throwing hand and found severe enough to require surgery, which he underwent the next day. The surgery revealed injuries to two separate joints on his finger.
The Seahawks QB suffered both a Mallet finger injury and a PIP dislocation. Mallet finger refers to when the tendon on the very end of your finger is partially or fully torn. This prevents you from being able to fully straighten your finger and accurately throw a football. In addition, Wilson's joint in the middle of his finger was found to be dislocated or forced out of place. A variable timeline has been given due to this being a rare double injury to one finger. Expect Wilson to be out a month but his progress should be monitored after about three weeks. Wilson is headed to the IR as expected and the earliest he can return is Week 10.
Wilson suffered two serious finger injuries but will return later this season. – SIT/IR
Neck Injury, Initial Injury: Preseason (Long Term Issue)
In a bit of surprise, Seattle's starting running back made his way onto the injury report last Tuesday ahead of their Thursday night game. Initially, it was unclear how serious of an issue this would be but at this point, Carson has not practiced in two weeks and will miss his second straight game. There have also been talks about possibly putting Carson on the IR with this neck issue. A clear diagnosis has not been given but Carson is likely dealing with a disc issue in his neck. These types of injuries take a while to get under control and often require surgery or weeks of rehab to be fully treated.
This clearly has been bothering Carson for some time as the Seahawks running back was on the Week 1 injury report with a neck injury. He was able to fully practice that week and started all four games earlier in the year but he appears to have aggravated the injury in practice. Back up Alex Collins was a must-add for Carson fantasy owners last week and continues to be if available. Collins has provided a spark for this backfield and is in line to take over the starting duties until Carson returns.
Carson has been placed on the IR and will miss multiple weeks at least. – SIT/IR
Hamstring strain, Initial injury: 9/23/21
The Panthers star RB has been a frequent flyer on injury reports these past two years and Week 8 is more of the same. Christian McCaffrey was injured during the Week 3 Thursday Night Football matchup against the Texans. The Panthers will need to be careful with their stud RB as hamstring strains have a high reinjury likelihood. The second injury is also usually more severe and would cause him to miss the majority of the season. For now, it is going to be rookie RB Chubba Hubbard leading the Carolina backfield.
McCaffrey officially made his return to practice on Wednesday, October 6th. Initially, there was some optimism regarding his status and he had a chance to play in Weeks 5 and 6. However, it appears McCaffrey suffered a setback in practice as he was unexpectedly put on the IR last week. Hamstring strains are difficult injuries to return from and should not be rushed back. CMC is out for at least the next three weeks but has the potential to miss even more time than that. The second injury to a hamstring in a short period of time makes recovery much more difficult.
McCaffrey has been placed on IR and will not be available until Week 10. – SIT/IR
Shoulder Dislocation, Initial Injury: 10/10/21
Juju may have played his last snap for the city of Pittsburgh. In the second quarter of the game against the Broncos, he took a hard hit to his shoulder and instantly walked off the field. The Steelers WR dislocated his shoulder and required season-ending surgery. Let's not forget that Smith-Schuster tested the free agency market before signing just a 1 year deal with Pittsburgh. Juju will have to work hard this off-season to build some stability in his shoulder as dislocations can become a chronic issue for players. Luckily for the Steelers, WRs Chase Claypool, Diontae Johnson, and James Washington are all capable playmakers.
Juju is out for the rest of the season after shoulder surgery. – DROP
Curtis Samuel (WR) Washington Football Team
Groin Injury, Re-injured: 10/10/21, Initial Injury: 6/2/21
Another player I have been concerned about for a while joins the Week 8 injury report. Washington's offseason addition Curtis Samuel cannot seem to kick this groin issue. The speedy WR originally injured his groin back in June and took several months off before returning to practice. A week before the season started, he reinjured his groin again and started the year on the IR. I tried to warn y'all but this was the first BAD sign. Last Sunday, Samuel suffered another setback, aggravating his groin injury and being held out of the game.
A groin injury limits a player's ability for a quick change of direction movements due to damage to the inner hip muscle. As a shifty and speedy receiver, Samuel will need his groin to be at full strength for a productive season. Groin injury also comes with a high reinjury risk, which is what we are seeing here. At this point, this injury is unlikely to go away any time soon and I would look for other fantasy options. Washington WR's Terry McLaurin and Adam Humphries will see a boost in targets as some of the only healthy options left.
Samuel has again reinjured his groin and his health should not be trusted. – DROP/SIT
MCL Sprain, Initial injury: 10/10/21
The Cheifs young RB has gotten off to a rough start this year, much like his team. After seeing his workload diminish, he now has a knee injury to deal with. Clyde Edwards-Helaire (CEH) had to be helped off the field after injuring his knee against Buffalo. He was found to have suffered an MCL sprain that was significant enough to land him on the IR.
An MCL injury refers to ligament damage to the inner part of your knee and is key in side-to-side knee stability. This injury usually comes with a two to three-week recovery timeline. An MCL sprain would limit the RB's route running and change of direction ability due to lack of knee stability until properly healed. Kansas City veteran RBs Darrel Williams and Jerrick McKinnon will look to carry the load in CEH's absence.
The young Kansas City RB is on IR with an MCL sprain. – SIT/IR
Logan Thomas (TE) Washington Football Team
Hamstring Strain, Initial Injury: 10/3/21
Washington survived an offensive shootout in Atlanta last week without one of their top targets. The converted tight end Logan Thomas limped off the field on the team's first possession of the game and was unable to return. Thomas injured his hamstring in a non-contact injury while running upfield. Hamstring strains are tricky injuries that require at least two weeks to recover from.
These injuries have a high reinjury rate which often causes a more severe injury than the original. Hamstring strains can linger throughout the season will limit a player's running and jumping ability. Thomas has been placed on the IR and is expected to miss four weeks. This move means there has been some substantial damage to his hamstring and returning to play in four weeks seems optimistic.
Thomas is dealing with a hamstring strain and has been placed on IR – DROP/IR
DJ Chark (WR) Jacksonville Jaguars
Ankle Fracture, Initial Injury: 9/30/21
This Week 8 report contains an added injury to the insult that is Jacksonville Jaguars football. Last Thursday night, their big-play WR D.J. Chark was rolled up on by a fellow teammate and had to be carted off the field. Unfortunately, Chark fractured his ankle, which will require surgery and likely end his 2021 season. With the Jags looking abysmal, there is no reason for them to risk bringing back their young WR this year. Fellow WRs Marvin Jones Jr. and Laviska Shenault should see a boost in targets for the rest of the season.
Chark's season is likely over with a fractured ankle. – DROP
Broken Finger, Initial Injury:10/3/21
Will Fuller's Miami career is off to a rocky start after missing the first two games for non-injury reasons and getting hurt early in Week 4. The Miami WR broke his finger while attempting to make a diving catch on an underthrown ball. He was immediately ruled out of the game and is now expected to miss " a few weeks". A broken bone is going to take about six weeks to fully heal normally but there is a possibility he returns closer to the four-week mark. His recovery timeline will be up to how much Fuller and the Dolphins want to risk a reinjury. The Dolphins are fairly healthy at WR otherwise, with DeVante Parker and Jaylen Waddle leading the way.
Fuller broke his finger and will likely be out four to six weeks. – IR/SIT
Knee Injury, Initial Injury: 10/10/21
Just as the TE was becoming a big part of this Arizona offense, his season is likely over. Maxx Williams suffered a gruesome knee injury last Sunday and the belief is it is a season-ending injury. No official word has been given yet but should be soon. Feel free to wait for clarification but best case this will be a multiple-week absence.
Williams likely suffered a season-ending knee injury. – DROP/MONITOR
Broken Collarbone, Initial Injury: 10/10/21
The Lions can ill afford any name added to the injury report for Week 8, especially a bright spot in their dismal passing offense. Quintez Cephus has emerged as Detroit's WR1 and vertical deep threat this season. The big body receiver had been a productive and reliable target for QB Jared Goff. Unfortunately, Detroit can't seem to have nice things as the promising young WR will miss an extended amount of time.
Cephus' shoulder was driven down hard into the ground on a tackle last week and he broke his collarbone. The bone is going to take at least six weeks to heal but could very likely take two full months. He would then have to be slowly worked back into contact as the bone is vulnerable during the healing period. The Lions will turn to WR's Amon-Ra St. Brown, Kalif Raymond, and KhaDarel Hodge to fill the void. These pass catchers are all unproven so it is hard to say which one Goff will trust if any.
Cephus broke his collarbone and will have an extended absence, maybe the rest of the season. – DROP/IR
Calf Strain, Initial Injury: 9/9/21
The Cowboys potent offense received a significant blow as one of their top WRs suffered a calf injury in their game against the Bucs. Michael Gallup has already been put on the short-term IR and was given a timetable of three to five weeks to return to play. A calf strain means that there has been damage to muscles in the back of a player's lower leg. These injuries, like hamstring strains, have a tendency of lingering and can reinjure if not given enough time to properly heal. Gallup will have a difficult time accelerating and jumping with this injury due to the muscle not being as powerful. Fellow WRs Lamb and Cooper were already must starts but should see an increase in targets with Gallup sidelined.
Gallup is on the short-term IR with a calf strain. I would not expect solid fantasy football production until closer to Week 8 for the WR- SIT/IR
Ankle Surgery, Initial Injury: 8/13/20, Surgery: June 2021
Let's finish this Week 8 injury report with the diva of the group. After a disappointing 2020 season due to an ankle injury, the general consensus was that Thomas was going to have offseason ankle surgery in the offseason and there would be no lingering effects going into the 2021 season. Of course, things didn't go as planned and he had the surgery done in June, basically guaranteeing he would miss the start of the 2021 season.
The Saints will be without their number one receiver for at least the first six weeks of the regular season as Thomas was placed on the Injured Reserve (IR). On the injury front, the surgery should improve his route running and run after catch ability. Michael Thomas is not a WR you are going to be able to depend on to get you to your fantasy playoffs this year. However, he may help you win in the playoffs IF things go according to plan this time.
This injury report will be updated until Week 8 ends. Make sure to stay up to date on all the latest injuries this season over on Twitter @SGPNFootballDoc!

RELATED CONTENT
Early Week 8 Waiver Wire Fantasy Football Targets