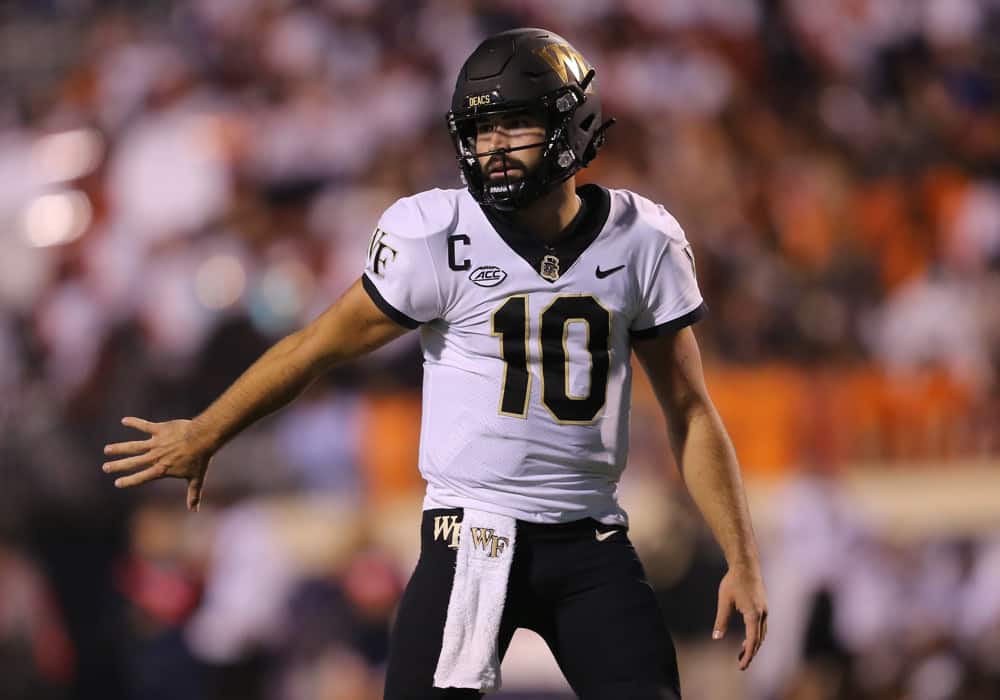 Holy Wake Forest Demon Deacons. Slapping 70 points on Army is just disrespectful! In one game, Army dropped from the 7th best defense in the nation to the 31st. The Black Knights fell from a top 35 defense against the pass to only 85th best in the country. More importantly, my College Football DraftKings Picks column last week included recommendations on rostering both Sam Hartman and Wake wide receiver Jaquarii Roberson.
Let's do it again, shall we? As usual, for each position, I will highlight my favorite expensive option, my favorite middle-of-road option, and my favorite bargain bin player in this week's College Football DraftKings picks.
College Football DraftKings Fantasy Picks: QB
Sam Hartman – Wake Forest ($9K)
If it's not broken, don't try to fix it. Sure, Sam Hartman is now the second most expensive QB on the slate and is $1.2K higher than last week, but this Demon Deacon offense is rolling. Over the last three games, Hartman is averaging 39.7 fantasy points per contest. Furthermore, the Duke Blue Devils and their 118th rated pass defense come into Winston Salem this weekend.
If $9K is too rich for your blood, other high dollar QB's like Kenny Pickett ($8.8K), Desmond Ridder ($8.3K) or Adrian Martinez ($8.2K) are attractive but none have Hartman's upside. I like fading this Duke defense especially with an offense that's on fire.
Max Duggan – TCU ($7.5K)
There are two mid-range QBs I have my eyes on this weekend and they're both playing in the TCU @ Kansas State matchup. Max Duggan is the Horned Frog gunslinger who, while struggling with consistency this year, is capable of putting up big numbers. For example, Duggan has had 30+ fantasy point games vs Cal and Oklahoma.
However, he's also had games of less than 15 points vs WVU, Texas, and Texas Tech. It's a roll of the dice but against the K St Passing D that ranks 87th in the country, Duggan could be in store for a nice outing.
The flip side of the Duggan coin is K St's QB Skylar Thompson ($7.3K). Thompson just threw for almost 300 at Texas Tech but only one TD hurt his overall performance. If you are looking in this range for a QB, these two are attractive options.
Tyler Van Dyke – Miami ($6.7K)
I've been impressed with the Freshman QB at The U. After D'Eriq King went down with an injury, Tyler Van Dyke has stepped up admirably. From a fantasy perspective, games in the high-teens (fantasy points) vs UVA and UNC were expected from a young QB in his first couple of starts. It all came together last week vs NC State where Van Dyke threw for 325 and 4 TDs.
Week 8 Performance

QB Tyler Van Dyke – Miami

• 325 Passing yards 4 TDs pic.twitter.com/UaLSgsncSd

— NCAAF Nation (@NCAAFNation247) October 26, 2021
The matchup on the road vs Pitt isn't great. The Panthers have the 47th best Passing D in the nation but that ranking is a bit inflated after matchups vs Clemson and VT (both struggle to throw the ball). Just a few games ago, GT's Jeff Sims threw for 359 and 2 TD's vs Pitt. Perhaps Miami can have a similar performance.

College Football DraftKings Fantasy Picks: RB
Kennedy Brooks – Oklahoma ($8.4K)
Look, there's a boatload of big-time RBs in this slate who are priced extremely high. If you want to pay greater than $9K for Bijan Robinson, Deuce Vaughn, Jerome Ford, or Breece Hall have at it. I'll never argue against rostering any one of these guys but the price tags are alarming.
For $1.5K less than the most expensive back on the slate, OU's Kennedy Brooks has caught my interest. The Sooner RB has logged over 20 carries in three straight games which has solidified his status as the bell cow in this backfield. He's averaging 150 yards on the ground in these games and has 5 touchdowns. Plus, after Texas Tech fired their coach this week, it'll be interesting to see their effort level if OU is pounding the rock down their throat.
Zach Evans – TCU ($7K)
Zach Evans had a four-game stretch earlier this year where the TCU RB surpassed the century mark in each contest while also averaging a rushing TD per game. A minor injury forced Evans to miss the Oklahoma game and his return last week vs WVU was less than stellar (18-62, 3-35, 0 TDs).
Now fully healthy and with a game under his belt, I expect the Horned Frog ball carrier to bounce back in a big way. This K State D gave up three rushing TDs last week to Texas Tech and have been gashed by the likes of Breece Hall and Jaylen Warren this year. It's now Zach Evans's turn. Also, that midweek drama about his IG account is apparently much ado about nothing.
TCU RB Zach Evans was at practice Tuesday (potentially calming some alarm about him removing TCU mentions from his social media) https://t.co/D2jynJb9y8

— College Fantasy Football (@FBSFantasyFoot) October 27, 2021
King Doerue – Purdue ($4.3K)
It's not easy finding a team's RB1 at only $4.3K. Purdue just got finished playing Iowa and Wisconsin who both happen to be top 10 in the nation in rushing defense. Of course, the Boilermaker ground game struggled against those opponents and that's why King Doerue is so cheap.
Against Minnesota, three games ago, Doerue took 21 carries for 95 yards while catching 6 balls for 39 more yards. Ever since Zander Horvath went down with an injury, the Junior from Amarillo has been getting almost all of the RB touches. I think he can carve out a solid game vs Nebraska at a bottom-dollar price.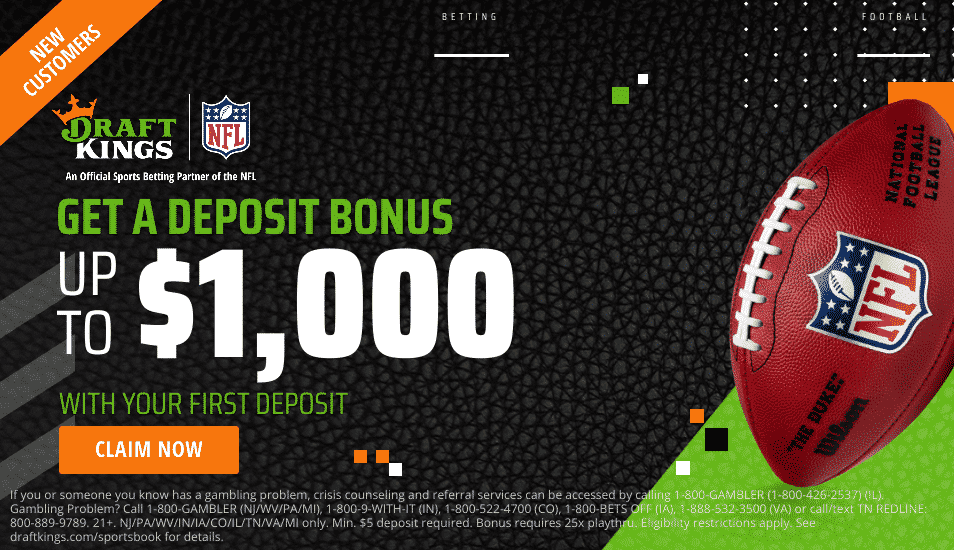 College Football DraftKings Fantasy Picks: WR/TE
A.T Perry – Wake Forest ($7.5K)
Have I mentioned that this Wake Forest offense is rolling and that Duke's defense is awful? Over the last couple of years, you could usually roster Wake players at discounted prices. Well, not anymore. Jaquarri Roberson and AT Perry are the two highest WRs on a slate that's lacking top-notch pass catchers. For the record, I like both Demon Deacon wideouts and while Roberson has the higher ceiling, Perry is slightly less expensive.
https://twitter.com/wakefb/status/1453331647449812996?s=21
It makes a ton of sense to get one of these wideouts onto your roster. This matchup has an O/U of 70 points and Wake is a 16 point favorite. Do the math – Vegas expects Wake to put up more than 50 on the Blue Devils and I'd be surprised if they don't.
Winston Wright Jr – West Virginia ($5K)
Winston Wright is the WR1 for WVU and comes in at an attractive price this week. He's actually $600 to $700 less than the previous two Saturdays. The drop in cost is probably due to the fact that the Mountaineers leading receiver has yet to score a TD this year.
Go ahead and pencil Wright in for about 5 catches for 65 yards and he's this week's prime candidate for some positive touchdown regression. There might be some lower dollar amount WRs I like just as much, but if you are looking for a middle-of-the-road priced guy, go with Wright this week.
Taysir Mack – Pittsburgh ($4.7K)
Behind Jordan Addison, Pitt's next top receivers are Taysir Mack and Jared Wayne ($4K). Wayne has one more reception but Mack has 32 more yards and 2 more TDs. I bring this up because Jordan Addison suffered a concussion last week and is "very questionable" to play vs Miami.
https://twitter.com/pitt_fb/status/1452020504701935627?s=21
Pitt's QB Kenny Pickett is quietly putting up Heisman-like numbers leading the 5th best passing attack in the nation. Meanwhile, the Miami Hurricanes are currently ranked 93rd in the country at stopping the pass. Needless to say, there are going to be opportunities for these Panther pass catchers. I favor Mack over Wayne due to his big-play potential but depending on your budget, either option is certainly worth a roster spot.
---
RELATED CONTENT
College Football Injury Report: Most Impactful Injuries for Week 9
College Football Week 9 DFS (Friday & Saturday) | The College Football Experience (Ep. 872)
College Football Week 9 Preview & Picks | The College Football Experience (Ep. 871)