UFC Vegas 40 saw this space go 6-4, but lose a little bit of money. However, my quest for a 60% success rate by the end of the year is alive and well, as I'm up to 59%. My UFC Vegas 41 predictions will hopefully be another step in the right direction of that goal, but this is a hard card to make picks on. We've got lots of close fights to call and/or newcomers that we don't know too much about. Regardless, I'll push on and give you nothing but winning picks.
RELATED
The 10 Commandments of MMA Betting
8 UFC Stats That Will Win You Money
UFC Vegas 41 Predictions
All odds courtesy of PointsBet
Marvin Vettori (-162) vs Paulo Costa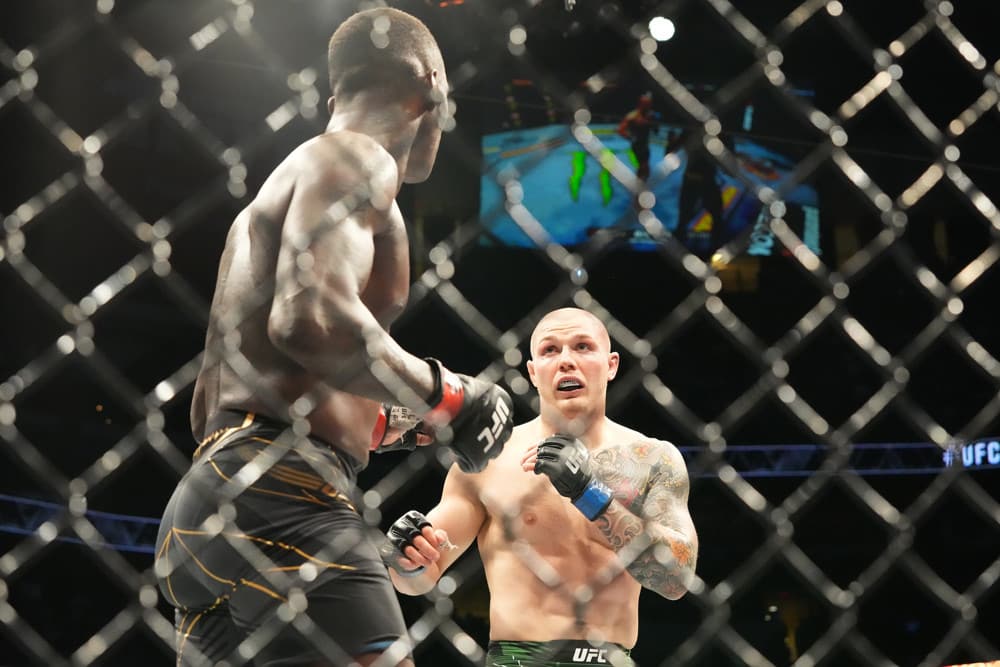 My pick of Marvin Vettori in this fight makes me nervous. This is mostly because Paulo Costa claims he is 211 pounds currently and will not be making the 185-pound middleweight limit that this fight is contracted at. And it sounds like Vettori is willing to give in and fight him at light heavyweight. This would be a big advantage for Costa. However, I'm still riding with Vettori due to his all-around game and durability, but I wish he would force Costa to be accountable and try to cut to 185 pounds. (NOTE: both men have since agreed to a 195-pound catchweight fight)
Grant Dawson (-400) vs Rick Glenn
No hesitation with this pick, despite the massive -400 line. Grant Dawson is 17-1 as a pro and a perfect 5-0 in the UFC. He's the bigger, younger, better grappler in this fight. Easy pick.
Jessica-Rose Clark (-150) vs Joselyne Edwards
'Jessy Jess' has been out of the cage healing a torn ACL she suffered in September of 2020 in her KO win over Sarah Alpar. Assuming there are no lingering effects from that, I like her to beat Joselyne Edwards in her return to the cage. Edwards is bigger and younger, but Clark has more experience and is a better grappler and more active striker.
Alex Caceres (+240) vs Seung Woo Choi
Massive underdog time. Alex 'Bruce Leeroy' Caceres should not be this big of a dog against Seung Woo Choi, but I'll gladly take this plus money. The veteran has won four straight fights and five of six and has bested much better opponents than Choi over his career. Let's get this money!
Dwight Grant (+100) vs Francisco Trinaldo
Hey, another underdog. I'm liking the even money for Dwight Grant in his welterweight fight against grizzled veteran Francisco Trinaldo. Grant is the better striker, is much taller and longer, and younger than his Brazilian counterpart. Another nice payday for us.
Nicolae Negumereanu (-271) vs Ike Villanueva
Back to the chalk for Nicolae Negumereanu. Ike Villanueva is a journeyman who made the UFC late in his career and hasn't had much success in the octagon, going 1-3. Negumereanu has five inches of reach on him and is a decade his junior. Another easy pick.

Gregory Rodrigues (-110) vs Jun Yong Park
On to the prelims, with the main event of them being this very tough to call pick 'em fight between Gregory Rodrigues and Jun Yong Park. I'll go with the very slight underdog 'Robocop' due to his size and striking advantage.
Mason Jones (-550) vs David Onama
David Onama steps into this fight, his UFC debut, on less than a week's notice. Not a good recipe for success, especially against a stud like Mason Jones. Jones will finally get his first UFC win on Saturday.
Tabatha Ricci (-240) vs Maria Oliveira
'Baby Shark' is the pick here to beat 'Spider-Girl', another UFC newcomer. I'm not a fan of a line this big, however, as Maria Oliveira is no slouch and the larger fighter.
Laureano Staropoli (-250) vs Jamie Pickett
Jamie Pickett has yet to win a fight in the octagon in two tries, while Laureano Staropoli has lost three straight. I'm going with Staropoli righting the ship and saving his UFC job here as he's the better striker plus younger.
Khama Worthy (+142) vs Jai Herbert
Enough of the chalk – let's get some more plus money. This could be a slugfest, in which case I'm backing Khama Worthy. Plus he's the superior grappler if he needs to fall back on that.
Jeff Molina (-186) vs Daniel Laceda
Jeff Molina takes on exciting newcomer Daniel Laceda in the lone men's flyweight bout on the card. A tough one to pick, but I'll go with the known quantity in Molina, who has won eight straight.
Livia Renata Souza (-143) vs Randa Markos
I've got to go against my fellow Canadian here and grab Livia Renata Souza at this very advantageous line. Randa Markos relies on grappling to win fights, and Souza is a strong enough grappler to fight her off and a far superior striker.
Zviad Lazishvili (-215) vs Jonathan Martinez
I'm going against the stats and taking Zviad Lazishvili stepping in on three day's notice against Jonathan Martinez. The former LFA champion will use his wrestling to grab a win in his octagon debut.
Overall Record: 540-421
2021
Record: 231-163
Earnings:  -($2579.88)
Return on Investment:   -(6.5)%
UFC Vegas 41 Predictions Related Posts
UFC Vegas 41 Betting Guide (Trippin' Tafon Nchukwi) | MMA Gambling Podcast (Ep.83)
Make sure to visit our odds page for up-to-the-minute lines from various books!