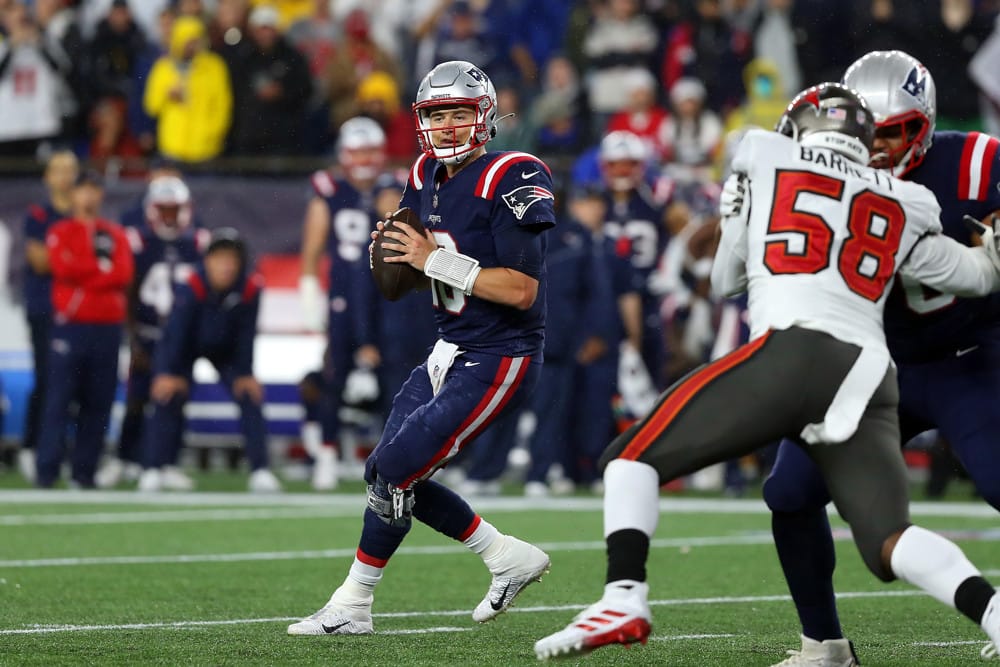 Congratulations on your ability to survive another week for these Week 5 NFL Survivor Pool Picks.
The favorites came through for us in Week 4 quite nicely. Were it not for a meltdown by the Titans, last week's picks would have been perfect. With that in mind, there are more than a few tough decisions to make in Week 5. The Jets and the Jaguars don't seem like the free squares they were to start the year. For that reason, it's time to dig into the bag a little deeper for some matchups that are sure to help you advance to Week 6.
Each week, this article will help you identify some of the best picks to help you live to play another week. Point spreads go a long way to provide context for potential good plays, so to that end, they will be included with each pick. Find these lines courtesy of our friends at Tallysight.
Week 5 NFL Survivor Pool Picks
New England Patriots (-8.5 @ Houston Texans)
It's safe to assume the Patriots are still available in your pool. That is for a good reason. So far this season there has been little to inspire survivor pool confidence out of New England. Shockingly though, they've been favorites in every game this season except their matchup with Tampa Bay. Only their contest with the Jets resulted in an actual victory for Bill Belichick and his rookie quarterback. Two factors make this week the perfect week to take the Patriots off the board. First, they are coming off of an emotionally charged game against their former quarterback. New England went toe to toe with the defending champs and almost came away with the win. That momentum carries into a game against a struggling team with a far less storied signal-caller. Not to mention, their schedule doesn't improve. Even the Jets and the Jaguars are looking better.
https://twitter.com/Patriots/status/1444863770812198915
As for the Texans, their season has taken a disappointing nose dive. In the two games since Davis Mills has taken over as the starting quarterback, Houston's offense has scored only nine points. That would be bad enough except for the fact that their defense has given up 64 points in that span. The situation has not changed for the struggling Texans since their blowout loss last week to the Bills. As such, they are not likely to put up much of a fight against a team riding the emotional high as their opponents. This is not a matchup to overthink. Again, you're running out of opportunities to use New England with confidence. Take it now before it's gone.
---
Minnesota Vikings (-9.5 vs. Detroit Lions)
It's hard not to be shocked when looking at the Vikings' 1-3 start to the season. They are loaded with talent on both sides of the ball. For whatever reason though, that has not translated to the win column. That said, their three losses have all been decided by a touchdown or less. They went to the wire with the Cardinals, only losing by a point. It took an extra frame for the Bengals to kick their way to an opening day victory. At some point, you have to figure their luck will turn around. This could be that week. Although, they may find themselves without the services of Dalvin Cook. Their star running back is a game-time decision after not practicing this week. Even still, this is an NFL Survivor game the Vikings should win, especially at home.
https://twitter.com/Vikings/status/1444717442391887876
The Detroit Lions are winless so far in the 2021 season. While it's not for a lack of trying, they have just not found a way to come out on top. They roared back opening day against San Francisco after falling behind early only to fall short in the end. They held serve against the Ravens but needed three more points to bring Baltimore down. There seems to be some growing pains for Jared Goff in the Motor City and it doesn't seem to be improving. Detroit will limp into the U.S. Bank Stadium on the heels of a loss to the Bears and their rookie quarterback. The Lions allowed Chicago to drive for three touchdowns on the ground. Should Cook play this week, expect him to give the Detroit defense all they can handle. At the end of the day, the Lions will not win their first game.

---
Los Angeles Chargers (-2.5 vs. Cleveland Browns)
If there was any doubt as to just how good Justin Herbert is, he put them to rest on national television last week. On Monday night, Herbert and the Chargers handed the Raiders their first loss of the season in convincing fashion. The Los Angeles defense throttled the league's leading offense holding Derek Carr to under 200 yards passing on the night. All told, they allowed only a mere 213 total offensive yards. Meanwhile, Herbert threw three touchdowns against Las Vegas. He also got help from Austin Ekeler who topped the 100-yard mark on the night while finding the end zone once himself. Overall it was a statement game for Los Angeles as they improved to 3-1. They now share the top spot in the AFC West with the Raiders and the Broncos.
https://twitter.com/chargers/status/1445230227832012800
Cleveland also enters this game with a 3-1 record. The Browns opened the season by almost taking out the reigning AFC champions. Since that opening night matchup, they haven't lost a game. That said, Cleveland's defense has yet to be tested to the extent they were against the high-powered Chiefs squad. So far they've faced rookie Justin Fields in his first start and one half of Davis Mills, another rookie quarterback. To their credit though, they did hang tough against the Vikings last week. That said, it will be a tall order to try and keep this Chargers team in check. The task is made tougher given the fact that Baker Mayfield has been playing through a torn labrum. In the end, it will be too much for the Browns. While the spread suggests a close matchup, the Chargers should put this Week 5 NFL Survivor Pool Pick away easily.
---
Dallas Cowboys (-6.5 vs. New York Giants)
Everyone who predicted that the Dallas Cowboys would come out swinging this season can take a well earned victory lap. Entering Week 5, Dallas sits atop the NFC East standings with a 3-1 record. Their road to that record hasn't been a stroll in the park either. Outside of a loss to Tampa Bay, they've beaten three strong teams in the Panthers, the Eagles, and the Chargers. A few months removed from injury, Dak Prescott has his offense humming in his bid for a comeback player award. The only real weakness so far for the Cowboys resides with the defense. Three out of their four games have turned into a shootout. Prescott and the offense have been expected to keep pace and win the game. So far, they have been up to that challenge in three out of the four. This Week 5 NFL Survivor Pool Pick will be another.
https://twitter.com/dallascowboys/status/1444730943768612866
For the New York Giants, their 1-3 start has come by way of a lackluster start by their high ticket players. It took a couple of weeks for Saquon Barkley to begin to return to form. Last week, it seems he has done exactly that. Even still, Daniel Jones has had trouble finding that extra something to give his team the win. The Giants have suffered a couple of close losses at the hands of Atlanta and Washington. This week though, they will face a confident divisional opponent with enough firepower to bury New York in points. Even Barkley will not be enough to hang with the Cowboys should this one turn into a shootout as well. When the clock strikes zeroes, the Giants will be left at 1-4 still looking up at the rest of their division and still looking for answers.
---
Related Content
Let's Talk About Teasers – NFL Week 5
Week 5 NFL Flowchart – DraftKings DFS
DraftKings Price Changes and Values: NFL Week 5