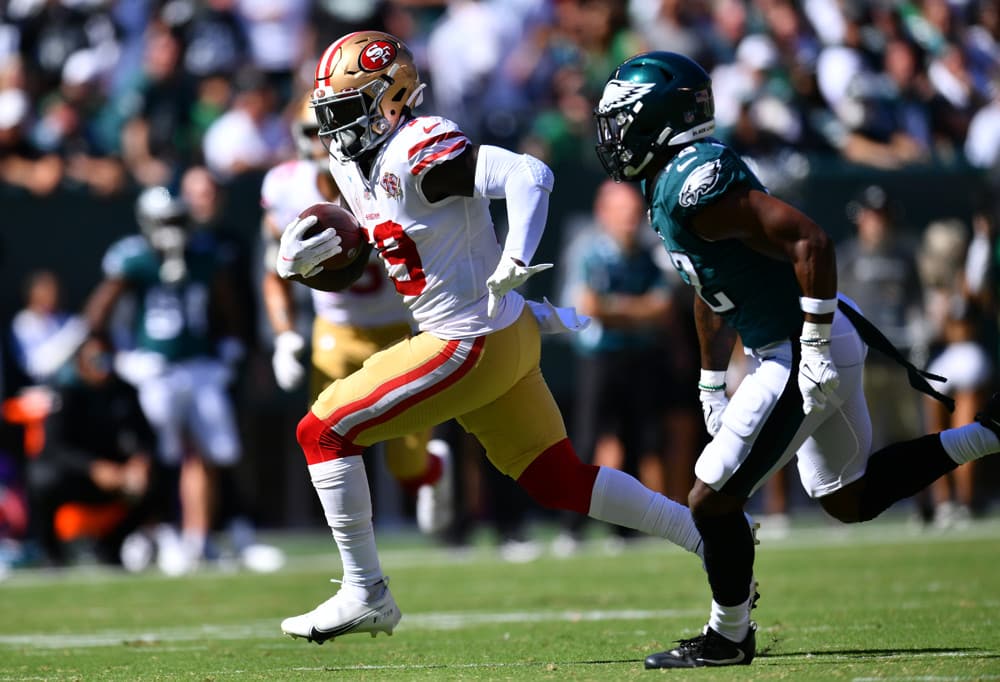 Each week I will bring you my "DraftKings Price Changes and Values" article highlighting and analyzing the weekly DraftKings price changes and here is the Week 5 version. I will identify players who have been "Priced Up" and players who have been "Priced Down" and let you know the players you should "Play" and players to "Fade" in your weekly Cash game and GPP tournament lineups. We are watching all the DraftKings values and players changing prices heading into Week 5.
EXCLUSIVE SGPN FANTASY CONTENT
SGPN Fantasy Football Rankings
Week 4 Fantasy Football Injury Report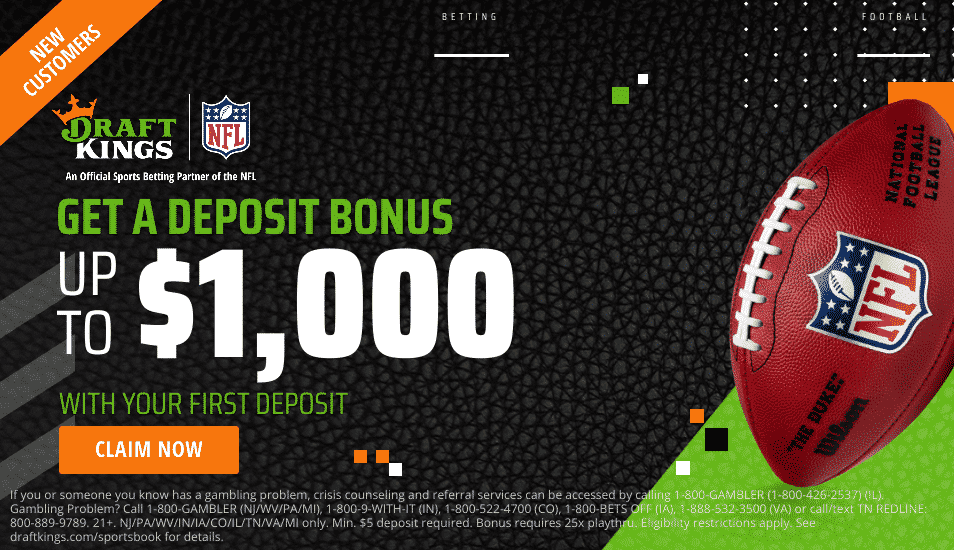 Priced Up – Quarterbacks
Play – Kyler Murray (QB) Arizona Cardinals – $8,000 (+200) 
Kyler Murray was a FADE last week when he was priced down $500, but now he's priced up $200 and he's a PLAY. The San Francisco 49ers rank 28th against quarterbacks, giving up 23 points per game. Murray is one of the most explosive players in the NFL and he's a great DraftKings value for Week 5. Murray is a smash in Cash for me.
Kyler Murray vs the Rams:

♦️ 24/32
♦️ 307 total yards
♦️ 2 TDs

The Cardinals sit atop the NFC West 👀 pic.twitter.com/DcK1YR6qOo

— PFF (@PFF) October 3, 2021
Fade –Tom Brady (QB) Tampa Bay Buccaneers – $7,400 (+400)
Tom Brady is coming off an emotional return to New England in Week 4 where he only scored 11 DraftKings points. Despite the poor performance, Brady is one of the many DraftKings priced up quarterbacks in Week 5. The Miami Dolphins have been pretty stout so far this season, holding Josh Allen to under 18 points in week 2 and ranking 13th in the NFL overall. The Dolphins have not been so great against opposing running backs, giving up close to 33 points per game. Tom Brady is always capable of throwing for multiple touchdowns, but with his best weapon, Gronk on the shelf, Brady is a FADE for me this week.
Play –  Sam Darnold (QB) Carolina Panthers – $6,600 (+600) 
Sam Darnold is averaging 26.9 fantasy points per game and the Philadelphia Eagles give up an average of 20 points to the quarterback position. Darnold is still underpriced and is one of the best DraftKings price values of the week. I will be stacking Darnold with D.J. Moore in GPP tournaments and playing him naked in Cash.
Priced Down – Quarterbacks
Fade – Baker Mayfield (QB) Cleveland Browns – $5,500 (-700) 
Baker Mayfield was not great last week, missing a wide-open Odell Beckham Jr. on three occasions. Ian Hartitz said it best:
Pain pic.twitter.com/sVNiy75Tcb

— Ian Hartitz (@Ihartitz) October 4, 2021
The LA Chargers are one of the top defenses against the quarterbacks, giving up only 14 points per game. I'm out on the Baker Mayfield DraftKings yard sale this week.
Fade – Ben Roethlisberger (QB) Pittsburgh Steelers – $5,300 (-200) 
Ben Roethlisberger has not looked well this year. His play has fallen off a cliff. He's currently averaging 6.15 yards per attempt, one of the lowest in the league. Big Ben wouldn't know air yards if they bumped into each other in the cafeteria. Ben's given up and you are giving up your money if you chase his price drop. These fourth down plays are exhibit A.
Nobody:

Absolutely no one:

Not a single soul on Earth:

Ben Roethlisberger on 4th down: pic.twitter.com/kwkxQKGwr9

— Ian Hartitz (@Ihartitz) October 4, 2021
Priced Up – Running Backs
Play – Derrick Henry (RB) Tennessee Titans – $9,000 (+200) 
Derrick Henry has more yards after contact than the rest of the league has rushing yards so far this young season. The man is more machine than man and he is the closest thing to a sure thing in DraftKings as you can come by at the running back position. Last season, Henry underperformed in Week 2, only scoring 8.4 DraftKings points against the Jaguars. Henry came back as a man possessed in Week 14 though, rushing for over 200 yards and amassing 36 points.
This season the Jaguars ranked 20th against running backs, giving up close to 26 points per game. So which Derrick Henry should we expect in Week 5? Henry is expensive, but this season he's averaged 3.75 targets per game, which is an increase from last season, making him even more valuable. Henry is a safer Cash play than GPP, but I will have him in a few of those as well.
Play – Saquon Barkley  (RB) New York Giants – $7,300 (+600)
Saquon Barkley is back and so is his high price in Week 5 on DraftKings. This week Saquon faces a Cowboys' run defense that ranks 9th, only giving up around 20 points per game. The Giants currently have a 21 point implied team total, so Barkley and the Giants should be trailing in their Week 5 match with the Cowboys, which should mean, plenty of targets for Saquon in garbage time. I'm playing him in Cash and GPP tournaments.
The Saquon Barkley we all know… pic.twitter.com/T4LgM6acvk

— Ari Meirov (@MySportsUpdate) October 3, 2021
Play – James Robinson (RB) Jacksonville Jaguars – $6,000 (+300)
After a slow start the first two weeks of the season, James Robinson has scored over 20 point the last two weeks. The Titans rush defense hasn't been that bad, holding running backs close 22 points per game. That should work for Robinson, since he's the only game in town for the Jaguars. He's caught 13 of his 17 targets and should see plenty of action in a high scoring game against the Titans in Week 5. I primarily like Robinson in Cash, but will have a dart or two in GPP.
Highest rushing grade this season | min. 30 attempts:

🥇 James Robinson – 83.7

FEED HIM 🗣 pic.twitter.com/NnY5VAF4bd

— PFF (@PFF) September 30, 2021
Priced Down – Running Backs
Fade– Dalvin Cook (RB) Minnesota Vikings – $8,100 (-300) 
Dalvin Cook only rushed nine times last week for 31 yards. Sure it wasn't the best matchup, but still, Cook didn't look like himself as he recovered from his sprained ankle. Cook has yet to practice this week, but he is insistent that he will be playing this week against the Detroit Lions. I'm under the impression that the Vikings should be able to beat the Lions without needing to lean heavily on Cook. I'm fading him this week despite his DraftKings Week 5 price discount.
Play – Nick Chubb (RB) Cleveland Browns – $6,700 (-300) 
Nick Chubb has been rushing well. Just not into the end zone which means that he's failed to score 20 DraftKings points since Week 1. This week Chubb is facing a LA Chargers defense that only gives up 22 points on average each week. Dig into the rushing numbers bit more and the Chargers have been giving up over 5 yards per carry. Chubb is averaging 5.2 yards per carry this season and could see a heavy workload come Sunday. Chubb is a sneaky GPP play that I will look for exploit the lower rostership.
Slowing down Nick Chubb and Kareem Hunt on Sunday is priority number one for the #Chargers defense.https://t.co/uE8Ru3AfQp

— Fernando Ramirez (@RealFRamirez) October 7, 2021
Play – Miles Sanders (RB) Philadelphia Eagles – $5,400 (-700)
Miles Sanders has been outscored by his rookie teammate, Kenneth Gainwell by six points so far through the first four games. That's bad for a running back that's been priced up as high as $6,900 in Week 2. Mile Sanders may look like low hanging fruit, but the Caroline Panthers rank 3rd in the NFL, only giving up 13 points to the running back position on average. I'm fading Miles Sanders this Sunday, and every Sunday after that one.
Priced Up – Wide Receivers 
Play – D.J. Moore (WR) Carolina Panthers – $7,500 (+900)
D.J. Moore is one fire. He's currently the seconds highest scoring wide receiver on the slate, behind only Deebo Samuel. Sam Darnold has peppered Moore with 43 targets through four games, good for fourth in the NFL amongst wide receivers. Moore is facing an Eagles defense that just gave up three touchdowns passed for Tyreek Hill. I love Moore at his DraftKings Cash and GPP price in Week 5.
DJ MOORE IS A MAGICIAN!

📺: FOX pic.twitter.com/wnoQsShVTK

— Carolina Panthers (@Panthers) October 3, 2021
Play – Terry McLaurin (WR) Washington Football Team – $7,400 (+500) 
"Scary" Terry McLaurin is priced up $500 after his tow touchdown performance in Week 4. The Washington Football team is 2-2. Both wins saw McLaurin with secure over 30 DraftKings points and be targeted over 13 times. Tight end Logan Thomas is sidelined a few weeks with a hamstring injury and Curtis Samuel is still recovering from his first action of the season last week. McLaurin is the only game in town this week against the Saints. I expect him to be targeted at least 12 times in this matchup. He's been boom or bust this year, so I'm more comfortable playing him in GPP.
WRs with the highest snap percentage this year:

Terry McLaurin 98.4%
Adam Thielen 96.9%
Jakobi Meyers 95.1%
Chris Godwin 94.3%
DeAndre Hopkins 93.1%
Cooper Kupp 92.6%
Marvin Jones 92.1%#FantasyFootball #NFLTwitter @MyFantasyLeague pic.twitter.com/HNrH561Ex1

— FantasyData (@FantasyDataNFL) October 7, 2021
Play –  Deebo Samuel (WR) San Francisco 49ers  – $7,100 (+600)
Deebo Samuel is the top scoring wide receiver on the slate, but is only the 7th highest priced wide receiver. Trey Lance looked his way all last week, pushing his season total for targets to 40 so far on the young season. Deebo is the clear WR1 on the 49ers and is a lock for Cash games this week and should also be strongly considered as a GPP play as well.
Priced Down – Wide Receivers
Play – Adam Thielen (WR) Minnesota Vikings – $6,600 (-200) 
Adam Thielen played well the first few weeks, crashed backed to earth last week, only scoring 7.6 fantasy points against Greedy Williams and company. This week Thielen has one of the top matchups according to PFF. I love Thielen as a GPP play primarily, but don't discount his ability to 3x for you in Cash games.
Play – Keenan Allen (WR) LA Chargers  – $6,500 (-400)
Keenan Allen's price is the lowest it will be all season at $6,500. He's clearly Justin Herbet's favorite target with 44 to Mike Williams 35. Allen is priced down after a 10.6 point performance and a tough matchup agaisnt the Cleveland secondary who is only surrendering 31 points to wide receivers per game. $6,500 sounds like a great deal for 11 targets a game from a passer like Herbery. I'm playing Allen in Cash.
i wrote entirely too much about ricky seals-jones vs. new orleans and zach ertz vs. carolina. i also offered some reasons not to panic over ceedee lamb and keenan allen. https://t.co/Md7ymWBtKN

— Denny Carter (@CDCarter13) October 7, 2021
Play – CeeDee Lamb (WR) Dallas Cowboys – $6,200 (-500)
CeeDee Lamb was only targeted five times last week and finished Week 4 with only 3.3 DraftKings points to show for it. His price drop was expected given the poor performance, but it's just the opportunity we need to buy low on Lamb. Dak Prescott only attempted 22 passes last week agaisnt the Caroline Panthers. This week, the Giants should be easier to move the ball through the air against. Last week they played the Saints and Jameis Winston and weren't tested like they will be by Lamb and the high powered Cowboys offense. I will be loading up with Lamb in my GPP tournaments.
Priced Up – Tight Ends 
Fade – Darren Waller (TE) Las Vegas Raiders – $7,300 (+600) 
Darren Waller's price skyrocketed this week with no Travis Kelce to gawk at. I love his upside, but I am not paying a premium for Waller just because DraftKings thinks he's the best tight end play this week. I'm fading Waller and looking elsewhere at tight end, Waller might be the worst DraftKings Week 5 value. I'm out.
Fade – Noah Fant (TE) Denver Broncos – $4,900 (+600) 
Last week the Broncos lost starting quarterback Teddy Bridgwater to a concussion. To say Drew Lock replaced him would be generous, he completed only 57% of his passes and threw an interception. The good news for Noah Fant is that he was the recipient of 10 targets last week, so it looks like his target volume is safe, despite the injury to Teddy. I like Fant as a Cash and GPP play at his price point.
Players averaging at least 6.5 targets per game with a salary below $5,000 on the Week 5 DraftKings main slate

Jaylen Waddle
Hunter Renfrow
Noah Fant
Laviska Shenault
Darnell Mooney
Mike Gesicki

— TJ Hernandez (@TJHernandez) October 6, 2021
Priced Down – Tight Ends 
Play – George Kittle (TE) San Francisco 49ers  – $5,600 (-300) 
Geroge Kittle's Week 5 DraftKings price is the lowest I have ever seen. He's a tremendous Week 5 DraftKings price value given and is a GPP payup that could pay off big this week. I'm not comfortable playing him in Cash given the volatility of starting rookie quarterbacks.