NFL Week 4 has come and gone, and I'm happy it's in the rearview mirror. We all had to suffer through the tilting of Marquise Brown in Week 3, watching him drop three potential deep TDs. Then, it was almost deja vu in Week 4 as Odell Beckham Jr. was overthrown by Baker Mayfield on another three potential TDs. Do not worry though everyone, I have completely purged The Flowchart of drops and overthrows this week. The way I'm looking at it is that we have around 50 expected DKPts that we get to cash in in the future, so no better time to do it than in Week 5.
All joking aside, I think the last two weeks are a nice gentle reminder of how hard it is to be a GPP player. Sometimes we are going to be on the right side of the variance, but we are going to have a lot of weeks where we aren't. It's important to stick to a sound process and have a short memory. I am going to keep focusing on building well-correlated and well-constructed lineups each week, rather than trying to change my process based on recent results.
EXCLUSIVE SGPN FANTASY CONTENT
SGPN Fantasy Football Rankings
A couple of quick housekeeping items. If you missed the Introduction article I wrote about The Flowchart before Week 1, please give it a read and make sure your head is in the GPP mindset. This week we have a few important pieces of injury news. I will ALWAYS ALWAYS ALWAYS post my thoughts/changes to The Flowchart on Twitter, so please follow me there to stay up to speed. The other thing I wanted to mention this week, is that I will be going live in the voice channel of my Discord every Sunday morning. I will usually pop on around 8:45 am PST after inactives come out and will go through everything football. DFS questions, season-long start/sit, betting sides, and totals, we'll cover it all. If you've got some time come join us this week!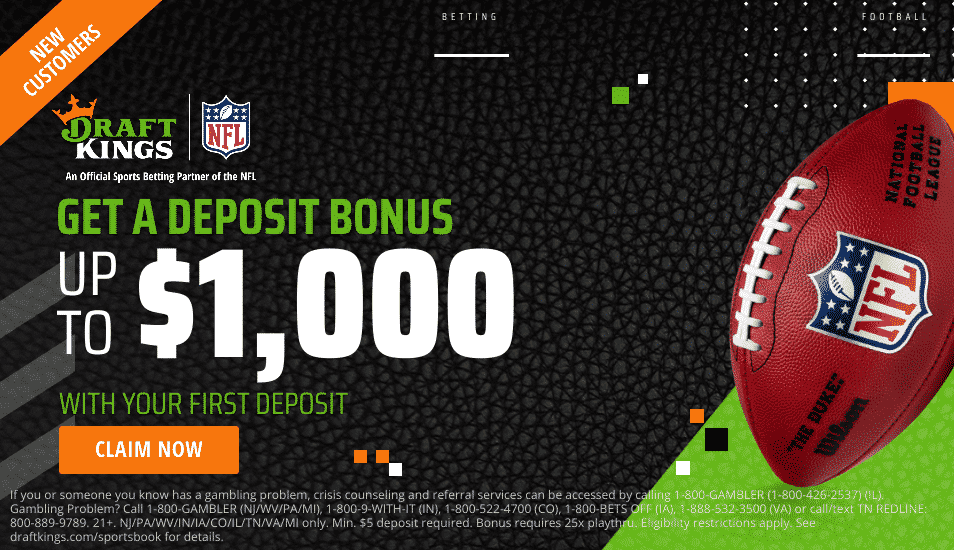 Week 5 NFL Flowchart – DraftKings DFS
Week 5 Landscape
I've got a little bit more time on my hands this week, so I wanted to cover some of the general themes I am seeing in Week 5. Right off the bat, I think the winning scores this week are going to be quite a bit lower than what we've seen so far this season. We don't have KC, BUF, LAR, SEA, or BAL on the main slate this week. These teams take a lot of high ceiling potential with them to the island games. Additionally, we don't have a ton of juicy game environments screaming our name. The New York Giants at Dallas is going to be the most popular game to stack this week. After that, there is a pretty steep cliff.
Derrick Henry and Davante Adams stick out well ahead of the crowd in both point and roster utilization projections. I think it's important to fit these guys into your cash game lineups, and equally important to find leverage off of them in GPPs. We have another week of popular bargain bin TEs. As I mentioned previously, there's almost nothing I hate more than playing a cheap and chalky Tight End. These guys oftentimes have a good chance to post a zero for the week, so it's an easy spot to add some +EV into your lineups. Let's get into the Week 5 Flowchart.
Game Stack
On a weekend filled with stud QBs, Tom Brady is oftentimes going to get lost in the shuffle when it comes to winning GPP lineups. The Buccaneers have so many different weapons, and we oftentimes don't see their production condense enough for a double stack to pay off. A lot of the focus this week is going to be on the mid to low-tier QBs with rushing upside, Daniel Jones, Trey Lance, and Justin Fields. You could make an argument that pocket passer Tom has the highest ceiling on the slate, so I am going to lean into that.
Figuring out the Brady double stacks is where it usually gets tricky. Luckily for us, the Bucs will be without Gronk for another week so it's safe to say the TE position is less of a threat (queue up the Cameron Brate 2 TD game now that I said that). After back-to-back weeks of hefty opportunity and production, Leonard Fournette is penciling out as one of the more popular RBs on Sunday. Focusing on the big 3 receivers in Tampa Bay provides us with some leverage off of Fournette, and also gives us a crack at a week where production should be more condensed.
Mike Evans should be the least rostered WR on TB, so I want him to be the focus of The Flowchart. He's got the most TD upside and in turn, the easiest way to activate a high ceiling. After that, you can take your pick of Chris Godwin or Antonio Brown to complete the stack. This feels like a really good weekend to play a 20-max set from The Flowchart because you can also mix in some Godwin/Brown doubles to cover all the bases.
Bring-It-Back Stack
Let's talk macro-level here before we dive into the Dolphins side of this game. I have seen a popular narrative creeping up on Twitter recently about how there are certain teams where bring backs are not required. Some could look to the Bills' 40-0 blowout of the Texans last week as an example. I would actually argue the opposite. If the Bucs blowout the Dolphins 40-0 this week, there will likely not be a Miami player that makes any of the top lineups. However, a Tom Brady stack probably isn't going to either. If the Brady throws for three quick TDs through the air and they don't get any resistance from the Dolphins, it's likely that they will lean run-heavy towards the end of the game.
So while it's true that a Miami player won't be in a GPP winning lineup in a blowout, it's also true that a blowout doesn't fully unlock Brady and his stack partner's maximum ceiling. What we want to look for in seemingly one-sided games, is a team that can offer a bit of resistance (think 13-17 points). In a perfect world, our bring-back will be involved in those scores. If not, then hopefully they will at least rack up receptions during a comeback as part of a condensed offense. Hello, Jaylen Waddle.
I think Waddle is a really fun play this week because we have seen his PPR upside (12 catches in Week 3), but we have yet to see his TD upside (only 1 score this season). Will Fuller is on the shelf this week, and we know how good the TB run defense is and how bad the MIA run offense is, so all signs point to passing from the Dolphins. Another player worth mentioning is Mike Gesicki. He is a viable bring-back this week, but his price has been steamed up recently and isn't as appealing to me. If playing multiple lineups, he can slot into a few of them
Low Rostered Leverage Plays
Let's take a quick glance back to column one for our first leverage play of The Flowchart. In weeks where a lot of the field will be rostering one particular game, playing a defense from that game is always going to be +EV. Remember the chalky Week 2 game against the Cowboys and Chargers that finished 20-17? Cowboys scored 7 pts and the Chargers scored 5pts and beat out half of the 10 most popular defenses that week. I am rolling with the Giants defense here, but the Cowboys' defense is equally as viable. Just make sure you change up the defense if playing CeeDee Lamb.
A.J. Brown is an interesting one for me this week. If you have been following the flowchart, you will know that he put up two mediocre performances in Weeks 1 and 2. However, he is coming off an injury this week and is priced pretty low compared to normal. He also provides great leverage off of the popular Derrick Henry play. I do think that Brown will continue to catch some steam by Sunday, and may not be the sneakiest leverage spot of the weekend (don't worry I have a better one).
Nick Chubb and Damien Harris are two RBs that are in really good spots this week. Chubb isn't a standout leverage play against anyone on the Browns but he is in the same tier as Saquon, Zeke, and Najee Harris. He should come in rostered about 1/3rd as much as all of those guys. In a week where the news is all about the Baker shoulder concerns, give me the Browns workhorse RB against the run-funnel Chargers defense. Harris helps provide a bit of leverage off Jakobi Meyers who should be popular this week (and has somehow never scored a TD in his career yet?!). Harris also has the pristine matchup against the Houston Texans which are the NFL's first JV football team.
Tyler Conklin and Dan Arnold are both guys that rate well in projections and shouldn't be on the popular side of the cheap TE plays. I like Conklin more than Arnold, which is why I gave another TE option up on Arnold's side of The Flowchart.
Play The Studs
Simply put, Aaron Jones fit best in this last column, but he is my gold-star GPP leverage play this week. It's almost a complete throwback to Week 2 last season when Derrick Henry and Davante Adams were popular and Jones proceeded to score 3 TDs and 48 DKPts while Adams put up a big 6.6DKPts. I especially love Aaron Jones as a bring-back option in Bengals double stacks where Adams will be EXTREMELY popular. I think I would go as far as saying that Joe Burrow and Davante Adams should not be in a lineup together this weekend.
In order to fit a couple of secondary stack options in this week, I put Tee Higgins and D'Andre Swift in the Studs column. Whenever possible, and especially in smaller fields, we want to focus on getting the least amount of things right as possible. CeeDee Lamb is my preferred Dallas pass catcher this week and comes in at a bit of a discount thanks to a couple of tough weeks in a row.
There's not really a lot that needs to be said about Najee Harris. He is putting up crazy crazy usage numbers and his explosion week is imminent. I will probably play him every week until it happens. Finally, we will end the week with a couple of words on Noah Fant. The Broncos should have Teddy Bridgewater under center again this week and on top of missing Jeudy and Hamler, Courtland Sutton popped up on the injury report late in the week. This bodes well for Fant against Pittsburgh. Outside of the 2 catches for 15-yard performance in Week 3, Fant has been one of the most consistent TE producers this season. Consistency and Tight End don't often find themselves used in the same sentence, so I want a lot of Fant this week.
Good luck everyone, I hope to see your name up at the top of some leaderboards this week!
RELATED CONTENT
Week 5 Fantasy Football Injury Report