Each week I will bring you my "DraftKings Price Changes and Values" article highlighting and analyzing the weekly DraftKings price changes and here is the Week 4 version. I will identify players who have been "Priced Up" and players who have been "Priced Down" and let you know the players you should "Play" and players to "Fade" in your weekly Cash game and GPP tournament lineups. We are watching all the DraftKings values and players changing prices heading into Week 4.
EXCLUSIVE SGPN FANTASY CONTENT
SGPN Fantasy Football Rankings
Week 4 Fantasy Football Injury Report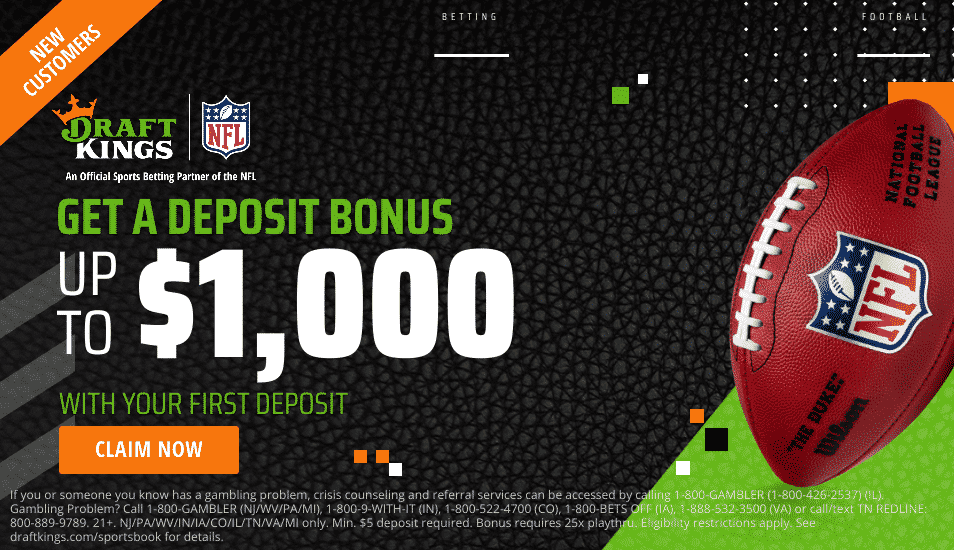 Priced Up – Quarterbacks
Play – Josh Allen (QB)  Buffalo Bills– $8,000 (+1000) 
Josh Allen exploded last week for 40.22 DraftKings points and broke the slate. This week his price is hiked up $1,000, but he also is facing the Houston Texans defense. The Texans have given up an average of 20 points per game to signal-callers, but haven't faced any quarterback anywhere near Josh Allen's level. Allen is a great DraftKings Week 4 price value. I'm riding him in Cash games and GPPs.
Play –Matthew Stafford (QB) LA Rams – $7,000 (+600)
Last week Matthew Stafford was on fire, passing for 343 yards and four touchdowns. This week he faces a Cardinals defense that has been better than expected, ranking eighth in the NFL, giving up under 16 points per game. Kirk Cousins threw for three scores but was turned over twice in Week 2. Stafford and the high-powered Rams will be the first real test for the Cardinals' defense. Given that Vegas has the implied total at 29.75 points for the Rams, I'm betting on Stafford again this week. He's a lock for Cash and has some appeal in GPPs as well.
https://twitter.com/espn/status/1442272387047755776?s=20
Play – Aaron Rodgers (QB) – $6,800 (+500) 
Aaron Rodgers is one of the best DraftKings Week 4 price values despite the $500 price hike. Rodgers is facing a Pittsburgh defense that has given up six passing touchdowns and surrenders close to 20 points per game. His connection with Davante Adams is back, which means the Steelers cornerbacks are in for a long day. I love Rodgers in Cash this week.
Priced Down – Quarterbacks
Play – Patrick Mahomes (QB) Kansas City Chiefs – $8,100 (-100)
Last week we faded Patrick Mahomes and it paid off. This week his price has dropped another $100 and we are smashing him into our GPP tournaments. Stacking him with Kelce is a pay-up stack that is worth the cost this week. Patrick Mahomes is chopping at the bit to make a statement this week. Giddy-up.
Patrick Mahomes: It's exciting for the Chiefs to have our backs against the wall. https://t.co/EUGBoXU5pi

— ProFootballTalk (@ProFootballTalk) September 30, 2021
Fade – Kyler Murray (QB) Arizona Cardinals – $7,800 (-500) 
Kyler Murray is 0-4 against the LA Rams in his career, with 4 interceptions and 11 sacks. Not very reassuring if you are featuring him in your lineups. I'm fading the Murray this week given his historic struggle against Aaron Donald and company.
https://twitter.com/TheGameDayNFL/status/1335698348955889667?s=20
Fade – Russell Wilson (QB) Seattle Seahawks – $7,100 (-500) 
Last week Russell Wilson struggled against the Minnesota Vikings, only scoring 16.6 fantasy points. This week he faces a San Francisco 49ers defense that ranks 28th against the quarterback position, giving up close to 24 points per game. This seems like a smash spot. The only problem is that Tyler Lockett has yet to practice this week with a hip injury suffered in Week 3 and now D.K. Metcalf popped up on the injury report today with a foot injury. I'm fading Russ until I can be assured that both of Wilson's weapons are locked and loaded.
Priced Up – Running Backs
Play – Derrick Henry (RB) Tennessee Titans – $8,800 (+200) 
Derrick Henry is the only game in town this week for the Tennesse Titans, who will be without both Julio Jones and A.J. Brown this week against the 0-3. New York Jets. Herny's 80 rushing attempts lead the NFL, and I expect him to add to his league-leading totals this week. Look for 25-30 touches for Herny. He's strong Cash gameplay and LIVE for GPPs as well.
Fade – Kareem Hunt  (RB) Cleveland Browns – $6,000 (+400)
Kareem Hunt blew up last week, reminding us all how dynamic of a pass catcher and rusher he's become. The hard part is trusting which Cleveland Browns running back is going to go off which week. Hunt is more volatile, depending on the game script the Browns find themselves in. The emergence of Demetric Felton further muddies this backfield as well. I'm passing on the Hunt price hike and will circle back once his price dips back into the $5,600 range.
Play – Trey Sermon (RB) San Francisco 49ers – $5,000 (+500)
The Seattle Seahawks were absolutely lit up by Alexander Mattison and the Minnesota rush attack last week. They currently rank 32nd in the NFL against the running back position, giving up over 37 points per game. I know it's hard to trust Kyle Shanahan, but 49ers General Manager John Lynch on the other hand, and he didn't sound optimistic that Elijah Mitchell plays this week. Sermon could be the nuts, just saying.
TREY AREAAA! @treyera dives in the end zone for his first NFL TD 🙌

📺 #GBvsSF on NBC pic.twitter.com/zzryXe0qwr

— San Francisco 49ers (@49ers) September 27, 2021
Priced Down – Running Backs
Play – Nick Chubb (RB) Cleveland Browns – $7,000 (-600) 
Nick Chubb disappointed last week, only scoring 8.3 DraftKings points. This week his price has dropped $600, making him an interesting play in a game that PFF projects Cleveland with a 63% rushing advantage. Chubb is going to be under rostered after his poor showing last week and is a good Cash gameplay at his DraftKings Week 4 price.
Play – Ezekiel Elliot (RB) Dallas Cowboys – $6,400 (-100)
If you told me Zeke scores 26.6 points and his price drops, I would tell you were looking at his DraftKings Week 4 price in real-time. LOL, I get that Zeke is facing a top-rated rush stopping defense, but PFF projects Dallas with a 61% run blocking advantage over the Panthers. This price dip is for this week only, so buy as much Zeke as you can this week.
Fade– David Montgomery (RB) Chicago Bears – $5,800 (-300) 
I'm fading all Bears players until Matt Nagy is fired or resigns in shame. His failure to protect Justin Fields and manage the Bears' offense was on full display last week. I'm predicting the Detroit Lions to upset the Bears this week. I'm fading David Montgomery despite the discount.
Priced Up – Wide Receivers 
Play – Cooper Kupp (WR) LA Rams – $7,800 (+1000)
"Little" Cooper Kupp is all grown up, just like his price. $1,000 is probably too cheap given Kupp's budding relationship with the end zone. They've met five times through three games so far. It's just beautiful to see young love. I'm all in on Kupp in Cash and will sprinkle him into my GPP lineups as a pay-up option.
Cooper Kupp is that guy. pic.twitter.com/5hMP05shbt

— Bleacher Report (@BleacherReport) September 26, 2021
Play – D.J. Moore (WR) Carolina Panthers – $6,600 (+700) 
D.J. Moore is averaging over 20 points a game and has 31 targets through three games. Moore is clearly Sam Darnold's favorite receiver, with Robby Anderson gone in a New York minute. I love D.J. Moore in this potentially high-scoring affair against the Dallas Cowboys.
Play – Cole Beasley (WR) Buffalo Bills – $5,400 (+600)
Cole Beasley is averaging 10 targets a game. This price hike is warranted, but not enough to scare me off of him this week. The Bills will be slicing up the Texans and Beasley will be there doing his part and racking up points. Seeing the double Bills stack with Beasley and Emmanuel Sanders won the Milly Maker last week, I will say that Beasley is live in all formats this week, but I like him a lot in Cash, He secretly might be the best DraftKings Week 4 price value for mid-range wide receivers. Plus the new haircut…
Cole Beasley has a new haircut pic.twitter.com/ygIUmJs4C8

— Matthew Bové (@Matt_Bove) September 30, 2021
Priced Down – Wide Receivers
Play – Tyreek Hill (WR) Kansas City Chiefs – $8,000 (-400)
Tyreek Hill doing his best Amari Cooper impersonation to start the 2021 season. He's failed to score more than 11 points the last two weeks, averaging 8.4 DraftKings points during the small two games sample. It's the reason DraftKings Week 4 price drop and presents a value play for both Cash games and GPP tournaments. Ian Hartitz summed it up best:
Tyreek Hill gonna bounce back with 500 yards one of these weeks and everyone will just be like "yup makes sense" lmao

— Ian Hartitz (@Ihartitz) September 29, 2021
Play – Davante Adams (WR) Green Bay Packers – $7,900 (-200) 
Davante Adams is priced down after scoring over 34 points last week. Insert "Free Money" GIF here and start the Amazon spending spree!! Adams is going to light the Pittsburgh Steelers up this week. PFF gives Adams a matchup grade of 91.1 against all Steelers' defenders. Aaron Rodgers is back and dishing to Adams, 18 times last week for 12 receptions and 132 and a touchdown. Adams is a huge BOOM play this week for me in Cash and especially in GPP.
Play – Amari Cooper (WR) Dallas Cowboys – $6,000 (-300)
When you look up "Boom or Bust" in the dictionary, there's a picture of Amari Cooper, not smiling. After a 41.9 break the slate type first week performance, he failed to score six points the last two weeks and is priced down to $6,000. Carolina ranks ninth in points allowed to wide receivers, but the Jets, Texans, and Saints receivers are all ranked at the bottom of the league. Cooper and CeeDee Lamb are by far the greatest test of the Panthers' secondary to date in 2021. I think that Cooper is one of the best DraftKings Week 4 price values on the whole slate. I love him for GPP tournaments this week.
https://twitter.com/LawsNation/status/1441609481436078092?s=20
Priced Up – Tight Ends 
Fade – T.J. Hockenson (TE) Detroit Lions – $5,800 (+600) 
T.J. Hockenson was a HUGE disappointment last week, scoring only three points against the Baltimore Ravens. It doesn't make much sense that DraftKings priced Hockenson up $600. Hockenson's matchup this week isn't great. The Chicago Bears give up an average of 8 DraftKings points per week. I'm fading the price hike on Hockenson.
Priced Down – Tight Ends 
Play – Travis Kelce (TE) Kansas City Chiefs – $8,100 (-100) 
Travis Kelce might be the best DraftKings value in Week 4. According to PFF, Kelce has a 93% advantage over Philadelphia linebacker, Eric Wilson. Tight ends have done well against the Eagles this season, catching 80% of their targets for 170 yards and two scores. This mismatch is worth the pay-up in both Cash games and GPPs.
https://twitter.com/HayleyLewisKSHB/status/1443641775541956609?s=20
RELATED CONTENT