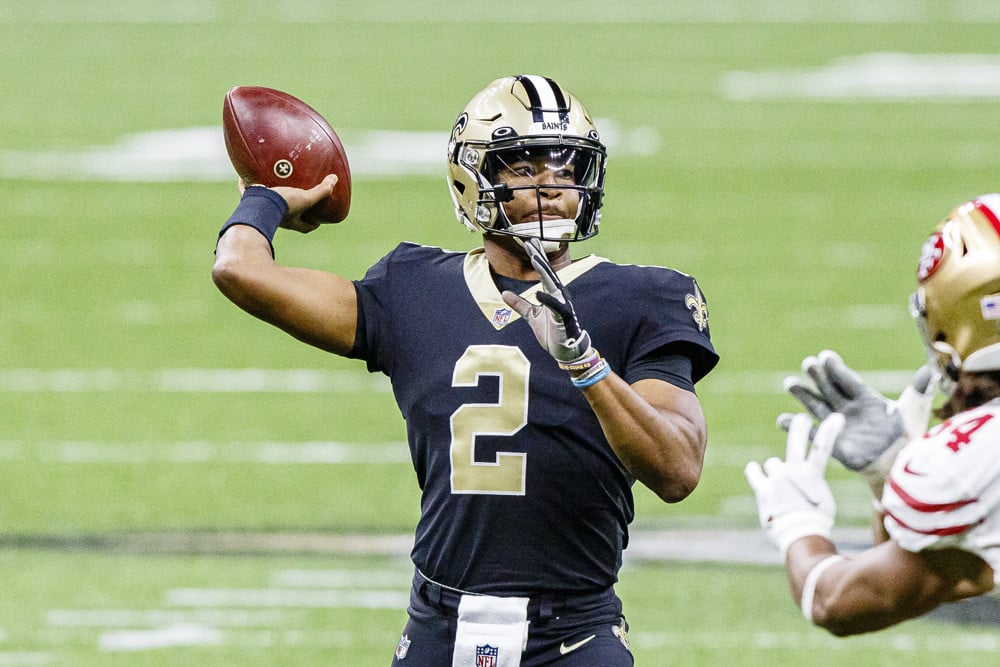 Even though Week 1 is in the books, there is still time to improve your team. Depth charts change and new injuries arise which suddenly make some players extremely appealing. However, more leagues are using the FAAB system for pickups which could be intimidating to new fantasy football owners. This article will be a guide about which players to target for Week 2 as your league's FAAB and waiver wires run.
EXCLUSIVE SGPN FANTASY CONTENT
SGPN Fantasy Football Rankings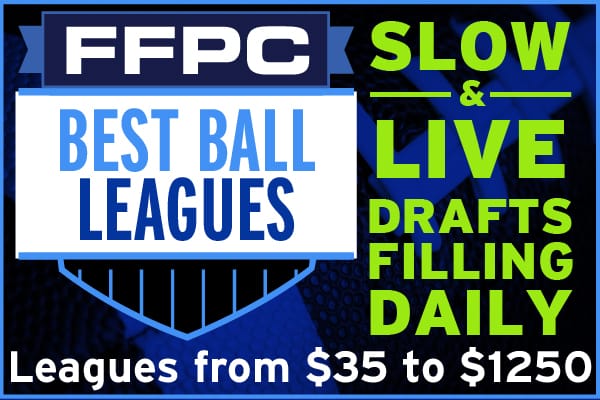 FAAB Waiver Wire Week 2 Guide
Potential Gems (10-20% of FAAB)
If you are looking for a potential QB1, then you should be targeting Jameis Winston as a potential option. In his first start with New Orleans, he recorded five touchdown passes. While that could be an anomaly, it cannot be overstated how comfortable Winston looked within this offense which should lead to future success. Plus, Sean Payton is an offensive genius that should continue finding ways to maximize Jameis Winston's potential within this offense. If the main quarterback on your roster is not doing enough, then taking a flyer with Winston has merit. Use approximately 15% of your FAAB budget on him.
Sometimes, a change in scenery can revive a player's career and that might be the case for Mark Ingram II. After being released by Baltimore in January, Ingram II signed with Houston. However, his role remained a bit unclear prior to the start of the regular season. After Week 1, it is clear that he is the starting running back as he recorded a team-high 26 carries for 85 yards and one touchdown. While game flow definitely played a factor, Ingram II is still the starter so the volume should always be present. Use approximately 10% of your FAAB budget on him.
Injuries can drastically alter depth charts and a perfect example of that is Elijah Mitchell. After entering the regular season as a third-string running back, he quickly became the starting running back in Week 1. Original starting running back Raheem Mostert suffered a knee injury in the first quarter and backup running back Trey Sermon was a healthy scratch. As a result, Mitchell got a team-high 19 carries which led to 104 rushing yards and a touchdown. With Mostert being out for 8 weeks, Mitchell will have endless opportunities within this offense. Mitchell could be a league winner for bargain FAAB prices off of the Week 2 Waiver Wire. Use approximately 20% of your FAAB budget on him.
Risky But Potentially Rewarding (5-10% of FAAB)
Garbage time is always extremely important when it comes to evaluating players on terrible teams for fantasy football. Jared Goff was the biggest benefactor from garbage time in Week 1. Due to a 28-point deficit in the third quarter, Detroit completely abandoned the running game. As a result, Goff finished the game with 57 pass attempts that resulted in 338 passing yards and three touchdowns. Detroit is expected to be one of the worst teams in the league this season so there should be multiple positive game flow moments for Goff to pad his stats moving forward. Use approximately 8% of your FAAB budget on him.
Targeting a wide receiver with an underwhelming quarterback is a gamble but it does have some potential. Sterling Shepard fits that description because of the questionable quarterback play of Daniel Jones. However, one cannot deny the chemistry that the two of them. In Week 1, Shepard was targeted a team-high nine times which resulted in 113 receiving yards and a touchdown. Plus, he was on the field for 95% of New York's offensive snaps. While Shepard's history of injuries is not ideal, the upside is definitely there. Use approximately 7% of your FAAB budget on him.
One of the most underrated wide receiver performances in Week 1 was Nelson Agholor who looked extremely sharp in his first career game with New England. He was able to record five receptions for 72 yards and one touchdown against a top-10 secondary. In addition, he was on the field for 85% of New England's offensive snaps so he will be used frequently within this system. Plus, Mac Jones looked good in his first career start at quarterback as he recorded 281 passing yards and one touchdown so this offense is underrated. Use approximately 5% of your FAAB budget on him.
Zach Pascal – 7% of FAAB
Christian Kirk – 7% of FAAB
Jalen Reagor – 6% of FAAB
Tim Patrick – 5% of FAAB
Spot Starters (1-2% of FAAB)
When it comes to making a leap from season one to season two, Tua Tagovailoa has started checking some boxes. In two preseason games, he completed 24 of his 34 pass attempts for 282 passing yards and one passing touchdown. In Week 1, he looked pretty good against an underrated New England defense as he recorded 202 passing yards and one passing touchdown. Plus, Tagovailoa provided extra value on the ground as he recorded a rushing touchdown. While he might struggle against elite defenses, he can definitely be a spot starter for your fantasy team whenever he is against weaker defenses. Therefore, he is a solid QB2 option for not a lot of FAAB and at low cost on the waiver wire. Use approximately 2% of your FAAB budget on him.
The tight end position is extremely unpredictable besides the top few options so taking a flyer on Juwan Johnson makes sense. Johnson was only targeted three times in Week 1 but he still managed to record two touchdowns. Without Michael Thomas for the next few weeks, the New Orleans Saints do not have many big targets to use in the red zone. As a result, Juwan Johnson should continue to see some targets in the end zone for the foreseeable future. If you are desperate for a cheap tight end with upside, then this is your guy. Use approximately 1% of your FAAB budget on him.
If you are looking for an extremely cheap QB2 with some upside, then I recommend Teddy Bridgewater. Despite being known as a game-manager, Bridgewater looked fantastic against the Giants in Week 1 as he recorded 264 passing yards and two passing touchdowns. In addition, he had three carries for 19 yards. Now, he gets to face off against a Jaguars defense that got torched by Tyrod Taylor. Therefore, spot starting Teddy Bridgewater next week makes a ton of sense. Use approximately 2% of your FAAB budget on him.
JaMycal Hasty – 2% of FAAB
K.J. Osborn – 1% of FAAB
KJ Hamler – 1% of FAAB
No Bid/Free Agency Targets (0% FAAB)
If you want to add a quarterback that will not cost you anything, then acquiring Taylor Heinicke makes sense. People might remember him as the random quarterback who played pretty well in that playoff game against Tampa Bay last season. Due to that quality performance, Washington kept him around and he started this season as the backup quarterback. However, Ryan Fitzpatrick is now out for two months which means that Taylor Heinicke is now a starting quarterback in the NFL. In Week 1, he completed 73.3% of his passes for 122 yards and one touchdown. Even though he is just the temporary starter, he might be able to win the full-time job with solid play over the next few weeks.
Despite being a last-minute addition to the roster, Danny Amendola made quite the impact for the Houston Texans in Week 1 as he recorded five receptions and one touchdown. Even though he is not the same player that he used to be, he is still an expert route runner in the slot and can contribute on a weekly basis. Expect Amendola to become a reliable third-down receiver who can generate a decent amount of fantasy points in PPR formats. Snap him up after the FAAB and waiver wire runs before Week 2.
RELATED CONTENT
Impact Rookies to Draft for 2021
Kickers to Stream for September
Defense and Special Teams to Stream for September