After a rare week off the UFC returns to the cozy confines of the UFC Apex gym with a rather mediocre fight card. UFC on ESPN: Cannonier vs Gastelum (aka UFC Vegas 34) does have a couple of consequential matchups on it, but outside of that it is devoid of any real meaning. Other than us winning lots of money at it via my UFC Vegas 34 predictions.
RELATED
The 10 Commandments of MMA Betting
8 UFC Stats That Will Win You Money

UFC Vegas 34 Predictions
All odds courtesy of PointsBet
Jared Cannonier (-160) vs Kelvin Gastelum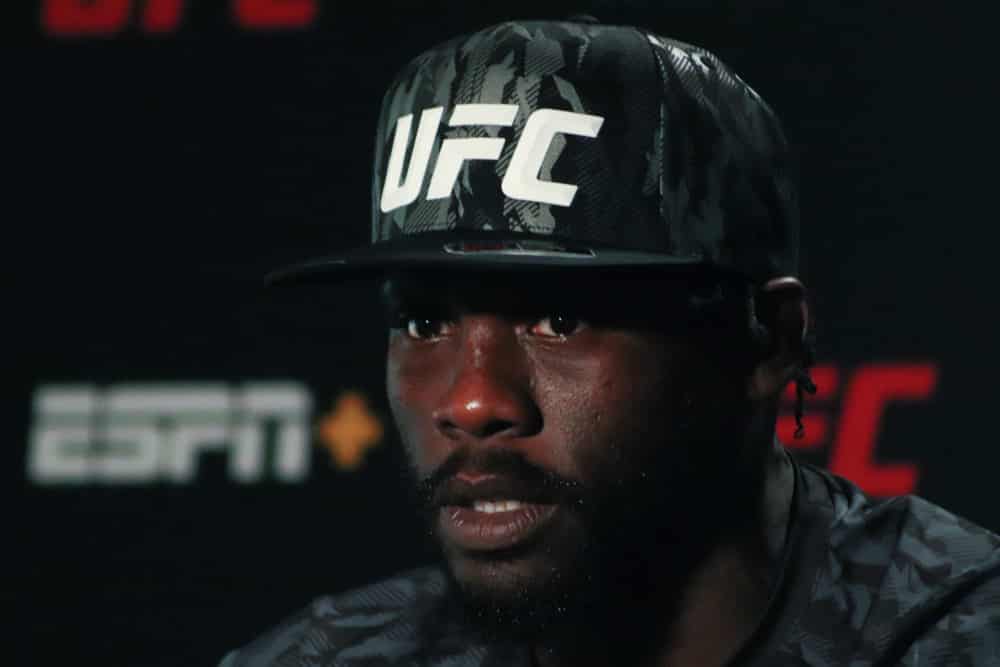 Jared Cannonier has dieted and trained his way down from the heavyweight weight class to middleweight, while Saturday's opponent Kelvin Gastelum has eaten his way up from welterweight to middleweight. So Cannonier is definitely going to be the bigger and stronger man in the cage on Saturday night. I'm going with his size and power and striking to beat Gastelum and continue his late-career resurgence.
Mark Madsen (-170) vs Clay Guida
The 'O' in Mark O. Madsen stands for 'Overgaard', but it also means 'Olympian', as he represented Denmark twice in Greco-Roman wrestling, winning a silver medal in 2016. Since switching to MMA he's gone a perfect 10-0, including his first two UFC appearances. I see him riding his wrestling to victory over a very scrappy and game Clay Guida.
Parker Porter (+150) vs Chase Sherman
Ok, let's go get some plus money now, shall we? I'll take 1.5 times my money in a heavyweight fight any day. Porter will be the heavier man on Saturday and has better striking and grappling stats than the inconsistent Chase Sherman, so I think he's a live one.
Vinc Pichel (-112) vs Austin Hubbard
Vinc 'From Hell' Pichel is the pick here in this lightweight battle against Austin Hubbard. Pichel is on a blazing hot streak, winning his last two and six of his last seven, while Austin Hubbard has done nothing but swapped wins and losses back and forth in his six UFC appearances. Since he won his last fight, he's due to lose this one, right?!
Brandon Royval (+142) vs Alexandre Pantoja
Underdog time again, as I'm riding with madman Brandon Royval in this defacto #1 flyweight contender match against Alexandre Pantoja. He's the bigger man, the younger man, and has insane finishing ability for a flyweight, stopping 11 of his 12 pro victims (three knockouts and eight submissions).
Trevin Jones (-135) vs Said Yokub
Saidyokub Kakhramonov (aka Said Yokub) will be making his UFC debut here on very short notice, which isn't a recipe for success (short notice fighters only win 40% of their fights). '5 Star' Jones hasn't lost in four straight fights, and I expect him to make it five come Saturday. Get on this line while it's so low!

Luis Saldana (-130) vs Austin Lingo
Featherweights headline the prelim portion of Saturday's card, and I'm predicting Luis Saldana makes it six-straight fights come this weekend. He's got the size and is the better striker, which always makes for a solid pick.
Domingo Pilarte (+142) vs Brian Kelleher
More live dog action in Domingo Pilarte. 'Son of Fire' will be MUCH bigger than Brian Kelleher on Saturday (six inches of height, seven inches of reach) and is also four years younger than 'Bam'. Add in his solid grappling and I think he can pull off the upset.
Bea Malecki (-155) vs Josiane Nunes
Two very inexperienced (in MMA terms) women's bantamweight meet up here, and I'm going with former Muay Thai champion Bea 'Bad News Barbie' Malecki to win this potential slugfest against the debuting Josi Nunes.
William Knight (-185) vs Fabio Cherant
Eight of the nine pro wins William Knight has chalked up have come via (T)KO, and he's the much better and more active striker in this matchup with Fabio Cherant. Despite being at a size disadvantage, I see him winning this battle against grappling-heavy Cherant.
Ignacio Bahamondes (+120) vs Roosevelt Roberts
Going with another dog in Ignacio Bahamondes. Bahamondes is the bigger and younger fighter here, as well as being the more active striker, so I think he's worthy of an underdog play.
Ramiz Brahimaj (-140) vs Sasha Palatnikov
Ramiz Brahimaj is very close to a lock pick here for me in the curtain jerker, and if you want even better money take him to win via submission (all eight of his wins have come via submission and Sasha Palatnikov lost his last fight via sub).
Overall Record: 478-394
2021
Record: 169-136
Earnings:  -($3561.39)
Return on Investment:   -(11.7)%
UFC Vegas 34 Predictions Related Posts
UFC Vegas 34 Betting Guide (Riding Breakfast & Dinner)| MMA Gambling Podcast (Ep.65)
Make sure to visit our odds page for up-to-the-minute lines from various books!