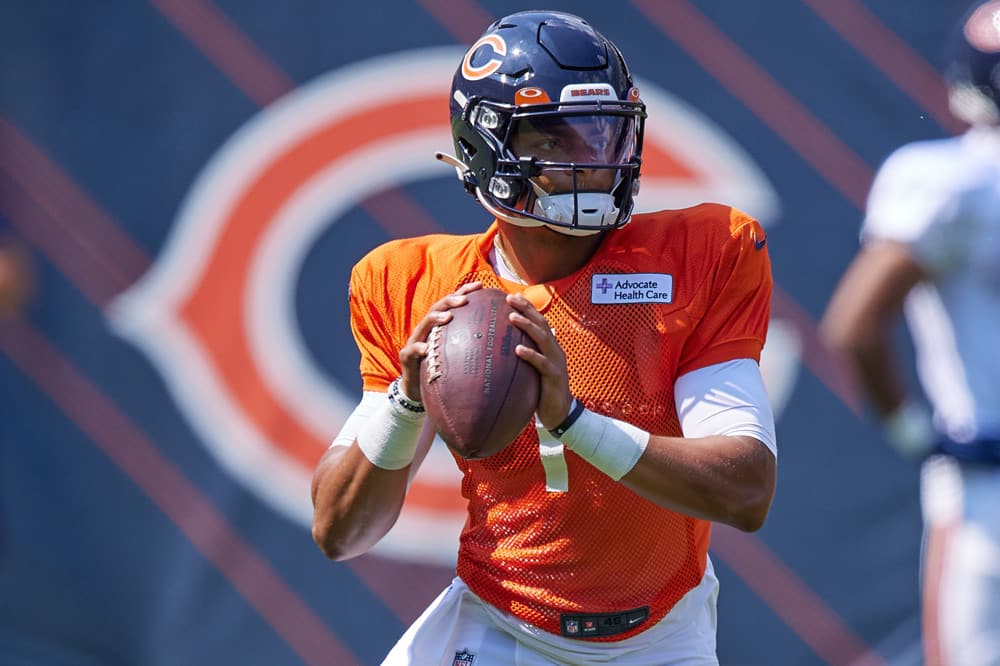 With the first few games already in the books, it's time to get serious about betting with some NFL Preseason Predictions. Now is a great time to get in some action as players fight for roster spots and teams get fine-tuned for the start of the season. It's the perfect opportunity for you to get fine-tuned for the regular season as well.
Here are a few suggestions as you get your slips prepared for an action-packed Saturday in the NFL Preseason. I am a huge fan of the underdog, so I have identified four of them with some nice odds for you. Also, all of these bets can be found on the DraftKings Sportsbook and are all money line bets. Good luck this weekend, but most of all, have fun, and let it ride!

NFL Preseason Predictions – Best Bets 8/14
Miami Dolphins to win against Chicago Bears (+160)
Make no doubt about it, Mac Jones set the rookie quarterback bar in his first preseason appearance. On Saturday, Justin Fields will have his chance to show why the Bears traded up to the 11th overall pick to grab him. That said, with Andy Dalton starting the game for Chicago, Fields will likely not be taking snaps with the first team. This, as it does in every preseason game, leads to a decent amount of chaos. It will be tough to get into a rhythm in this first venture against an actual opponent. Even against a backup Miami defense.
Justin Fields on the run DOT 🎯

(🎥 @SolcyFlee) pic.twitter.com/1tVHasPqxc

— PFF (@PFF) August 8, 2021
On the other side of this contest, the Dolphins will roll out a seasoned veteran once Tua Tagovailoa sits. Jacoby Brissett is a far more experienced signal-caller. This at the very least gives him an edge over the second team Bears defense. Not to mention, names like Malcolm Brown and rookie Jaylen Waddle will be there for him to utilize. In a backups-versus-backups matchup, Miami has the upper hand and should do enough to win this game outright.
---
Minnesota Vikings to win against Denver Broncos (+125)
On the Broncos' first preseason depth chart, the starting quarterback is listed as, "Teddy Bridgewater or Drew Lock." There is no clarity as to who will take the first-team reps in Denver's meeting against Minnesota. It certainly makes it hard to bet on a team that has so much uncertainty heading into a game. All things considered though, regardless of which quarterback starts, there is very little reason to think the other can do much with the second-team offense. Especially because there is not much of an expectation of what they can do with the starting offense. Also working against them is a porous defense that was among the worst in the league in points allowed last season.
Heyyyyy Teddy! 👋

Former #Vikings QB Teddy Bridgewater back practicing in Minnesota.

Bridgewater & Drew Lock competing for the Broncos starting QB spot. pic.twitter.com/crwWmwrCfw

— Hobie Artigue (@HobieArtigue) August 11, 2021
The Vikings will roll out a host of talent right out of the gate. They should score at least once before Kirk Cousins dons his baseball cap and calls it a night. Admittedly once that happens there will be a drop-off between whoever takes the snaps after him. Despite that, having Alexander Mattison on the field for a better part of the game should help bridge that gap. Mattison could be a starting running back in his own right. Finding himself sharing the field with one of the league's best in Dalvin Cook has made that point moot. All things considered, Minnesota will have a lot more sustained firepower in this game to win.

---
Cleveland Browns to win against Jacksonville Jaguars (+135)
Jacksonville fans have been anxious to watch their new franchise quarterback take the field since the draft. It seems the fever of Minshewmania has subsided and all eyes are on the number one overall pick in the draft. Of course, maybe not all eyes. Coach Urban Meyers has thrown a wrench in the hype announcing that there is still a battle for the starting position. Heading into the first preseason game Meyers is unwilling to commit to a starter. With that much left in the air, who knows what the team will look like in their first taste of action in 2021. There is much more gelling that needs to take place on this team and it will not happen in game one.
Urban Meyer says it's still an open competition between Trevor Lawrence and Gardner Minshew 👀

Minshew is willing to do what it takes 😤😅 pic.twitter.com/j0rmmMOyZU

— PFF (@PFF) August 12, 2021
As for the Browns, they were a solid team to end the 2020 season, and not much has changed since then. In fact, defensively, things got a whole lot better. The 2021 Cleveland Browns will feature Jadeveon Clowney and Malik Jackson to complement Myles Garrett. They will also flex their new cornerback Greg Newsome II and their newest linebacker Jeremiah Owusu-Koramoah. This to go along with an offense that is bringing back just about every major playmaker from last season. It will be more than enough depth to get past the backups of the worst team in the league. This NFL Preseason Bet is a lock.
---
Cincinnati Bengals to win against Tampa Bay Buccaneers (+220)
If this game took place in the regular season with a full complement of starters the whole game, this bet is not good. Luckily for us, it is a preseason game. Reports are that Tom Brady will play some in this game. Even if he does, and despite reports, it's hard to see him playing more than one drive here. It's not like he has much to prove at this point. So for all intents and purposes, this should be an audition game for those trying to make it on the defending Super Bowl champions roster.
This is a stacked team still from their run at the Lombardi Trophy, but we can likely expect to see guys farther down the food chain get more reps to open the preseason. This is especially the case given there is one fewer game to evaluate players this season. The Bucs may start strong, but could easily fizzle out and the unfamiliarity starts to set in later in the game.
https://twitter.com/Buccaneers/status/1425857111200735235
The question as to how much action Joe Burrow will see this preseason remains unanswered. Still recovering from his knee surgery, Burrow will see some action leading up to opening weekend. What is still unclear is how many head coach Zac Taylor will allow his young quarterback to take. However this plays out for Saturday, the Bengals should be able to hold on long enough to come out of this battle of the third-stringers with a win. Anything can happen in a preseason game. Given the odds on this NFL Preseason Bet, it should be fun to sprinkle in a little action. Plus, it's always fun to root against Tom Brady, right?
---
More NFL Content
Philadelphia Eagles Predictions for 2021
Atlanta Falcons Predictions for 2021
NFL Picks