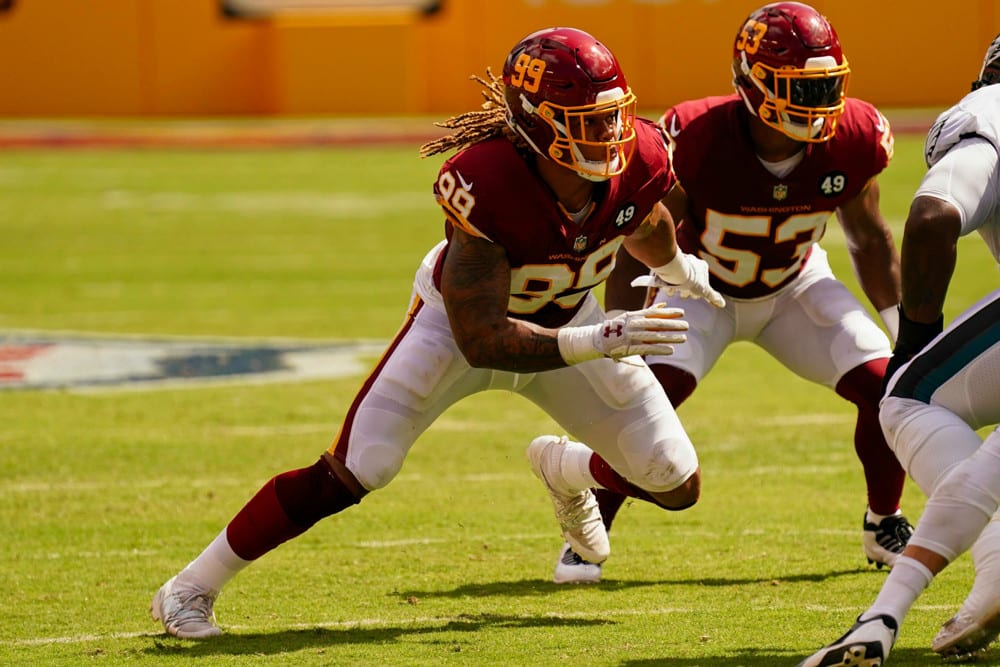 One great way to add a little extra excitement to watching football this season is by making some NFL Sacks Prop Bets. Now that most of the books have added several to their sites, it's a great time to take a look at some of the early action.

These full-season sacks props from the DraftKings Sportsbook are current as of the time of this article's release date. Some of these may change as the season gets closer, so the best time to get in on them is right now.
Hopefully, after the 17th game of the season, you'll be able to reap the benefits of these bets. Have fun and happy betting.
NFL Sack Prop Bets: 2021 Season Edition
Aaron Donald Over 12.5 Sacks (-110)
Since he burst on the scene and through offensive lines back in 2014, Aaron Donald has been one of the most powerful defensive linemen in all of football. He's had double-digit sack totals in all but two of his seven years in the NFL. In fact, he's either hit this prop total or surpassed it in three of them. Donald enjoyed his best statistical year in the way of sacks in 2018. That year he took down opposing quarterbacks an eye-popping 20.5 times. Last season, he bested this mark by one sack ending 2020 with 13.5 sacks.
https://twitter.com/FootbaIIism/status/1391417430933651458
The reigning NFL Defensive Player of the Year has seemed to hit his stride entering the 2021 season. What's more, he will have one more game on the schedule to aid him on his quest for the 12.5 sacks needed to cash this prop. Donald should be able to feast again this season with a very real chance at coming close to another 20 sack season. The Rams will potentially face two rookie quarterbacks this season. On opening day, the Bears visit Los Angeles with the possibility of Justin Fields at the helm. Also, Trevor Lawrence awaits them when Jacksonville comes to town. Not to mention, he draws matchups with the Broncos and Teddy Bridgewater who has been sacked 128 times in his career. On top of that, he faces a Texans offensive line that allowed their quarterbacks to be sacked 50 times last season.
---
Chase Young Over 8.5 Sacks (-110)
It's clear that the Washington Football Team landed an exciting force of nature last season in Chase Young. He is one of the more complete packages as a defensive end. He was effective in just about everything he was asked to do last season. Whether it was to drop back in coverage or to stuff a running back, Young excelled. This included his pass-rushing skills and his 7.5 sacks in the 2020 season.
https://twitter.com/espn/status/1338240197142712325?lang=en
Surprisingly, the Washington defense was not on the field as much as one would have thought given their quarterback situation. Young and his teammates were out on the field for only 1,004 total snaps. That tally put them at number 23 in the league in that department. With Ryan Fitzpatrick now at the helm, that number should increase. Even in his best season with Miami, Fitzmagic only attempted 502 passes. In comparison, Washington signal-callers put the ball in the air 601 times in 2020. Even the 28 more carries by Dolphins running backs than the WFT doesn't bridge the gap enough to make up the difference. Young will have not only a full game extra but several additional opportunities to improve on his first-year number. His NFL Sack Prop Bet is about as a sure thing as it gets.

---
Danielle Hunter Over 10.5 Sacks (-125)
It's easy to overlook Danielle Hunter as we enter the 2021 season. Due to a neck injury last summer, Hunter was forced to sit out the Vikings 2020 campaign. Before that, Hunter was one of the most feared defensive ends in the game. He terrorized opposing offensive lines in both the 2018 and 2019 seasons, logging 14.5 sacks in each. In 2016, he amassed 12.5 sacks in a season where he did not start a single game.
#FFIDP In case you forgot about Danielle Hunter (I know you didn't – just in case):
2019

14.5 Sacks
0 Unblocked Sacks
15.3% QB Pressure Rate
2.7% Sack Rate

DL rank #4 pic.twitter.com/p4X1f9mFhq

— Mike Woellert (@Mike_Woellert) July 20, 2021
Hunter and the Vikings will start the season with a chop-licking matchup against Seattle. The Seahawks allowed Russell Wilson to be sacked a league-high 52 times last season. Not to mention, Hunter benefits from two matchups against the Detroit Lions. They allowed Matthew Stafford to be sacked 38 times last season. Granted Jared Goff is now at the controls, but even still, he was 15th on the list of most sacked quarterbacks in 2020. Barring any injury flare-ups, Hunter has a fantastic chance to return to double-digit form and pass this mark.
---
DeForest Buckner Over 9.5 Sacks (-110)
Were this NFL Sack Prop Bet mark one higher, it might not have been worth the risk. That said, it is still somewhat risky. In only one season in his career has DeForest Buckner surpassed this prop. On one occasion he was right on the necessary number. That instance came last season, his first with the Colts. There is hope though, that he can register at least one more sack of last season's performance. The fact that he spent Week 11 on the Covid list means he'll gain two more game opportunities to pass this prop.
https://twitter.com/FieldYates/status/1308825232954753027
Indianapolis boasts one of the top defensive squads by most accounts heading into the 2021 season. As a squad, they tallied 40 sacks last season with Buckner and Justin Houston leading the charge. Houston entered free agency, leaving Buckner open to picking up a couple of extra sacks with his departure.
---
J.J. Watt Under 8.5 Sacks (+100)
Don't let the flashy new team lure you into a false sense of hope that J.J. Watt will return to his game-breaking former self. Not to say that he is still not one of the most formidable defensive players in the game. It's just that he has not posted the kind of numbers in the last few years that earned him that reputation. His injury history since the 2016 season has prevented him from fully enjoying his max potential. With the exception of 2018 where he went crazy to the tune of 16 sacks, his largest output was the five he registered last season.
a great offseason comes to an end,
now the fun begins.

thank you @NXLevelBrad

#296 pic.twitter.com/jGPLcpBXc1

— JJ Watt (@JJWatt) July 23, 2021
He does benefit from joining one of the more sack-happy teams in the league though. In 2020, the Arizona Cardinals tied with Tampa Bay for fourth in the league with 48 total sacks. That said, half of those came from their linebacking corps. His lack of opportunity, paired with the loss of pep in his pass-rushing step leaves this one of the more profitable NFL Sack Prop Bets options.
---
More NFL Content
Philadelphia Eagles Training Camp Preview | Diehard Eagles (Ep. 31)
QB Player Props For The 2021 NFL Season (Ep. 1056)
NFL Rushing Prop Bets: 2021 Season Edition