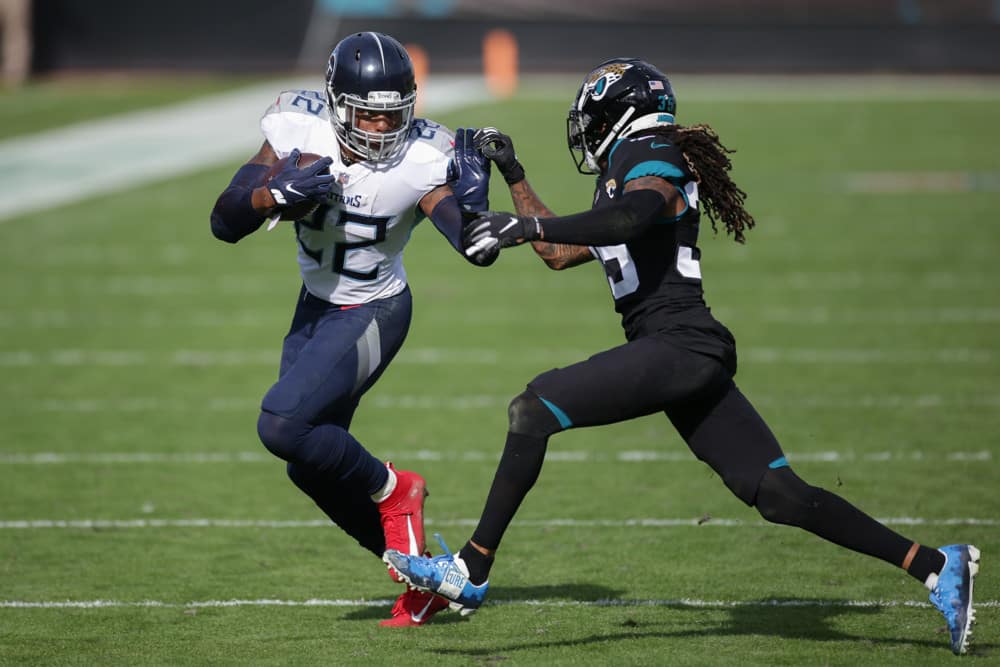 One great way to add a little extra excitement to watching football this season is by making some NFL Rushing Prop Bets. Now that most of the books have added several to their sites, it's a great time to take a look at some of the early action.

These five rushing yards props from the DraftKings Sportsbook are current as of the time of this article's release date. Some of these may change as the season gets closer, so the best time to get in on them is right now.
Hopefully, after the 17th game of the season, you'll be able to reap the benefits of these bets. Have fun and happy betting.
NFL Rushing Prop Bets: 2021 Season Edition
Ronald Jones II Over 725.5 Rushing Yards (+110)
Little has changed for the reigning Super Bowl champions during the offseason. Their legendary quarterback will return as well as his two explosive receivers in Mike Evans and Chris Godwin. Also staying intact will be the offensive line that protected him in 2020. While that's good for Tom Brady, it's even better for Ronald Jones II. Behind that same line last season, Jones rushed for 978 yards in only 14 games. He did this despite having to share the spotlight with newly acquired Leonard Fournette. Even with Fournette grabbing some attention, Jones garnered 192 carries. It was clear that he was considered the lead back in Bruce Arians' offense.
RONALD JONES GOES 98 YARDS!

📺: #TBvsCAR on FOX
📱: NFL app // Yahoo Sports app: https://t.co/6yCTrUNGY8 pic.twitter.com/gP9CxTXpsu

— NFL (@NFL) November 15, 2020
Heading into the new year, Arians has made it clear that he's not looking to change something that isn't broken. Bringing back the team that took home the title has proven he is willing to stay the course. It might be said though, that the addition of Giovani Bernard may further cut into any single player's output in that backfield. If anything, look for Gio to take a bite out of Fournette's workload over Jones. Given that there is one more game in the regular season, this prop feels low. Especially considering the fact that Jones was not that far away from a 1,000-yard season despite missing two games last year.
---
Saquon Barkley Over 1,175.5 Rushing Yards (+100)
It's clear the injury narrative is driving this line. While it might be fair to temper expectations a season after suffering both ACL and MCL injuries, just don't get carried away. In his rookie season, Saquon Barkley rushed for 1,307 yards. A sprained ankle may have stopped him from getting there again in his sophomore campaign, even still, he managed to top the 1,000-yard mark. It's not hard to envision a pathway for Barkley to hit this prop if he can stay healthy. He will return to being the focal point of the Giants offense. As such, he's in line for the kind of workload that will help him sail past even 1,200 yards.
6️⃣8️⃣ days until Giants football with Saquon Barkley getting his first NFL TD with a 68 yarder! pic.twitter.com/wdoiOJ2lbM

— Talkin' Giants (@TalkinGiants) July 6, 2021
New York has attempted to help their quarterback with the addition of Kenny Golladay to the receiving corps. That addition notwithstanding, Barkley is the train that drives the Giants. There is little to suggest that role will change by adding another deep threat to the fold. Should he manage to stay healthy this season, Barkley could be in line to equal his rookie numbers. If nothing else, he'll want to prove that he does not deserve the "injury-prone" label and that he is just as dominant as he's ever been.

---
Myles Gaskin Over 800.5 Rushing Yards (+100)
For Myles Gaskin, the 2020 season was a wild ride. In it, he endured a four-game stint on the injured reserve as well as two on the Covid-19 list. In the ten games he did appear, he was given the ball 142 times. He turned those carries into 584 rushing yards. That equates to an average of just over 58 yards per game. If you were to carry that modest average out over a full 16 games it would put him safely over this prop. This season, he even gets one more game to add to his season totals.
Myles Gaskin gives the @MiamiDolphins a 21-point lead! @MylesGAS #FinsUp

📺: #LARvsMIA on FOX
📱: NFL app // Yahoo Sports app: https://t.co/J6oAb5WnGm pic.twitter.com/3r9qb9N0qD

— NFL (@NFL) November 1, 2020
Matt Breida has gone to Buffalo leaving Gaskin firmly entrenched as the lead back in Miami. He may get a breather here and there by way of newly acquired Malcolm Brown. Even still, it shouldn't be enough to stop Gaskin from at least rushing for 801 yards by season's end. Tua Tagovailoa has another year under his belt. Will Fuller V joins the team to open up the Dolphin's offense. All the cards are in place for Gaskin to have a true breakout season. As is the case with any player, but even more for those who have been hurt before, if he stays healthy, he cashes this NFL Rushing Prop Bets pick.
---
Josh Jacobs Over 1,000.5 Rushing Yards (+100)
It almost doesn't make sense to have Josh Jacobs as an underdog to rush for 1,000-yards in a 17 game schedule. Considering he's done it in back-to-back seasons in one less game should be reason enough to try and double up on this prop. He even did it while suffering through two seasons of lackluster Raiders offenses. By any measurement, if you can achieve success in the most adverse conditions, you have proven yourself strong. Jacobs is strong. Case in point, last season, he had the third biggest workload as a running back in the league. His 273 total carries in 2020 followed only Derrick Henry and Dalvin Cook in that regard. It's hard to turn your back on that much of a major offensive piece.
Josh Jacobs is a straight up bowling ball 😤 @iAM_JoshJacobs @Raiders pic.twitter.com/dL3VXkLdMg

— The Checkdown (@thecheckdown) September 22, 2020
Of course, many will point to the addition of Kenyan Drake as a thorn in the side of Jacobs and his ability to hit this mark. It's true his Alabama buddy might cut into his overall usage. That said, the drop off should not be enough to take Jacobs off the 1,000-yard pace on the season. Jon Gruden knows the strength of his team going into the 2021 season will be his running game. Giving his team another weapon in that aspect only strengthens it, not detracts from it. In the end, all Jacobs needs to cash this prop is to gain one more than 1,000 yards. Even if it takes him all 17 games to get there, the fact of the matter is, he will.
---
Derrick Henry Over 1,550.5 Rushing Yards (-104)
The case for this prop makes itself. Two seasons ago, Derrick Henry rushed for 1,540 yards. He even missed a game that season. Last year, he carried the ball a league leading (and unreal) 378 times for 2,027 rushing yards. Now, you are giving the strongest and arguably the best running back in the league an extra game to add more yards to his season total? He may not hit 2,000 yards again this year, but 1,600 feels like something he can do in 17 games. Henry has no competition in the Tennessee backfield.
66 days until the NFL 😍

Here's Derrick Henry rushing for 66 yards at Baltimore in the playoffs: pic.twitter.com/T43PVmHvSN

— BetMGM 🦁 (@BetMGM) July 5, 2021
On top of that, the Titans lost a large piece of their passing attack with the departure of Corey Davis. This alone could cause the need for an even steadier dose of their pummeling war hammer. Don't over think this one and don't get too cute. The line is right to jump on this NFL Rushing Prop Bets action early and ride it to a profitable day at the end of week 17.
---
More NFL Content
Most Overrated And Underrated NFC East Players | Diehard Eagles (Ep. 30)
NFL Props To Bet For The 2021 Season
NFL Receiving Prop Bets: 2021 Season Edition