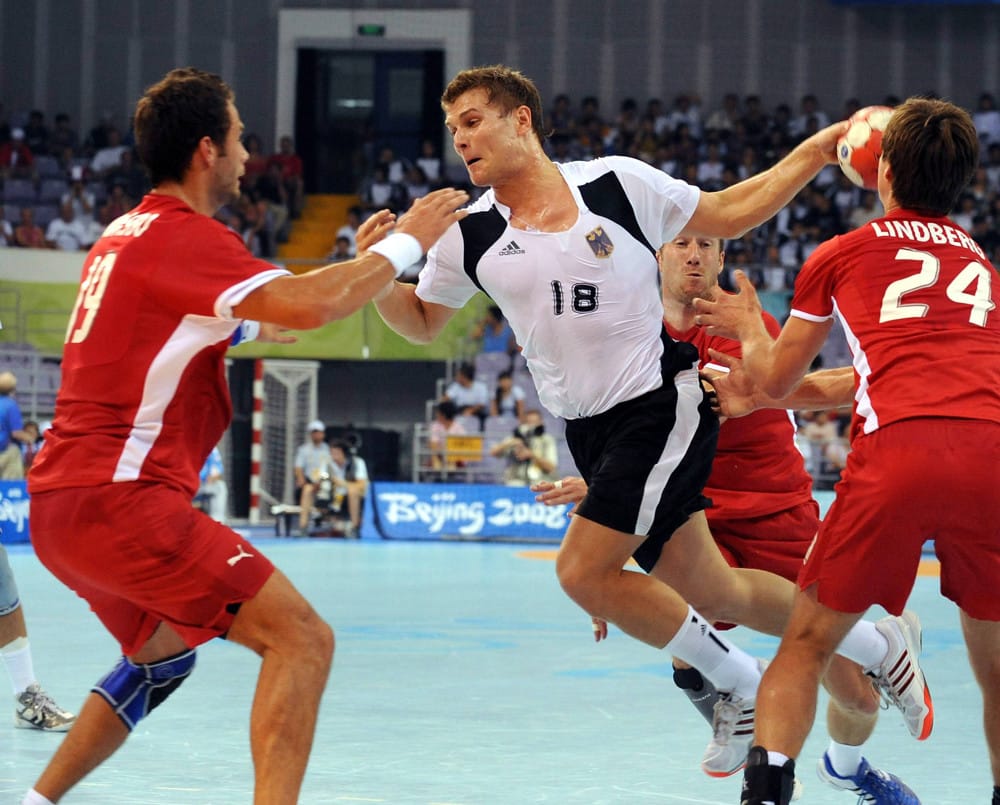 If you're reading this article, you are deep in the weeds and we love that, so welcome to the Olympic Men's Handball Betting guide. This Friday, Group play begins as teams will look to lock in their spots for the knockout stage. Denmark comes in as the reigning gold medal team as well as the winners of the last two World Championship titles. They will look to continue that dominance in the 2020 Tokyo Olympic Games.
Betting on men's handball is a fun way to get in a little more action in these Olympic games. You can find these lines and a few more at the DraftKings Sportsbook. As always, lines are subject to change and these are current as of the time they were published. Have fun and happy betting!
Olympic Men's Handball Betting Picks
Argentina (+6.5) to Cover vs France (-115)
On the surface, it would seem that betting against France would not be the move. Dig a little deeper and you'll discover that while France may win, they may not win by enough to beat this spread. In only two of the seven games they played in this year's World Championships were they able to beat their opponent by more than six points. One of them was their 38-23 win against Austria in Group play, the other being a 32-23 outing against Portugal in the Main Round. Even in the Olympic qualifiers in March, France was only able to beat one team by this margin.
As for Argentina, their largest losing margin in the World Championships came by way of an 11 point spread in their match against Denmark. Over the course of their next two losses, the combined total still covered this spread. They suffered a four-goal loss to Japan followed by a single-point defeat to Qatar. They should do just enough to cash this Olympic Men's Handball Betting pick.
---
Spain (-1.5) Over Germany (-105)
In January, Spain charged their way through the World Championship field on their way to the finals round. They beat Norway in the quarter-finals setting themselves up for a matchup against Denmark in the semi-finals. As did every other team in that bracket, Spain fell to the eventual champions. The Spanish team did earn the bronze by taking down France in the third-place game. As far as Olympic appearances, Spain owns bronze medals in the 2008, 2000, and 1996 summer games.
Germany will enter Tokyo as the reigning bronze medal winners from the 2016 Rio games. More recently at the World Championships, they finished with a 2-1-2 record in Group I which was not good enough to advance to the playoff rounds. Within that round, they suffered a head-to-head loss against Spain by the score of 32-28. Both team's leading scorers from that game will suit up for their Olympic rematch. For Germany, Timo Kastening notched seven goals while Angel Fernandez Perez tallied six goals for Spain.

---
Portugal (-0.5) Over Egypt (+100)
The history of Portugal men's handball is not as storied as some others. They have participated in the World Championships only four times. Their first was in 1997 with scattered appearances until 2003. They took an extended break after their 2003 season which ended this January after nearly ten years in hibernation. In the 2021 tournament, Portugal was a perfect 3-0 in Group F beating Iceland, Morocco, Algeria earning them a spot in Group III of the main round. Sadly, they were unable to secure an early win against Norway which set the tone for their exit. They will make their first Olympic appearance and will try to work their way through a Group B seeding.
On the other side of the court, Egypt went 2-1 in Group G of the World Championships. They managed two wins and a draw in the main round to advance to the final round. In that bracket, Egypt had the unfortunate luck of a matchup with Denmark. While the game eventually went into extra time, Denmark walked away with the victory and the overall championship. More than anything, this will be a fun Olympic Men's Handball Betting upset to watch.
---
Denmark (-7.5) Over Japan (-105)
When it comes to handball, Denmark sits atop the world standings. Over the last decade, they have won two European Championship gold medals. They also have also taken home the last two World Championship titles. Earlier this year, they took down Sweden 26-24 capping off an undefeated run at the crown. In the process of their championships, they won nineteen matches in a row. That was enough to surpass France for the most consecutive world tournament wins. Two Denmark players were among the tournament All-Stars including right back Mathias Gidsel and left back Mikkel Hansen. Hansen was also the MVP of the entire series scoring 48 goals including seven in the finals.
The last time these two teams met, Denmark handed Japan a 34-27 loss. In that game, Emil Jakobsen scored 12 goals for Denmark. Yuto Agarie led Japan with his 7 goal performance. Japan has only one win over the last two World Championship tournaments.
---
More Olympic Betting Content
Olympic Basketball Betting Odds & Predictions
Olympic Soccer 2021 – Analysis and Picks
Team USA Remains Big Women's Basketball Olympic Favorites Despite Exhibition Losses