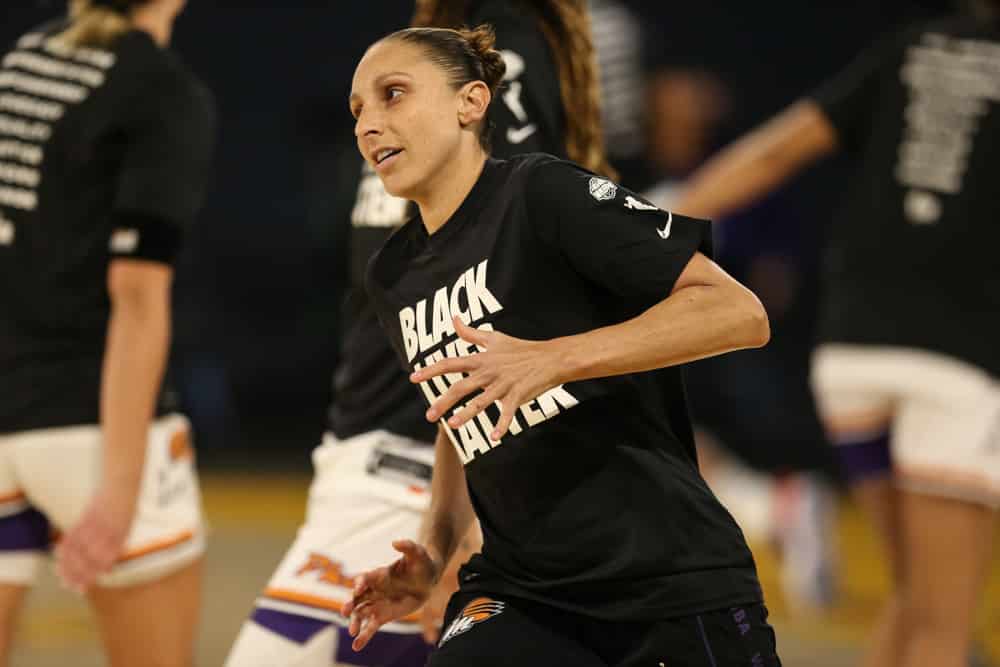 Team USA is going for a record seventh consecutive gold at the 2020 Toyko Olympics that kick off this week. But talent around the world is rising and eventually, the U.S. won't be on top of the Olympic Women's basketball podium. Could it be this year?
Here are the odds, via Point Bets, for each of the 12 nations in the women's basketball Olympic tournament and other potential odds to keep a watch.

Team USA Remains Big Women's Basketball Olympic Favorites Despite Exhibition Losses
Team USA (-1000)
It's a tough gamble to go against Team USA, led now by Dawn Staley, after 25 years of elite success. The team is going for a seventh consecutive gold medal in Tokyo and despite going 1-2 in tune-up games there's little reason to doubt they won't win it all again. This is still a team that boasts such names as Breanna Stewart, Diana Taurasi, Sue Bird, Sylvia Fowles, Brittney Griner, and Tina Charles. The frontcourt is scary.
It's the first time Team USA has lost back-to-back games since 2011 and the first time it lost to Australia since September of 2010. The first was to a group of Team WNBA All-Stars that wanted bragging rights and next to a strong Australian team (we'll get to them). It also comes on the heels of their 2019 loss to the Oregon Ducks, led by now-WNBA talent Sabrina Ionescu, Satou Sabally, and Ruthy Hebard. These losses will only further push this team as they find what works as a group and what doesn't. They're used to playing against each other rather than together, after all.
Team USA opened at -1000 and that's a lot to lay down for such a little payout given the rising talent around the world and at this year's Women's Olympic basketball contest.
Australia (+1000)
Don't be scared away from Australia, ranked No. 2 in the world because star 6-foot-8 center Liz Cambage (Las Vegas Aces) withdrew from the team. The Opals still return 10 players from their 2018 silver medal team at the World Cup and are hopefully adding another player to keep the bench fresh.
Cambage, a talented and physical presence in the frontcourt, cited her mental health in opting last week to step away. She no doubt would have had an outsized impact on Australia's chances, particularly given the feeling of being bounced in a semifinal upset at 2016 Rio. Yet, the Opals still have Ezi Magbegor (Seattle Storm), who has grown in her confidence and dominated that area of the floor in Cambage's absence. There's also WNBA talent in Leilani Mitchell, Stefanie Talbot, and Rebecca Allen. Another big boost is they're coached by Phoenix Mercury's Sandy Brondello, so she's familiar with the tendencies of Staley and Co. for the U.S.
The Opals have already taken down Team USA, albeit by small margins. They should get out of Group C (Belgium, China, Puerto Rico) with ease. Australia at +1000 is a good bet to take; the U.S. can't rule the women's basketball world forever. 
France (+2200)
France has a few things going against it. For one, though it reached the recent 2021 EuroBasket final, the team lost. Again. It's the fifth consecutive time that France has lost in the EuroBasket final. They'll need to get over that mental block to take on a basketball team like Team USA and rise to the top of the women's game at this year's Olympic tournament.
And the second thing is that they're in the same group as Team USA. The top two from each group of three advances, which could benefit them, but it's still going to be tough to get to the top that way.
France is at +900 odds by BetMGM to win the group it shares with the USA, Japan, and Nigeria. Seems unlikely. 
Spain (+2200)
Spain is ranked No. 3 in the world but is coming off of a poor showing at home for EuroBasket. They have made the Olympics three times, never finishing better than fifth, but have medaled in nearly every other international event over the past decade. They had two bronze medals and a silver in the three World Cups dating to 2010 and medaled in every EuroBasket from 2001 to 2019. That includes golds in 2013, '17, and '19.
Spain is at +2200 odds, but unlike France hasn't had the best overall showing in the games leading up to the Olympics. The +155 bet by BetMGM to win the group isn't all that safe.
Canada (+2500)
Oh, Canada. The world's No. 4 ranked team didn't show it at the FIBA Women's AmeriCup in Puerto Rico last month, losing to Puerto Rico in the semifinals. It was the tournament Team USA won with a group of college players (yikes, maybe the U.S. can rule the hoops world forever). In Canada's defense, the nation was missing key contributors who were busy in the WNBA.
Canada has the talent to make the podium but needs to see results. They are +160, just behind Spain, to win their group. 
Serbia (+3000)
Serbia, ranked eighth in the world, turned up the defense and won the 2021 EuroBasket championship last month without dropping a single game, so this team is riding high into Tokyo. The squad did it by taking down Italy, Spain, Belgium, and France. It also has the experience of taking that into an Olympics. Serbia won its first of now two EuroBasket titles in 2015 (this year's was postponed from 2020), took a trip to their first-ever Olympics at 2016 Rio, and finished with a bronze.
Now if they sustain that high level from June or are played out is the question heading into this year's women's Olympic basketball tournament. Consider taking Serbia at +200 odds via BetMGM to win Group A against Spain, Canada, and South Korea.  
Belgium (+4000)
Most hoops fans know Belgium, ranked sixth, because of two key talents in the WNBA: 2019 Finals MVP Emma Meesseman and young Fever guard Julie Allemand. The group finished with a bronze at EuroBasket and is making its first Olympic appearance. It could farewell with their talent and recent international showings, but are still long shots to stay away from in this go-around.
The better bet is for Belgium to reach the semifinal (+250 at BetMGM) after that sour taste from EuroBasket. 
China (+6000)
China, ranked No. 9 in the world, went a pristine 3-0 in Olympic qualifying last year, including a win over Spain. The Chinese frontcourt is strong, particularly with Liberty forward Xu Han. The nation is always a strong contender in the Asian Games but hasn't had the same success at the Olympic stage. China is unlikely to win the group with Australia in it but could take that No. 2 spot to reach the quarterfinals away from Belgium. They may be playing close to home, but are still a long-shot in this year's Women's Olympic basketball field.
Japan (+8000)
Japan has long relied on its guard play and is without veteran forward Ramu Tokashiki. It also lost the benefit of home-court advantage since fans will not be allowed in most arenas at the Olympics this year.  The world's No. 10-ranked team is not a good bet anywhere on the board since they're in the same group as France, Nigeria and the USA. 
Nigeria (+8000)
Keep an eye on the news for the Nigerian national team and the lines heading into the first round of preliminary games. The nation is fighting FIBA to allow Nneka Ogwumike, the 2016 WNBA MVP and six-time Los Angeles Sparks All-Star forward, to play for the nation in which her parents were born. They're also fighting to bring on Elizabeth Williams of the Atlanta Dream and Chiney Ogwumike, who was also a No. 1 pick out of Stanford as was her big sister.
Nigeria already has Erica Ogwumike, the youngest of the four talented daughters, on its roster at guard.
Adding these three would turn the tables, and give Nigeria a chance in a group with Team USA and France. Given the team would have barely practiced together by the time FIBA rules, it's still not safe to take them as a gold medal pick. Consider instead, if the Ogwumikes are cleared, placing a bet on Nigeria to be eliminated in the quarterfinals (+450 by BetMGM as of Monday night) or even semifinals (+1200) if you're feeling bold. 
Puerto Rico (+20000)
Puerto Rico is making its first appearance at the Olympics, but is ranked No. 23 in the world and hasn't done anything to boost confidence heading into Tokyo. This country will gain valuable experience, but will most likely be on the losing end of blowouts. They're in a tough Group C with Australia at this year's Women's Olympic Basketball tournament. It's not worth a bet on Puerto Rico to get out of the group stage or win it all. 
Korea (+25000)
The South Korean team has Las Vegas Aces forward Ji Su Park, but there's not a ton of talent around her to be a scoring threat. The team averaged 62.7 points per game in the Olympic qualifying tournament, better than only Mozambique's 49.3 ppg. Korea trailed sixth-place Serbia's average output by nearly 10 full points  — not a good indicator for the biggest women's basketball tournament in the world. The women's game is growing rapidly, but it still lacks parity at the Olympic basketball tournament. It's not worth the bet on Korea, a juggernaut in Asia that still has work to do in bigger competitions. 

RELATED CONTENT
NBA Finals Game Six Player Props