Despite Spain and Italy navigating their way through to the semis, England remains the +200 favourites to lift the trophy. As a scarred and emotionally damaged England fan, that would usually scream of a "failure waiting to happen," however, it was the Manchester United fan in me, that made it make sense.

The Thought Exercise
Every summer, since the departure of Alex Ferguson, United are frequently linked to every top star who may possibly be available. There are actual memes dedicated to it every season. As I sat back last night, watching both the Quarter-Finals, I started wondering "Who would I want on my Manchester United shopping list from the teams remaining in this competition?" The list was very short when you eliminate England from the equation. It was Gianluigi Donnarumma, Youri Tielemans and Kevin De Bruyne. With that said, I wouldn't be opposed to bringing back Lukaku, however, Solskjaer clearly didn't fancy him the first time, so it would seem like a somewhat pointless addition to my wishlist. However, the point is, three of those four players are from Belgium – who are now out – leaving only Donnarumma still playing in the competition. 
Now let's factor England into the equation, and suddenly the list grows exponentially. United already own England's best two defenders in Maguire and Shaw and I don't see anyone else in the England camp that I'd want in our back 4, despite the links to Trippier. Moving up the pitch, we have both Kalvin Philips and Declan Rice. Both would represent upgrades on Scott McTominay and Fred. It's the reason why I already listed Youri Tielemans earlier on. Moving further up the pitch, and suddenly you are hit with a whole host of upgrades on what we currently have. While Rashford is already ours, the likes of Sancho (who is set to join United after the tournament), Phil Foden, Jack Grealish and Harry Kane, are all significant upgrades from the players who currently occupy the wide and central striker positions at United. This assessment, while just my opinion, coupled with the fact that England will play both the semi-final and final at Wembley— ultimately makes England the clear and justifiable favourite to win this year's Euros.
I decided test my theory further and create combined XI's featuring England and the 3 closest favourites in the market.
England and Denmark
Here I go with nine England players and just two from the Danes. I feel that Schmeichel has proven he's a better choice than the Pickford over the years, while Hojberg narrowly gets the nod over Rice. His solid tackling and willingness to cover more kilometres, allows more to take Grealish as my anchor over Mason Mount.

England and Spain
Here I go with eight England players and just three from Spain. I feel that Simon has performed better for Bilbao than Pickford has for Everton, so he gets the nod in goal. In midfield, I have found a way to get in Pedri, the teenage sensation from Barcelona. The inclusion of both Koke and Pedri means I need a more balanced midfield, therefore, I go with Mount over Grealish as my anchor. However, with Grealish being England's biggest talent, I find room for him further up the pitch, sending Raheem Sterling to the bench. This is a controversial move, given that Sancho hasn't kicked a ball in this tournament, however, given his goals, assists and pace, I remain convinced that Sancho is the best wide player in the England squad.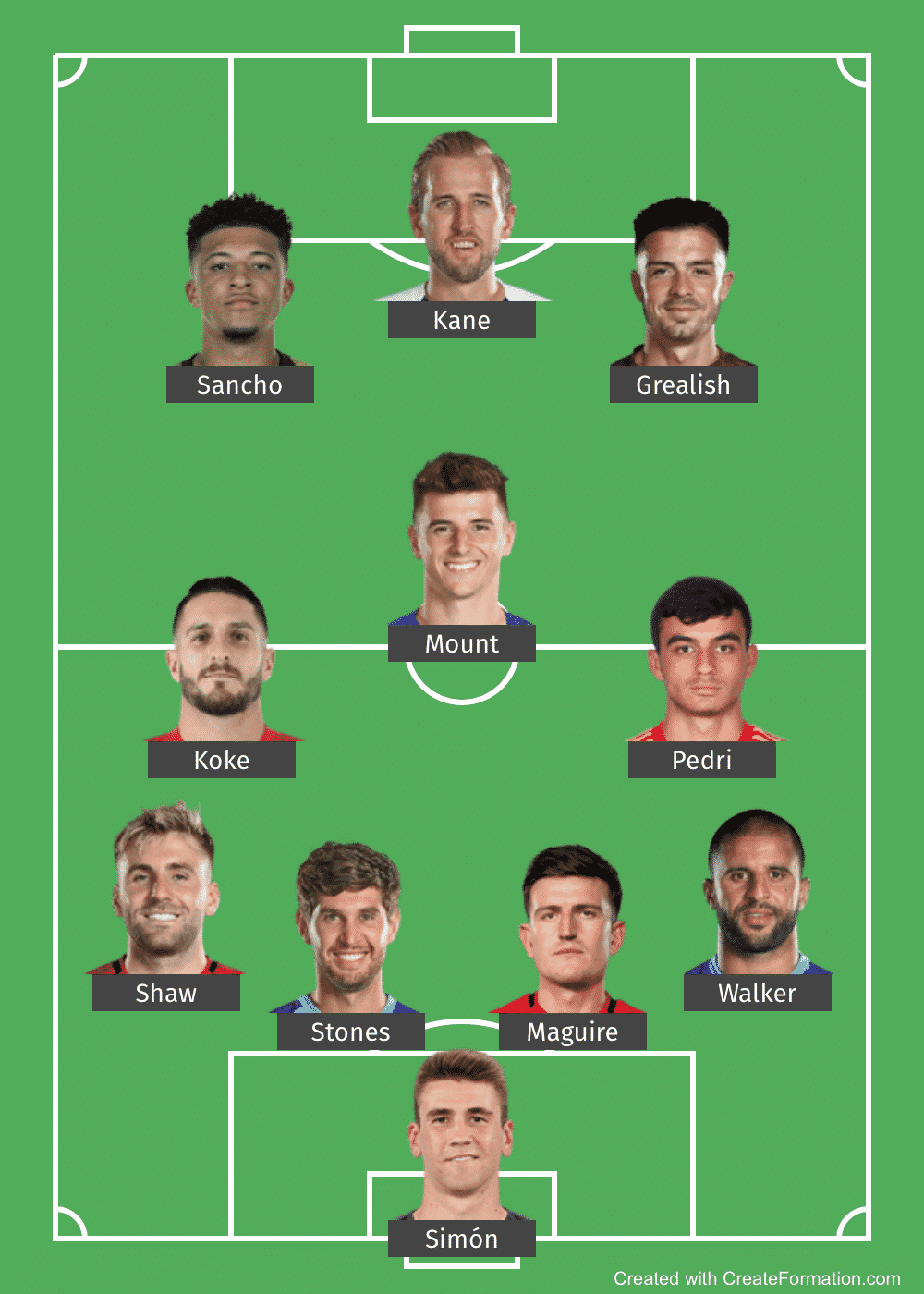 England and Italy
Here I go with eight England players and just three from Italy. I already identified Donnarumma as the best keeper left in the tournament, so he clearly gets the nod in goal, while Bonucci is a clear choice to partner up with Harry Maguire at the back. In midfield, I go with Jorginho, who's a forever present for Machini, partnering up with Kalvin Philips. I feel this pair sit in deep enough and retain enough ball possession to allow me to take Grealish as the anchor once again while taking the same front three I took for the initial England and Denmark line-up.

RELATED CONTENT
Copa America Quarter-Final Preview | Soccer Gambling Podcast