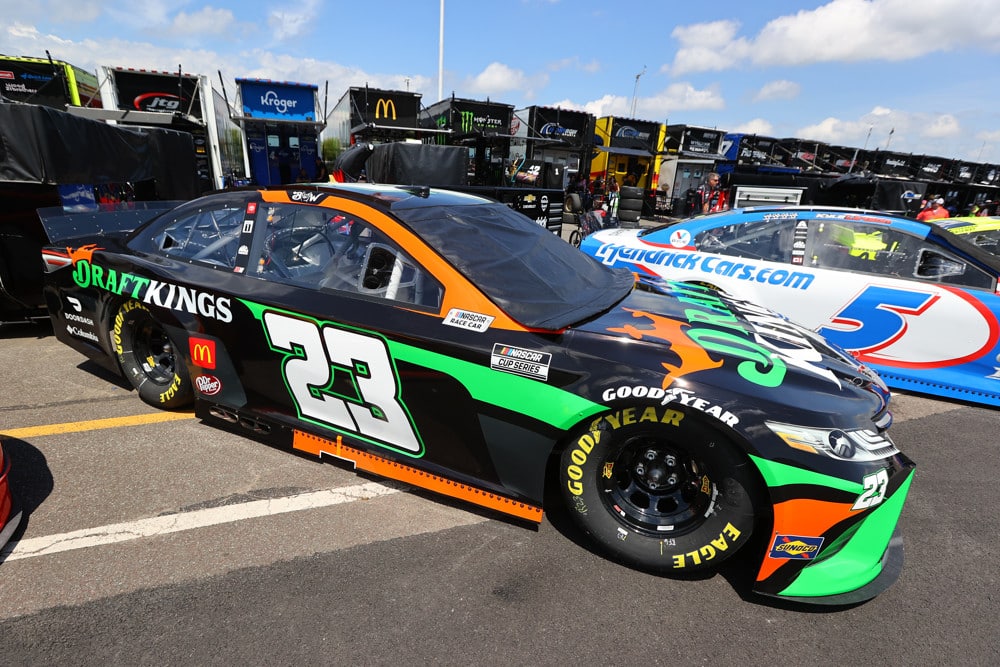 For the fourth time this season, NASCAR will hit the road (course that is), for the Jockey Made In America 250. Drivers will traverse this four-mile road course 62 times in the hopes of solidifying their playoff positions as we near the end of the regular season. It will be the first time since 1956 that a Cup Series race will be run on the Road America track in Elkhart, Wisconsin.

This weekend, NASCAR will return to allowing for full practice sessions as well as qualifying runs. What this means is that we will have no idea until Sunday morning where drivers will start. Of course, this will shake strategy up somewhat as to who can be considered climbers, or dominators. With that in mind, the following driver suggestions are based on the value versus cost no matter their starting position.
How It Works
DraftKings contests for NASCAR depend on two factors; dominator points, and place differential. Drivers accumulate dominator points by leading laps as well as posting the fastest laps during the race. Place differential points come as a result of a driver finishing in front (or behind) of their starting position. To be successful, you will need to strike a balance between the two. Of course, it helps to have the winning driver. That said, sometimes in cash games, you can hang on to the money line if you have a driver with a sizable differential.
Here are some suggestions based on these two designations. They are meant to mix and match and do not suggest a full lineup. These are merely drivers to consider when constructing your rosters. I always suggest you do some more research of your own on top of what I offer. Let's make this a profitable season and above all, let's have some fun during this Independence Day weekend.
Jockey Made In America 250 NASCAR DraftKings Picks
#9 – Chase Elliott ($10,600)
There's a narrative around the world of NASCAR. It's that Chase Elliott is about as safe a bet as any to win a road course race. What makes this a true assumption is his stellar history on non-traditional style tracks. Over the last four seasons, Elliott has notched nine Top 10 finishes in his last 13 points races on road courses. This includes a four-race win streak during the 2019 and 2020 seasons. He claimed victory in Watkins Glen, the Daytona Road Course, and the Charlotte Roval twice. His most recent checkered flag on such a track came in Austin, Texas. He found himself at the front of the field in a rain shortened outing in May.
"You are either prepared for a race or you're not, at the end of the day."

Heading into the first #NASCAR Cup Series weekend @roadamerica, @chaseelliott and the @NAPARacing crew are ready to tackle the new road course. https://t.co/GMwg5SVite

— Hendrick Motorsports (@TeamHendrick) July 1, 2021
Elliott has been a major contributor to the recent dominance of the Hendrick Motorsports racing team. He has though hit on a run of bad luck as of late. The #9 car suffered lug nut troubles at the end of the race in Nashville. Because of that, Elliott failed to finish in the Top 10 in either Pocono races last weekend. The Motor City disqualification broke a streak of five Top 5 finishes in a row. It also ended a run of six such finishes in his last seven races. Elliott has raced this track twice as an Xfinity driver and in both instances finished in fourth place. In his last one, he led 23 of the 45 total laps. There is very little reason not to have some exposure to him in your cash games this Sunday.
#5 – Kyle Larson ($10,500)
In 2013, Kyle Larson started from the 13th position in Elkhart. By the time the checkered flag dropped, he had made his way to the 7th spot. The takeaway from this story is that one of the hottest drivers on the circuit has at least 55 more laps of experience on this week's track than most of his competitors. Beyond that, the #5 car has been the most dominant on any track this season.
How does Kyle Larson react to having a cut tire in the final lap? Here is some of his media center back-and-forth with us: pic.twitter.com/ZdGy4YC4Bl

— Bob Pockrass (@bobpockrass) June 26, 2021
Larson won the Sonoma road race in dominant fashion. He was in a position to make a run at the checkered flag on the COTA track until the rain ended his bid at the win. Before the Pocono weekend doubleheader, he had crossed the finish line first in three straight points races. A blown tire on the last turn in the Saturday race cost him a fourth straight win. What's more is he won the million dollars at the All-Star race. At this point, you can't not have Larson locked and loaded in your Jockey Made in America 250 rosters.
#22 – Joey Logano ($9,800)
Road America has been hosting NASCAR races regularly since the 2010 season. All of those have been for the second tier series. For this reason, Joey Logano has yet to take a green flag as a NASCAR driver at this track. That said, he has been a strong road course driver throughout his career, especially of late. He has managed a Top 10 finish in each of his last six road races. His last four have resulted in four straight Top 4 finishes.
https://twitter.com/NASCARONFOX/status/1403825334051561476
Logano has finished inside the Top 10 in each of his last four points races. He's been one of the fastest cars all season with seven overall Top 5 finishes. Of those, five were Top 3 outings including a win at the Bristol Dirt track. The Shell Pennzoil car represents an interesting pivot in a multi-entry tournament lineup or two. Depending on his starting position, he can either gain you several differential points, or a fair amount of dominator points.
#33 – Austin Cindric ($8,300)
The last NASCAR driver to win on this track was Austin Cindric. In the 2020 Xfinity race on the Road America course, Cindric piloted his #22 car to the checkered flag. He also wound up leading a total of 19 out of the 45 laps that day. In 2019, he paced the field four times on his way to a runner-up finish. In the Xfinity Series, Cindric has been a force to reckon with and has held his own on-road courses. He came in second at the Daytona Road Course at the beginning of the season. At the COTA, he enjoyed a tidy 5th place finish in a race where Kyle Busch stepped in and dominated.
RETWEET TO CONGRATULATE AUSTIN CINDRIC ON HIS NASCAR XFINITY WIN AT POCONO! pic.twitter.com/cvP23CNUqP

— FOX: NASCAR (@NASCARONFOX) June 27, 2021
The 2021 season is one where the reigning Xfinity Series Champion is gaining valuable Cup experience. He will roll off of the starting grid on Independence day as one of the few drivers with extensive experience on this track. He will look to couple that with the momentum he is enjoying in the minor circuit to make some noise in this race. Cindric has 11 Top 10 finishes in 15 races this season including four wins. His last checkered flag was last weekend in Pennsylvania. Make no mistake, the pilot of the #33 car is talented. He just needs to find a spark to make this Jockey Made In America 250 play a profitable one.
#20 – Christopher Bell ($8,000)
Speaking of drivers who have had a recent taste of victory lane, Christopher Bell did just that in the 2019 Xfinity race in Elkhart. He led 10 of the 45 possibile laps to take home the checkered flag. It was by far his best finish in his three races on the track. He is certainly a strong road course racer as he showed in his victory at the Daytona Road Course. In fact, in his Xfinity Series career, he's had four Top 5 finishes on road courses.
RETWEET IF YOU'RE WATCHING THE 2021 NASCAR ALL-STAR RACE!

(What a save by Christopher Bell)#AllStarRace | #NASCARonFS1 pic.twitter.com/pdfIBgFLMs

— FOX: NASCAR (@NASCARONFOX) June 14, 2021
This season has been a mixed bag for Bell in the Cup series including a win on the Daytona Road Course. Unfortunately, despite being competitive in almost every race, he has yet to equal that early success. In fact, he has barely managed five Top 10 finishes since. That said, he has valuable experience at this track going into the weekend's practice and qualifying sessions. This should help put him in a solid position to make his price worth the cost of admission this week.
#23 – Bubba Wallace ($6,000)
In his two career starts in Elkhart as an Xfinity Series driver, Bubba Wallace has turned in two Top 10 finishes. His first start here produced a Top 5 outing. Road America has yielded the most success for Wallace in terms of road courses in either series. To that point, his best road course finish as a Cup driver came in Sonoma last month. Under the bright California sun, Wallace ended the race with a 15th place finish. It's not a bad foundation to add to a small sense of familiarity on this week's track.
Today was the day @BubbaWallace needed at @PoconoRaceway.

He spoke with @NASCARonNBC following a fifth-place finish, his best of the season. pic.twitter.com/PgTt684x7f

— NASCAR (@NASCAR) June 27, 2021
Also adding to that foundation is a recent uptick in overall performance for the #23 car. Last week in Pocono, he enjoyed his best finish of the season crossing the finish line in fifth place. Even better is the fact that in six out of his last seven races, he's found his way into the Top 15. Momentum is starting to build for Wallace and it's just a matter of time before he kicks the door wide open. That very well could come in the form of a Top 3 finish in the Jockey Made In America 250 this Fourth of July. He's a solid value play with loads of potential.

RELATED CONTENT
Rookie Red Flags: Dynasty Fantasy Football Rookie Concerns
Dynasty Bounce Back Candidates I SGPN Fantasy Football Podcast (Ep.10)
Fantasy Football Projections
Fantasy Football Rankings