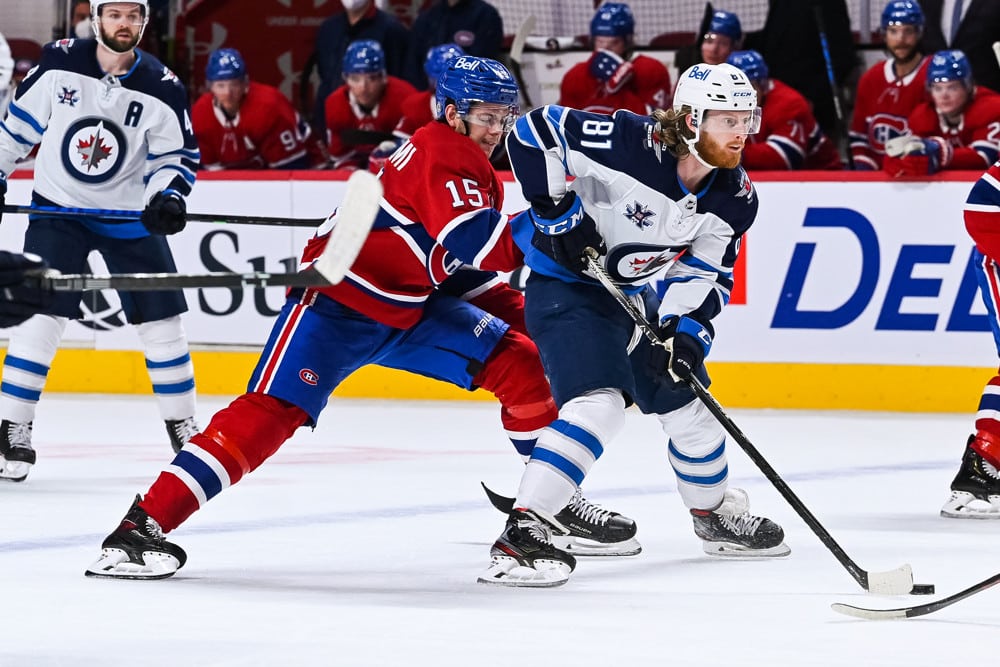 The fourth and final matchup for the second round of the NHL playoffs is set. The Montreal Canadiens came all the way back from a 3-1 series deficit to shock the Toronto Maple Leafs. They'll face off against the Winnipeg Jets, who also upset a higher seed in the first round.
Let's take a look at how these teams got here, how they fared against each other in the regular season, and what the best bets are for the series.
Make sure to bookmark our daily NHL Picks page to get the best bets for every single game!
Odds are provided by DraftKings.
NHL Playoffs Predictions: Jets vs. Canadiens
#3 Winnipeg Jets vs. #4 Montreal Canadiens
How They Got Here
#3 Winnipeg Jets
The Jets were comfortably in the playoffs in the North Division. They went 30-23-3 for 63 points in the 56-game regular season.
The North Division looked like a two-horse race from the get-go in the regular season, and it was. However, both of those two teams –– the Leafs and Oilers –– are no longer in the playoffs.
The Jets shocked the hockey world by not only beating but sweeping the Edmonton Oilers in the first round. Connor McDavid and Co. didn't even muster a win against the Jets.
Winnipeg took it to Edmonton in Game 1 with a big 4-1 win. Game 2 was 0-0 after regulation, but the Jets came out on top for a clutch 1-0 win. It looked like the Oilers would finally get back into the series in Game 3, but they blew a 4-1 lead in the latter half of the third period and the Jets scored four unanswered to win it in overtime.
Game 4 was the longest game of the playoffs thus far. It went to triple overtime with Kyle Connor scoring the game and series winner.
The Jets were led up front by Blake Wheeler and Mark Scheifele with five points each, with Connor and Josh Morrissey racking up four points. Nikolaj Ehlers only returned for Games 3 and 4, but he picked up two goals as well.
The real reason for the Jets' success is their goaltender. Connor Hellebuyck made 151 saves on 159 shots for a sparkling .950 save percentage and 1.60 goals against average. He made at least 32 saves in each game, including a 38-save shutout and 44-save performance in Game 3.
#4 Montreal Canadiens
The Montreal Canadiens really only made the playoffs because they played in the North Division. They went 24-21-11 (24 wins, 32 total losses) for 59 points. Two teams had 60 points (the New York Rangers and Dallas Stars) but finished fifth in their respective divisions.
The Canadiens drew the formidable Toronto Maple Leafs in the first round.
Montreal scratched out a 2-1 win in Game 1, but mustered just two goals over their next three games in 5-1, 2-1, and 4-0 losses as Toronto took a 3-1 series lead. The Canadiens stayed in it, though, winning Games 5 and 6 in overtime to force Game 7. They took a 2-0 lead in the second period of Game 7 and scored an empty-netter to put the game (and series) away en route to a 3-1 win.
Tyler Toffoli led the Canadiens in points with five (two goals, three assists), while four forwards (Nick Suzuki, Corey Perry, Joel Armia, Eric Staal) had four points. Jesperi Kotkaniemi was scratched for Game 1, but scored three goals in six games including the overtime winner in Game 6.
Like Winnipeg, goaltending is Montreal's strongsuit. They have one of the best in the business in Carey Price. He made 218 saves on 234 shots for a .932 SV% and 2.24 GAA. Price was lights out in Game 6 (32 saves on 35 shots) and Game 7 (30 saves on 31 shots).
NHL Playoffs Series Schedule: Jets vs. Canadiens
Wednesday, June 2, 7:30 p.m.: Canadiens at Jets | NBCSN, SN, CBC, TVAS
Friday, June 4, 7:30 p.m.: Canadiens at Jets | USA, SN, CBC, TVAS
Sunday, June 6, 6 p.m.: Jets at Canadiens | NBCSN, SN, TVAS
Monday, June 7, TBD: Jets at Canadiens | TBD
*Wednesday, June 9, TBD: Canadiens at Jets | TBD
*Friday, June 11, TBD: Jets at Canadiens | TBD
*Sunday, June 13, TBD: Canadiens at Jets | TBD

Regular-Season Series Summary
The Jets and Canadiens were rather even in the regular season. The Jets went 6-3-0, but three of those wins were in overtime. In games decided in regulation, the Jets and Canadiens each won three.
All nine meetings between Winnipeg and Montreal came in very late February or after, so it gives us a decent idea of their recent play. They had four two-game sets with a night off in between as well as a single game on April 30th, but the playoff positioning was mostly decided by then.
Winnipeg swept the first two-game set at home. Then, the two teams split the set in Montreal with Winnipeg winning 4-3 in overtime before the Canadiens came back with a statement 7-1 win.
Two weeks later in Winnipeg, the teams once again split the set with the Canadiens winning 4-2 before the Jets won 4-3 in overtime yet again.
In early April, the Jets swept a two-game set (4-2 and 5-0) in Montreal. Then, in their final game of the season on April 30th, Montreal won 5-3 at home.
The Jets outscored the Canadiens 31-28 in the season series. Each team had one blowout win (MTL 7-1, WPG 5-0).
NHL Playoffs: Jets vs. Canadiens Best Bets
I'm honestly not too sure what to make of this series. Both teams shocked their opponents in the first round and should be happy with just making the second round. Now, one of these two teams will reach the "Conference Final" as one of the final four teams standing.
The oddsmakers seem to view this series as a bit of a toss-up as well. DraftKings has the Winnipeg Jets (-130) as slight favorites with the Montreal Canadiens (+105) as the underdogs.
For the series, I have to take the Winnipeg Jets (-130). They are a better overall team and went 6-3-0 against the Canadiens this season, even if three of those wins were in overtime.
On top of that, this series will once again feature a back-to-back for Games 3 and 4.
That didn't faze the Jets in the first round as they won both halves of the back-to-back set (5-4 in overtime, 4-3 in triple overtime). On the other hand, the Canadiens had a 1-1 series heading back to Montreal. They squandered it (even if they came back to win it) as they lost Game 3 2-1 and Game 4 4-0.
In the Total Games Played market, I like the Over 5.5 (-162). Only one of the four two-game sets in the regular season was swept in regulation (Jets won 4-2, 5-0 in early April). Each goalie should be able to steal a game or two for their team. This series should go at least six games if not seven.
---
NHL Playoffs Predictions: Bruins vs. Islanders Series Odds, Schedule, Picks
NHL Playoffs Predictions: Hurricanes vs. Lightning Series Best Bets
Follow along with me throughout the playoffs on Twitter (@RGilbertSOP) or in the Sports Gambling Podcast Slack chat.