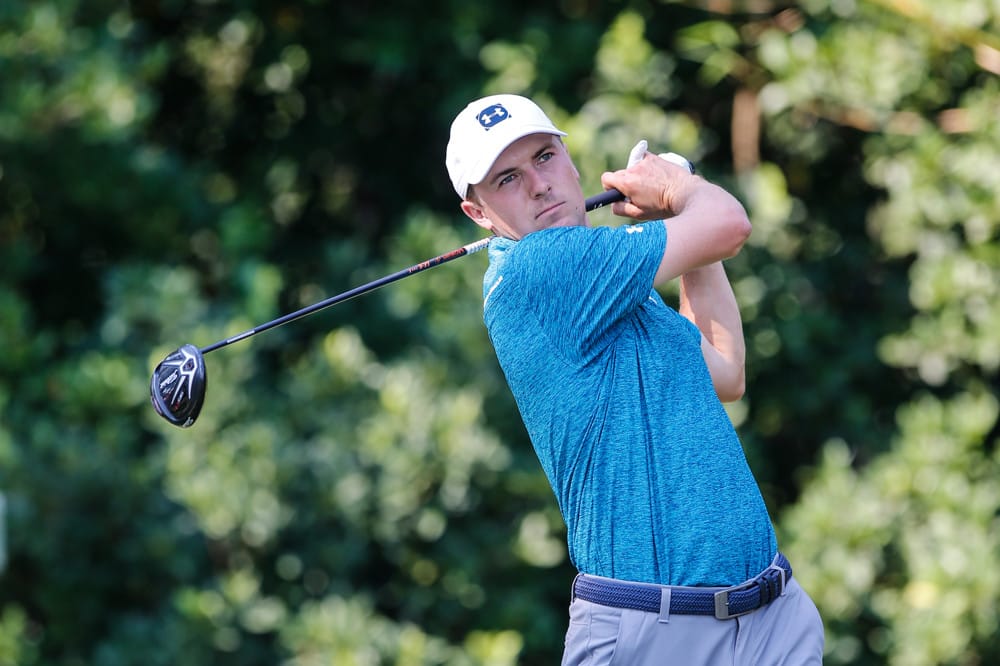 Who will win The PGA Championship Please check out the PGA Championship Preview and Betting Strategies for the types of golfers you should look to target for your PGA Championship picks. With that in mind, here are my favorite bets to win the PGA Championship (odds courtesy of PointsBet, *Promo Code SGP*).

Best Bets to Win the PGA Championship
In the PGA Championship preview, I laid the case that while one can't spray the ball everywhere at the Ocean Course, performance off the tee won't be the most important factor towards who wins the 2021 PGA Championship. Performance both with the irons and around the green is what will determine who wins this year.
Not many are doing that better right now than Jordan Spieth. Over his last 16 rounds, Spieth has gained 1.75 strokes per round on the field with his irons and around the green. Only Justin Thomas can boast a higher clip than he can. Unlike JT, however, Spieth is not having struggles from inside ten feet to either save par or convert necessary birdies.
Spieth isn't as short off the tee as one might think. Even if his driving distance numbers aren't eye-popping, he's still overcome that for good finishes at the majors. Chambers Bay had a long setup for the 2015 U.S. Open, and Spieth emerged victoriously. Spieth also finished T3 at the 2019 PGA Championship at Bethpage Black despite it being a big ballpark and him in the thick of his ball-striking woes.
Spieth is one major shy from winning the career grand slam. If ever there was a time and a golf course most suited to his game, the Ocean Course is it. An outright on Jordan Spieth to win the 2021 PGA Championship is a solid bet.
Patrick Reed will never pop in a statistical model for a golf tournament. Reed's statistics tee-to-green, and particularly with his ball-striking, aren't as strong as his peers. Besides the iffy ball-striking numbers, there are a few red flags to him that might give one pause to bet him in other forms. Reed does not have a strong track record on paspalum surfaces. And despite a victory out at PGA West, overall his track record isn't strong on Pete Dye offerings.
Despite these shortcomings, many of Reed's biggest wins worldwide have come on tough and demanding golf courses tee-to-green. Patrick Reed can call himself a winner at Augusta National, Torrey Pines, Doral, and Bethpage Black. When a golf course plays demanding tee-to-green, it brings everyone down to his level by forcing competitors to grind out pars and get up and down from off the green. That is Reed's specialty. The Ocean Course is also a much tougher and demanding golf course than other Pete Dye tracks. Some of the principles that work at those places might not be as relevant this week.
Given Patrick Reed's high ceiling on tough golf courses, he's a solid bet to win the PGA Championship.
Let's run down the checklist of things I'm looking for in a winner this week at Kiawah:
1. Keeps it in play off the tee – check. Webb Simpson's Good Drive % over the last 2 years is 87%. That's the top clip in the field.
2. Hits their irons solid – check. Webb Simpson has gained 0.36 strokes per round with his irons over his last 50 rounds. He hits 70.5% of his greens in regulation over the last two years. His greens in regulation % are one of the highest clips in the field.
3. Is solid around the green – check. Webb Simpson has gained 0.62 strokes per round around the greens over his last 50 rounds.
4. Avoids big numbers on the scorecard – check. Webb Simpson's bogey or worse % is only 11.3% over the last two years. That's the top clip in the field.
5. Solid track record on both paspalum and other Pete Dye golf courses – check. Webb is a winner at both Harbour Town and TPC Sawgrass. He also has won at TPC Summerlin, which was designed by Pete Dye's disciple Bobby Weed. Webb has also gained 0.8 strokes per round on the field on paspalum golf courses.
The one glaring red flag on Webb Simpson's resume this week is his missed cut at the Ocean Course in 2012. The missed cut may have something to do with the birth of his child around that time. That forced him to miss the Open Championship.
Other than the missed cut at Kiawah, Webb Simpson checks off a ton of boxes for a player 40/1 to win the tournament. He's a solid bet to win the PGA Championship.
Very few players have been as good as Cameron Smith has been since last Fall. Smith finished Top 10 twice at the Masters, 4th at the Genesis Invitational, T4 at the ZOZO, and T9 at the Heritage. He's only finished outside the Top 20 four times since last fall and has only one missed cut. His form coming in is certainly worthy of someone who could win the PGA Championship.
But is it worth betting him at 40/1? He should be based on attributes I value this week. Cam Smith is battle-tested in majors. He's struck his irons very well over his last 16 rounds and is an all-world scrambler. His primary weakness is off the tee, but there is plenty of space for Cam Smith to operate at Kiawah. While the forecast doesn't call for significant wind, it's unpredictable on the Ocean Course. He's very adept to handle unpredictable wind conditions.
The PGA Championship has been the scene for breakthrough and career-altering wins. Smith's turn could be this week.
Matthew Fitzpatrick struggled at the AT&T Byron Nelson. He lost 0.4 strokes per round tee-to-green and over a stroke per round with his putter. The putter should bounce back. But if Fitzpatrick wants to win his first major championship he'll have to be better tee-to-green.
I think he can bounce back in relation to the field. The Ocean Course is a type of golf course that fits Fitzpatrick's game. At tough places that reward consistency, he has tended to shine. While on paper his statistics with his irons have been very poor, he still manages to hit two-thirds of his greens in regulation over the last two years. He's also a very adept scrambler to get up and down from off the green should it call for it.
Fitzpatrick also has a solid track record on both paspalum and Pete Dye surfaces. At his price, he's a solid pick to win the tournament.
Other Outrights To Consider
Justin Thomas 16/1
Xander Schauffele 20/1
Viktor Hovland 20/1
Patrick Cantlay 35/1
Tony Finau 40/1
Tyrrell Hatton 55/1
Sungjae Im 60/1
Shane Lowry 66/1
Keegan Bradley 66/1
Si Woo Kim 70/1
Matt Wallace 90/1
Charley Hoffman 125/1
RELATED CONTENT
The PGA Championship Preview | Golf Gambling Podcast (Ep. 56)
PGA Championship Preview and Betting Strategies
Early PGA Championship Preview Show | Golf Gambling Podcast (Ep. 50)