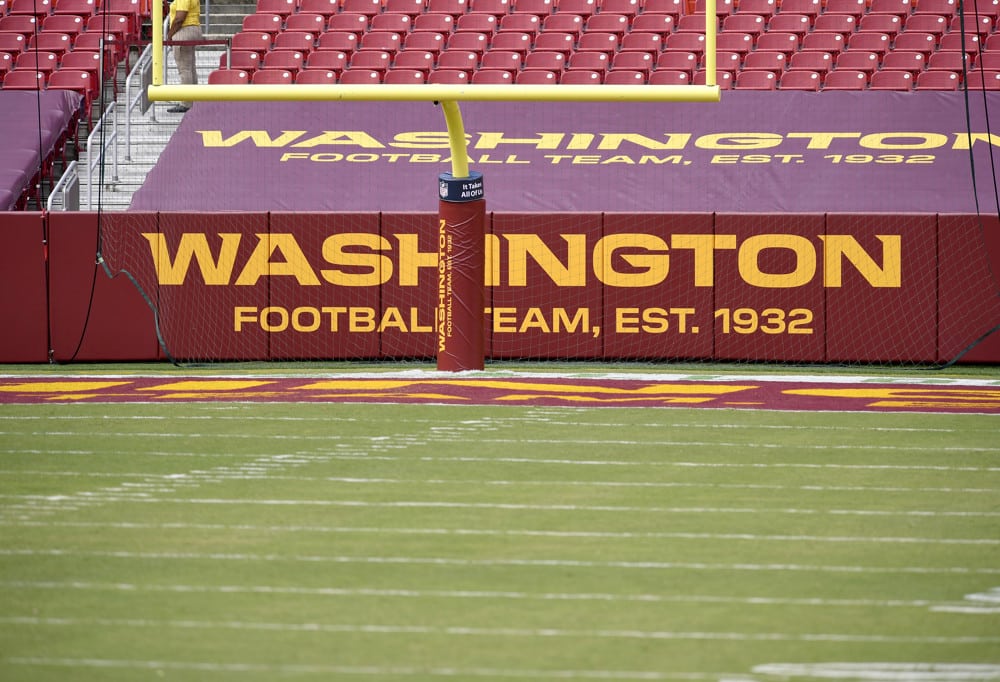 As the resident Washington Football Team fan over at The Sports Gambling Podcast, I decided it was time to provide an update on the team's pending name change. That's right, it sounds like the reigning NFC East champions won't be the WFT forever.
For the record, I was initially against dropping the Redskins name but I certainly understood the circumstances and I don't blame the sponsors or the league for forcing Dan Snyder's hand. At the same time, I'm glad there wasn't a rush to replace the team name. I enjoyed WFT being "the team with no name" for the 2020 season.  Plus, we won the division and made the playoffs so perhaps it was a good luck charm.

In July of 2020, my esteemed colleague, Adam Pelletier, penned a column breaking down the odds of what Washington's new team name might be. A lot has changed since then and even if sportsbooks aren't currently providing odds, we should review what has transpired.  First, Washington created a website and a network of fans (basically a focus group) dedicated to the name change.
Second, the organization recently sent a survey to all season ticket holders asking for input on a list of about 40 potential new names that are under consideration (a full list can be seen here).  It appears that the final choice will come from this list and that could happen as early as 2022.  Let's break down the names that have the best chances of coming to fruition by reviewing some of the initial options and some newer possibilities.  Of course, I'll also weigh in with my opinion for each.
SGPN FANTASY FOOTBALL COVERAGE
NFL Washington Football Team Name Change Odds (Updated)
Previous Options
Redtails 
The early odds-on favorite, this possible team name had odds that went as low as +150.  The Redtails is figured to still be the leader in the clubhouse when new odds are eventually offered.  The name pays homage to the Tuskegee Airmen of World War II which makes the name historically significant and pretty badass.  This was easily one of my favorites and still is.
Presidents, Memorials, Veterans, Monuments 
These options ranged from +300 to +1,000 and I've grouped them together since all are somewhat generic names based on the nation's capital.  Of this list, only The Presidents remained on the recent survey. My opinion of these possible names is rather low.  They are dull, boring, and lack creativity. We can do better with a name change Washington Football Team.
Hogs or Red Hogs
Longtime Redskins fans are very familiar with our dominant offensive lines in the '80s and early 90's that were nicknamed "The Hogs."  There was also a group of fans that dressed in drag and wore pig noses. I know – it sounds crazy, but I grew up with it.
The fact that I can recall these glory days and would love the new Washington name to be the Red Hogs probably hints at my age.  This option was included in the recent survey but I'm assuming Snyder & Co will pursue a team name that speaks to younger demographics which should all but rule out this option.
New Options
First City Football Club (FCFC), DC Football Club (DCFC), Capital City Football Club (CCFC)
Take one guess why these options (all included on the survey) are grouped together?  Yep, these are the "soccer-style" names.  While every kicker in the NFL uses the soccer-style approach to kicking field goals these days, it doesn't mean an NFL organization should use any of the above for a team name.  This is 'Merica, right?  I joke, but I'm not a fan of any of these.  Some folks thought the WFT moniker was the equivalent of the team dipping their toes in "Euro soccer name" waters.  If that was the case, choosing any of the above name change options would be a cannonball from the high dive Washington Football Team.
Red Wolves, Warriors
While these two have been thrown about (mostly on Twitter) since 2020, you originally couldn't find odds on either.  They are included on the new survey which means both are at least under consideration.  I am a fan of the Red Wolves.  You get to keep the color scheme, there's no current Wolf mascot in the NFL, and let's be honest – it sounds cool.
In regards to the Warriors, I'll pass.  Unless Steph Curry can play QB, the Warriors nickname should stay in Northern Cali.
Commanders, Defenders, Renegades, Guardians
Move on – there's nothing to see here.  These are all military-related which makes sense for a DC-based team but we can do better.  They all sound like an XFL team or a fictional team from a bad sports movie.  None are NFL franchise-worthy and are long-shots for the Washington Football Team name change.
Football Team (WFT)
That's right, there's still an outside chance the name remains The Washington Football Team on a permanent basis.  Say something crazy happens like Ryan Fitzpatrick leads Washington to a shocking Super Bowl victory.  It would be pretty hard to change the team name after that, right?  Hey, I said I was a fan.  Go WFT!
RELATED CONTENT
Fantasy Baseball Sleepers: Top Players Available In Over 50% Of Leagues
Fantasy Winners and Losers From The NFL Draft | SGPN Fantasy Football Podcast (Ep. 2)