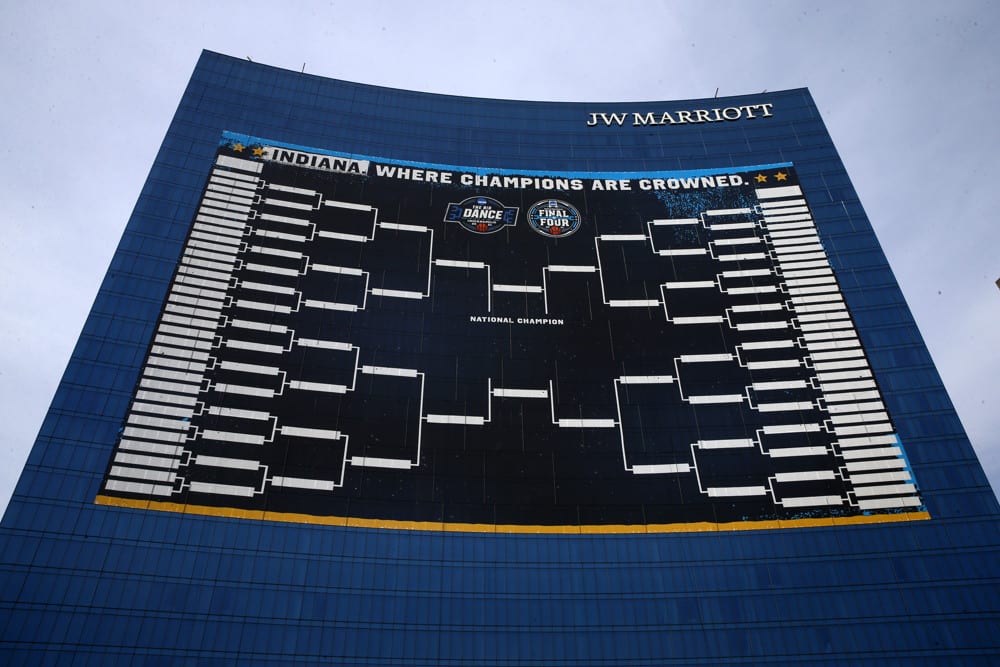 Welcome to arguably the most exciting sports week of the year! Selection Sunday is behind us, and almost everyone in America is frantically filling out brackets and getting ready for office pools. If you have been frantically searching through websites trying to figure out who they think is going to take home the 2021 NCAA Division 1 Basketball Championship, you are not alone. These March Madness trends will help you out.
I want to share some trends from the last ten years of March Madness. In certain cases (specifically noted below), the tournament we watched two years ago was an outlier for some of these trends, so try your best to not let recency bias kick in and override ten years of data.

March Madness Trends: First Round
This is where you absolutely need to hit on some upsets! On average, 9 of the 32 games (28.1%) result in an upset. 2016 had the most in the last ten years, with a total of 13 first-round favorites bowing out early. So where should we go to find those upsets?
13/14/15 Seeds
In every year except for 2017, there has been at least one #13 through #15 seed victory, with an average of 1.8 wins from these seeds over the last 10 years. When the 13-15 seed has a better regular-season record than the #2 through #4 seed, they are 7-32 straight up (18%) compared to 11-70 SU (14%) when the record is worse. Advice: Pick at least one but not more than two 13-15 seeds to win and focus on those who had a better reg. season record than their opponents.
Teams to consider: #14 Morehead State, #14 Abilene Christian, #15 Grand Canyon, #14 Colgate.
5/12 and 6/11 Matchups
Next, we will look at the most common upset of the tournament, the heralded 5/12 and 6/11 seed matchups. On average these games see a total of 3.7 victories per year by the lower (double-digit) seed with 2015 & 2016 maxing out at five apiece. Another interesting thing to consider with these games (coupled with the ones above) is that in 7 of the last 10 years, there has been at least one double-digit Round of 32 matchup.  Advice: Pick one 11 or 12 seed to win in each region, and don't be scared to pick both! Also, if you picked a 13/14 seed upset, don't shy away from pairing it with an 11/12 seed from the same region in the Round of 32.
Teams to consider: #11 Utah State, #11 Michigan St./UCLA, #12 Georgetown
7/8/9/10 Dogfights
Now come the most important games of the first round and the ones that are critical to get right in your bracket, the 7/10 and 8/9 matchups. These games are oftentimes a toss-up as the 9 or 10 seed is usually one of the strongest mid-major teams in the tournament while the 7 or 8 seed is typically one of the weaker Power 5 conference selections and maybe the 5th or 6th best team in their own conference. Surprisingly, regular-season record has been a huge indicator of success in these games as the team with the better record has won 65% of these games (before 2019's 2-6 performance it was hitting at 69%). In five of the last ten tournaments, this stat alone has gone 6-2 or better.
Advice: Pick the team with the better regular-season record in each of these matchups, at most go against this trend twice (but I wouldn't recommend it).
Teams to consider: #8 North Carolina, #10 Virginia Tech, #8 Missouri, #7 Oregon, #9 St. Bonaventure, #8 Loyola-Chicago, #7 Clemson
Now that we have touched on every First Round game except for the 1/16 matchup (Hint: just pick the #1 seeds), this is a good point to review your bracket and make sure you are happy with your first 32 picks. It's important to not be too conservative since only three regions over the past ten tournaments (7.5%) have gotten through the First Round with the #1 through #8 seeds alive. But I would also caution against being too upset heavy either since although eight of the past ten years have seen a region with three or more upsets, only two of those years was there 3+ regions with three or more upsets
March Madness Trends: Second Round
2019 was an outlier in the Round of 32 as we only saw one upset based on seeding. Before that, the lowest number of upsets we had seen was in the 2012 & 2016 toruneys where there were three. On average over the past ten seasons, there have been just over 4 seeding upsets in the Round of 32.
Sweet Sixteen/Elite Eight
As I touched on above, double-digit Sweet 16 matchups are common and the tourney averages just over 2 teams each year that make it to the second weekend. 2011 was the ultimate outlier year with 4 cinderellas making it, while 2019 was once again an outlier and no double digits advanced past the Round of 32.
This may surprise you as a lot of people will just fire up the #1 and #2 seeds to win their Sweet Sixteen games, however, only 5 of the 40 regions have seen a #1 vs. #2 matchup in the Elite Eight. Feel free to fire off a couple of lower seed upsets in the Sweet Sixteen.
Final Four
Every single year since 2010, there has been a Final Four team seeded lower than a 4 seed. The average total of Final Four seeds tallies up to 11, so you don't want to have it too chalky towards the center of your bracket.
If you want a boring way to pick your Final Four teams, focus on the Conferences that finished in the top 4 based on # of bids received. This year that is the Big Ten, ACC, Big 12, and SEC. In the past ten tourneys, an average of 2.4 Final Four teams came from conferences that met this criteria and in 5 of the seasons, three or more of the Final Four teams met this. Unfortunately for most, the Cinderella dreams die before the Final Four and the big boys are left to duke it out.
Bonus: Do Conference Championships Matter?
When we think about the Power 6 basketball conferences tournaments, its safe to assume that these teams that battled it out just a week ago and made it to their respective tournaments are probably the cream of the crop. This year, the list of teams that made a Power 6 conference championship game is really strong: #1 Illinois, #2 Ohio State, #2 Alabama, #3 Texas, #4 Oklahoma State, #4 Florida State, #5 Creighton, #5 Colorado, #8 LSU, #9 Georgia Tech, #12 Georgetown, #12 Oregon State.
But not so fast!
Historically, more than 40% of these teams do not even make it to the Sweet 16. Whether it be fatigue from the long week prior, or a hot streak finally cooling off, a lot of these teams get tripped up out the gate. However, if you can figure out which of these teams are going to dodge the early-round landmines, you have a good blueprint for the Final Four.
Since 2010, the 12 teams that comprise this list every year have accounted for more than half of the Final Four qualifying seats and 6 of the 10 Champions have met this criteria.
Hopefully, the above trends are a helpful tool to review against your rock-solid perfect bracket. If you make sure as many of the above parameters are met as possible, then you are set up to do well historically. As we know (especially in a COVID year) anything is possible, which is what makes the madness of March so magical every year. Can't wait for tip-off of the games on Friday morning!
I will be posting trends, analytics, and bets for every First Round matchup on my Twitter page so make sure to follow me there!
---
Midwest Region: Favorites, Sleepers, Predictions
South Region: Favorites, Bracket Busters, Predictions
West Region: Favorites, Bracket Busters, Picks