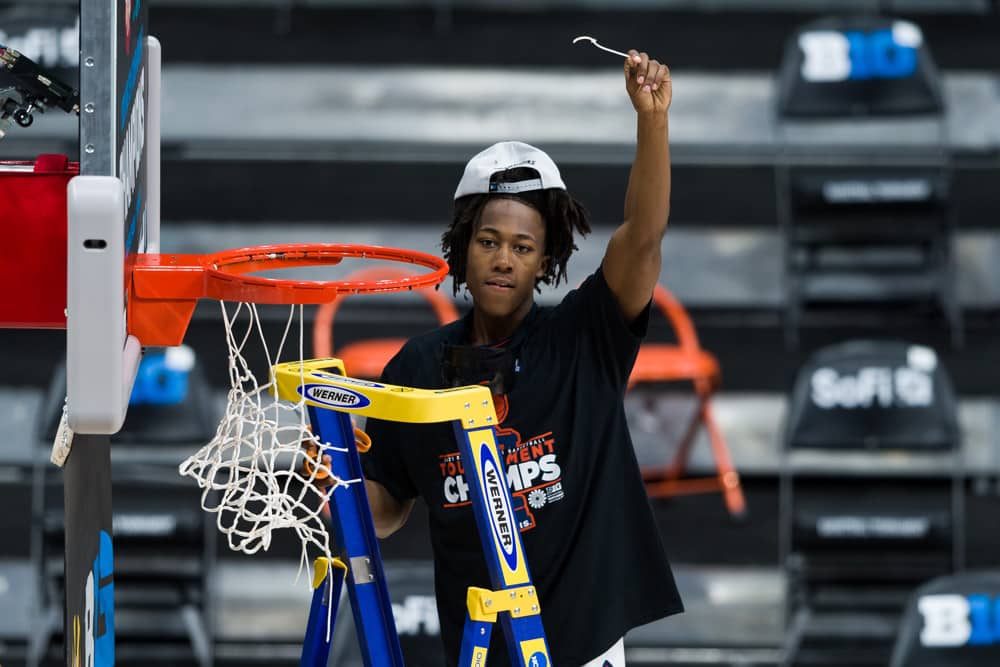 The Midwest Region of the 2021 NCAA Tournament provides an intriguing group of teams capable of making a deep run in this year's field. While there appears to be a clear favorite to reach the Final Four, the rest of the field feels wide open. A number of different teams will be heading to Indianapolis feeling like they have a legitimate chance to make it to the second weekend.
So who should you be keeping an eye on in the Midwest Region? Let's take a look.

Midwest Region: Favorite
1-seed Illinois Fighting Illini
To say this clearly: Illinois is an enormous favorite in this region. The Big Ten Tournament Champions are as hot as any team in college basketball right now, and Brad Underwood has to like the draw his team has been given to reach their first Final Four since 2005.
Led by the dynamic one-two punch of Ayo Dosunmu and Kofi Cockburn, Illinois is a loaded group that can defend, score in bunches, and have won their last seven games.
The Fighting Illini are a top-ten group in both adjusted offensive and defensive efficiency according to KenPom. Illinois was also a top-ten team in the regular season in rebounding and shot 50% on the season, also good enough for top ten in the country.
Overall, there's almost nothing not to like on this Illinois team, and while anything can certainly happen in March Madness, they may have the clearest path to the Final Four of any No. 1 seed.
Midwest Region: Other Contenders
4-seed Oklahoma State Cowboys
The biggest test for Illinois in the region may be Cade Cunningham and the No. 4-seeded Oklahoma State Cowboys. Cunningham is the likely top overall pick in the 2021 NBA Draft and has been spectacular this season, earning Big 12 Player of the Year honors.
The issue for Oklahoma State is that it got an incredibly tough draw right out of the gate against Liberty. The Atlantic Sun Champions are a team that grinds possessions to a halt with their pack line defense, often a recipe for an upset in the NCAA Tournament.
But if the Pokes can survive the Flames, they should be favorites over the Tennessee/Oregon State winner and will give Illinois all they can handle in the Sweet 16.
3-seed West Virginia Mountaineers
With all due respect to No. 2-seed Houston, the favorites in the bottom half of the bracket are Bob Huggins' West Virginia Mountaineers.
Unlike a typical Huggins team, this year's WVU squad excels more offensively than defensively. They are led by a trio of scorers in Miles McBride, Derek Culver, and Taz Sherman who all average north of 13 points per game, with each of them also nailing more than 40 3s.
West Virginia does have nine losses this season, but eight of the nine were by five points or fewer, and they earned wins over Oklahoma State, Kansas, Texas, and a sweep of Texas Tech on their resume. They also were the only team to come within single digits of knocking off the unbeaten Gonzaga Bulldogs.
Make no mistake, West Virginia is a serious Final Four threat.
Midwest Region: Potential Bracket Busters
11-seed Syracuse Orange
It wouldn't be Championship Week without Jim Boeheim and Syracuse on the bubble, but now that they've been selected as an at-large in the field, they are extremely dangerous.
Just within the last five years, Boeheim has led two teams who received No. 11 seeds to the Final Four (2016) and Sweet 16 (2018). The 2-3 zone is tough to prepare against if you're not used to seeing it, and Mountain West champions San Diego State will have less than a week to prepare.
Offensively, Syracuse can score in bunches, with forward Quincy Guerrier and sophomore Buddy Boeheim leading the charge.
With a wide-open side of the bracket facing them, it would not be surprising to see Cuse go on another deep run in this year's tournament.
8-seed Loyola-Chicago Ramblers
Loyola-Chicago is the classic NCAA Tournament under-seeded mid-major team. Both Georgia Tech and Illinois had to be cursing at their screen when they saw the Ramblers on their side of the bracket.
Loyola is 24-4 and a top-ten team in the country according to KenPom. They are also just three years removed from a run to the Final Four, with both coach Porter Moser and star player Cameron Krutwig holdovers from the famous 2018 squad.
Loyola also leads the nation in scoring defense, allowing their opponents to score only a paltry 55.5
points per game this season. While I ultimately believe they don't have enough talent to beat Illinois in the second round, they certainly are a dangerous squad worth keeping an eye on.
Midwest Region: First-round Pick ATS
No. 10 Rutgers (-1.5) vs. No. 7 Clemson
7-10 matchups are notoriously tough to predict. However, I'd put all my money on Rutgers winning comfortably against a struggling Clemson team in the first round.
Rutgers barely survived the ringer that was playing in the Big Ten this year to make their first NCAA
Tournament since 1991. But the Scarlet Knights are elite defensively and will be playing a Clemson team that struggles to score even on their best day. Go big on Steve Pikiell's group advancing to play Houston in the second round.
Midwest Region: Matchup To Fade
No. 12 Oregon State (+7.5) vs. No. 5 Tennessee
It's easy to get fooled by the likes of Oregon State and Georgetown, power conference teams that go on unlikely runs through their conference tournaments to earn an NCAA bid.
But Oregon State has been nothing more than a mediocre team for most of the season. If I'm going to bet on an upset, I'd much rather ride a mid-major that's been elite all year than go with a team that finished just 10-10 in a weak Pac-12.
Oregon State is just No. 231 this season in effective field goal percentage, and will be facing a Tennessee Volunteers team that is one of the top-five defensive teams in the country. There are always 12-5 upsets in the NCAA Tournament, but this will not be one of them.
---
NCAA Tournament South Region: Favorites, Bracket Busters, Predictions