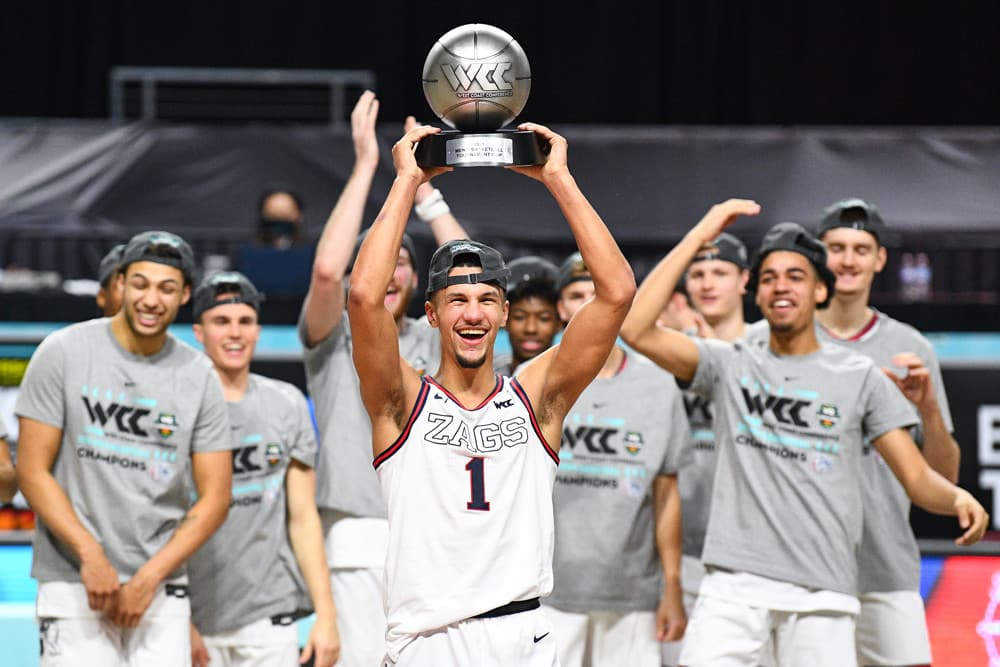 March Madness tips off Wednesday with the first four, but after that is when the 16-team regions are all set and the real fun begins. The West Region may have the No. 1 overall seed in Gonzaga, but it is far from being top-heavy.
West Region Schedule
First Round – March 20th
Second Round – March 22nd
Sweet 16 – March 28th*
Elite 8 – March 30th*
**Dates pending results of BYU's potential advancement into the Sweet 16.

West Region Top Seeds
#1 – Gonzaga
Gonzaga was ranked #1 out of the gate this year and they remained there throughout the year. Similar to past years, Gonzaga hit the ground running with a difficult out-of-conference schedule. Things then cooled off a little bit as they hit the WCC portion of their schedule.
However, it is worth noting that #6 seed in the East Region, BYU, gave Mark Few's group a tough time. Ultimately, the pace and scoring of Gonzaga has been too much for any of their opponents, which has led to them likely being the best chance the school had ever had for a national title. Not only do they have the best points per game average in the nation, but they have that lead by nearly 6 points.
#2 – Iowa
Led by senior and Wooden Award front-runner, Luka Garza, Iowa was one of the handful of teams that snagged first-place votes away from Gonzaga. However, shortly into the season they faced off with the West's top dog and it didn't end well. After holding tight for ten minutes, Gonzaga started to run away en route to a 99-88 victory.
It wasn't smooth sailing for Iowa there, who ran through the gauntlet that is the Big Ten. The conference makes up half of the KenPom adjusted efficiency margin rankings. A lot of this is due to their 3 point shooting percentage, which ranks in the top 15 in the nation. Their ability to land from deep combined with the big man in the middle will make them a tough out for most.
#3 – Kansas
Iowa isn't the only team in the bracket that has already run into Gonzaga. Kansas actually kicked off their season with a 12-point loss to the top-ranked team. But the story for Kansas was far more about the end of the season than the beginning. After running to the semifinals of the Big 12 tournament, Kansas had to drop out due to COVID concerns. While they had dropped both games against scheduled opponent Texas, that win (paired with a possible finals win) could have propelled Kansas onto the #2 line in one of these brackets. It appears that they are on track to compete in March Madness with no further concerns, but it is certainly worth keeping an eye on.
West Region: Potential Bracket Busters
#6 USC
USC is a team that sort of rises and falls with their star center Evan Mobley. The freshman is sure to be picked in the top 5 picks of the upcoming NBA draft (should he declare). When he's at his very best, he's a double-double machine and can put up point totals in the mid to high 20s. When he's on a down game, those rebound numbers have dropped not only into single figures, but way down to numbers like 5 or 3. Should he piece together some big games, like he did in the conference tournament, they could put a hurt on some of these higher seeds.
#13 Ohio
Ohio loves the fast-paced, high scoring games, and they love it far more than most lower seeds. They average nearly 81 points per game as a team and make 8.5 three-pointers a game. The thing that is scariest about this is that they spread the wealth. It isn't all about one sharpshooter, like a lot of lower seeds can be when you see stats like this. Instead, there's a slew of shooters that can make an opponent's March Madness shorter. It may take a pair of these guys to get hot, but if they do, they could hurt a lot of teams.
West Region First-Round Picks ATS
Ohio (+7) vs. Virginia
As mentioned above, Ohio loves to bomb them. In addition, the spread of the shooters should allow them to save a cold shooting day across the board. With that you can expect that this game will stay close in the score, and safely within that 7-point margin.
Texas (-9) vs Abilene Christian
The record may look good for Abilene Christian, but the strength of schedule is quite low. Their strength of schedule (according to KenPom) ranked 330 in the country. When they did step up in competition, they fell pretty flat. Their game against Arkansas (an 85-72 loss) looks a lot like I would imagine one with Texas will look. As a result, I expect Texas to cover fairly easily.
West Region Winner Pick
While there are some other names worth mentioning in this bracket, the fact of the matter is that Gonzaga has wins over several of them. They should make it out of this bracket without any real concerns, especially if the play of big-man Drew Timme holds up.
---
NCAA Tournament Midwest Region: Favorites, Sleepers, Predictions
NCAA Tournament South Region: Favorites, Bracket Busters, Predictions