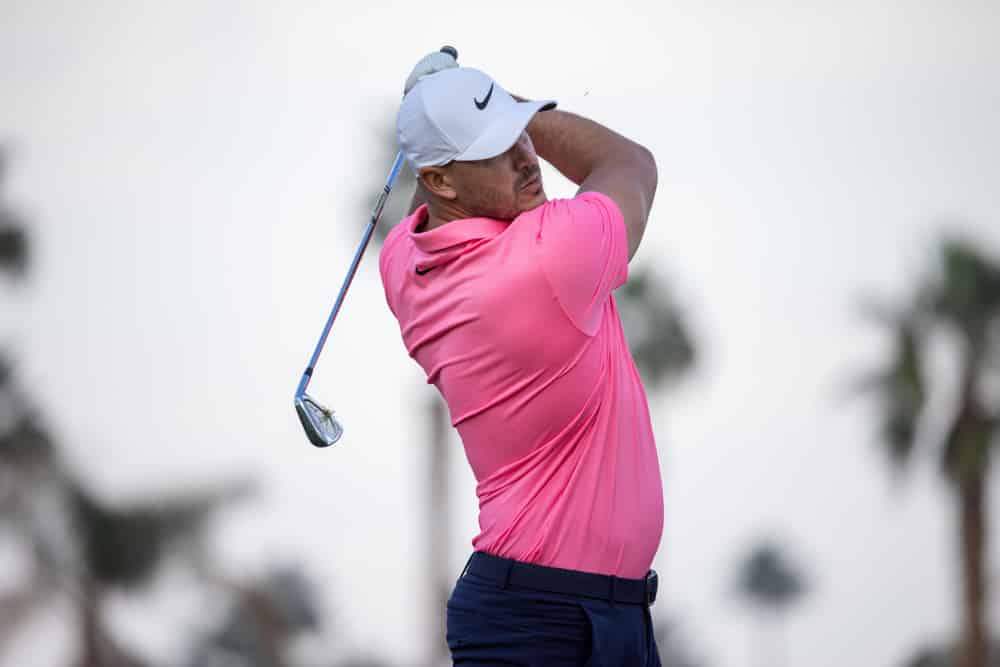 For those who missed it, check out the WGC – Workday Championship at The Concession Preview and Betting Strategies for the types of golfers you should look to target for your picks. Using that as a guide, let's take a look at some of the best bets to make this week. Here are my 2021 WGC – Workday Championship at The Concession Picks:
WGC – Workday Championship at The Concession Picks:
Outright Winners
Xander Schauffele – 16/1
Xander Schauffele was relatively quiet last week at Riviera. While Xander posted a Top 20 finish, he was never towards the top of the leaderboard or a serious threat to win. That should change this week. Xander fits the characteristics of a consistent ball-striker who operates very well on and around the greens. All these qualities are a must to win on a demanding golf course like The Concession is.
He is long overdue for a win. This is setting up like the end of his drought.
Patrick Cantlay – 18/1
A poor Sunday ruined what otherwise was a very solid showing for Patrick Cantlay at Riviera. Despite faltering in the final round, bettors shouldn't turn their back on him. Cantlay continues to put himself in the mix for victories over and over thanks to wonderful ball striking and solid play on and around the greens.
He also owns a pair of victories on two Jack Nicklaus golf courses. His second PGA Tour victory came in 2019 at Muirfield Village. He also won the ZOZO Championship at Sherwood Country Club last fall. He's in a great spot to add another victory at a Nicklaus design.
Brooks Koepka – 25/1
Anytime an event is held on a demanding and difficult golf course, Brooks Koepka's name should be at the top of the list of favorites to win. His recent form suggests that he's mostly healed from the nagging injuries he dealt with in 2020. Over his last 14 rounds, Koepka has gained 0.84 strokes per round off the tee and with his irons. He also is scrambling well and has shown the upside needed with his putter to win a tournament.
Brooks would fare well if the golf course was pushed to the limit in terms of difficulty. If that happens, he could win the war.
Patrick Reed – 30/1
Patrick Reed is usually the polar opposite of a golfer to target at these tough, demanding golf courses. Solid, consistent ball striking are some of the most important qualities of a contender at these venues. These areas, at least statistically, are where Patrick Reed falters. But as he showed at Torrey Pines he can get up and down from almost anywhere. He also is tremendous on the green to steal birdies unexpectedly and stay near the top of the leaderboard.
Patrick Reed is either going to be fighting for a win or finishing well outside the Top 40 with how this golf course is set up. A bet on his ceiling is worth the risk.
Jason Day – 60/1
Jason Day has many of the qualities that Patrick Reed brings to the golf course. Day isn't the strongest player tee-to-green and has to ham and egg it sometimes. But he's so good from around the greens and is a strong putter. He also has a very good track record on tough, demanding golf courses that correlate to The Concession. He has a tremendous history at venues like Quail Hollow, Bay Hill, and Muirfield Village.
Jason Day has a wide variance in his outcomes this week because of how streaky the ball striking has been over the last year. At times he's demonstrated the elite form he showed when he became World #1. Other times, he looks like he doesn't belong out there. If good Jason Day shows up, he can parlay solid ball striking with deadly precision on and around the greens. That outcome is worth betting at 60/1.
WGC – Workday Championship at The Concession Picks:
Positional & Other Props
Viktor Hovland Top 10 – +225
My humble apologies to Viktor Hovland. I placed a bet on him last week to miss the cut because I doubted his ability to handle a tough, firm, and fast design. Hovland got off to a slow start at Riviera, but his unbelievable ball-striking carried him to a Top 5 finish.
I won't make the same mistake again. Hovland again faces a tough, demanding golf course at The Concession. He is more than up for the task. He'll once again finish inside the Top 10.
Joaquin Niemann Top 10 – +325
Like Cantlay, a poor weekend ruined a good tournament for Joaquin Niemann. He sat tied for second heading into the weekend but was brutal over his final two rounds. I see a bounce back at a golf course that once again commands supreme ball-striking, an area he's excelled at. He is in a position to return to the Top 10 this weekend.
Tommy Fleetwood Top 10 – +350
Tommy Fleetwood is an enigma. His stats and finishes on the European Tour over the last 12 months are fantastic. But in the United States, he has struggled. I'm willing to chalk that up as a fluke and rely on what he is on paper. He's a complete player tee-to-green who should fit well at The Concession. There are not many holes in his game, and he should notch his best finish inside the United States in almost a year.
Will Zalatoris Top 20 – +175
The Top 20 market is tough this week for the WGC. There's a clear separation of high and low caliber players in the field and the odds the books are offering aren't very lucrative. Here's one that I think is worth the bet. Will Zalatoris is already one of the best ball strikers on the planet and was more than capable of good play at Riviera. That should happen again this week at The Concession.
Robert MacIntyre Top 20 – +275
I'm looking forward to seeing Robert MacIntyre play more in the United States. He's a superb young talent and has great finishes and statistics on the European Tour. He's the best ball-striker of the players in this field who only play across the Atlantic. His results in the United States as of this point have not been good, but that's about to change very quickly.
Sungjae Im Top Asian Golfer – -110
I considered betting Sungjae Im outright this week. But his reckless play at times as well as his sloppy around the green game has given me pause.
Instead, I'll look to make money on him in the Top Asian Golfer prop. His competition is a struggling Hideki Matsuyama and Yuka Inamori. Not only is Matsuyama failing to strike the ball as well as he has, but he should have his hands full on the diabolical greens at The Concession. And Yuka Inamori is overmatched for this golf course. Sungjae Im should be the low Asian Golfer in this tournament.
WGC – Workday Championship at The Concession Picks:
Matchup Props
Viktor Hovland -110 over Bryson DeChambeau
The praise for Hovland is above. As for Bryson DeChambeau, we're now over a year into his transformation. The golf courses he has thrived on are the ones where he can blow past doglegs into areas of the golf course with little penalty and are inaccessible to others. That's been at places like Bay Hill, Detroit Golf Club, Winged Foot, and Harding Park.
The places he has struggled with are the ones where he can't blast it all over the yard and is punished for being out of position off the tee and around the greens. That is Muirfield Village, Augusta National, and Riviera. The Concession is similar to the golf courses in which he struggles, particularly around the green. He hasn't shown the ability to successfully and consistently get up and down from off tricky, tightly mowed collection areas and from difficult bunkers.
In addition, there's trouble lurking in landing zones on holes he'll hit driver. There will be holes that he'll successfully avoid the trouble and have a wedge into the green. But when he misses, awaiting him are pinched fairways with difficult bunkers, wooded areas, and water hazards. It almost would serve him better if he clubbed down to stay behind this trouble more often than he typically would.
At some point, Bryson is going to have a stretch where he's not striking the ball well. And when that happens, it doesn't seem like he has a Plan B. That should allow Hovland to beat him straight up.
Daniel Berger -115 over Webb Simpson
It was probably smart of Daniel Berger to take a week off after his win at Pebble Beach. He gave himself some R&R and should be ready to go on a golf course that fits his strengths.
As for Webb Simpson, while he crushes Bermuda golf courses it's smaller tracks like Waialae, Sea Island, Sedgefield Country Club, and Harbour Town that are more his speed. The big, tough Bermuda golf courses like Bay Hill and PGA National haven't been as kind to him. He also has struggled at Muirfield Village, which tee-to-green sets up a lot like The Concession. Lastly, Simpson hasn't been quite as strong of a ball-striker as he was last year when he enjoyed one of his best seasons as a professional.
Berger should beat Simpson head to head.
Will Zalatoris -125 over Max Homa
The praise for Zalatoris is above. As for Max Homa, I anticipate a crash back down to earth on the east coast like what happened last year. Homa crushed the West Coast Swing in 2020, much like he did in 2021. But once he returned to the east coast away on bermudagrass and bentragrass golf courses his results suffered.
Homa also should be riding high from his victory last week. That might lead to a letdown at The Concession. That should allow Zalatoris to finish ahead of him in the tournament.
RELATED CONTENT
WGC – Workday Championship at The Concession Preview and Betting Strategies
WGC – Workday Championship at The Concession Preview Show | Golf Gambling Podcast (Ep. 32)