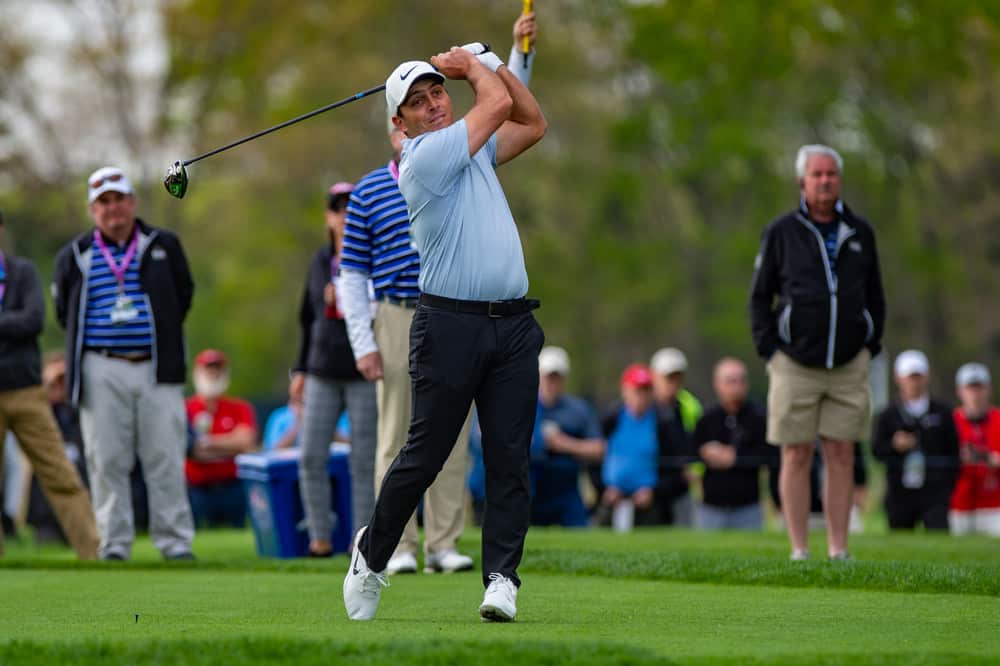 For those who missed it, check out the AT&T Pebble Beach Pro-Am Gambling Preview and Strategies for the types of golfers you should look to target for your picks. Using that as a guide, let's take a look at some of the best bets to make this week – here are my 2021 AT&T Pebble Beach Pro-Am Picks:
AT&T Pebble Beach Pro-Am Picks:
Outright Winners
Will Zalatoris – 20/1
Will Zalatoris is already a Top 5 ball striker on the PGA Tour in a very short career. He's going to win a tournament eventually. Why can't it be against a very weak field like the one he's playing against this week? What doesn't get talked about enough with Zalatoris is how impressive he's been around the greens. Young players sometimes struggle in this area early in their careers. Over his first 17 ShotLink measured rounds, however, he's gaining 0.25 strokes per round around the greens. That's very impressive. Look for Zalatoris to be in the mix for his first victory, which would permanently secure his PGA Tour card.
Francesco Molinari – 25/1
The player everyone is talking about that's "back" is Jordan Spieth. But Francesco Molinari deserves that chatter as well. After wandering through the wilderness following a 2019 Masters collapse, Molinari's deadly precision tee-to-green has returned. That's helped him to three Top 15 finishes over his last five starts. With the return of his elite ball-striking, he's a fantastic threat to grab another win.
Longshot Bets
Three of the last five winners of the Pebble Beach Pro-Am were 100/1+ long shots. None of these players came in with tremendous form either. They were truly out of nowhere winners.
The way the golf course sets up shrinks the gap between elite and middling players. Attributes that are important this week, such as good wedge play and scrambling, are some of the best aspects of a lower caliber player's game. This is a great week to take a few stabs at some longshot outrights.
Here are some flyers to consider:
Mark Hubbard – 100/1: Mark Hubbard is a solid scrambler and good short iron player. He is coming off a solid performance at the Waste Management Phoenix Open.
Scott Stallings – 100/1: Scott Stallings is an average scrambler on the PGA Tour, but he's a wonderful ball striker with his irons. He also has solid form at Pebble Beach and Spyglass Hill in his career.
Doug Ghim – 110/1: Doug Ghim has found his footing on the PGA Tour. He's a solid ball striker, a really good scrambler, and doesn't get in trouble too often off the tee.
Bo Hoag – 150/1: Bo Hoag hits the ball really straight and is tremendous on and around the greens. Hoag is coming off a poor putting performance in Scottsdale. He's positioned for positive regression at Pebble Beach.
Tom Hoge – 150/1: Tom Hoge is a solid, blue-collar type of player who fits the mold of previous longshot winners. He's a decent ball striker with his short irons and is a good putter.
Ryan Armour – 200/1: Ryan Armour's SG-Approach stats are bad, but he strikes his short irons relatively well. He's also tremendous on and around the greens and has a good track record at Pebble Beach.
Brian Stuard – 200/1: Brian Stuard is an accurate player, strikes his short irons well, and is a good scrambler. His putting is hit or miss, but his other characteristics give him a chance to make noise.
AT&T Pebble Beach Pro-Am Picks:
Position & Other Props
Chris Kirk Top 20 – +280
Chris Kirk was a very popular pick in Scottsdale last week. Unfortunately, he was a total dud. Much of Kirk's profile still plays well at this golf course. He's very solid with his short irons, he's accurate and he is a great scrambler. Look for Kirk to bounce back with a Top 20 finish.
Russell Knox Top 20 – +310
While it's not perfect, Russell Knox is putting much better than he had last year. He's still losing strokes per tournament on the greens, but it's not nearly as bad as it had been. If he continues to hover around field average, a Top 20 finish is certainly possible with how great of a ball striker and scrambler he is.
Other Top 20's To Consider
Rafa Cabrera Bello Missed Cut – +120
Rafa Cabrera Bello played well over in the Middle East swing on the European Tour. But he hasn't played very well in his career in this tournament and there are concerns about some jet lag flying in from the other side of the world. RCB also offset really poor ball striking with a hot putter in Saudi Arabia. He's a strong candidate for not only negative regression but to miss the cut.
Sam Burns Missed Cut – +175
Sam Burns has tremendous upside, but he's at risk for a missed cut in Pebble Beach. Burns gained over 10 strokes putting in Scottsdale last week. That is completely unsustainable. He also has never played at Pebble Beach before, and scrambling is a weakness in his game. This golf course will restrict his distance advantage over the field, and he could go home early.
AT&T Pebble Beach Pro-Am Picks:
Matchups
Francesco Molinari -140 over Phil Mickelson
The praise for Molinari is above. As for Phil Mickelson, the only reason why Phil is priced this way is because of his course history and his name. With his recent form, if his name was Bronson Burgoon he'd be nowhere near the value the books have on him this week. Even without a driver in hand, Phil doesn't know where the ball is going off the tee. And he's not nearly the putter or wedge player he used to be. Molinari should beat Phil handily in this matchup.
Max Homa +1.5 Strokes over Cameron Davis (-125)
Max Homa has played very solid golf in 2021. After struggling in the Fall, Homa has tightened up his ball striking early in the season. He also has a decent track record on this golf course. As for Cameron Davis, he suffers from some similar ails as Sam Burns does. He has a tremendous advantage over the field with his length. That's not going to be of much value with all the positional golf played at the golf course. He also is a poor scrambler, poor wedge player and hasn't had good success at Pebble Beach. Homa should be able to keep it within 2 strokes of Davis for the tournament.