The PGA Tour transitions from a party atmosphere to a chill trip to the Pacific coastline. Some of the top players in the world head to Monterey Bay for the AT&T Pebble Beach Pro-Am.
Here's everything to know about the event before placing a single wager on it.
AT&T Pebble Beach Pro-Am Field
Headlining the field is World #1 Dustin Johnson. DJ is fresh off his victory in Saudi Arabia and arrives at a golf course he has great success at. He won this tournament in 2009 and 2010, and should have won the 2010 U.S. Open there. Unfortunately for him, he choked away a victory with a final round 82. Unless he has jet lag, DJ should once again be in the mix for another win at Pebble Beach.
Another notable in the field is Jordan Spieth, off his amazing run at TPC Scottsdale. As of this writing, Spieth currently sits in a tie for the lead heading into the final round. The last time he was tied for the lead after 54 holes was at the 2018 Open Championship at Carnoustie. It was satisfying to see Spieth back in the mix after struggling for so long. Whether he wins or not, he heads into Pebble Beach in a very positive direction.
Other notables in the field include Patrick Cantlay, Daniel Berger, Paul Casey, Jason Day, Rickie Fowler, Si Woo Kim, Phil Mickelson, Francesco Molinari, Jordan Spieth and Will Zalatoris.
Usually the professionals would be joined by amateurs, however due to COVID the "Am" portion of this tournament has been scrapped. This is probably a good thing. While some members of the audience enjoy Jim Nantz making small talk with the likes of Gary Mule Deer and Bill Murray, their presence made this tournament borderline unwatchable. The amateurs make the pace of play molasses slow. The television broadcast slogs along because of it. CBS also loved to draw eyeballs away from the golf tournament and onto awkward, unfunny celebrity interviews.
The only saving grace of the Pro-Am was seeing Chris Berman embarrass himself all over Monterrey Bay:
Here's one guy who won't miss seeing the celebrities hack up one of the premier golf courses in America.
AT&T Pebble Beach Pro-Am Golf Courses
Removing the amateurs wasn't the only change to the tournament. Like the American Express a few weeks ago, the tournament will only play across two golf courses. The golfers will not play Monterrey Peninsula this year. The players will alternate between playing at Pebble Beach Golf Links and Spyglass Hill over the first two rounds. Play moves to Pebble Beach for the remainder of the weekend.
The most famous of the golf courses played in the rotation is Pebble Beach. Ask any golfer what five golf courses are on their bucket list, and Pebble Beach will almost surely be among them. The golf course was first designed by Jack Neville and Douglas Grant in 1919, and later revised by H. Chandler Egan, Alister McKenzie (who helped design another golf course you may have heard of – Augusta National) and even Jack Nicklaus when he redesigned the 5th hole in 1998.
Besides being a mainstay on the AT&T Pro-Am rotation, the golf course has hosted numerous major championships. Jack Nicklaus won the 1961 US Amateur at Pebble Beach and ten years later won the first U.S. Open hosted there. Tiger Woods went completely berserk in 2000 at the U.S. Open, carding a winning score of -12 to win by an astronomical fifteen shots over runner up Miguel Angel Jimenez. Dustin Johnson blew a three shot lead here in 2010 to give Graeme McDowell his first and only major championship victory. More recently Pebble Beach played host to the 2019 U.S. Open, which was won by Gary Woodland. Viktor Hovland also won the 2018 U.S. Amateur there.
While the entire golf course is breathtakingly beautiful, it's the front nine that is the crown jewel of the property, specifically from holes 6-8. If you ask any golf fan what they know about Pebble Beach, this stretch of holes should immediately come to their mind:
6th Hole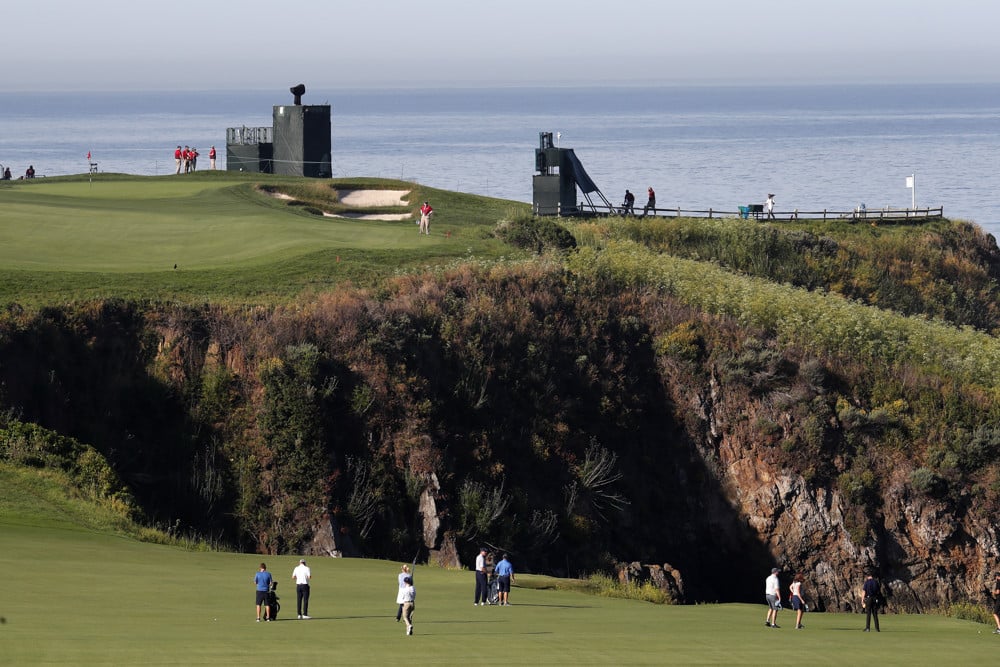 7th Hole
8th Hole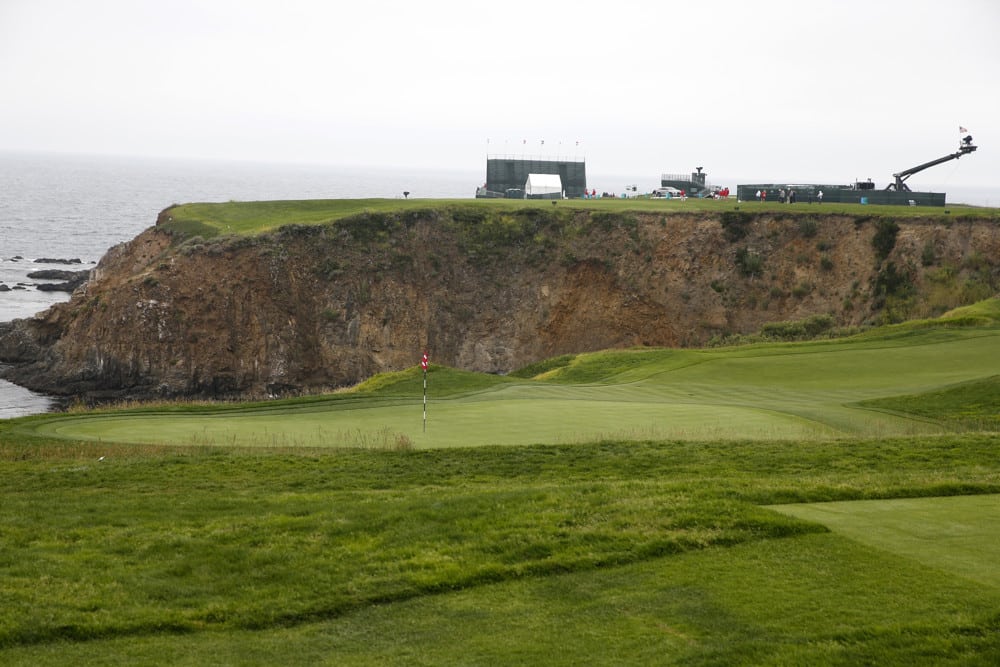 Through the years viewers have seen two distinct setups of Pebble Beach. The USGA generally sets the golf course up to play very firm and fast with deep penal rough flanking the fairways. A lack of rainfall in the summer helps set up the golf course like that. The setup this week is much different. Central California sees significantly more rainfall this time of year. It makes the golf course play much softer. The soft conditions allow for easier scoring conditions.
Pebble Beach may steal the headlines, but Spyglass Hill is a good one in its own right too.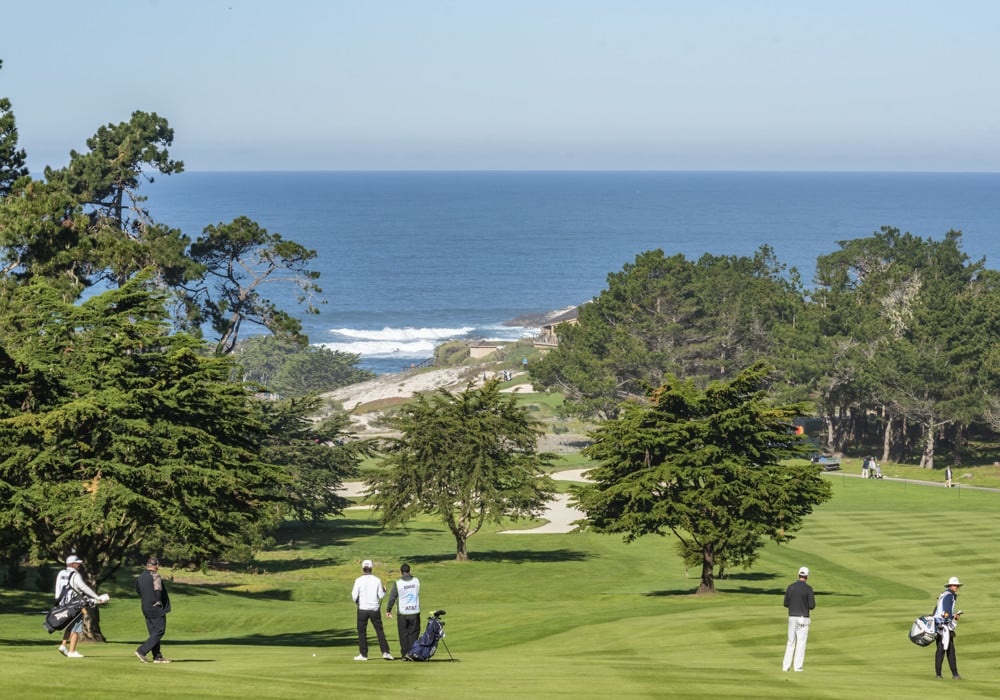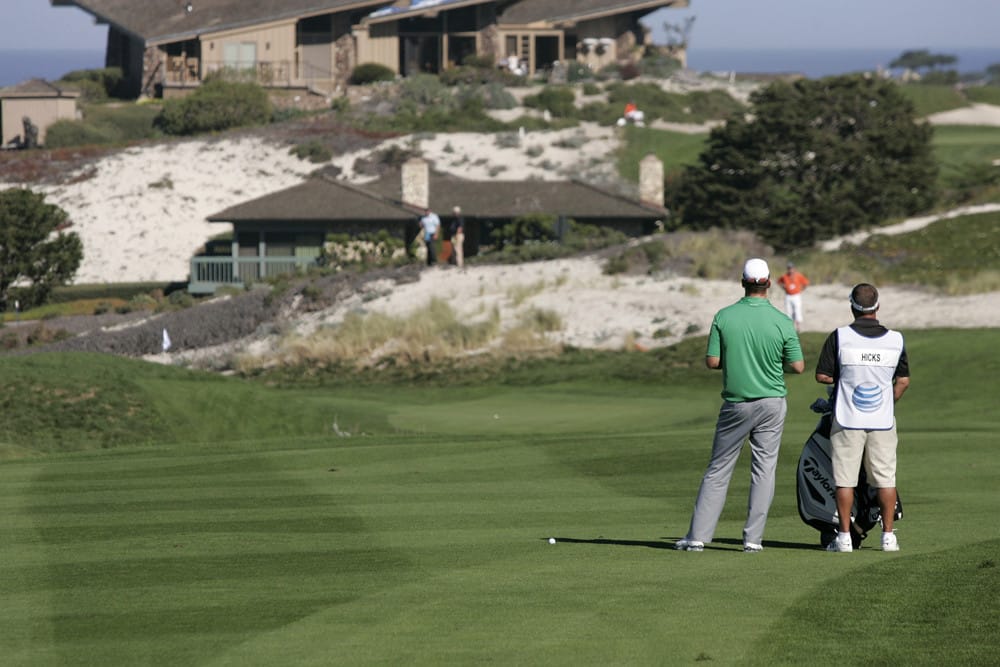 Robert Trent Jones designed Spyglass Hill in 1966. It entered the tournament rotation in 1978. The golf course was originally named Pebble Beach Pines Golf Club, but was renamed in 1969 after a reference to the book Treasure Island. Additionally, every hole on the golf course is named after a place or person in the book.
The round starts off with a bang as the first five holes have fantastic views of the ocean and surrounding sand dunes, most notably with the 4th hole that features a 55 yard long, 9 yard wide green. Mounds flanking the green makes it a little easier to funnel the ball onto the green, but anyone who hits it in regulation deserves to automatically move on to the final round.
But after the first five holes the course moves inland and through the forest, which makes the rest of the round a little uninspired. This course is my least favorite of the three played in a traditional AT&T Pebble Beach Pro-Am. It's a shame that Monterrey Peninsula was overlooked, as that is a more picturesque and interesting golf course. Fans will have to wait until next year to see it again.
AT&T Pebble Beach Pro-Am Gambling Strategies
The last two tournaments had placed a greater emphasis on driving and performance off the tee. With short yardages in this two golf course rotation tournament it'll take a bit of a backseat. Pebble Beach and Spyglass are considered less-than-driver golf courses. Opting for an iron or fairway metal off the tee is more than enough club to put a golfer in good position for their approach shot.
In prior years, putting some thought into all golf courses in the strategy was more important. But like the American Express gamblers can probably ignore Spyglass Hill for pre-tournament considerations. Because only one round is played there for each player, it has an overall immaterial effect on the outcome. In addition, the golf course plays very similar to Pebble Beach. Golfers attack Spyglass Hill in a similar manner as Pebble Beach.
The only consideration to make would involve Showdown lineups. Typically, Spyglass Hill plays as the toughest golf course of the tournament. It's a little more demanding and tougher tee-to-green than Pebble Beach is this time of year. But if the tournament sees significant wind either Thursday or Friday, though, it may play as the easier golf course of the day. Most of Spyglass Hill is protected from the wind because it plays primarily inland through the forest. If it's windy at Pebble Beach, there's zero protection from it. Check the forecast and if the area will see gusty conditions, load up on golfers on Spyglass that day.
As far as how to attack Pebble Beach, here's a relative skill set chart of what types of players typically play well there:
Like most classic golf courses, players of all walks of life have a chance to fare well. Distance is relatively mitigated because it's a less than driver golf course. And because players hit less than driver more frequently, an accurate player doesn't have as much of an advantage either.
The one area where a certain type of player does have an advantage is in scrambling. These are the smallest greens the PGA Tour will play on the schedule. Though soft conditions help, players will miss more than their share of greens in regulations. The pros will be spending a lot of time trying to get up and down for par from the collar.
Other than that, solid ball-striking and the ability to ride a streaky putter always has its advantages on the PGA Tour. Players who also have solid histories putting on poa annua can be elevated as well. Those should be the types of players that gamblers gravitate towards this week.
Lastly, here's a list of players in the field who have gained more than shot per round on the field at Pebble Beach (minimum of 12 rounds):
Phil Mickelson – +2.29
Jason Day – +2.11
Dustin Johnson – +1.98
Jordan Spieth – +1.84
Daniel Berger – +1.62
Patrick Cantlay – +1.51
Paul Casey – +1.48
Nick Taylor – +1.17
Kevin Streelman – +1.17
Brandt Snedeker – +1.10
Matt Kuchar – +1.05
Jim Furyk – +1.04
Aaron Wise – +1.01
Most of these players are premier ball strikers and fantastic scramblers. Several of them also have tremendous histories putting on poa annua. While not many players perfectly fit this mold, there are several options in the field that check a few of these boxes that are worthy of consideration.
RELATED
Super Bowl 55 & Golf Cross-Sport Props