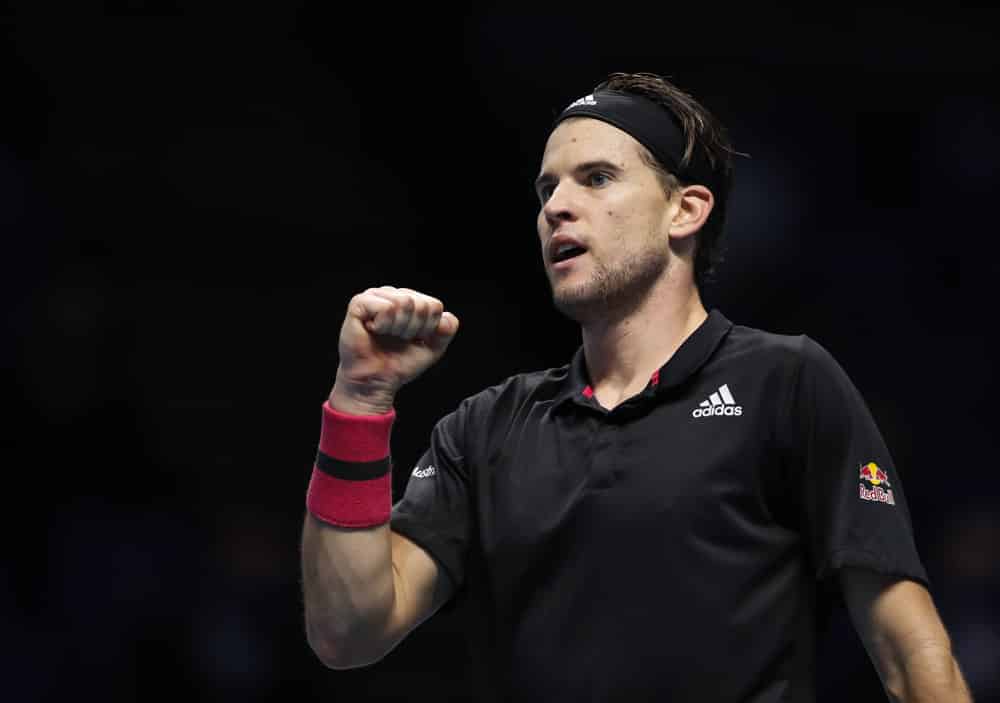 At long last, the ATP Grand Slam schedule will commence! The Australian Open starts on February 8th. While a large majority of stars will be competing for the title, others like Roger Federer will be unable to compete which should lead to a bit more uncertainty. As for the projected field, Novak Djokovic is rightfully being listed as a huge favorite to win his ninth Australian Open title. However, bettors might want to consider other options due to the lack of value on Djokovic in the betting markets.  As a result, I believe that several serious contenders for this event are being completely undervalued by the betting markets. Each of them possesses the ability to play some exquisite tennis over the course of two weeks and help you cash on favorable Australian Open odds.
Australian Open Odds and Picks for ATP Tennis
Dominic Thiem (+550)
While everyone remembers that Novak Djokovic won the Australian Open last year, a lot of people seem to have forgotten just who he actually beat in the championship match. Dominic Thiem was able to push him to the brink as the match went to a deciding fifth set. While Thiem was unable to get the job done, he proved to the world that he is a serious threat in Melbourne and that he is capable of making a deep run in these tough weather conditions. Plus, Thiem was able to win his first Grand Slam tournament last year after defeating Zverev in the U.S. Open Final so he should enter this event with even more confidence.
Rafael Nadal (+600)
Despite being one of the greatest tennis players ever, Rafael Nadal is still undervalued for this event. According to the betting markets, he has either the third or fourth-best odds to win this event. Not only has Nadal won this event before but he has also been runner-up on four occasions. Therefore, he has proven that he is capable of making an extremely deep run in Melbourne. However, it is worth mentioning that he is dealing with a bit of a back issue at the moment but he still has about a week to get himself back to full strength. He may not be the favorite, but Nadal is worthy of consideration at these odds in the Australian Open.
Milos Raonic (+6000)
Anytime you can avoid being broken in roughly 90% of your service games, you are always a tournament sleeper. While Raonic has always dealt with injuries, he is now healthy which could lead to a deep run. Despite never making it to the final, he has made the quarterfinals in five of his last six trips. Raonic is also playing in the ATP Cup against quality opposition leading up to this event so he should enter this tournament in peak form.
Stan Wawrinka (+10000)
When looking at some serious longshots, former champions at an event are always a good option. After lifting the trophy in 2014, Wawrinka has shown flashes of brilliance as he has made the semifinals twice in his last six trips here. While Wawrinka dealt with some serious injuries over the past few years, he still reached the quarterfinals in 2020. As a result, one can hope that he will go on a miraculous run in 2021. Although he is unlikely to win this tournament, there should be ample hedging opportunities if he makes the quarterfinals again.
RELATED CONTENT
2021 Waste Management Phoenix Open Picks and Props
Kansas City Chiefs Super Bowl Preview & Prop Bets (Ep. 950)