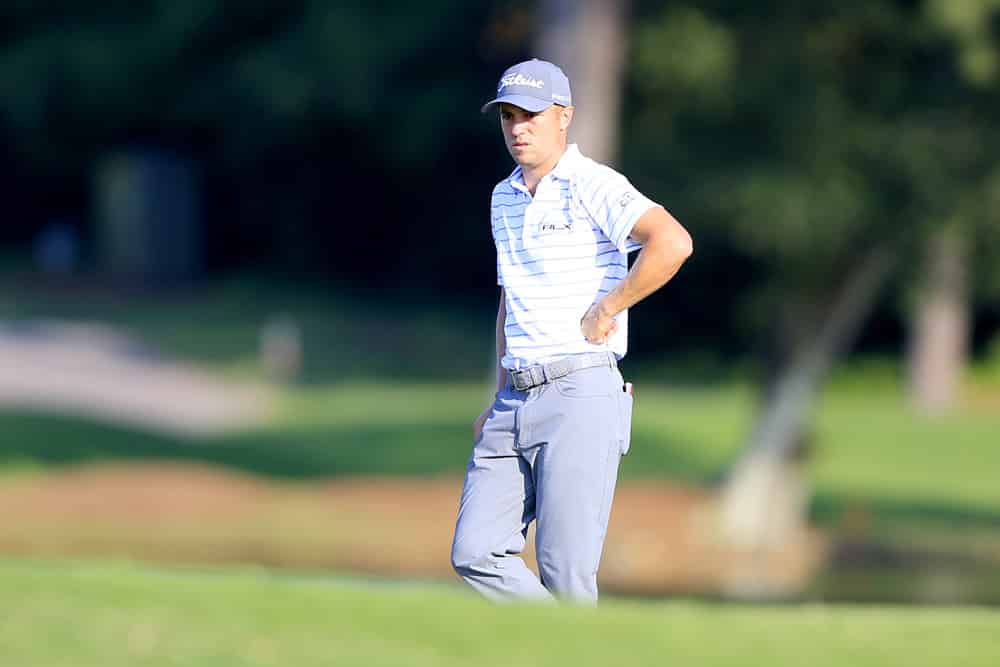 For those who missed it, check out the 2021 Waste Management Phoenix Open Gambling Preview and Strategies for the types of golfers you should look to target for your picks. Using that as a guide, here are some of the best bets to make this week – here are my 2021 Waste Management Phoenix Open Picks and Props.
2021 Waste Management Phoenix Open Picks:
Outright Winners
I don't typically like betting golfers under 10/1 to win a tournament. But I'd be dishonest with you, the reader, on withholding my feelings about why I think Justin Thomas wins this week.
I could regurgitate all the statistics about why Justin Thomas is an elite ball striker. Everyone knows that and it doesn't need to be repeated. But the man is due for a win. Thomas is one of the most prolific winners on the PGA Tour. And he's currently in the third-longest consecutive start streak without a win.
He's played 11 times since he last won at the FedEx St. Jude Classic last August. The only longer stretches in his career occurred in 2017 and across the 2018-2019 season. The winless streak was 14 in 2017, and Justin Thomas is a much better player than he was then. The other was between the 2018 CJ Cup and the 2019 BMW Championship. That streak was 25 events, but he was hampered with a wrist injury in between.
Another thing going for Justin Thomas this week is the weather conditions and the lack of fans. The weather in Scottsdale, AZ this weekend will be like playing in a dome. Perfect weather conditions are typically where Justin Thomas shines best.
This tournament doesn't see a lot of longshots win. Every winner since 2015 was under 50/1 entering the tournament. With Justin Thomas on top of his game and well overdue for a win, it'll probably come this week.
Berger is a very, very chalky play this week. Almost every mainstream betting expert has added him to their card. But even the mainstream guys are due to win one of these weeks, and Daniel Berger does check a ton of boxes of a winner of this event. Berger is a fantastic ball striker, combining both adequate length and precision tee-to-green. He's also a fantastic putter. That gives him the upside needed to reach the upper teens under par that typically takes the event down.
Berger is enjoying the best golf of his career. He's in a great spot to win for the second time in less than a year.
This feels like the week Sungjae puts it all together. He's teased elite upside in both ball striking and putting over the last four tournaments. The one area that's continually let him down was his performance around the green. But with huge greens and ideal weather conditions, players won't find themselves struggling to get up and down for par from off the green all that much this week. With his weakness put to the back burner, that could help Sungjae grab his second career win.
Henley is getting punished too severely for the missed cut at the American Express. Though he's been up and down, Henley is one of the better ball strikers in the field over the last six months. He struggled with that in Palm Desert, but after a week off he's in a good spot to bounce back. The stats he's put up over the last 6 months are worthy of a PGA Tour victory. This could finally be the week for him and makes him an entertaining longshot among the Waste Management Open picks.
Positional Props
The poor weather conditions of Torrey Pines got to Bubba last week. The ideal ones in Scottsdale should treat him a lot better. Without wind or rain, Bubba should be able to pick apart TPC Scottsdale like the many times he's done in his career. He has gained almost 2 strokes per round on the field in 52 rounds at the golf course. Bubba should bounce back this week and finish towards the top of the leaderboard. More than 4/1 on a strong finish is a solid bet.
Si Woo Kim checks the boxes of everything needed to play well at TPC Scottsdale. He's a fantastic ball striker with a good combination of both length and accuracy. But this hasn't translated to strong results at TPC Scottsdale. In his career, Si Woo has lost over two strokes per round to the field in 14 rounds.
There's a recent blueprint of a player who struggled at TPC Scottsdale and found unexpected success. Tony Finau had missed the cut in four consecutive tournaments at TPC Scottsdale before losing in a playoff to Webb Simpson in 2020. Talent ultimately prevails, and Si Woo is playing the best golf of his life. He's being overlooked for the course history, but bettors should not overlook his game to overcome it.
After a much-publicized slump due to a swing change, it seems like things are turning around for Rickie Fowler in 2021. Fowler gained almost 14 strokes tee-to-green in his last two tournaments. His magnificent ball-striking was held back by poor putting, which has been an issue for him lately. Eventually, quality ball-striking breeds leaderboard success. Rickie's history at TPC Scottsdale is also very strong. The break out may come this week.
Other Top 20 Props to Consider
2021 Waste Management Phoenix Open Picks:
Matchup Props
Matt Kuchar has a tremendous history at TPC Scottsdale. But his play over the last year suggests his time is starting to run short. Kuchar's ball-striking has severely deteriorated since the beginning of 2020. His finishes are almost entirely tied to how well he putts. Players who struggle with their ball striking don't fare well at TPC Scottsdale. Munoz is a much better one tee-to-green and should beat Kuchar head to head.
Alternatively, Henrik Norlander is offered on some books at +105 over Matt Kuchar. If your book offers it, that's another matchup prop worth betting on.
Rory Sabbatini is coming off a week of poor ball striking saved by great putting. Sabbatini gained only 0.62 strokes tee-to-green at Torrey Pines, yet gained over four strokes putting. It's difficult to sustain strong putting performances week to week, as that tends to regress to the mean. Meanwhile, Grillo had a poor ball-striking performance at Torrey Pines, but his long term trends suggest a bounce-back is imminent. He's also a more reliable ball striker than Sabbatini. Grillo should prevail in this head-to-head.
The buzz around Zalatoris concerns me that the public will mush him. This week, however, he's paired in a matchup against a player due for negative regression. At Torrey Pines South, Louis gained over seven strokes putting yet lost over a stroke tee-to-green. Louis's ball-striking over his last 50 rounds is not strong enough to cover a very likely negative regression of the putter. Zalatoris is already one of the best ball strikers on the PGA Tour, and he should beat Louis at TPC Scottsdale.
Ortiz is coming off a near-miss at the Torrey Pines that saw him fade badly down the stretch. His last few starts have also been carried by a strong putter but mediocre ball striking. He seems primed for a letdown. Meanwhile, Chris Kirk is on a career renaissance. His game is as strong as it was before entering rehab, and all parts of his game are firing on all cylinders. Kirk should beat Ortiz head to head. Despite the odds, this is one of the more favorable Waste Management Open picks.
RELATED CONTENT
Waste Management Phoenix Open Preview Show | Golf Gambling Podcast (Ep. 26)
2021 Waste Management Phoenix Open Gambling Preview & Strategies
Super Bowl Exotic Prop Bets & DFS Lineups (Ep. 949)