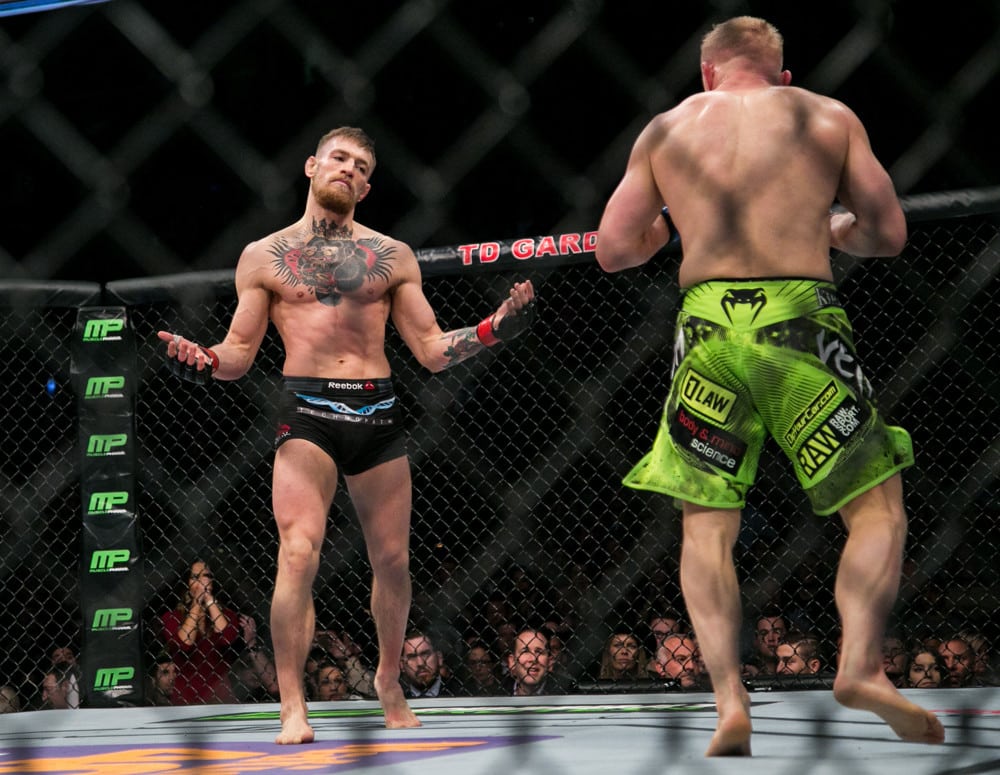 He's baaaaaaack! 'Notorious' Conor McGregor is back, and hopefully that means the streets are safer – at least temporarily (although it wouldn't be a McGregor fight week without some controversy). But I'm not here to breakdown McGregor's out of cage action – I'm here for a Poirier vs McGregor 2 betting guide.
Conor McGregor is an easy guy to underestimate due to the furor and hype and nonsense swirling about his life outside of the cage. However, to overlook him or consider him just a product of hype is at your betting peril – the majority of the time not only has his mouth done the talking, but his left hand has done the walking.
Poirier vs McGregor 1
Before we get into a Poirier vs McGregor 2 betting guide, we should check out Poirier vs McGregor 1. This fight took place way back at UFC 178 in September of 2014. And the fight is so short you can watch it real quick right now. Don't worry – I'll wait back here for you.
What can we learn from this fight? Probably not much, due to how quick it was and how long ago it happened. Both fighters have developed and expanded their games since this time, especially in Dustin Poirier's case. Plus this fight was still when both men were cutting down to the featherweight limit of 145 pounds – both are much better suited for lightweight, which will be what Saturday's fight will be contested at, especially for McGregor, who looked like a skeleton on weigh-in day when he was a featherweight.
Maybe the only real takeaway from this fight will be mental. McGregor has the confidence (like he needs more) and knowledge that he can turn out Poirier's lights at any moment, and Poirier perhaps has the lingering doubt in the back of his head, remembering what happened the first time they locked horns.

Poirier vs McGregor 2 Betting Guide
Which brings us to the rematch. When breaking down these fight and coming up with a Poirier vs McGregor 2 betting guide, it is striking how similar the two men are, at least in terms of stats. Both are 5'9″ southpaws. McGregor has a slight two-inch reach advantage. They were both born within six months of each other, with Poirier being the slightly younger of the two. Looking at their striking stats on UFCStats.com, they are almost identical – within decimal points of each other in all the key categories. Both men beat Eddie Alvarez in the past, lost to Khabib Nurmagomedov two fights ago, then both bounced back with wins in their last fight (Poirier beat Dan Hooker; McGregor battered Donald 'Cowboy' Cerrone).
There are a couple key factors where these two pugilists do differ, and they could decide the outcome on Saturday night (it's actually more than likely they will). The first would be grappling. Poirier lands twice the amount of takedowns as McGregor does, and actively looks for submission, while McGregor does not. However, Conor's takedown defense is a very solid 70%. Will Poirier look to turn this into a grappling battle, and, if so, will he be able to get McGregor down and do work once he's down there?
If this turns into a striking battle, despite his toughness and decent knockout power, Poirier is at a distinct disadvantage. This would be factor number two: McGregor has very rare, one-touch knockout power. But it's not just his power – it's his precision and timing that stands out. He knows how to pick his spot and hit his opponent right on the button with his explosive left hand.
My guess is the rematch is going to be a repeat of the first matchup, with McGregor turning the lights out on Poirier early in the fight. Conor via (T)KO at -200 seems like the play to make, if you plan on betting this fight (which I'm sure you are, #degen).
For an audio companion to this article, listen to the MMA Gambling Podcast's episode breaking down this fight right here.