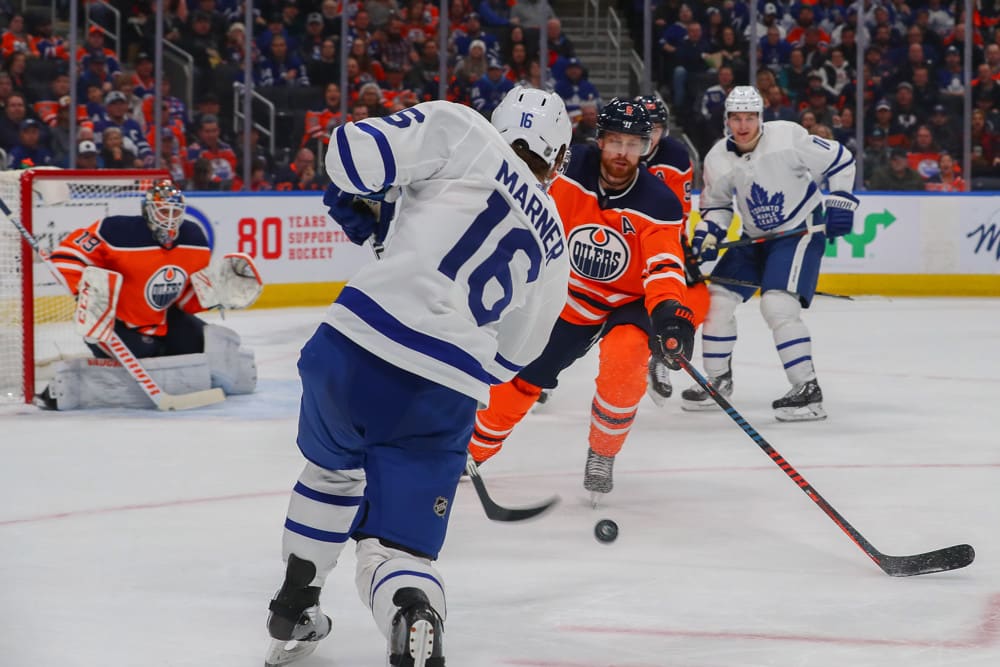 Wednesday Night Hockey is here again with a great slate of games to bet on. There are five games on Wednesday Night, and I'll be giving you a pick for a winner, total, and player prop for every game.
Before we get into this week's picks, let's look back at last week's results:
Winners: 5-0-0, +5.15 units
Totals: 3-2-0, +0.95 units
Props: 2-3-0, -0.70 units
Total: 10-5-0, +5.40 units
*Assuming all bets are either to win 1 unit (favorites) or 1 unit (underdogs).
I'll take an undefeated start to the season with a clean sweep of five teams. I was able to just squeak by on the totals. Player props got away from me a bit, but hey, those are for fun more than anything.
All odds are via Wynnbet. Get in on the action here to get a risk-free bet up to $500 and a free t-shirt from us at SGP!
Edmonton Oilers at Toronto Maple Leafs
Pick: Toronto Maple Leafs -150
Wednesday Night Hockey this week features two of the most exciting teams in the league. Connor McDavid and the Edmonton Oilers will take on Auston Matthews and the Toronto Maple Leafs.
It won't just be about McDavid vs. Matthews, however, which heavily affects my pick in this game. The Leafs have quite the supporting cast for Matthews with John Tavares and Mitch Marner headlining a deep group. McDavid has Leon Draisaitl and Ryan Nugent-Hopkins, but after that the pickings get slim.
This is one of the easier games on the night to pick – well, it should be at least. The Leafs are 3-1-0 to start the season while the Oilers are 1-3-0. Edmonton has also suffered back-to-back losses by a combined score of 8-2 to the Montreal Canadiens.
The Leafs are the better team, they're at home, and they're who you should bet on in this one.
Total: Under 6.5 (+100)
This is a tough one. It's either going to be a low-scoring win for the Maple Leafs, or it's going to be a goal-fest with each team getting at least three or four in the back of the net.
I'm leaning to the Under 6.5. The Maple Leafs allowed just one goal last game to a Winnipeg team that has a top-heavy build like Edmonton, and two goals in the game before that to the Senators. They have also only scored three goals in each of their last three games. Edmonton scored just one goal in each of their last two games and allowed three or fewer goals in two of their four games thus far. I'm foreseeing a 3-1 or 4-2 win for Toronto.
Player Prop: Mitch Marner To Score (+205)
Mitch Marner is on fire to start the season. He has scored in two straight games with three points (goal, two assists) on Saturday night in Ottawa and two goals on Monday night against the Jets.
His streak could end, but on the Leafs he is behind Matthews (-124), Tavares (+148), and Nylander (+155) to score. I'll take the value of +205 for Marner to net another one.

---
San Jose Sharks at St. Louis Blues
Pick: St. Louis Blues -180
We're going with another home favorite here. This is the second of two games between these two teams after the Blues beat the Sharks 5-4 on Monday night. The Sharks got out to a 2-0 lead, but the Blues stormed back for the win. If the Sharks can't win after going up 2-0, I don't know how they'll beat the Blues.
The Sharks have lost two straight games, allowing five goals in each contest, after a season-opening shootout win against the Coyotes.
The Blues are a much better team than the Sharks and should take care of business at home on Wednesday night.
Total: Over 6 (-120)
The Sharks allowed 3.21 goals per game last season and aren't in any position to expect that to decrease this year. They allowed 3, 5, and 5 goals in their first three games.
Here are the totals in the Sharks' three games so far: 7, 8, 9.
Here are the totals in the Blues' three games so far: 5, 8, 9.
You might even be able to get Over 5.5 for this game at some books, but we have Over 6 at -110
Player Prop: Ryan O'Reilly Under 0.5 Points (+135)
Ryan O'Reilly only has one point, an assist, in the first three games this season. Furthermore, he was held off the scoresheet in 31 of 71 games last season. I view this as a toss-up with +135 as pretty good value.
---
Minnesota Wild at Anaheim Ducks
Pick: Minnesota Wild -130
I'd love to change it up and throw an underdog in (don't worry, we will), but we're going with the Wild.
The Ducks shutout the Wild with a 1-0 win on Monday night, but it was a game that the Wild should have won. They outshot the Ducks 34-27 and had 63.03% of the expected goals share at 5-on-5 play. Essentially, that means that the Wild should have scored 63% of the goals (2.41 to 1.41 to be exact) based on the quality and quantity of their shots.
The Wild opened up the season with two wins and aren't going to lose two straight to the Ducks. I would consider looking at the Wild -1.5 puck line as well.
Total: Over 5.5 (+100)
Anaheim was one of the worst defensive teams in the league last season (3.17 goals against per game, T-6th worst) while the Wild were one of the highest-scoring teams (3.16, 12th). The Wild also went over in their first two games with 4-3 overtime wins in each.
Player Prop: Kevin Fiala To Record 2+ Points (+350)
Kevin Fiala has yet to break through this season despite 18 shots on goal in three games. He's poised to have a big game soon, and this could be it.
Take the +350 and hope for that big game to come tonight for the second-line winger that plays on the top power-play unit.
---
Arizona Coyotes at Vegas Golden Knights
Pick: Vegas Golden Knights -200
I'm only picking games on the money line, otherwise, I would consider taking the Golden Knights -1 or even -1.5 (+125) – which I might end up betting on.
The Golden Knights are 3-0-0 to start the season and it seems like they're never out of a game. They fell behind 1-0 early and 2-0 in the second period on Monday night. However, they stormed back for a two-goal win over the Coyotes thanks to an empty netter.
The Coyotes are decent, but the Golden Knights are simply overwhelming.
Total: Over 5.5 (-115)
The Golden Knights are capable of putting up four or five goals themselves. In fact, they've done just that in two of their three games this season. Arizona, on the other hand, has allowed four, three, and four goals in their first three games, while scoring at least two.
The Golden Knights will get a handful of goals and the Coyotes will put a few on the board to push it over.
Player Prop: Max Pacioretty To Record 1+ Points (-167)
Max Pacioretty has a goal in each game so far and has been putting the puck on net with 16 shots in three games. He was nearly a point-per-game player last season (66 points in 71 games) with points in 45 of 71 games, including 16 multi-point efforts.
Pacioretty is on a lethal top line and power-play unit with Mark Stone. I would also consider taking Pacioretty to score at +160.
---
Montreal Canadiens at Vancouver Canucks
Pick: Vancouver Canucks +105
The Canucks came out hot in their season opener with a 5-3 win over Edmonton but have since dropped three straight. Montreal, on the other hand, lost their opener in overtime before beating the Oilers twice. However, the Canucks will now head home to host Montreal while the Canadiens continue a six-game road trip to start the season.
This is the first of three games in four nights between these two teams. The Canucks are going to want to set the tone on home ice.
I view this game as a toss-up, giving the Canucks some value at +105 as a home underdog.
Total: Over 6 (-130)
These are two of the fastest-paced teams early in the season.
At 5-on-5 play, the Canucks have scored 2.75 goals per 60 minutes and the Canadiens have scored 2.63 goals per 60 minutes, eighth and ninth in the league respectively. That's not a fluke, either. Vancouver averages 34.04 shots on goal per 60 minutes at 5-on-5 play, the second-most in the league. Montreal sits 11th at 30.71 shots per 60.
Their last meeting was a 4-3 overtime win for the Canucks in February, and I could see that happening again here.
Player Prop: Elias Pettersson To Score (+170)
Elias Pettersson has one assist in four games so far, but he's looking for that first goal of the season. He should have quite a few opportunities to get it on home ice against the Canadiens.