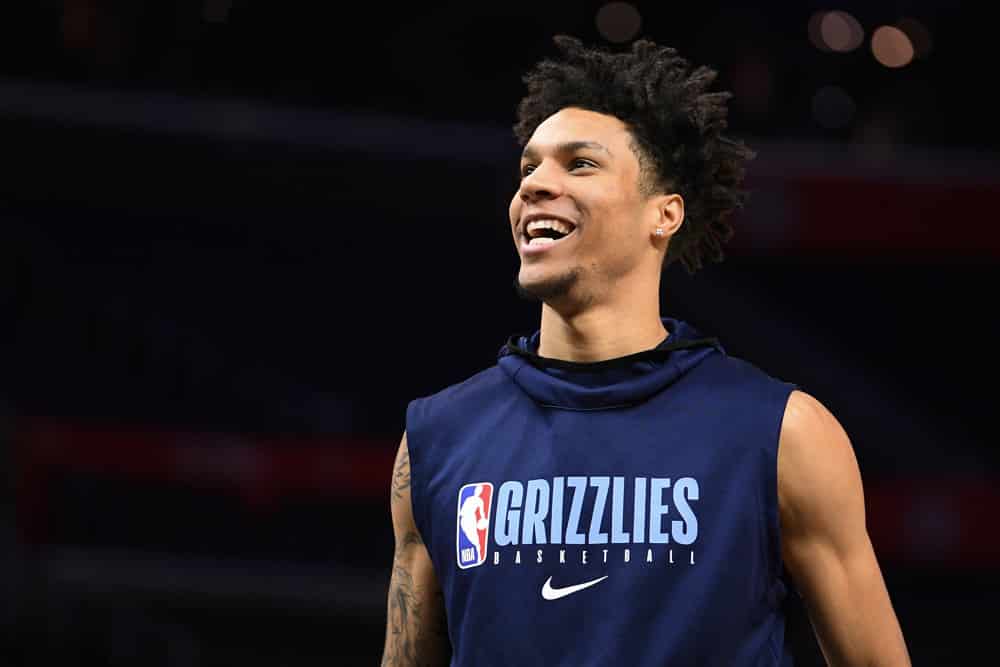 Those who play season-long fantasy football already know this fact.  Your season is made or broken in the later rounds of your draft. Playing NBA season-long fantasy is no different. That's why I'm here to guide you through fantasy basketball sleepers to draft for 2021. These are sleepers not studs to draft in early rounds. So, don't go crazy and start reaching for these guys above veteran All-Stars.
*Note – This article will be updated as needed if any trades or free agency signings occur that will affect the mentioned players.*
Fantasy Basketball Sleepers To Draft
Brandon Clarke (PF) – Memphis Grizzlies
I'm sure you guessed it by the image above. Brandon Clarke will slip down the boards in your draft. Don't let him slip past you in later rounds. Memphis made it clear Clarke is a vital part of their rotation. Last year, he averaged 22.4 minutes per game while popping in the starting lineup occasionally as well. During his rookie campaign, he averaged 12.1 points and 5.9 rebounds per game. Those aren't eye-popping numbers, but solid for a rookie sixth man.
Starting PF Jaren Jackson Jr. will not be available to open the year. He's still recovering from an injury in the bubble. That puts Clarke in a starting role and provides even more value early in the season. However, don't abandon the second-year stud once JJJ returns. Clarke will be the sixth man in Memphis's rotation once JJJ returns. Even on the second unit, Clarke holds plenty of value.
Derrick Rose (PG) – Detroit Pistons
Of course, all drafts aren't the same. Derrick Rose won't be available in the late rounds for everyone. However, if he does slide down the boards, you better jump on him while you can. Rose had a solid '19-'20 campaign on a struggling Detroit squad. He averaged 18.1 points and 5.6 assists per game while only playing 26 minutes an outing.
CBS Sports currently lists the ADP (average draft position) of Rose at 130th, which is ridiculously low. Delon Wright and rookie Killian Hayes are the only two who should cut into the veteran's playing time, but it should be much. You can't pass up a chance to take him late considering his 25+ minutes a game and high usage rate.
Tristan Thompson (C) – Boston Celtics
Moving along with our NBA fantasy draft sleepers, this one may come as a surprise to some. However, it's tough to picture a world where Boston holds a paint-dominant player like Tristan Thompson that they've been lacking recently and doesn't utilize him to his full potential. He's now put in back-to-back seasons averaging a double-double in points and rebounds. Although Thompson isn't the guy that's going to score 40 a night, he still holds plenty of value due to his rebounding ability alone.
Realistically speaking, the Celtics will only have two main options (Thompson and Daniel Theis) at the center position, although we can expect Robert Williams III to be the garbage-time center. I have a funky feeling that we will eventually see Thompson take over the starting role as well before the season is over. Long story short, Thompson is one of those guys who isn't going to be on everyone's radar, but he will certainly be used for his rebounding if nothing else in Boston.
Looking to bet on NBA Free Agency? Check out the latest on Odds Shark.
Danilo Gallinari (SF/PF) – Atlanta Hawks
While on the subject of guys who may slip under the radar, let's talk Gallo. His usage will certainly decrease with the move to Atlanta. Still, it's hard to picture him falling off a cliff.
Gallinari knows how to fill up a stats sheet across scoring, rebounding and assists. We don't know yet if he'll play in the starting rotation. But I love what he brings to the table regardless and don't expect him to go high in drafts.
Even Deeper Fantasy Basketball Sleepers
JaMychal Green (PF/C) – Denver Nuggets
JaMychal finds himself in a new home this season. I love the move for his career. Always one of the last options for a stacked Clippers team, Green still averaged 6.8 points and 6.2 rebounds per game while playing 20.7 minutes.
The Nuggets don't have much front court depth. Paul Millsap and Nikola Jokic are the starting PF/C. After that, Denver only has Green, Bol Bol and rookie Zeke Nnaji. Michael Porter Jr. will play most of his minutes at SF. Jokic will play 35 minutes a game, but Old Man Millsap's playing time will continue decreasing. Green should be the first big man off the bench. I like taking him with one of your last picks in the draft.
Bobby Portis (PF/C) – Milwaukee Bucks
Unless Milwaukee makes some late big man signings, Portis is a must-roster. Giannis Antetokounmpo and Brook Lopez are the starting front court, but Robin Lopez's departure leaves the Bucks shorthanded for Bigs. That means Portis will see at least 20ish minutes a game.
Bobby Portis and D.J. Wilson are the only playable guys on the roster who can give Giannis and Brook a break. Second-round pick Jordan Nwora isn't NBA-ready yet and Thanasis Antetokounmpo might never be NBA-ready. Portis saw his role diminish with the Knicks, but they had too many big men on their roster. Milwaukee's roster and offense is well-suited for Portis to see plenty of playing time.
Jaxson Hayes (C) – New Orleans Pelicans
Let's wrap things up with one more bench player that is worth targeting in the later rounds. Jaxson Hayes is a guy that was underused last year by coach Alvin Gentry last year, but I don't expect their new coach Stan Van Gundy to make that same mistake. Van Gundy has been known to mold younger players into superstars, and he has to like what he sees from this young player. Hayes showed us flashes of future superstar qualities last year despite only playing an average of 16.9 minutes per game his rookie campaign.
Now moving into his sophomore campaign, Jaxson Hayes will almost certainly see more time on the court, more or less due to the lack of depth New Orleans has down low. Steven Adams will no-doubt be the starting center, but Hayes, Zion Williamson (who will spend the majority of his time at the PF) and Willy Hernangomez who comes over from Charlotte are the only other centers listed on the roster. I would feel things out to ensure Van Gundy is using Hayes to his full potential first. However, if he is featured in the rotation as a I feel he will be, then Jaxson Hayes can be that last round pick that takes you to the championship.
MORE NBA CONTENT
Subscribe to NBA Gambling Podcast on Apple and Spotify.