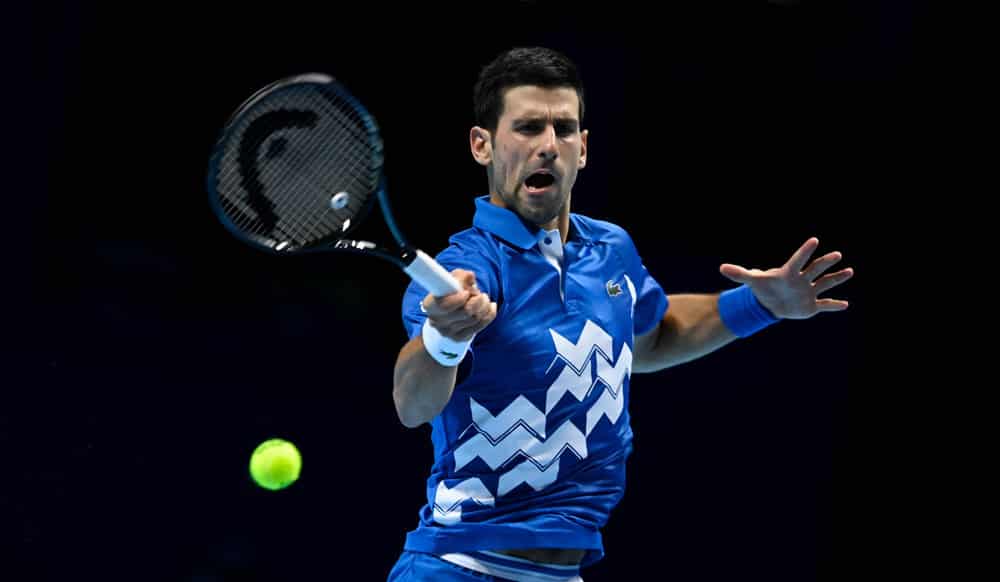 Greetings fellow degens! It's almost Tuesday and you're asking yourself, "What can I bet on today?" Well, no worries! I have a great three-leg tennis parlay with a nice +434 payout (or a four-legger with a +1562 payout for the real #DegensOnly out there) that I'm dying to share with everyone!
If you got down with me on last week's parlay, my sincerest apologies. Yes, I'm trolling myself with the image above of the world's top ranked tennis player Novak Djokovic. We knocked out the first three legs of last week's parlay easily. I thought we were in a pair of trustworthy hands to take us home, but I was wrong. Enough of my rambling on though, let's dive into this week's parlay!
What Can I Bet On Today? Will's Tuesday Tennis Parlay
Camilo Ugo Carabelli (+112) over Emilio Gomez
To kick things off, we're going to take Camilo Ugo Carabelli at a nice plus payout. There are only two tournaments going on at the moment (both ATP Challenger Tour tournaments) and both of them are being played on clay courts.
Both of these guys are veterans with roughly 500 career matches combined. Carabelli has always been good on clay with a career record of 140-78.  Gomez has a career record of 156-124 on clay himself. However, these numbers are somewhat inflated by two good seasons (2015 & 2019). Outside of those two years, he hovers around the .500 mark. The perfect start to this parlay is to ride the hot hand with Carabelli.
Frederico Ferreira Silva & Mariano Kestelboim (-129) over Chun Hsin Tseng & Kaichi Uchida
Moving to the second leg of "What can I bet on today?" We're jumping into some doubles action, which admittedly is super fun to watch. Although doubles matches can tend to be slightly more unpredictable, this line does not seem steep enough to me.
Frederico Ferreira Silva (52-32) and Mariano Kestelboim (226-119) have both seen a lot of success in doubles play. Their opponents Chun Hsin Tseng (5-5) and Kaichi Uchida (27-20) have some things going against them. They have a lot less experience in clay court doubles matches. To make matters worse, neither of them have much success in these types of matches. Uchida (who is the more experienced of the two in clay doubles) hasn't competed in any doubles action on any level since 2019. Ferreira Silva and Kestelboim have way too many things pointing in their direction for me to ignore given the cheap price.
Sadio Doumbia & Fabien Reboul (-238) over Daniel Elahi Galan & Agustin Velotti
To wrap up Tuesday's tennis parlay, we will take what is my favorite play of the day. This one is a no-brainer as Sadio Doumbia and Fabien Reboul will win this with ease.
Doumbia and Reboul have played six straight tournaments together as partners (which is a rare occurrence these days). During this stretch, this duo has two finals appearances with one tourney win. Both Doumbia and Reboul have success in clay court doubles matches in the past as well, with a combined career record of 159-66.
Meanwhile, their opponents have never been very successful in these types of matches with a combined record of 149-151. I recommend playing these guys as a straight-up bet as well if you don't mind laying juice, but we're going to lock them in as the final leg of this week's parlay.
What Should I Bet On Today?
#DegensOnly Parlay: Kaichi Uchida (+211) over Matheus Pucinelli De Almeida
This is the optional fourth leg of this tennis parlay which features more of a longer shot than normal (although I'm still pretty damn confident in it). Kaichi Uchida's name may look familiar, and that's because we're betting against him in doubles play. Uchida hasn't been the most successful when he's playing with a partner. However, Uchida is an animal when he plays solo matches on clay courts as he carries an impressive 93-63 career record on clay into this match.
Although he hasn't been quite as strong in recent years as he was in his first few years on tour, he is still the better player on clay in this match and it's quite surprising to get him at this price. Matheus Pucinelli De Almeida hasn't played on a ton of clay courts in his career with only a 22-18 career record. The reason I list this play where I do is because the line almost looks too good to be true which scares me. However, if you're looking to really beef up this parlay, then this is the perfect play to do it with.
Other #DegensOnly Action
Early Week 12 Waiver Wire Fantasy Football