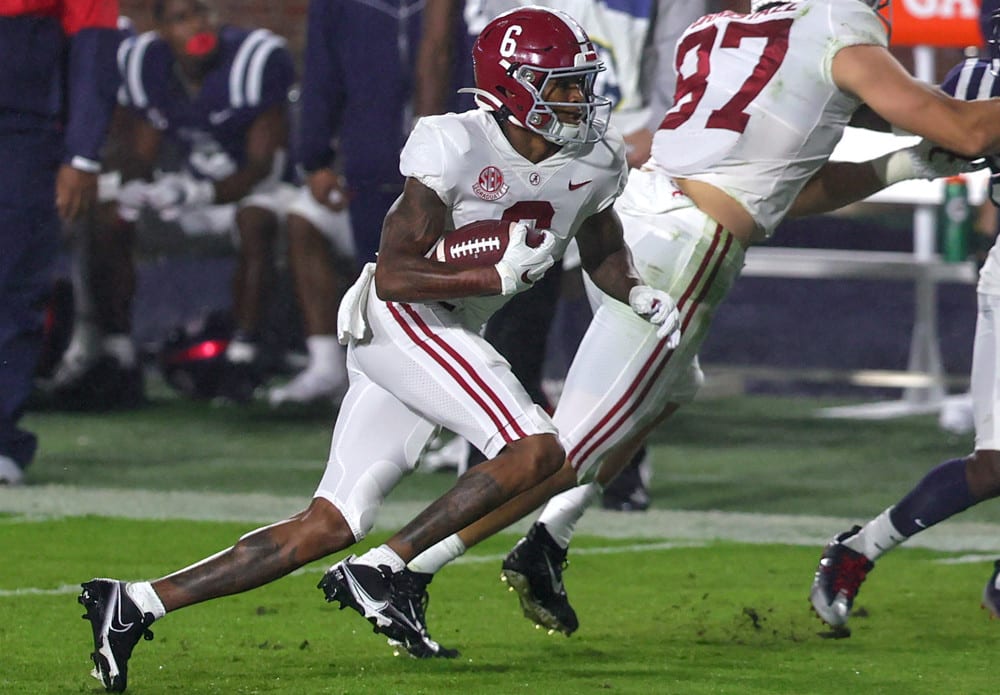 Happy Turkey Time College Football DFS fans!
While you are loading up on seconds of mashed potatoes and stuffing, be sure to get your DraftKings lineups in for the Friday slate and the two slates of Saturday.
As usual, this column will cover the main Draft Kings Saturday afternoon slate. Tune into our weekly podcast (which can be found on The College Experience) for our picks for the Friday and Saturday night slates.
Let's do this!
College Football Fantasy Picks: QB's
Big Money Man:
Kyle Trask – Florida ($9,900)
The TD train continues to roll for the Florida offense and Kyle Trask. The Gators haven't scored less than 38 points in a game this year and with 3 more passing TD's last week, Trask has now thrown for 31 in seven games. Additionally, Florida has basically abandoned any semblance of a running game and are averaging over 35 pass attempts per game.
The Gators have only scored six rushing TD's on the year. They're gonna score points vs Kentucky (Bama just put up 63 on the Wildcats) and Trask is going to be responsible for them. You really can't go wrong with a high-priced QB this week, but for my money Trask is the best.
Middle of the Road Joe:
Taulia Tagovailoa – Maryland ($7,400)
Here's the biggest gamble of the week. Tua's little bro and the MD offense was abysmal in the season opener against Northwestern. However, it turns out that the NW D is one of the best in the country. In the two games that followed, the Terp QB has played lights out – putting up over 45 fantasy points against Minnesota and almost 25 vs Penn State.
Maryland has a tough game at Indiana this week, but I'm expecting Taulia to play more like he did in his 2nd and 3rd game as a starter rather than his first. I plan to roster him in at least one contest due to his high upside.
Bottom of the Barrel:
Kenny Pickett – Pitt ($6,100)
The Pitt gunslinger has had an up and down senior year mostly due to a mid-season ankle injury that sidelined him for a few weeks. Well, Pickett is back and so are the Panthers. Since his return, they have beat FSU 41-17 and VT 47-14. In those games, Pickett has thrown for over 600 yards and has scored two rushing TD's. He actually has 5 rushing TD's in his last 4 games.
I realize that Pitt plays Clemson and Dabo's crew will be hungry to get back on the field after a couple of weeks off to stew over the ND loss. However, Clemson doesn't have the same defense this year as they've had recently. Plus, Pitt has had some success playing in Death Valley in recent years. This is a sneaky pick that could pay major dividends.
College Football Fantasy Picks: RB's
Big Money Man: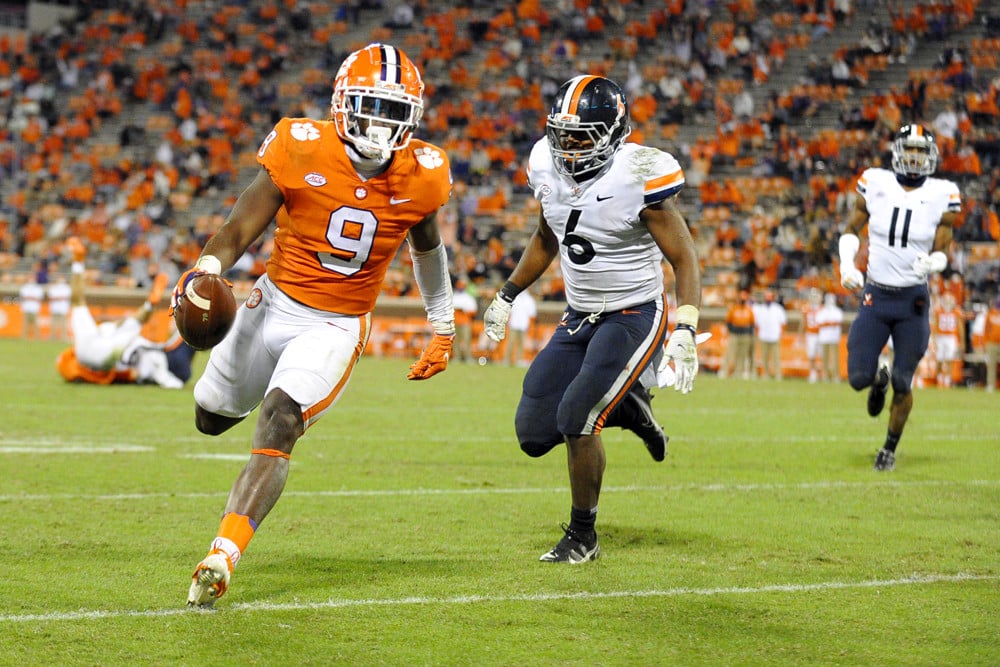 Travis Etienne – Clemson ($8,600)
Let's stay in the same game where I'll grab my top RB of the afternoon slate. I have a general rule of thumb, if Clemson plays an opponent who can keep the game close, you'll want to roster Etienne. Especially with Trevor Lawrence back, the Tigers O should explode.
Etienne is the second highest running back on the slate, but he's still $1K cheaper than Bama's Najee Harris. With an overall underwhelming group of RB's to choose from, gimme Travis Etienne all day.
Middle of the Road Joe:
Chuba Hubbard – Oklahoma State ($6,600)
A couple of weeks ago you would have never seen Hubbard priced this low. I get it – he's had a couple of down weeks while dealing with an injury, the Cowboy offense has struggled, and they are now on their backup QB.
With all that said, Oklahoma State welcomes Texas Tech into Stillwater this weekend and the Red Raiders haven't been playing much D. This is a get right game for Chuba and at a fairly reasonable price, I can get back onboard.
Bottom of the Barrel:
DJ Williams – Auburn ($4,100)
This play will not be for the faint of heart. Tank Bigsby has been a beast at RB for Auburn this year, but he's currently dealing with a hip injury and may not play vs Alabama. Earlier in the year, Williams was dealing with his own injuries and that's when Bigsby took over the backfield.
Perhaps it's now Williams's time? In relief of Bigsby last week, DJ ran for 66 yards and a TD on 11 carries. Monitor the injury situation, but Williams could surprise here.
College Football Fantasy Picks: WR's
Big Money Man:
DeVonta Smith – Alabama ($9,200)
Once again, we'll stay in the same game and just jump teams to Alabama for the best WR of the slate. Ever since Jaylen Waddle went down, it's been the DeVonta Smith show. 9 catches for 144 yards and a TD vs Kentucky. 11 catches for 203 yards and 4 TD's vs Miss St. Need I go on?
Smith is lock for a huge game against Auburn this weekend. You will have to pay up if you want to roster him but he's worth it. Although he's the second highest receiver on the docket, I actually prefer him over the more expensive Elijah Moore this weekend.
Middle of the Road Joe: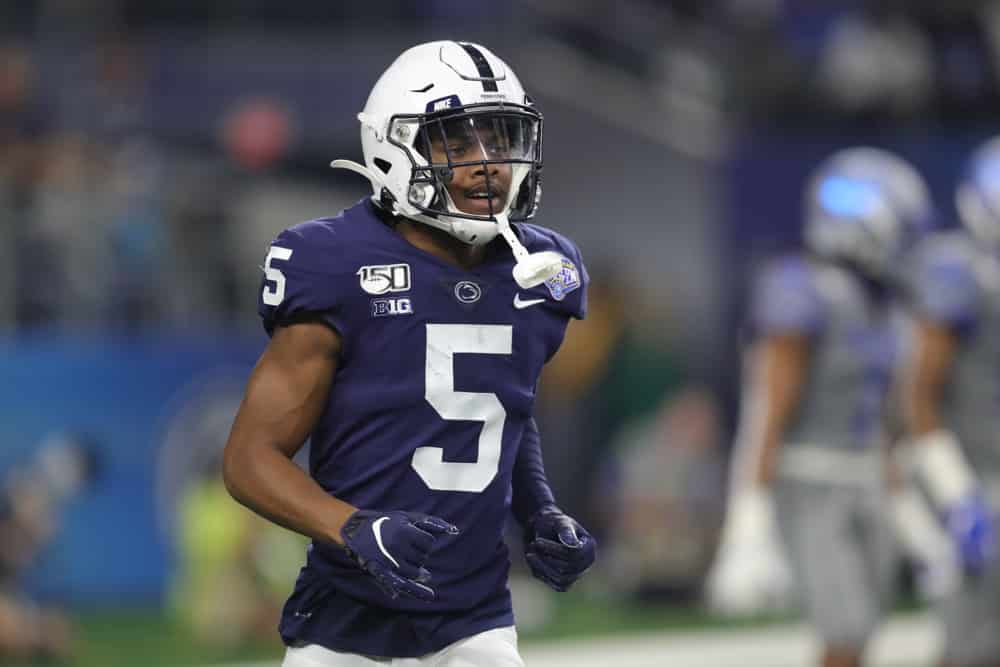 Jahan Dotson – Penn State ($6,500)
In this same spot in last week's column, I highlighted Ty Fryfogle and all he did was catch 7 balls for 218 yards and 3 TD's vs the Buckeyes. While I can't promise Dotson will do the same, he should be in store for a very nice game against Michigan.
Throw out the one bad game against Nebraska and this guy is averaging 7 catches for 125 yards and a TD per game. We all know the Nittany Lions are winless but Michigan isn't setting the world on fire either. A couple of weeks ago Dotson would have been $2K more expensive so there's value here.
Bottom of the Barrel:
DJ Turner – Pitt ($4,400)
I already mentioned one Pitt guy in this column so I want to know, who has the guts to start a QB-WR stack vs Clemson? After missing a few weeks due to injury, Turner came back big last week catching 15 balls for 184 yards and a TD vs VT. It's been boom or bust for Turner this year as has its been for the entire Pitt offense. However, it's clear that him and Kenny Pickett have a nice rapport and at only $4.4K we can gamble on a boom game again.