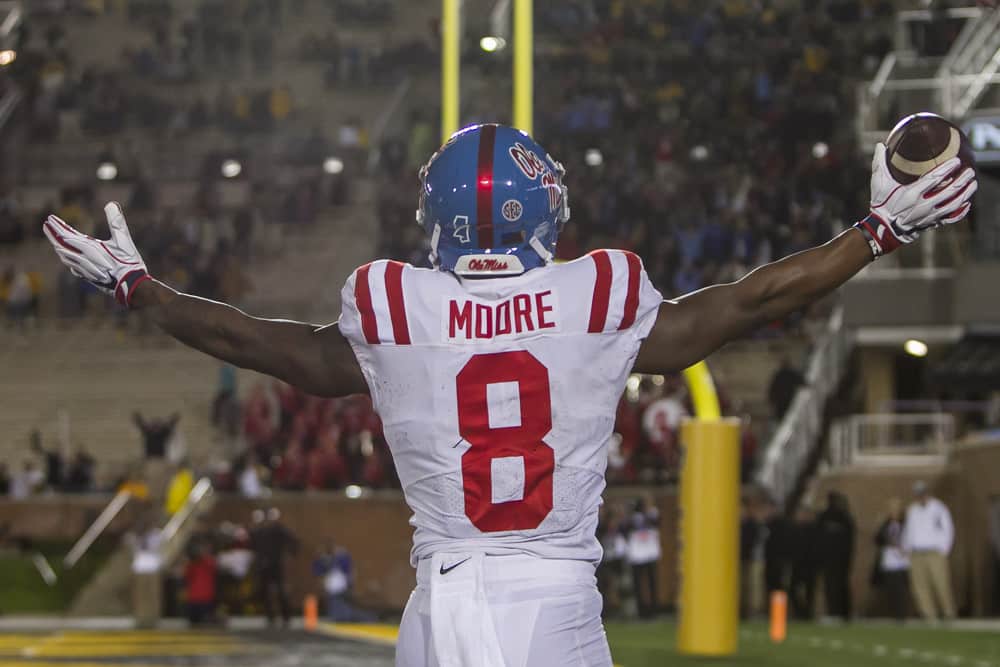 Welcome back College Football DFS picks fans!
While we're at it, welcome back Big 10 and the Mountain West. Although, at least at the moment, games from these conferences aren't included in Draft Kings. Generally, I'd lean towards rostering players who have a few games under their belt rather than speculating on guys yet to play this year.  Just incase the Big 10 games are added in.
Let's look at Week 8 and let's win some cash!
QB's:
College Football DFS Picks:
Jordan Travis (afternoon), Florida State ($6,700)
My plan in the afternoon slate is to save on QB's so I can spend big on RB's. So while Sam Ehlinger, Hendon Hooker, Mac Jones and others should put up big #'s, I'll go with Jordan Travis. Against UNC last week, Travis scored over 36 fantasy points throwing for 191 yards and a TD while rushing for another 107 yards and two TD's.
The Seminoles play Louisville and while the Cardinals limited the Notre Dame offense last week, their defense is below-average, at best. Ever since Travis relieved an ineffective James Blackmon, he has played lights out. Expect another 100 yards on the ground providing a very nice fantasy floor.
My strategy is simple. Jordan Travis may not be the highest scoring QB in the afternoon but as long as he can put up comparable #'s to the more expensive options, I'll make up that ground elsewhere.
D'Eriq King (night), Miami ($8,200)
I'm back on the D'Eriq King bus this weekend. After the subpar performance against Clemson, King tossed 4 TD's last week vs Pitt. The U welcomes a struggling UVA defense into town Saturday night in a game which should be viewed as a positive matchup.
It's a small slate of night games this week, and much like Travis in the afternoon, King's ability to run provides me with a nice floor. While I don't love the night QB's, King is all but guaranteed another game of 20+ fantasy points.
Best Bargains:
Sam Hartman (afternoon), Wake Forest ($5,900)
One of the cheapest starting QB's week in and week out, Hartman can't get any love from the fine people over at Draft Kings. Against a formidable UVA secondary last week, he threw for over 300 yards and a TD. I get it, Wake is a run heavy team behind Walker and Beal-Smith, but that helps open up the passing game.
Virginia Tech comes into Winston-Salem Saturday after giving up 345 yards and 2 TD's in the air to Boston College. This game could be a shootout and Wake might have to pass more than usual to keep up. If you are short of money for your Super Flex spot, I'd give Hartman a look.
Collin Hill (night) South Carolina ($6,400)
You would usually have to be crazy to go with a Gamecock QB playing on the road in Baton Rouge. Well, 2020 isn't a normal year and the Tiger D isn't what we have come to expect at LSU. Mizzou threw for over 400 yards and 4TD's in the last game LSU played and we all know what happened in the opening game vs Miss St.
In addition to a nice matchup, Hill has also registered a rushing TD in three of his four games this year including two vs Vandy. I wouldn't drop too much lower than $6.4K for your 2nd QB in the night slate, so give me Hill.
RB's:
College Football DFS Picks:
Javonte Williams (afternoon), UNC ($7,800)
This afternoon games are absolutely loaded with RB's that have been putting up some unreal stats and this includes UNC's JaVonte Williams. The dual threat Tarheel just accumulated 186 total yards from scrimmage with two TD's against FSU. The week before against VT, it was 224 yards and 2 more TD's. You get the picture?
UNC welcomes the rival Wolfpack into Chapel Hill this week in a game with an O/U of 61 points. There will be plenty of offensive opportunities for the Williams. Expect him to break a couple big plays and find the endzone at least once. Check his highlights from last week:
Sincere McCormick (night), UTSA ($6,500)
Unless you are a college football nut like me, you probably haven't heard of the UTSA starting running back. Hell, you probably haven't heard of UTSA. Well, in addition to having a fantastic name, McCormick is a helluva RB. This year, he's already had three games over 100 yards including a game against Texas State where he scampered for 197.
UTSA plays La Tech this week and while you usually expect a Skip Holtz coached team to have a solid defense, that hasn't been the case. Opposing teams are averaging over 30 points a game vs Bulldogs so this should be another high scoring affair. Expect McCormick to get over 100 yards and a couple TD's.
Best Bargains:
John Lovett (afternoon), Baylor ($4,300)
It's not easy to get a team's RB1 when you have less than 5K to spend. Baylor has only played two games this year and the running game hasn't exactly kicked into high gear. Lovett has received more than double the amount of carries than Trestan Ebner and sits at a very affordable $4.3K. For some reason Ebner is $6.3K (probably due to his 4TD outing vs Kansas that included two kick returns). I think Draft Kings has this backwards so there's value in Lovett.
It's not a sexy pick but he's cheap and Baylor plays Texas this week. Yup, the same Longhorns who have had 56, 33, and 53 points scored against them in the last three weeks.
Carlos Davis (night), South Alabama ($6,000)
Ok, so usually I like to give you a bargain that is around or beneath $5K. However, with my top RB in the night games only costing $6.5K, you should have plenty of cap room for Davis as your second. If you do, you'll be more than happy with the investment as the sophomore RB has ran for at least 80 yards in every game this season.
The Jaguars face off against ULM this week, a team that may be the worst in the country. The Warhawks are 0-5 and are giving up over 260 rushing yards per game. Davis should have a monster game Saturday night.
WR/TE's:
College Football DFS Picks:
Elijah Moore (afternoon), Ole Miss ($8,100)
If you recall, I had the Ole Miss receiver in this same spot in last week's column. At the risk of being repetitive, here he is again.
Ole Miss had a complete offensive clunker against Arkansas a week ago committing 7 turnovers. Matt Corral had his worst game of his career and only threw for 200 yards. You would assume this would have negatively affected Moore, right? Nope. All the Jr. receiver did was catch another 11 balls for 113 yards and a TD.
If you are keeping track thru the first four Ole Miss games, Moore is now averaging over 10 catches and almost 150 yards per game. If it's not broke, don't fix it. Give me Elijah Moore again.
Shi Smith (night), South Carolina ($6,800)
I'm going back to the well for receiver in the night slate too. I highlighted Smith a couple of weeks ago after back to back 10+ games to start the year. Things have only slightly cooled off since then. In the blowout vs Vandy, the Gamecocks didn't pass much in the 2nd half and Smith ended the game with only 4 catches for 46 yards. Last week in the win vs Auburn, the possession receiver bounced back and caught 8 passes for 76 yards and a TD.
I'm expecting big things from my Shi Smith with Collin Hill stack and with my top WR at only $6.8K, it affords me to spend up elsewhere. Lastly, did I mention LSU can't cover the pass?
Best Bargains: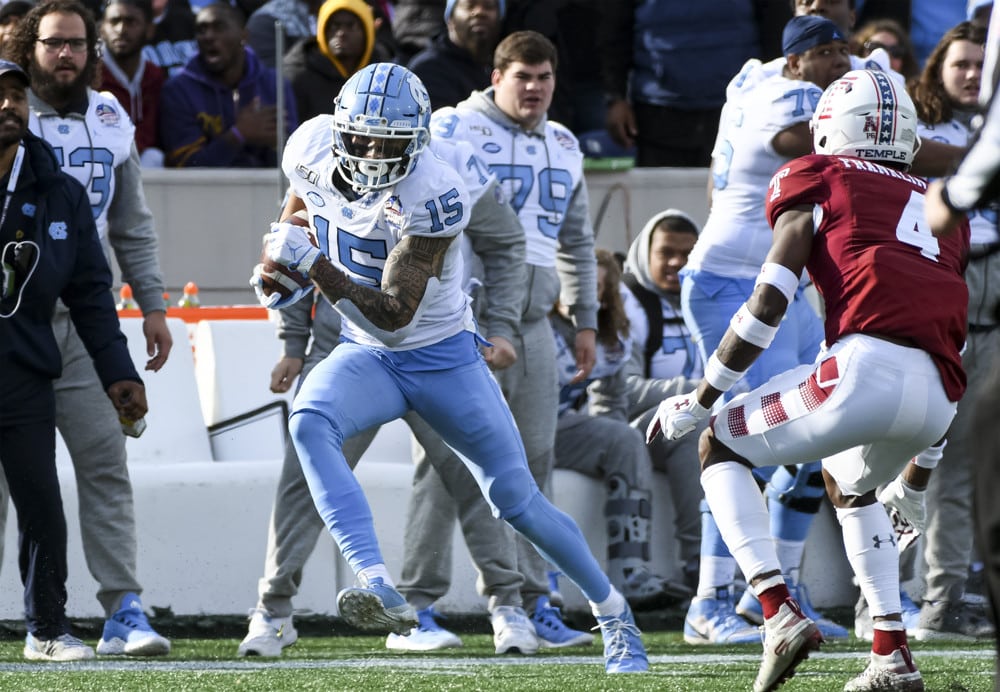 Beau Corrales (afternoon), UNC ($4,500)
Although the UNC WR did not make my column last week, I did highlight him in our podcast and was fortunate to roster him in a couple lineups. In return, Corrales hauled in 4 catches for 141 yards and a TD.
While I'm not expecting an identical game, no other player at this price tag offers as high of a ceiling. The UNC offense has a lot of mouths to feed but while other receivers struggled to get open last week, my guy utilized his 6'3 frame to outsize defenders and catch jump balls. The UNC passing game will find a lot of openings in the NC State secondary so expect another solid game for the senior wideout.
Neil Pau'u (night), BYU ($4,300)
BYU's top two WR's are Gunner Romney and Dax Milne and both have been putting up some crazy stats this year. As the 3rd receiver, Pau'u has still caught 17 balls for 191 yards and a TD thru 5 games. That alone might qualify him for his cheap price tag. However, Romney went out of the game last week with a hamstring injury, did not return, and is questionable this week vs Texas State.
While his injury status is something to monitor, I would not be surprised if he sat out a game where BYU should win easily. If he doesn't play, the Bobcats will most likely roll coverage to Milne leaving favorable matchups for Pau'u. The junior WR could have a solid game even if Romney plays and a big game if he doesn't. At $4.3K, I'm all in.