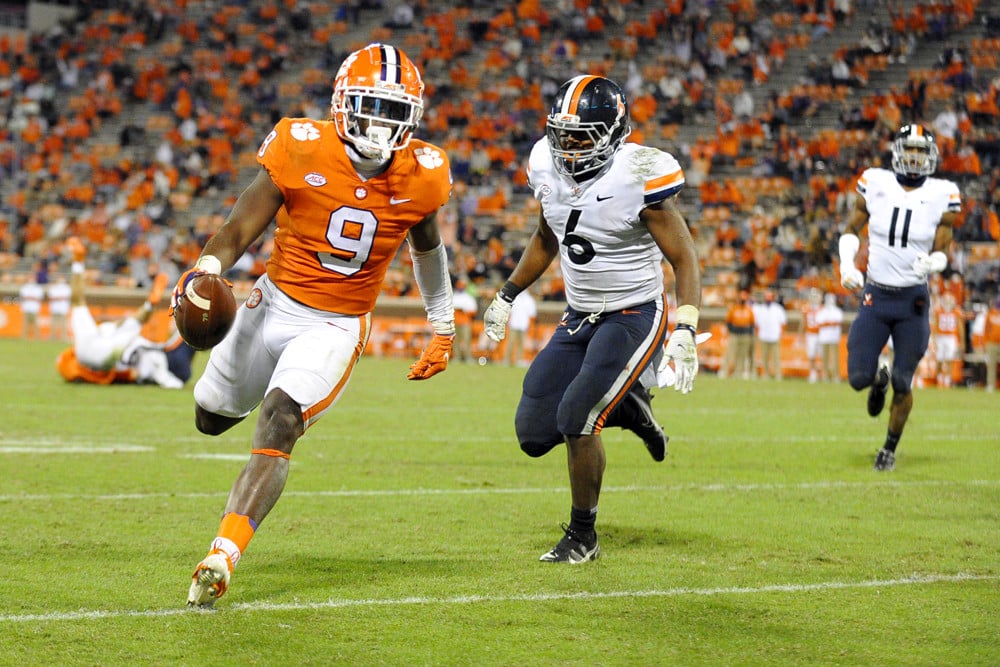 We're on a bit of a heater over here folks. As we capped off a nice and profitable college football week 5, let's set our sights on College Football DFS Picks Week 6.
First, just a bit of advice. With the Super Flex spot in College Football DFS, you almost always want two QB's in your lineup. Obviously, the trick is picking the correct two. If you pay up for two expensive QB's, you'll most likely not have much coin left over for other positions.
I like to use a strategy of picking a top QB and a cheap QB with upside. For example, week 4 I highlighted KJ Costello ($5.9K) who threw for over 600 yards and 5 TD's. This past week I gave you Max Duggan ($5.8K) who scored 28.14 fantasy points and Zach Smith ($5.8K) who put up 18.72.
Get the picture?
College Football DFS Picks Week 6
QB's:
College Football DFS Picks:
Kyle Trask (afternoon), Florida ($8,500)
While Texas A&M may have the best defense that Florida has played so far, there's no denying how explosive this Gator offense has been. In two games, Trask has thrown for 684 yards and 10 TD's. That's Heisman #'s right there. Plus, A&M allowed Bama's Mac Jones to throw for 435 yards and 4TD's.
While I love watching the BYU offense, I'm passing on Zach Wilson this week. He's the most expensive QB in the afternoon slate and the may have the game wrapped up vs UTSA by halftime. While Sam Ehlinger vs Oklahoma is also appealing, I'll save some cash with Trask.
D'Eriq King (night), Miami ($7,900)
While the top three QB's in the night slate are intriguing, I'm gong to save some and go with The U's QB.  Sure, Clemson has a solid D, but the O/U for the game sits at 63.  There's going to be offense and if Miami is down, they'll need to pass often.
King has put up between 24 and 28 points all three games this season, so he's a safe bet to produce.  Even if the passing game gets slowed down, his rushing ability provides a nice floor.  Lastly, he's a good candidate for some garbage time points if Clemson is up by more than a couple TD's come the 4th quarter.
Best Bargains:
Brennan Armstrong (afternoon), UVA ($6,800)
The NC St defense just gave up over 400 yards to Kenny Pickett at Pitt and now travel up to Charlottesville to face a young QB that apparently reminds Dabo Swinney of Steve Young.
In his first two games as a starter, Armstrong has thrown for 539 yards and 5 TD's while rushing for 136 yards and another score. A young talent on an offense with solid skill players against a bad defense is a recipe for success. I usually like my second QB to be few hundred $ cheaper, but I expect a very nice outing and will gladly pay for it.
Holton Ahlers (night), ECU (6,600)
With only 5 games included in the night slate, we don't have a lot of options at QB. Ahlers had a rough outing vs Ga St last week where he tossed three picks but I expect a rebound game against USF that's more similar to ECU's first game where the QB put up 24 fantasy points.
Ahlers is a veteran QB that closed out 2019 by throwing for over 300 yards in five of his last six games.  Neither USF or ECU is very good so while it could be an ugly game, Ahlers should close in on at least 20 fantasy points.
RB's:
College Football DFS Picks:
Deuce Vaughn (afternoon), Kansas State ($7,500)
Still flying under the radar is a true freshman RB at K State named Deuce Vaughn. After splitting time in the first game of the season, he has since taken control of the backfield. Against OU he ran only ran for 45 yards and a TD but also caught 4 balls for 129 yards. He topped that off against Texas Tech last week running for 113 yards and a TD while catching 3 passes for 81 yards and another score.
TCU has let both opposing teams this year score over 30 points so all signs are pointing towards a shootout. I want pieces of this game and getting Vaughn as your top RB is a nice place to start.  Plus, he's got quite the 3 game highlight package here:
Travis Etienne (night), Clemson ($8,100)
I recommend spending up for the most expensive RB in the night slate and arguably the best back in the nation.  Etienne road me to a victory last week by rushing for 73 yards and a TD while catching 5 balls for 114 yards and another score.
Etienne's problem, from a DFS perspective, is Clemson is usually up by so many points that he rarely plays the 2nd half.  Miami should be able to keep it at least as close as UVA last week which means Etienne will get his.  It doesn't take a genius to snag the top RB, but sometimes paying up makes sense.
Best Bargains:
Isaiah Spiller (afternoon), Texas A&M ($4,400)
If you want to take a gamble on a cheap RB in the afternoon slate, Spiller may be your guy. As a true freshman last year, Spiller had 4 games where he ran for over the century mark. In the first game of 2020, he did the same, going for 117 against Vandy. Although A&M had zero success running the ball against Bama last week, at least Spiller received twice as many rushing attempts as the other Aggie RB, Ainias Smith.
Additionally, South Carolina freshman RB Kevin Harris just ran for 100 yards and a TD against Florida, so there's opportunity here.
Israel Tucker (night), La Tech ($3,700)
If you are bottom bin shopping for your 2nd RB or a flex spot, Tucker may be worth your consideration.  He's part of a two headed back field (with Justin Henderson – $6,100) that should find wide open running lanes against a bad Utep team.  Don't be confused by their 3-1 record.  Utep has beat two FCS schools and ULM which may be the worst FBS program this year.
While Henderson may technically get the start, Tucker is averaging 8 carries a game and also contributes in the passing game (catching 4 balls last week vs BYU).  He's looked like the most explosive RB on LT's roster, so expect at least double digit carries this week.
WR/TE's:
College Football DFS Picks:
Shi Smith (afternoon), South Carolina ($7,600)
10 balls for 140 yards and a TD against Tennessee followed by 12 catches for 85 yards and a TD against Florida. Need I say more?
Smith is one of the best receivers in the SEC and a total target magnet. There's some concern that the game script against Vandy won't be as advantageous as the first two weeks, but Smith seems like a sure thing this year. Set it and forget it.
Amari Rodgers (night), Clemson ($6,900)
Let's go back to the Miami/Clemson game for our top wideout in the night slate.  Clemson will be eager to squash the hype, put the U back in their place, and remind everyone who the top dog in the ACC is.  That will mean a lot of opportunity for the Tigers best receiving option.  I expect 100 yards and at least a TD.
With the WR slate in the night game being relatively inexpensive, I advise to load on the QB/RB positions, and then take Rodgers and some cheaper wideouts.   Plus, he has a highlight reel so he must be legit, right?
Best Bargains:
Erik Ezukanma (afternoon), Texas Tech ($4,900)
It's been an explosive Red Raider offense this year and Ezukana is 1/3 of a WR trio who all have over 10 catches already. Don't ask me to pronounce his last name, but this guy has caught at least 4 balls each game, for at least 66 yards and has scored twice.
Texas Tech's starting QB is questionable but backup Henry Colombi stepped in against K St and threw for 244 and a TD. It appears that regardless of who is at QB, the Red Raider WR's will get theirs.
Tamorrion Terry (night), Florida State ($5,000)
Other than the Miami game where Terry played limited snaps due to an injury, the JR receiver caught six passes in each game this season.  This is the same guy that accumulated 1,188 yards and 9 TD's a season ago.  He's the WR1 on the Seminoles but is priced like a WR2.
Granted the QB play at FSU has been horrendous this year, but James Blackmon has been benched in favor of Jordan Travis.  Travis led the Seminoles back against Jacksonville State last week and has to be an upgrade over Blackmon, right?