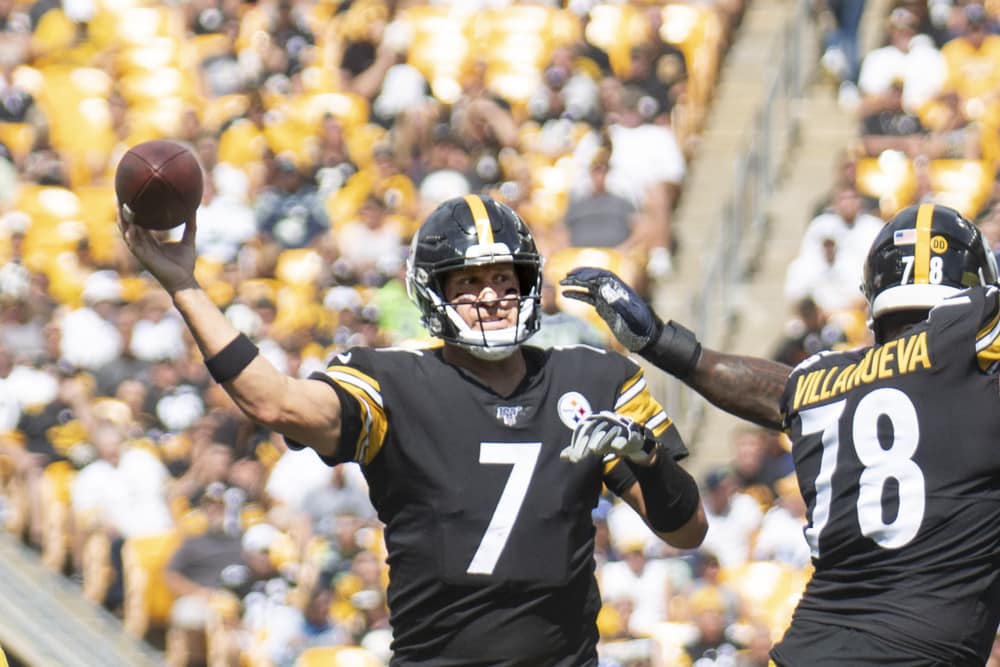 Week 5 was a tough week all around for the NFL sports betting community. Anytime we have outright wins from +380 (Raiders) and +310 (Dolphins) underdogs and unders hit as often as overs, it's probably not going to look great on the betting slips. If you are feeling down in the dumps (I am after a 5-10 record last week on target sides/totals), don't worry I have been reading that a lot of the sharps out there had a rough go of it as well. We knew the weird week was coming soon (even though we predicted it back in Week 3), but every season we get a couple of these and I think Week 5 was just about as weird as it gets. Keep in mind, we almost saw outright wins from touchdown-plus underdogs in the Giants, Vikings, and Chargers.
Let's keep the weird voodoo magic in last weekend, and move on to week 6. The NFL has been absolutely scrambling with schedule changes due to COVID, but the stars have aligned this week and we have some awesome primetime matchups. Green Bay plays Tampa Bay in what is essentially an island game in the Sunday afternoon window, and then on Sunday night we get a juicy divisional matchup between the 49ers and the Rams. On Monday night, we are scheduled for a double header featuring a heavy weight battle between the Chiefs and the Bills, and then a potential shootout between the Cardinals and new-look Cowboys. Buckle up, we are in for a great slate this weekend!
CAUTION! Your picks shouldn't be based solely on NFL historical betting trends. There are a multitude of things to consider. Trends are just one variable. However, one variable might be the tie breaker you need to make a bet.
Please reach out to me on Twitter if there's anything you want a deeper dive on or particular info you would like to see for upcoming weeks. A lot of these that I will be writing about were once gut opinions or ideas of mine that I decided to dig in and #showmethedata on!
Please note: I have removed games that contradict over multiple trends from the "Targets" list
NFL Week 6 Betting Trends
Historically Reliable Teams
In Week 2, we also talked about how Bill Belichick and the Patriots are a pretty resilient bunch after a loss and with their Week 3 win and cover against the Raiders they are now 19-7 against the spread (ATS) in this situation since 2013. They are coming off a Week 4 loss to Kansas City and now get their star QB back under center.
Cleveland and Pittsburgh are bitter division rivals, but during Mike Tomlin's tenure, this rivalry has been pretty one-sided. In his career as head coach for the Steelers Tomlin is 21-4-1 straight up (SU). With this game down to a field goal spread, I expect the Steelers pash rush to affect Baker Mayfield and the more explosive offense, Pittsburgh, to win out.
Target Sides: NE -9, PIT -3
How Early-Season Byes affect Teams
For the purposes of this article, I am defining an early-season bye as Weeks 4 through 6. Of course, like in most things, 2020 is an outlier for this trend. We didn't have any teams have a bye in week 4 and we have already had a couple of "fake" bye weeks with games getting postponed but teams still practicing most of the week. Nevertheless, we have two teams coming off real byes this week and both travel down to Florida for their week 6 opponent. The Packers go on the road against the Bucs and the Lions travel out to Jacksonville to play the Jaguars. Historically, away teams after an early season bye have not done very well for their fans but have done really well for bettors, going 15-20 SU but 23-12 ATS since 2010 and overs have hit at a 25-10 rate.
Target Sides: DET -3, GB -1
Target Totals: DET/JAC o54.5, GB/TB o55.5
Early Down Success Rate (EDSR) Mismatches
In week 4, I talked about EDSR, one of Warren Sharp's favorite statistics. Almost every 3rd and 4th down is reactive due to the distance needed for a first down, and many times the 4th quarter is reactive based on the score differential between teams. EDSR eliminates these conditions and only looks at how teams do (offensively and defensively) on 1st and 2nd downs in the first three quarters of a game. In the biggest mismatches this season, the better team went 5-3 SU and 4-4 ATS. Last week's 1-3 ATS record was a bit of an anomaly, so I am still going back to the mismatch teams this week.
Target Sides (The differentials listed compare the EDSR of the target team to the EDSR of their opponent on the other side of the ball)
TEN -3.5 (Run Offense +15, Pass Offense +15, Run Defense +10, Pass Defense -23)
IND -8 (Run Defense +21, Pass Defense +15, Pass Offense -8, Run Offense -12)
WAS +3 (Pass Defense +24, Run Defense +19, Run Offense -13, Pass Offense -15)
Pace of Play & Explosive Play Rate
Defined as a rush over 10 yards or a pass over 15 yards, explosive plays are a good stat for us to use to dial in on totals to bet. Theoretically, if a team is really good at hitting explosive plays on offense and they face a team who gives up a lot of them on defense, that is a recipe for a game where possession is constantly changing. With shorter drives (and more of them ending in scoring plays), this increase in offensive opportunities should help lead to higher scoring games. When it comes to pace, there are two things to consider. Seconds per play tells us how quickly teams are breaking the huddle and snapping the ball in order to increase pace, and overall plays helps us compare expected offensive opportunities. Comparing how teams rank in these two pace categories (in neutral game scripts) with the Vegas Totals can help determine some spots to target. On an island, these two trends haven't performed well since we started tracking them, but I found a way to combine them and I am a little more excited to see how the results play out this week.
Target Totals
DEN/NE o44.5 (13th highest total, 9th in explosive plays, 8th in sec/play, 8th in plays/gm)
CAR/CHI o44.5 (12th highest total, 7th in explosive plays, 14th in sec/play, 6th in plays/gm)
Underdog Movement off the Lookahead Line
If you have been reading this every week, you should be well versed in reviewing lookahead lines by now. If you need a refresher, make sure to go check out Week 2's article. Here's a recap of what I am tracking and how it did last week.
Line Movement towards the Underdogs – When the line moved more than 1.5 points towards an underdog they are only 3-10 SU and 7-6 ATS, but overs have been 9-4 this year. Currently don't have any of these so far this week.
Favorite Swapped Sides – This trend is now 1-2 SU, 2-1 ATS, and 3-0 Over with the Colts (opened -2.5, closed +1) losing to the Browns last Thursday night. Target Totals: GB/TB o55.5, LAR/SF o51.5, DAL/ARI o55
Line Movement towards the Favorites – When the line moved more than 1.5 points towards a favorite, they are a chalky 7-4 SU, but only 4-7 ATS. Unders in these games have gone 7-4. This is another spot we should be targeting underdogs. Currently don't have any of these so far this week.
That wraps it up for the Week 6 edition of Trend Wisely. Good luck this week, I hope to see some winning ticket screenshots!
Record to date on Target Sides/Totals
OVERALL: 42-39-3 (51.9%)
Week 1: 15-8-1 (65%)
Week 2: 10-10 (50%)
Week 3: 5-6 (45%)
Week 4: 7-5-2 (58%)
Week 5: 5-10 (33%)