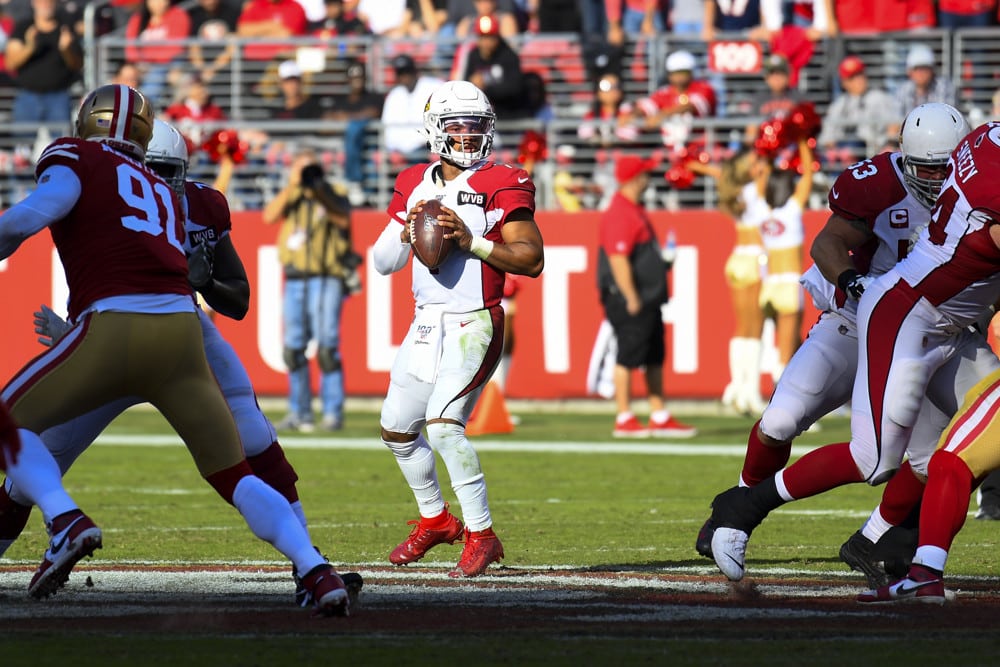 What seemed like a dream a few months ago has turned into a stone cold lock of a reality now and all 32 NFL teams will kickoff this weekend! Before NFL Kickoff gets underway, I'm inviting you to dive into some NFL Week 1 betting trends of years past.
CAUTION! Your picks shouldn't be based solely on NFL Week 1 betting trends from history. There are a multitude of things to consider. Trends are just one variable. However, one variable might be the tie breaker you need to make a bet.
Each week in "Trend Wisely" (clever name, right?), I'll research and write unique and actionable NFL betting trends. Please reach out to me on Twitter if there's anything you a deeper dive on or particular info for upcoming weeks. A lot of these that I will be writing about were once gut opinions or ideas of mine that I decided to dig in and #showmethedata on! Let's jump right in to NFL Week 1 betting trends.
Please note: I have removed games that contradict over multiple trends from the "Targets" list
NFL Week 1 Betting Trends
No Offseason = Higher Scoring
Clearly, the 2020 NFL offseason is unprecedented. All preseason games were cancelled, but this isn't the first time that offseason (or in-season) activities have been shortened. Here's how the first week back from the NFL's two most recent lockouts have looked.
2011 NFL Lockout (Shortened OTAs/Camp, No Hall-Of-Fame Game) – Week 1 Overs went 12-4
1987 NFL Lockout (Week 3 cancelled, Weeks 4-6 w/ replacement players) – Week 7 Overs went 11-3
I know we are kind of grasping at straws here when the NFL betting trends are from the '80s, but that's what it has come to in 2020. If you don't feel great looking at data from back that far, let's look at how Overs did the 10 seasons that bracketed the 2011 NFL Lockout (2006 – 2010, 2011, 2012 – 2016): 4-12, 5-11, 7-9, 8-8, 4-12, 12-4!!!!, 9-7, 8-8, 5-11, 9-7, 9-7.
The narrative is typically early in the season the defense is usually more up to game-speed than the offense. In the 10 seasons between 2006 and 2016 that had a full offseason, the Over only went 68-92 (42%), but in the one season without a full offseason it went 12-4 (75%). Thanks to NFL Week 1 betting trends, we should be pounding the Overs here in Week 1!
"Home" Underdogs & the Over
Since 2010, games that had home dogs in Week 1 saw the Over hit 67% of the time including a 4-1 record last season. If you need help narrowing down some of the Over bets from my blurb above, this can help focus your plays.
Targets: LV/CAR o47.5, SEA/ATL o49, PHI/WAS o42, IND/JAX o45, LAC/CIN o41.5, DAL/LAR o51.5, TEN/DEN o40.5
Fade First-Year Head Coaches
In the last two seasons, first-year head coaches are 1-14 straight up (SU) and 4-11 against the spread (ATS). Matt Rhule (Panthers), Kevin Stefanski (Browns), Mike McCarthy (Cowboys), Joe Judge (Giants), and Ron Rivera (Washington) all look to have their work cut out for them according NFL Week 1 betting trends.
Targets: PIT -6, LAR +3 and +125, LV -3
Super Bowl Losers don't Bounce-Back
Since 2000, the loser of the Super Bowl has faced a tough time getting over their hangover in Week 1 of the following season. Super Bowl losers are 4-16 ATS, and the Niners face a polarizing Cardinals team in week 1.
Target: ARI +7
Divisional Matchups are a Goldmine
Since 2010, Divisional Underdogs are an impressive 37-17 ATS in Week 1. We have a total of nine divisional games this week so there is plenty of games to choose from here. Interestingly enough, home teams in divisional matchups are only 27-27 ATS but they are 32-22 SU.
Targets: GB +2.5, MIA +6.5, NYJ +6.5, CHI +3, JAX +8, ARI +7, TB +3.5
Road Teams with Regression on the Mind
Since 2010, teams who ended the year before with 4 or 5 wins and play on the road in Week 1 are 15-5 ATS, while teams who ended the year before with between 9 and 11 wins and play on the road in Week 1 are only 16-26 ATS.
Targets: LAC -3, MIA +6.5, ARI +7, ATL +2, DEN +2.5
Team Specific Trends
Since 2008, the Indianapolis Colts are 2-10 ATS in Week 1.
Since 2012, the New Orleans Saints are 2-15 ATS in Weeks 1 & 2.
Since 1970, the Denver Broncos are 75-23 SU at home in Weeks 1-4. There may not be fans, but the air will be the same!
The GRANDADDY Of Them All!
My absolute favorite bet last season (and most profitable) was 6-point, 2-team teasers on Underdogs when the Over/Under was less than 41.5. The theory here is simple. If a game is projected to be low scoring, that means the chance for a blowout is low. If you can add 6 points to the underdog, it should be a slam dunk right?
Well in 2019, it was an absolute high-flying no-look alley-oop SLAM DUNK ! These teasers went an amazing 41-12 (73%) on the season. Just to prove that these results aren't a fluke, since 2014 every 2-team teaser combination that fell into this category went 174-126 (58%) at the typical -110 odds. I will track this all season, and all we can do is hope that the success mimics what we saw in 2019!
Targets: NYJ +12.5, DEN +8.5, CIN +9
Trend Wisely, friends!
NFL Week 1 Betting Trends Related Articles
Start Em, Sit Em: Fantasy Football Week 1
Best Survivor Pool Pick Week 1