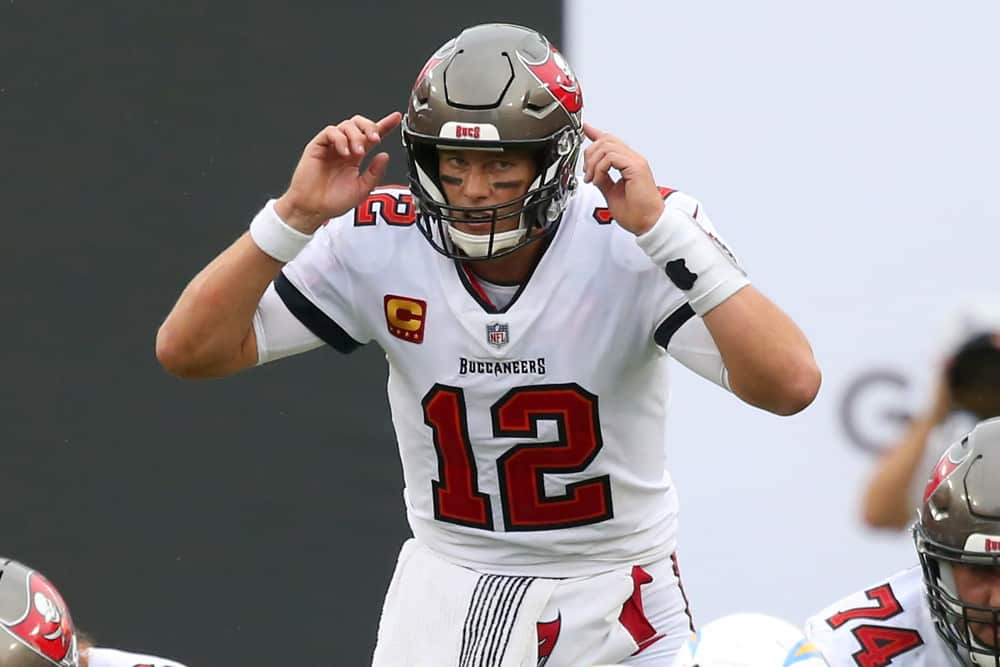 Just like that, the NFL year is at the quarter-season mark and except for the Titans and Steelers, every NFL team now has 4 games under their belt. On the topic of postponed games, as of writing this on Wednesday night, it appears that we have up to three different games whose status is still unclear based on some COVID positive testing in team facilities. Make sure to keep your eye on the LV/KC, DEN/NE, and BUF/TEN line movements as the week and news progresses.
Enough about the negative stuff, we are on to week 5 and once again there are a ton of team trends and data to dig into. This is usually the first week where we have teams coming off a bye, however the NFL decided to push back the bye week start date to Week 5 so Packers and the Lions both will get the week off. Check back next week to see how teams do coming off an early-season bye. Nevertheless, we have plenty to get to, so let's dive right in!
CAUTION! Your picks shouldn't be based solely on NFL historical betting trends. There are a multitude of things to consider. Trends are just one variable. However, one variable might be the tie breaker you need to make a bet.
Please reach out to me on Twitter if there's anything you want a deeper dive on or particular info you would like to see for upcoming weeks. A lot of these that I will be writing about were once gut opinions or ideas of mine that I decided to dig in and #showmethedata on!
Please note: I have removed games that contradict over multiple trends from the "Targets" list
NFL Week 5 Betting Trends
Back to the Well with some Historically Reliable Teams
We talked about Seattle playing in Primetime in the Week 2 article, but for a refresher they are 30-10 straight up (SU) and 28-12 against the spread (ATS) in night games since 2007. When they play at home this gets even better as they are 21-4 SU and 18-7 ATS. In Week 5, they get a primetime matchup against Kirk Cousins and the Vikings. Cousins hasn't fared so well under the bright lights going 7-15 SU and 7-15 ATS in his career. In Week 2, we also talked about how Bill Belichick and the Patriots are a pretty resilient bunch after a loss and with their Week 3 win and cover against the Raiders they are now 19-7 ATS in this situation since 2013.
Target Sides: SEA -7, NE -9.5
Early Down Success Rate (EDSR) Mismatches
Last week, I talked about EDSR, one of Warren Sharp's favorite statistics. Almost every 3rd and 4th down is reactive due to the distance needed for a first down, and many times the 4th quarter is reactive based on the score differential between teams. EDSR eliminates these conditions and only looks at how teams do (offensively and defensively) on 1st and 2nd downs in the first three quarters of a game. In the biggest mismatches last week, the better team went 3-1 SU and 3-1 ATS.
Here are this week's biggest mismatches:
Target Sides (The differentials listed compare the EDSR of the target team to the EDSR of their opponent on the other side of the ball)
SEA -7 (Run Offense +23, Pass Offense +19, Pass Defense +15, Run Defense +14)
ARI -7.5 (Pass Defense +18, Run Defense +17, Pass Offense +5, Run Offense -8)
TB -3.5 (Run Defense +17, Pass Defense +14, Pass Offense -1, Run Offense -4)
SF -8.5 (Pass Offense +16, Run Defense +7, Pass Defense +2, Run Offense -4)
Explosive Plays Equal More Points
Defined as a rush over 10 yards or a pass over 15 yards, explosive plays are a good stat for us to use to dial in on totals to bet. Theoretically, if a team is really good at hitting explosive plays on offense and they face a team who gives up a lot of them on defense, that is a recipe for a game where possession is constantly changing. With shorter drives (and more of them ending in scoring plays), this increase in offensive opportunities should help lead to higher scoring games. Last week, the largest explosive play disparities between offenses and defenses didn't do so hot and went 0-2-1, but I want to keep tabs on this one.
Target Totals (The differentials listed compare the Explosive Play rate for the offense compared to the opponent defense)
BUF/TEN Over (BUF Run +23, BUF Pass +14, TEN Pass +8)
SEA/MIN o57.5 (SEA Pass +26, MIN Pass +22, MIN Run +7)
LAC/NO u50.5 (LAC Run -22, NO Pass -18, NO Run -9)
IND/CLE u47 (IND Run -21, CLE Pass -15)
Pace of Play
When it comes to pace, there are two things to consider. Seconds per play tells us how quickly teams are breaking the huddle and snapping the ball in order to increase pace, and overall plays helps us compare expected offensive opportunities. Comparing how teams rank in these two pace categories (in neutral game scripts) with the Vegas Totals can help determine some spots to target. We narrowly missed out on both target totals last week and these went 0-2.
Target Totals
PIT/PHI o44 (12th highest total, 5th in sec/play, 2nd in plays/gm)
NYJ/ARI o47 (9th highest total, 2nd in sec/play, 6th in plays/gm)
Underdog Movement off the Lookahead Line
If you have been reading this every week, you should be well versed in reviewing lookahead lines by now. If you need a refresher, make sure to go check out Week 2's article. Here's a recap of what I am tracking and how it did last week.
Line Movement towards the Underdogs – When the line moved more than 1.5 points towards an underdog they are only 3-7 SU and 5-5 ATS, but overs have been 8-2 this year. Target Totals: LAR/WAS o45, NYG/DAL o54, MIN/SEA o57.5
Favorite Swapped Sides – This trend is now 1-1 SU, 2-0 ATS, and 2-0 Over with the Broncos (opened -2.5, closed +1/PK) beating the Jets last Thursday night. Target Sides: No favorites have swapped sides yet this week, but keep your eye on ATL (opened -3.5 and now down to -1) against CAR and IND (opened -2.5 now down to -1) against CLE.
Line Movement towards the Favorites – When the line moved more than 1.5 points towards a favorite, they are a chalky 7-3 SU, but only 4-6 ATS. Unders in these games have gone 7-3. This is another spot we should be targetting underdogs. Target Sides: LVR +13.5 (opened as +11.5 underdogs). Target Totals: LVR/KC u56.5
That wraps it up for the Week 5 edition of Trend Wisely. Good luck this week, I hope to see some winning ticket screenshots!
Record to date on Target Sides/Totals
OVERALL: 37-29-3 (56.1%)
Week 1: 15-8-1 (65%)
Week 2: 10-10 (50%)
Week 3: 5-6 (45%)
Week 4: 7-5-2 (58%)