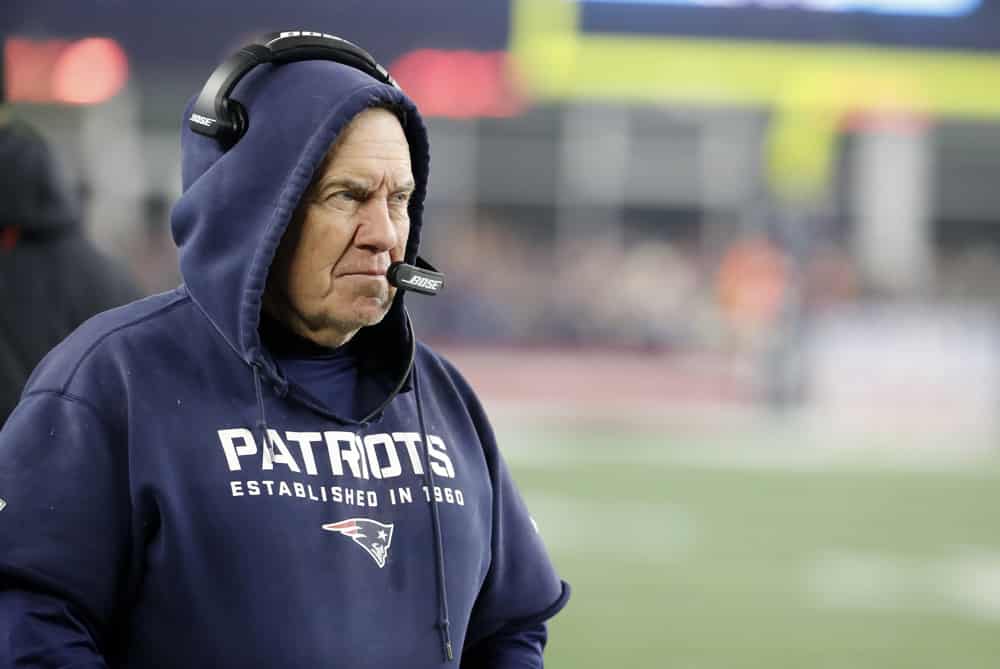 The National Football league is a wasteland of injuries after Week 2. Having no preseason is starting to rear its ugly head. Hopefully the fantasy and betting gods can align this week to give us one that isn't so tilting. Last week's edition of "Trend Wisely" was extremely average. Final record was an even 10-10 ATS bringing us to 25-18-1 (58%) on the season. While the home underdogs went 3-2 ATS (Philly closed as a favorite), Las Vegas was the only team to win outright on the moneyline sprinkle! Back on the grind now for NFL Betting Trends Week 3.
CAUTION! Your picks shouldn't be based solely on NFL historical betting trends. There are a multitude of things to consider. Trends are just one variable. However, one variable might be the tie breaker you need to make a bet.
Please reach out to me on Twitter if there's anything you want a deeper dive on or particular info you would like to see for upcoming weeks. A lot of these that I will be writing about were once gut opinions or ideas of mine that I decided to dig in and #showmethedata on!
Please note: I have removed games that contradict over multiple trends from the "Targets" list
NFL Betting Trends Week 3
Hammer the Home Underdogs
Stop me if you've heard this before but since 2010, home underdogs have been one of the most reliable long-term sides to bet on. In the past ten seasons, home underdogs are now 196-120 (62%) against the spread (ATS) and Overs are an incredible 207-108 (66%). That's a lot of games over a lot of time people!
Target Sides: MIN +2.5, NYG +3.5, DEN +6
Target Totals: TEN/MIN o49.5, SF/NYG o42.5, TB/DEN o43.5
Dallas and Road Overs
The Cowboys have one of the juiciest matchups this week as they head to pass-happy Seattle to take on #LetRussCook and the Seahawks. The total is already a screaming high 56 and seeing how these two teams have fared over the first two weeks, it is hard to argue with. However, since 2015 when Dallas plays on the road, overs have only gone 13-28. Since half the DFS world will have Seattle and Dallas stacks loaded up, it doesn't seem like too far of a stretch that we see Ezekiel Elliott and Chris Carson slug it out on the ground.
Target Total: DAL/SEA u56
Bill Belichick Bounces Back
The New England Patriots have proven to be one of the most resilient teams over the last 8 years. Since 2013, the Patriots are 18-7 ATS after a loss. Cam Newton is in the argument for fantasy Top 5 QB, and they were a superman dive away from knocking off Seattle last week. Sunday, the 2-0 Las Vegas Raiders come into town and it looks like Gruden may be facing an uphill battle. To add onto the Patriots bounce-back trend, the Raiders have been extremely bad playing at 1:00pm EST. In their last 30 games traveling to the East Coast and playing in the early slot, they are 6-24 SU.
Target Side: NE -5.5
Not so Fast on Herbert
Like New England, Carolina has been extremely good coming off defeat, going 20-10 ATS in their last 30 games after a road loss. The majority of this was under coach Ron Rivera, and we all know the Panthers have a brand new coaching staff (and offense for the most part) this week. Justin Herbert found out he was starting 10 minutes before kickoff last week, and played extremely well guiding the Chargers to a 3-point overtime loss to the defending Super Bowl champion Chiefs, but he may be in for a rude awakening this weekend. As ClevTA pointed out on Twitter this week, since 2006 there have been 10 QBs who were favored in either of their first two starts. They have gone 1-9 SU & ATS. Carolina looks like a live dog.
Target Side: CAR +6.5 and +230 ML sprinkle
Will the Spread Matter This Week?
Thanks to Tyler Lentz's contribution in the SGP slack channel, I will share with you that the spread has not mattered in 22 of the 32 games so far this season (meaning the winning team also covered). I am predicting that we will see that change a little bit this week. Since 2010, favorites of over 5.5 points in week 3 are an impressive 40-12 (77%) SU, but only 23-29 (44%) ATS. It should be profitable to find some large underdogs this week.
Target Sides: WAS +7, NYJ +11.5, CAR +6.5
Tracking Everybody's Favorite Teaser Play
In week 1 we introduced a teaser concept that went an incredible 41-12 (73%) last season. We are teasing underdogs in games where the total is under 41.5. The theory is that these low scoring games will remain close and the extra 6 points we add to the underdog spread will cover the tease. After a 3-0 start in week 1, the 2-team teaser (-110) hit last week as well. This trend is off to a profitable start to the year! Unfortunately, there is currently only one game in the window this week. I have put down the games to monitor if the total drops low enough.
Target Teaser Teams: NYG +9.5, Monitor: NYJ +17.5 (total currently 44), CAR +12.5 (total currently 43.5), DEN +11.5 (total currently 43)
NFL Betting Trends I'm Watching
Underdog Movement off the Lookahead Line
Last week, we talked about why adding lookahead line analysis to your weekly regimen is such a valuable thing to do. Here's a recap of what I am tracking and how it did last week.
Line Movement towards the Underdogs – When the line moved more than 1.5 points towards an underdog they went 2-1 ATS last week. (Examples this week: NYG +7 to +3.5, JAX +10.5 to +8.5, GB +5.5 to +3.5)
Favorite Swapped Sides – This did not happen last week, however we already have an example of it this week. Make sure to check these lines constantly though because they oftentimes jump back and forth as the betting market limits open up later in the week. (MIN -1 to +2.5)
Line Movement towards the Favorites – When the line moved more than 1.5 points towards a favorite, they went a chalky 3-0 SU, but only 1-2 ATS. Another spot to target underdogs. (So far this week: NYJ +7 to +10.5, DAL +3 to +5, DET +3 to +5.5, DEN +3.5 to +6)
Looking ahead to Week 4, this is the first week where I will be bringing in some more data driven statistics and analysis from these teams. I think a 3-week sample size is enough to start confidently comparing defenses and offenses, so don't worry Trend Wisely is really going to start picking up some steam!
READ ALSO
Fantasy Football Injury Report Week 3