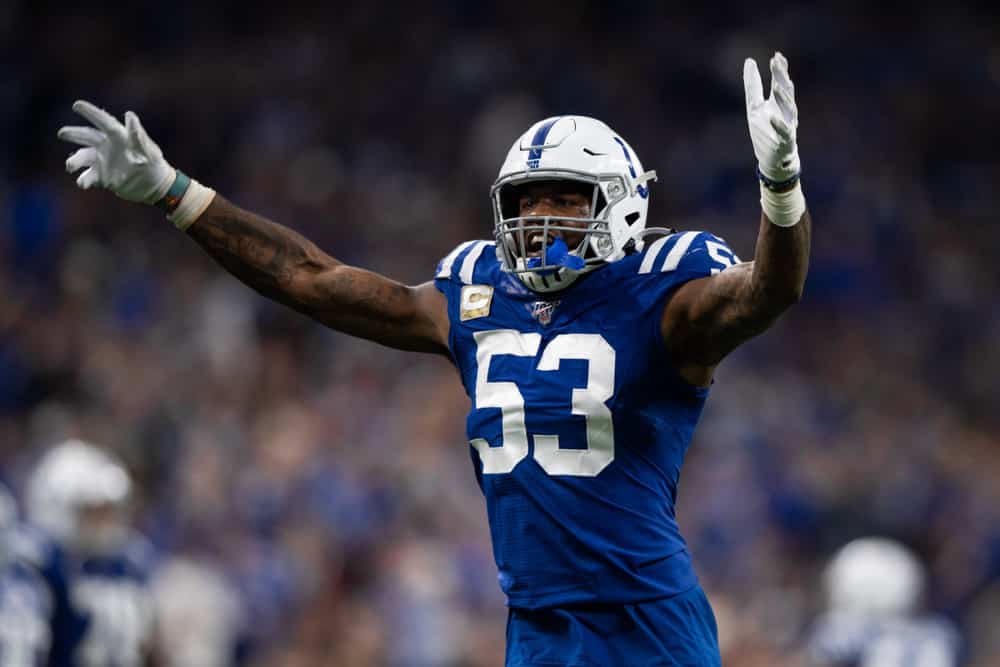 Injuries, injuries, and more injuries. While Week 2 of the NFL had more than its share of big name players go down, it lacked any major upsets (at least until Monday night). If you made it through Week 1, and unless you had the Saints, you also made it through Week 2. Congratulations if you're still with us for NFL Week 3 Survivor Pool Picks. Keep in mind the rash of injuries from this past week as it may be a deciding factor on what teams to choose moving forward.
Click here to enter the #DegensOnly Showdown for FREE. Winner will get $100 cash and a chance to share their DFS lineup on air. 
NFL Week 3 Survivor Pool Picks
Cleveland Browns (– 7 vs Washington Football Team)
I predicted Washington would come crashing back down to Earth. They certainly did vs Arizona last week. The Browns should be able to get over .500 while sending Washington to 1-2, but does anybody have any level of confidence taking the Browns in a survivor pool? Not me. I'll pick elsewhere.
New England Patriots (-6 vs Las Vegas Raiders)
OK, Raiders. Nice way to open your new stadium. Job well done starting the season 2-0. Now things get a bit more difficult. The Patriots took care of the Dolphins in Week 1 and lost a close battle in Seattle last weekend.
Cam Newton has stepped in and looked more than competent. New England should give the Raiders their first loss of the season but going against a 2-0 team in Week 3 seems like taking an unnecessary risk.
Los Angeles Chargers (-7 vs Carolina Panthers)
The Panthers are one of the worst teams in the league. Now they travel across the country to take on the Chargers. LAC showed out against the Chiefs last week, but in true Chargers fashion, they couldn't close the deal.
If Tyrod Taylor is healthy, Anthony Lynn claims that he'll get the start over rookie Justin Herbert. That's a bit shocking with how well Herbert played. Sure, the Chargers should beat the McCaffrey-less Panthers. However, that dud of a Week 1 squeaker against the Bengals is still fresh on my mind.
Arizona Cardinals (-5.5 vs Detroit Lions)
If Adam Gase isn't the first head coach fired, it very well might be Matt Patricia. The Lions have talent, especially on offense, but find ways to lose far too often. On the other end, watch out for this Cardinals team. They'll make the Playoffs and this season will be a stepping stone to bigger things in the future. Personally, I took AZ last week, but they certainly aren't a bad play for those that haven't. My Kyler for MVP campaign is building up steam.
Tampa Bay Buccaneers (-6 @ Denver Broncos)
Tom Brady & Co got right against the Panthers last week. Now they face a depleted Broncos team missing Drew Lock, Courtland Sutton, and Phillip Lindsey. It's a road trip, so there's better plays this week, but the Bucs shouldn't drop this game.
NFL Week 3 Survivor Pool Picks Winner!
Indianapolis Colts (-10.5 vs New York Jets)
The Colts will be the most commonly picked survivor team of the week. After an opening week stumble against Minshew Mania, the Colts righted the ship and took down the Vikings without much of a fight. They have one of the best offensive lines in football and an ever-improving defense. The Jets are riddled with injuries and don't stand  a chance here.
It might be the chalk play of the week but sometime you gotta go chalk.  Go Colts.
Compete against your fellow degenerates in the #DEGENSONLY SHOWDOWN! Winner will get $100 cash and a chance to share their DFS lineup on air.
Sign up at DraftKings.com using promo code SGP, if you're not in DraftKings already.
SCREENSHOT you submitting a five star review on any of our feeds Sports Gambling Podcast, Sports Gambling Podcast Network, The College Experience, NBA Gambling Podcast, Soccer Gambling Podcast.
Fill this form out.
Get a link to enter the Thursday Night Showdown contest for Miami Dolphins at Jacksonville Jaguars and submit your lineup. COMPLETELY FREE TO ENTER!
NFL Week 3 Survivor Pool Picks Related Posts
Top 10 Unluckiest NFL Teams of the Century